---
This Big Agnes Copper Spur UL2 review is about tents from an award-winning series which include those for 1, 2, 3, and 4 persons. I shall present the tents for 1 and 2 people.
---
Description
Copper Spur UL2 is a freestanding, 3-season, ultralight (hence the letters UL in the name) backpacking tent perfect for any outdoor 3-season activities.
Technical specifications
Big Agnes Copper Spur UL2 floor size.

Trail weight: 2 lb 13 oz (1276 gr).

Packed weight: 3 lb 2 oz (1417 gr).
Footprint weight: 6 oz (170 gr).
Fast fly weight: 2 lb 1 oz (935 gr).
Packed size: 5.5  x 17.5 in (14 x 44.5 cm).
Dimensions: see the picture.
Floor area: 29 sq ft (2.7 sq m).
Vestibule area: 9 sq ft (0.84 sq m) on each side.
Head height: 42 in (107 cm).
Foot height: 22 in  (56 cm).
The tent is easy to pack and to set-up. It has 2 doors and 2 vestibules and it has four mesh pockets. It comes with 8 superlight aluminum J stakes. The tent attaches to the poles with nice small clips.
It comes with integrated gear loft loops for connection with the Big Agnes Wall Gear Loft which can be ordered separately. There is a vent at the wider side of the tent, which can be closed if you do not need it.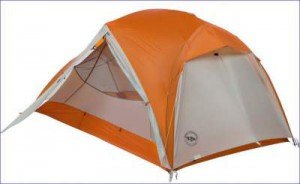 The structure is based on DAC featherlight NSL & NFL durable aluminum poles. There is an additional pole that goes across the roof. It is aimed at pulling the sides of the tent, and this makes so vertical walls of this model.
This all gives an impression of extra space, although the floor area is not really so much different as compared with some other models.
The body of the tent is almost all mesh, which generally contributes to a good ventilation.
The floor and the fly are ripstop nylon, lightweight and durable. All seams are taped with waterproof polyurethane tape.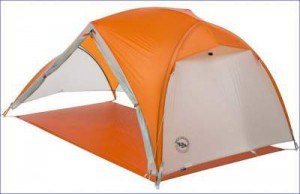 Copper Spur UL 2 tent gives you an opportunity to use its fast fly variant (you can see it in the picture here on the right). This implies using only the fly, poles, and a footprint that is sold separately.
I have already expressed my opinion about the fast fly variant elsewhere. This will indeed protect you from the rain, but not from annoying bugs, spiders, and even snakes. I could not imagine myself using the tent in such a manner.
Cons
I must say that with 132 cm width at the entrance, and only 107 cm at the foot area,  Spur UL 2 tent does really not provide such an impressive interior space-to-weight ratio, although such statements you can see on the Internet. The reality is that it is rather narrow for 2 people. The impression of big space comes from the vertical walls.
Here is a promotion video about Copper Spur series, you might want to see it:
---
Big Agnes Copper Spur UL1 Tent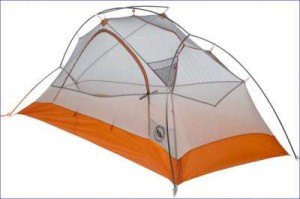 This is a great solo tent, which offers enough space for 1 person. The basic construction is practically the same as the UL2 tent. So this is again a 3-season, freestanding, ultralight backpacking tent.
The fly and floor are of ultralight silicone treated nylon rip-stop with a 1200 mm waterproof polyurethane coating. The tent body is ultra-lightweight nylon and polyester mesh. It has a single rainbow door, see the picture.
There are 3 interior mesh pockets and a media pocket located above the sleeping area. The tent comes with 8 J-shaped stakes.
Here is yet another great video about UL1 tent where you can see the whole procedure of how to set it up, plus a waterproof test:
UL1 tent technical specifications
Copper Spur UL1 tent floor surface.

Trail weight: 2 lb 3 oz (992 gr).

Packed weight: 2 lb 8 oz (1134 gr).
Footprint weight: 4 oz (113 gr).
Fast fly weight: 1 lb 10 oz (737 gr).
Packed size: 4.5  x 16.5 in (11.4 x 42 cm).
Floor area: 22 sq ft (2 sq m).
Vestibule area: 10 sq ft(0.93 sq m).
Head height: 37 in (94 cm).
Foot height: 14 in (35 cm).
Note, the footprint for both UL1 and UL2 are sold separately.
If you need more information about solo tents, see this review with a long list of them.
---
Conclusion, rating, pros & cons
I hope this Big Agnes Copper Spur UL2 review, which includes the UL1 tent as well, has been useful to you. This is a great series, but you might want to compare it with some other models, from the same manufacturer and from some other brands. Please see how I rate this tent:
Thank you for reading. I shall be happy to have some comments from you in the box below.