---
This Big Agnes Copper Spur HV Expedition Tent 3 person is a part of their new convertible 4 season series. This is a hubbed freestanding design with a reinforced structure for all weather use.
---
Key features & benefits
Convertible or modular design for all seasons.
Hubbed poles.
Very strong reinforced construction.
Technical expedition tent for professionals.
Very reliable.
---
What this is about – what is in the name
This Expedition tent series appears to be a reinforced winter version of the award-winning Copper Spur HV series by Big Agnes. There are two tents currently on the market, this presented here for 3 people and yet another for 2 people. But it is more than just a winter tent, this freestanding structure is convertible by the design, more about this below.
The tent is the two-layer type so this is a very comfortable option for cold weather camping. As you probably know, this is not always the case with 4-season tents, but here you have a specific design.
The letters HV mean 'high volume' and this implies pre-bent poles designed so that they add some extra elbow room in the tent. They claim such poles design increases the interior volume by 20% when compared to their non-HV tents form the Copper Spur series (they have them several like those Big Agnes Copper Spur UL, Big Agnes Copper Spur UL mtnglo).

---
Who is it for
Space-wise, the tent is with the declared capacity of 3 people. The inner area is 41 ft² (3.8 m²) and the total protected area with the two vestibules included is 59 ft² (5.2 m²). So per person, you have the inner floor area of 13.7 ft² (1.27 m²) and the total area per person is 19.7 ft² (1.73 m²).
None of these numbers per person is big, but this tent is not built for comfort and ordinary camping, this is a technical mountaineering tool and the space it provides is enough for three people. It is certainly a small castle if used as a base camp tent for two people or as a solo tent; for such a use it is a great camping tent as well. See its most important dimensions and the floor plan:
Seasons-wise, this is a tent built for all year use and this includes winter use as well. You realize this when you see its strong poles and the overall design. But they have built it cleverly so you can definitely use it in all seasons. So I have included this tent in my list of best winter camping tents.
Climate-wise, this is related to the previous statements about all-year-round use. This is a modular or convertible design, the tent is with closable mesh panels so you will use them as needed to have an optimal ventilation and/or to preserve the warmth. It appears it is becoming the trend recently to build such convertible tools; you can see yet another example in this Eureka Mountain Pass tent.
Weight-wise, with such a burly construction introduced to withstand lots of pressure, you cannot expect to have an ultra-light tool. So indeed, this tent weighs 6 lb 7 oz (2.92 kg). Note that the packed size is very reasonable, 22 x 9.5 inches (56 x 24 cm).
They give the trail weight and the packed weight, and this terminology is discussed in my separate post. This terminology depends on the manufacturer; Big Agness' trail weight is the weight of the tent components necessary for setup and function while the packed weight is the weight with everything included with purchase. They also give the fast-fly weight, but this applies only if you order the footprint separately. In this case, this is the weight of the fly, footprint, poles, and stakes.
So all in all, this is an expedition tent as the name suggests, expensive and built for experts and professionals, and for anybody who can afford it of course.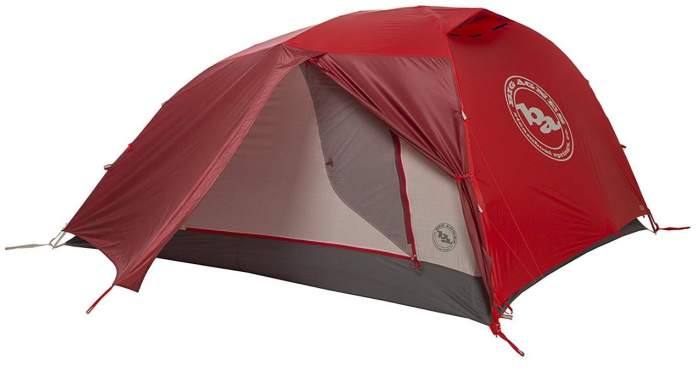 ---
Materials & construction
The poles & stakes
You have the best of the best here, the DAC Featherlite NSL poles system, 10.25 mm diameter poles and bomber architecture against mountain winds and snow. This is a hubbed design, freestanding and very easy to use. This implies shock-corded poles that are permanently attached to the top hub element. They create an X-shaped structure, plus one extra brow pole that serves to lift the side walls up and to make the doors vertical.
With this, the setup is faster and easier, and all is color-coded. This hubbed structure becomes freestanding as soon as you attach the poles to the four corners. Even the fly buckles to the corners and this is what makes it a freestanding tent. But observe that there are vestibules that must be staked.
Note that you have no sleeves here, ultralight plastic clips attach the tent body to the frame. You have 10 large aluminum J stakes.
The fabric
The waterproof rating for the fly is rather moderate 1200 mm. In fact, this rating is the same as the rating of the MSR 3 tent which you will see in the comparison table below. But this is a silicone-treated rip-stop nylon so it is very durable. You have only one vent on the fly and it matches the mesh window on the ceiling, see the picture above. The guyout lines are in positions to pull the fly out so that you have a vertical airflow if/when the vestibules are closed.
The fly includes the mentioned two vestibules with central zippers, you have to stake them down to be functional. You have Velcro tabs that connect the fly to the frame. The tent body is a fully breathable nylon with a dual-layer section on the ceiling.
The floor is also a nylon rip-stop and the waterproof rating is 10000 mm, you have a polyurethane coating here. Note that this is a bathtub style design, you need it for a full protection from the ground. All seams are taped with a waterproof and solvent-free polyurethane tape (No PVC or VOC's).
The doors & windows
There are two doors here and they are with windows that have two closure options, mesh and the panel. This is the part of the convertible design. You have dual zippers on the doors for a smooth closing. Note that you also have the Quick Stash doorkeeper on the tent body so you stow the doors and keep them out of the way.
There is also one separate window on the ceiling with a dual closure, mesh for ventilation and panels for the warmth preservation in a cold climate. You will see it in the video.
Other features
The tent includes the following:
10 interior mesh pockets.
2 media pockets.
Over-sized, reinforced stake out loops.
Gear loft loops.
Fits the Triangle, Trapezoid, Large Trapezoid, Wall and Large Wall gear lofts that are sold separately.
Reflective guylines and webbing on tent corners.
Media pockets are above the sleeping area.
Dual equalized Dyneema guylines for stability and strength.
Easy-grip zipper pulls and glove-friendly toggles and buckles.
Multiple interior loops for attachment of accessories.
Please see more in this short video by the brand:
---
Specifications
Best use: mountaineering.
Type: freestanding 4-season tent.
Trail weight: 5 lb 11 oz (2.58 kg).
Packed weight: 6 lb 7 oz (2.92 kg).
Fast fly weight: 3 lb 13 oz (1.73 kg).
Inner floor area: 41 ft² (3.8 m²).
Inner floor area per person: 13.7 ft² (1.27 m²).
Vestibule area: 9 + 9 ft² (0.8 + 0.8 m²).
Total protected area: 59 ft² (5.2 m²).
Total protected area per person: 19.7 ft² (1.73 m²).
Packed size: 22 x 9.5 in (56 x 24 cm).
Peak height: 41 (104 cm).
---
Big Agnes Copper Spur HV Expedition Tent 3 vs Competitors
In the table below I give this HV 3 Expedition tent side by side with two other 4-season tents. Those are true competitors and one of them is also convertible, all are double layer type. Note that the Eureka tent's weight is with the footprint that is included. The MSR tent is far lighter but not convertible, and it is much more expensive. Please follow the links to check the updated prices:
Big Agnes Copper
Spur HV Expedition 3
---
Final thoughts, rating, pros & cons
In the summary, this Big Agnes Copper Spur HV3 Expedition Tent is a true convertible design that makes the tent suitable for all seasons. The frame is strong and it can withstand a lot of pressure. I have included it in my list of best 3-person backpacking tents although this is far from the lightest option available, yet this is a perfect tent for a cold weather and winter backpacking use. But this comes at a price and I gave some alternatives in the comparison table above.
You might want to check also the 2-person version from this series. Much more you can see if you visit my page with tents.
The current price is high, so the tent looks expensive. But its price is moderate for such a type. There are no many reports and reviews around, this is a new item on the market, but the rating is exceptionally high. See how I rate it:
Big Agnes Copper Spur HV3 Expedition Tent 3P
Thank you for reading. Please let me know if you have any question or comment, there is a comment box below. Have a nice day.