---
Want the best of the best, the lightest of the lightest? Then this Big Agnes Copper Spur HV UL 4 Tent is for you. This award-winning tent is without a match on the market.
---
Key features & benefits
Ultra-lightweight – one of the lightests on the market.
Award-winning series made even better.
High volume.
Easy setup.
Top-quality materials.
Tent for professionals.
---
What is in the name
The Big Agnes Copper Spur HV UL 4 Tent is a part of the series of tents in the sizes from 1 to 4 people. The letters UL mean "ultra-lightweight" and HV mean "high volume", and both should be taken quite literally. This is the most advanced system on the market.
They have taken the famous award-winning Copper Spur series and made it even better, so imagine. In fact, this improved version itself is the winner of a 2017 Backpacker Magazine Editors' Choice Gold Award.
If you are curious what they did, here it is: With the new design, they have increased the strength by 25% and the useable interior volume by 20% when compared to the previous (award-winning) versions of the Copper Spur tents.
This is a freestanding tent with a hub design, see the picture. To fully understand this terminology please check my separate text. Note that this term may be misleading sometimes; to have vestibules fully functional, you have to stake them to the ground. This is the case you have here, and this tent comes with several guylines to stabilize it against the wind.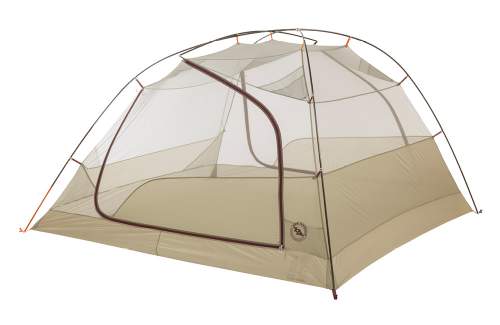 The tent is built for 3-season use, with a full-coverage fly, and it offers a complete protection from elements. What makes it a 3-season is the fact that its upper body is almost only a mesh, see the picture. So, such a structure is great for ventilation, but this will not keep the warmth inside. Also, the pole structure is what you have in tents for mild weather conditions. But those you have here are quality and very flexible poles, and they can withstand a lot of what nature can throw on it, you can be sure about it; more below.
Just as a note, since it is the winter coming when I am writing this text, if you need a winter tent, please check this text.
---
Who is it for
This tent is designed with backpackers in mind, so it is ultra-lightweight and with an incredibly easy setup. Being suitable for such a use, it is clear that you can use it also for any other outdoor activity, literally. So if you can afford it, this is a tent for hikers, climbers, mountaineers, and you name it.
Back to its main purpose, from a backpacking tent you would normally expect that the flor area is small. But in this case, this is not so. You have 57 sq ft (5.3 m²), which means 1.33 square meters per person, not bad at all. See the floor plan and dimensions in the picture below.
Now, add the two vestibules to it, with the total area of 2.6 square meters, and you realize that this tent offers quite a comfort – all your gear can stay outside while still fully being protected from the elements. Note that each vestibule has two stake-out points, so they create a lot of covered volume. And below, you will see about the weight for all this.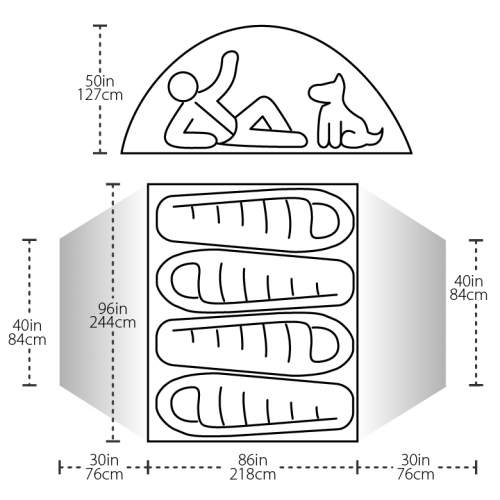 Pricewise, with its current price tag $600, this tent is clearly not for everybody's pocket. It is designed for professionals, but if you can afford it, do not think twice.
The packed size is also amazing, only 21.5 x 5 inches (55 x 13 cm). So this you can carry in the backpack or transport on a bicycle, on a motorbike, in a kayak, in the car. I had to check twice when I realized how small the packed bundle was.
The weight
With its 5 lb 10 oz (2.55 kg) packed weight, this is the lightest 4-person tent on the market. In the specifications, you will see the terms like the trail weight and the fast-fly weight. These are described in detail in my separate post.
I wish to stress only that the fast-fly weight implies using the footprint, but the footprint is not included. It must be ordered separately and you can do it here. Its weight is 11 oz (312 g), and in this variant, the total weight is only 1.87 kg.

---
Materials and construction
Fly and floor
In the fly and floor, you have a silicone treated proprietary patterned random rip-stop nylon. If you are not familiar, such SilNylons are used for top quality tents. This is very water repellent and elastic material, and it is also known to be stable in various UV and temperature conditions. It is stronger, lighter and more durable than PU coated materials. If you have ever used it in winter conditions, you will know that the snow does not stick to it.
But, you have seen the price of this tent. Well, this fabric is one of the major reasons for it. Now you know what makes it expensive, but there is more. The seams are taped with waterproof, solvent-free polyurethane tape (No PVC or VOC's).
Waterproofness rating is 1200 mm. This looks like a rather moderate value and frankly, I was a bit surprised when I saw it first. But this is surely good enough for most situations you can have, this tent will keep you safe.
On the other hand, the overall quality of the material may be more important than this rating number alone. Remember that the loosely woven fabric will need much more coating to have the same actual waterproofness rating as a tighter woven fabric with less thin coating.
The material used here is a high tenacity yarn and high filament count, this increases the tear strength by 25% and it decreases the weight of the material.
Note that you have one fly vent only. Pity they do not add one more. The fly is the second layer as usual for this type, and it is connected to the pole structure by multiple Velcro tabs.
The tent body
Here you have a proprietary patterned random rip-stop nylon and breathable polyester mesh. The doors are very big and each with two separate zipper pulls.
The poles
The tent is with a hub pole design, so it is freestanding and you have 4 poles that converge to the hub at the highest point which is 50 inches (127 cm) above the floor. One extra brow pole crosses the X-shaped structure, and it is introduced there so that the side walls are pulled up. This creates a big difference in the volume, remember the HV in the name, and it makes the two doors practically vertical.
The poles are DAC Featherlite NFL and NSL pole system. The DAC is the leading tent poles manufacturer in the world.
The Featherlite NFL poles are manufactured specifically for ultralight backpacking poles. The Featherlite NSL poles are a step further in building extra strong and flexible poles for winter tents and for large dome tents. They allow for different diameters poles combination. When flexed, they allow for the tent to be made much rounder and more comfortable inside, i.e., with steeper walls and with broader roofs. They call this invention the "Reverse-combi". This flexibility you have seen in the first video above.
The Big Agnes uses DAC's new Green Anodizing process in all their tent poles and J stakes. This treatment is safer for the environment and it implies a reduced wastewater by recycling the water throughout the manufacturing process. So again, do you realize now why this tent is so expensive? There are very good reasons for that.
I have already mentioned the fast fly variant, so see it here in the picture; you use only the poles, the fly and the footprint. This is the lightest possible option, 1.87 kg only. But the footprint is not included.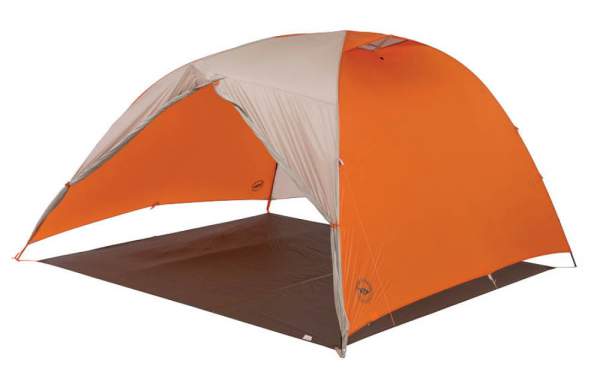 Ventilation
♦ You should have a great ventilation in this tent. There is a vent on the top of the fly, and you have two extra guylines which will move the fly away from the tent and increase the air flow.
♦ In addition, you have two vestibules, and they can be rolled out in several different ways. So you might be able to keep them open even when it is raining.
♦ Above all, the upper portion of the inner tent is all mesh, so this is a guarantee that you will have no issues with condensation.
Other features
The tent is with two large doors, each protected by vestibules with zippers covered by flaps. You have a Quick Stash system on the tent body so stowing the unzipped doors is quick and easy.
You have a two-tone mesh for privacy and for stargazing transparency.
You have huge ceiling pocket for gear storage.
4 media pockets are located above sleeping area.
Ready to pitch pre-cut guy lines and tensioners attached to fly.
There are reflective guylines and webbing on tent corners.
All zipper pulls are with an easy grip.
10 superlight aluminum J stakes are included.
Gear loft loops are included. It fits their Square Gear Loft.
---
Specifications
Type: 3-season, freestanding, backpacking tent.
Capacity: 4 people.
Packed weight: 5 lb 10 oz (2.55 kg).
Trail weight: 5 lb 3 oz (2.35 kg).
Fast fly weight: 1.87 kg.
Dimensions: 96 x 86 in (244 x 218 cm).
Peak height: 50 in (127 cm).
Floor area: 57 sq ft (5.3 sq m).
Vestibule area: 14 + 14 sq ft (1.3 sq m + 1.3 sq m).
Packed size: 21.5 x 5 in (55 x 13 cm).
Doors: 2.
Vestibules: 2.
Footprint weight: 11 oz (312 g) – not included.
Colors: 2. Note that the Olive color is available only for the 4-person tent, not for the smaller tents in the series.
---
The Big Agnes Copper Spur HV UL 4 Tent vs competitors
See this tent side by side with some other top-class tents currently on the market. To see more please follow the links.
Big Agnes Copper Spur HV UL 4
Sierra Designs Sweet Suite 3
---
Final thoughts, rating, pros & cons
In the summary of this Big Agnes Copper Spur HV UL 4 Tent review, I must say that I am impressed with everything but the price. This is a top-notch tent which will keep you dry both from the ground and from the sky. Its features are such that it is hard to find a match. But the price is steep for this tent, and you realize this is for all good reasons; there is nothing cheap here, this is a quality tool. Fully recommended. You might want also to check the 3-person version with the integrated light.
To realize how great the weight is, you can compare its Area/Weight (AW) ratio (2.08 m²/kg) with yet another great top-notch tent, the Marmot Limestone 4, which has this ratio AW = 1.05 m²/kg.
But see also this great Sierra Designs Sweet Suite 3 Tent, with AW = 1.94 m²/kg, so the Copper Spur HV UL 4 tent is surely great, but there are also some other great tools out there.
If you cannot afford this tent, please check my page with tents and shelters, you will find them in all sizes and styles.
Thank you for reading. If you have a question or comment, please use the comment box below. Have a nice day.