---
This Marmot Limestone 4P Tent Review is about the new version of the popular freestanding 3-season camping tent for 4 people, with 2 doors and 2 vestibules and with a full-coverage fly.
Contents
Key features & benefits
Great floor area.
2 doors & 2 vestibules.
Freestanding.
Great packed size.
Very reliable tent.
---
What type is this
The Marmot Limestone 4 is a freestanding tent, so you can pitch it on any terrain. But to have it fully functional with its two vestibules, it is best to stake the fly out.
This is also a 3-season tent, two-layer type as typical for such tents. So you have the inner tent body plus the full-coverage fly shown in the picture below.
With its packed weight 11 lb 11 oz (5.33 kg), this is a quite heavy tent, so I would put it in the category of tents for car camping.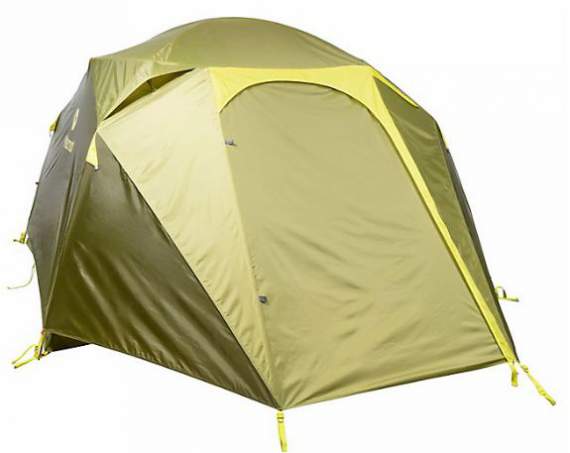 ---
Who is it for
The Limestone 4 is a great tent for groups of friends, for couples who want a lot of space when camping, or for young parents with one small kid.
Its packed size is quite good, only 27.5 x 10 in (70 x 26 cm), so it can be transported on a motorbike as well, and I see it as a great tent for motorbikers on some cross-country tours.
In general, this is a very versatile tent suitable for any activity where you do not have to carry it in the pack, perfect also to be used as a base camp tent for hikers and mountaineers.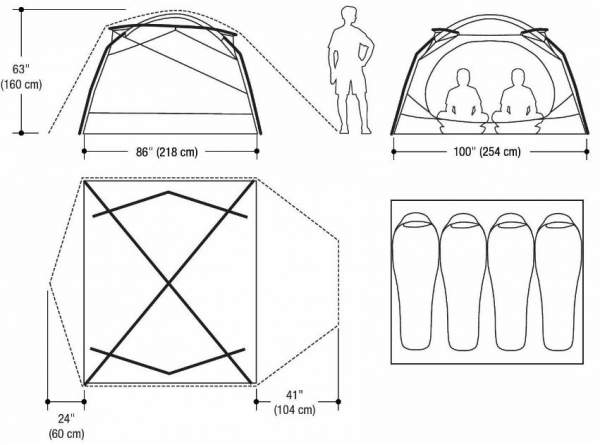 The floor plan shown above demonstrates how to use the tent. Clearly, there is enough space for 4 sleeping pads up to 60 cm in width each. The two vestibules allow for the storage of the gear.

---
The new version and previous versions
This tent has been around for many years, at least 5 – 6 as far as I know. So this version is slightly different from the version 2014, but the general structure looks pretty similar. There are differences, here are a few:
Now you have two doors here instead of 1 door.
The color is different; it is green-gold and orange now, as compared to dark green before (note that in the version 2012 it was orange).
There is a negligible 1-inch difference in the height.
The previous version had a doormat included; you do not have it here. Pity.
---
Overview
Poles
You have them 4 in total all shock-corded, 2 main poles plus 2 shorter ridge poles which play an important role here. They make the doors vertical on two sides, and they also pull the ceiling up on the other two sides. So this adds extra volume to the headspace. The main poles are a pre-bend construction and this also creates extra volume.
Note that there is no hub here, so the main poles go through the sleeves and this is how the tent becomes freestanding when you put their ends into grommets. These are high quality, strong and durable DAC aluminum, 12 mm diameter poles. Note that DAC is the world-famous Korean manufacturer of tent poles.
These are DA 17 poles, and if you are not familiar with the terminology, this type was the first engineered especially for large tents. So they have flexibility and strength to bend and to return to straight later. The company is very proud of these poles and they write that their development was a breakthrough needed for the development of the larger, high-quality tents that are on the market nowadays.
The weight
The tent is heavy but this is due to durable materials and size. So you have a huge floor with 59.7 ft² (5.6 m²), and its material is a very strong 150D polyester. On the other hand, the poles are also very strong and thick, so the weight is the consequence of all this.
Note that they use the terms maximum and minimum weight. You can see about this terminology in my separate text. The terms may differ from one brand to another, but the minimum weight should be the weight without stakes. I would not use the tent without them, so use the full package and put your mind at rest.

The fly
The fly looks impressive, it covers the whole tent and creates two asymmetric vestibules which are shown on the floor plan above. So you have 20 ft² + 8 ft² (1.86 + 0.74 m²) extra covered space for your gear. I am very impressed with it.
You can roll the door to the side, and this is shown in the picture below. The door is D-shaped and when rolled out, you still have vestibule which creates the covered space.
You have several vents here, so this combined with the mesh structure under the fly should guarantee a good ventilation, and condensation should not be an issue.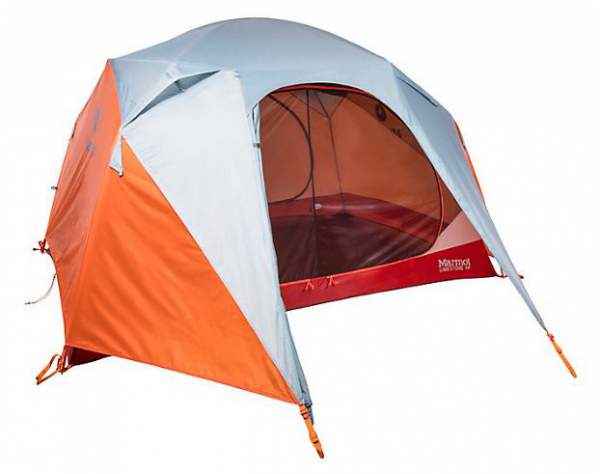 Inside structure
The floor area is quite impressive, 59.7 ft² (5.6 m²), so you have 1.4 m² of space per person. It is almost a square with the dimensions 100 x 86 in (254 x 218 cm). The floor is a catenary-cut type or perimeter-cut. This is a design with taut edges where walls and the floor meet, as opposed to a bathtub-type where the floor fabric goes up the wall up to a certain height.
The height is also great, so you have 63 in (160 cm). The ridge poles create a lot of elbow space and headspace, so this is a very livable tent. Mesh is almost everywhere around, and also above.
There are a few pockets above the floor (I would love to see much more), and also some small pockets with diffusive fabric on the ceiling where you can put your headlamp and have a nice ambient light in the tent.

Waterproofness
Marmot is a reliable brand and this tent is a great example. You have the floor fabric with a 3000 mm rating, and the fly is 1500 mm. These are great numbers in both cases; it is unlikely that you will ever need more protection. All seams are taped. In view of the full-coverage fly, you can be sure you will be fully protected in this tent.
---
Setup
The setup is easy because everything is color-coded and the construction is so simple. So you start by passing the shock-corded main poles through the sleeves, and then setting their ends to the corner grommets. After that attach the inner tent with the remaining clips, and add the brow poles.
Adding the fly is easy again due to the color-coding. You have buckles to fix it to the structure at the grommets. To have fully functional vestibules, you need to stake them out.
---
Specifications
Type: freestanding, 3-season camping tent.
Capacity: 4 people.
Max weight: 11 lb 11 oz (5.33 kg).
Min weight: 10 lb 1 oz (4.575 kg).
Dimensions (L x W x H): 100 x 86 x 63 in (254 x 218 x 160 cm).
Floor area: 59.7 ft² (5.6 m²).
Vestibule area: 20 ft² + 8 ft² (1.86 + 0.74 m²).
Packed size: 27.5 x 10 in (70 x 26 cm).
Doors: 2.
Poles: 4
Materials:
– Canopy fabric: 40D 100% polyester No-See-Um mesh F/R & 68D 100% polyester taffeta F/R.
– Floor fabric: 150D 100% polyester Oxford 3000 mm W/R, F/R.
– Fly fabric: 68D polyester taffeta 190T 1500 mm F/R.
– Poles: DAC aluminum, 12 mm diameter.
Taped seams.
Warranty: limited lifetime.
Fly with vents.
Color coding.
Lampshade pockets.
Seams taped.
Catenary cut floor.
Interior pockets.
Jingle-free nylon zipper pulls.
---
Marmot Limestone 4P Tent vs competitors
See how the Limestone 4 stands in comparison with two great tents from other brands, to read more please follow the links:
27 x 15 x 5 (68 x 38 x 12)

---
Summary, rating, pros & cons
In the conclusion of this Marmot Limestone 4P Tent Review, I would like to stress that this is a quality tool, very roomy and livable, with large doors, with a lot of storage area, and it offers a full protection from elements. The materials used in its construction are very durable and reliable. This is a typical dome-shaped tent so the setup is really easy.
All in all, I am impressed and I can fully recommend it if you can afford it. I have included this tent on my list if best tents for car camping. Note also that there is a bigger tent in the series, the Marmot Limestone 6 tent.
Note that the footprint is not included. The floor is very durable so it is not compulsory, but if you think you might need it, it is available here.
The price is certainly not the greatest feature here. It is expensive, but this is expected for such a quality product. There are reports by customers on Amazon and the average rating is incredibly high. I wonder why I am not surprised. But see how I rate it:
If you need something different, please check in my page with tents, there are tens of tents there described in detail. In particular, check this Browning Glacier 4 tent. Need something lighter? This Big Agnes Copper Spur HV UL 4 is the champion. Note also that Marmot has launched the new version of their famous Halo 4 tent, so have a look and compare.
On the other hand, if you need something much bigger for family camping or for large groups, please check here, you will find the best models on the market.
Thank you for reading. Please let me know if you have any question or comment, there is a comment box below. I wish you a nice day.