---
This Browning Camping Glacier Tent review is about an impressive 4-person freestanding 3-season-plus camping tent built from very durable materials, a top-quality tent with an easy setup, built to last for years.
---
Key features & benefits
Huge covered and protected area.
Very tall and livable tent.
Very reliable tent.
2 doors.
2 large vestibules.
Very durable materials.
Freestanding.
Roll-up fly on both sides for ventilation.
Roll-up vestibules.
Gear loft.
Expensive.
Heavy.
---
What type of tent is this
This tent is something between a dome-style tent and a cabin tent, so a great hybrid in the best sense. This means that it is very tall for such a dome tent, so you have 72 inches (183 cm) peak height here.
At the same time, its walls are almost vertical and almost straightened, which makes the interior very livable. Such a structure allows for using cots and bunk-cots as well, they will fit nicely against such steep walls.
There is nothing cheap in this tent, so you have all the strong and durable materials, and this is reflected in its price. More about all this below.
The Glacier Tent is freestanding and you will realize this from the video below. So when you set it up, you can rotate it and move it around in the camp. However, you have no less than 8 points to stake the inner tent to the ground, so do not miss to do so if the terrain allows you.
This is a fully double-layer tent. This means that you have the inner tent plus a full-coverage fly. Note also that the ceiling is with some mesh sections for ventilation, but there is not much mesh here, so with the fly on, this tent will keep the warmth well, so I would say this is a 3-season plus tent. Its dome structure is surely able to withstand a lot of pressure from any direction.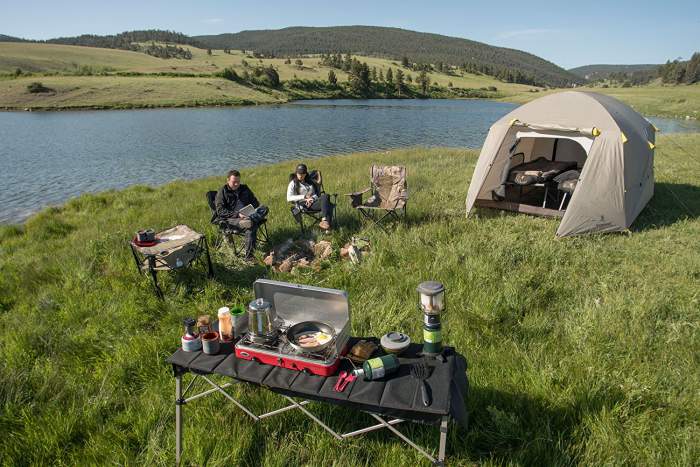 ---
Who is it for
Sizewise, the tent is officially for 4 people. Its floor size is 9 x 8 feet (274 x 244 cm), so clearly you can easily put 4 pads side by side on the floor, and you will still have some space left in the feet area because you have 244 cm in total. But note also that you have 2 large vestibules, one on each side, and they add 35 square feet (3.3 square meters) of the covered and protected area.
So all together you have 10 square meters of the protected area. Not many tents on the market provide such a luxury. I am truly impressed with these numbers. This tent indeed provides more than enough space for the declared number of 4 users.
If this tent is used for family camping, you might want to consider using bunk-cots inside, at least for kids. Such cots will fit nicely in this design and you will save a lot of floor area, and you can still store some gear underneath such cots.
The whole tent is supported by only two thick poles, so the construction is simple and easy to use, suitable for anybody.
The tent is heavy, 21 lb 4 oz (9.64 kg), but this is a camping tool to be used at places with a car access, and the materials are top quality so the weight is not surprising.
On the other hand, its packed size is also impressive, you have a nice carry bag which is of the size 27 x 9 inches (69 x 23 cm), so the tent can be transported even on a motorbike. Bear this in mind if you are on a motorbike cross-country tour with your friends.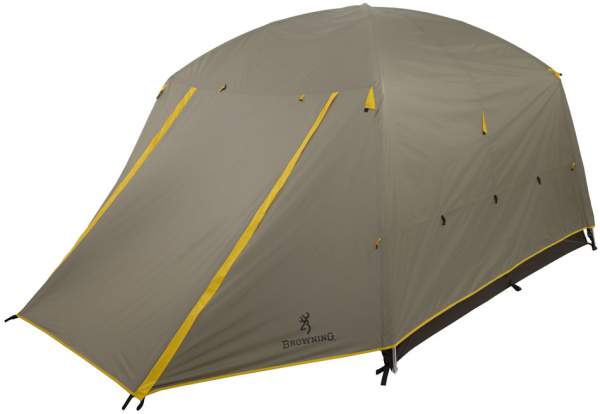 As I mentioned above, this tent is officially for 3-seasons, but it will perform well even if used as a winter tent. I am sure it is more reliable than some tents that are officially described as winter tents or 3-season-plus tents.

---
Construction & materials
Poles
It is surprising to see such a big and tall tent with only 2 poles. But those two are indeed thick 19 mm diameter aluminum poles. They are shock-corded so adding them to the structure is very easy. The vertical parts are practically straight and this is what gives the tent its cabin-shape.
Fabric
The fly: I already mentioned that the fly is the full-coverage type, so you have a full protection here. The tent is freestanding and the fly fits this feature, so you have buckles on all corners to attach it to the tent base. In addition, you have Velcro tabs to fix it to the poles and to make it secure in the wind.
The material is 75D 210T polyester which resists UV damage and stays taut. Surprisingly, they do not give a waterproofness rating for it. You have numerous extra guy-outs on it to stabilize it in the wind, some are visible in the picture below.
Note that the fly can be rolled up on the sides where you have windows, see the picture below. This is a nice feature and it shows attention to details. So, you have toggles with loops and you fix the fly above the windows to have some views from the tent and to increase ventilation when needed.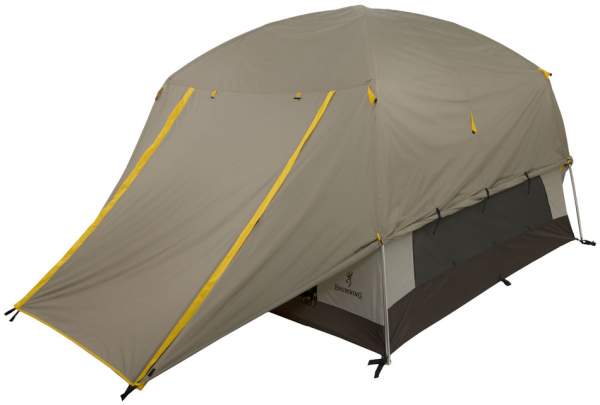 The floor: Here you have a very durable and thick 210D nylon oxford with 2000 mm coating, so this is a quite reliable structure. All seams are taped here as well as on the fly.
Windows and doors
The two very large doors, one on each side add to the comfort, they are really nicely designed and very useful. Note that both have zippered mesh windows. The doors can be rolled to the side and fixed with toggles and loops.
There are two additional large mesh windows on the sides, see the picture below, so they provide a great ventilation in combination with the mesh ceiling openings. The panels on the windows can be rolled up and fixed with toggles and loops. Note that they are very low, so they also serve like vents here.
The ceiling is with the mesh area for ventilation. In fact, you have a zippered area on the roof, so you open it like a window on the ceiling shown in the picture below; and yes, the toggles are here again.
Vestibules
Definitely worth mentioning again are the two vestibules, one on each side. They are with double parallel zippers, so you can roll the vestibule up when you do not need it. Note that you still have side wind-breakers, see the picture below, to sit comfortably in front of the tent or to cook in front of the tent. With some imagination, you can transform this vestibule flap into an awning.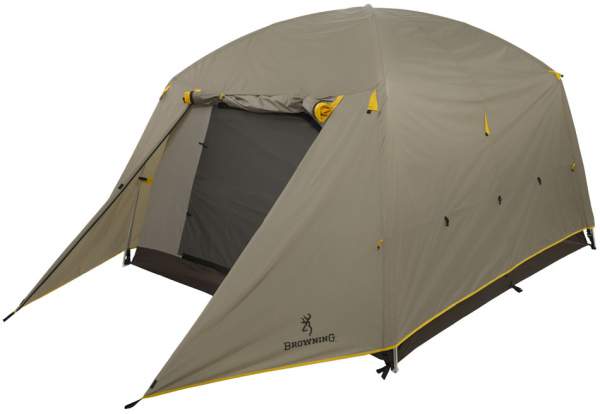 Other features
The zippers are large #10 on doors and vestibules and they work smoothly.
But the fly is without vents and this is the only thing missing here.
Plenty of 7075 aluminum durable stakes and guy ropes are included in the package so the tent is very stable in a bad weather.
Mesh storage pocket.
Gear loft is included, see it below.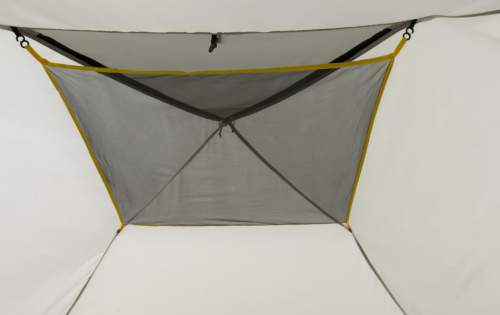 Setup
It is best that you see this nice video by the Browning brand, all details are presented. You will realize that it is easy for two people, but almost impossible for one person only. This is because you do not have a hub element here so the poles are kept upright only by the inner tent when you attach it to the poles. Please have a look:
---
Specifications
Type: dome-style camping tent.
Capacity: 4 people.
Packed weight: 21 lb 4 oz (9.64 kg) – this info is from the brand's site directly, different from Amazon.
Dimensions base: 9 x 8 ft (274 x 244 cm).
Area: 72 ft² (6.7 m²).
Area per person: 18 ft² (1.67 m²).
Peak height: 6 ft (72 in; 183 cm).
Packed size: 27 x 9 in (69 x 23 cm).
Vestibule depth: 40 in (102 cm).
Total vestibules area: 35 ft² (3.3 m²).
---
Browning Camping Glacier tent vs competitors
Here I compare the Glacier tent with two other top-notch tents on the market. I think it should only be compared with such best items. So, see how it stands, it is far heavier but you are not supposed to carry it around:
27 x 15 x 5
(68 x 38 x 12)

---
Final thoughts, rating, pros & cons
In the summary of this Browning Camping Glacier Tent review, I wish to stress again that I am very impressed with this tent. This is a rarely seen quality tool with incredible features and many great details in the design. The tent is totally reliable, and I can fully recommend it to anybody who can afford it. It is expensive but I am sure it is worth the money.
If you need a tent for a cooler environment, this is it. It is designed to keep the warmth, but you also have large openings (with panels) on all 4 sides plus on the ceiling if/when you need some extra ventilation. Note that they also have a far bigger tent for family camping, for 8 people, you can see it here.
See how I rate this tent:
Browning Camping Glacier 4-Person Tent
If this tent is over your current budget, please look around in this site, there are many tents described in detail and you can see them here. In particular, have a look in my article about 4-person cabin tents. See also this Coleman Carlsbad 4 tent which has a screen room and a dark-rest room.
Thank you for reading. Please use the comment box below if you have any question or comment. I wish you a nice day.