---
Here I give the list of best 4 person cabin tents that are currently on the market, all very popular models that will be the main camping tools in the coming season as well. Although very similar in the design, the tents are at very different prices.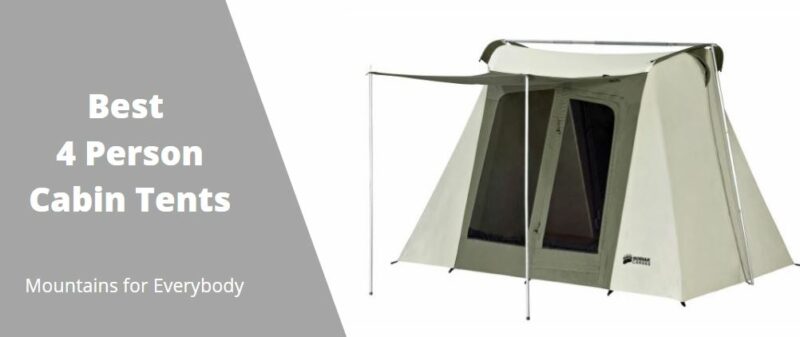 ---
Why cabin tents
♦ Cabin tents are tall, with straightened walls, typically at least two of them are very steep and sometimes completely vertical. In addition, such tents are usually with many large windows, and you will realize this from the examples below. Clearly, those are very livable constructions, usually suitable for very moderate summer campings (but there are exceptions, of course, you will see some below). You can read more about this type of tents in general in this text.
♦ As you can imagine, such large windows do not go well with rain flies, so most of the cabin tents are with a minimal fly which covers only the ceiling. In fact, some of them are the single-layer type, without a fly, or better to say with an integrated fly, and you will see examples of that type below. Such a single layer usually implies an easy setup.
♦ Some of the cabin tents are also instant tents, and this implies that the frame and the tent are permanently pre-attached to each other. See more about such tents here.
♦ These are camping tents, so they are relatively heavy and you need a car for transportation. But in some cases the packed size is great and you can transport them even on a motorbike and in a kayak.
---
My list of best 4 person cabin tents
Here is my list, with the tents ordered by the floor area from the largest to the smallest:
The list includes one canvas tent (the first tent in the list below), one instant tent (the last tent in the list), and others are the standard cabin tents. Some are for the summer use only, but one is a 4-season tent. Some tents are single layer type, and some have a minimal fly which mainly covers the roof.
---
1. Kodiak Canvas Flex-Bow 4 Person Canvas Tent, Deluxe
This Kodiak 4 person tent is exceptional in many ways and it should be the number one for several reasons. This is the only canvas tent here, so yes you are reading correctly, this is a cotton tent.
At the same time, this is the only 4-season tent in the list, so you can use it all the year round regardless of weather conditions.
The frame is steel, so you have:
1-inch galvanized steel tubing for the main vertical poles.
Flex-bow rods, 3/8-inch, solid, spring steel.
The cotton fabric itself is heavy and sturdy so it is no surprise that the weight of this tent is 54.5 lb (24.7 kg). This all is built to last for many years.
The ceiling material is 10 oz Hydra-shield canvas and walls are 8.5 oz Hydra-Shield canvas. On the floor, you have 13.5 oz vinyl reinforced with polyester, and with welded seams. If you are not familiar, these seams are the best possible type of sealing and it is possible only on such plastic materials which you have here on the floor, see more in my text here.
This tent has been on the market for a number of years already, you realize this from this 2010 video:
Key features 
Hydra-Shield 100% cotton duck canvas. Durable, watertight and breathable.
Flex-Bow frame is exceptionally sturdy. Keeps tent taut. Quick and easy, one-person, setup.
2 large D-shaped doors.
4 large windows with no-see-um mesh.
Front awning (70 x 57 in) provides covered entry and shade, see the picture above.
Two funnel-flow vents.
Note that the tent is not freestanding, it must be staked to the ground.
Specifications
Weight: 54.5 lb (24.7 kg).
Floor dimensions: 9 x 8 ft (274 x 244 cm).
Floor area: 72 ft² (6.69 m²). So this is the larges tent here.
6'1″ (185 cm) ceiling.
Total packed size: 35.5 x 12.5 x 11.5 in (90 x 32 x 29 cm). The tent packs in (L x D) 24 x 13 in (61 x 33 cm). The poles pack (L x D) is 35 x 5.5 in (89 x 14 cm).
Warranty: lifetime limited.

---
2. NEMO Wagontop 4P 3 Season Camping Tent
This is again a very specific tent, very tall and with two vertical walls. You will notice that this is the only tent here with a true vestibule, you have an extra 27 ft² (2.5 m²) of the covered space, so this makes it a rather exceptional model. Its packed size 28 x 10 inches (71 x 25 cm) is such that you can transport it even on a motorbike.
This is a single-wall and freestanding design, and these features are typical for most of the cabin-type tents on the market. This is one of the tents that is really a 3-season type, and this makes it superior to many other tents in the list which are mainly for summer camping. But see its profile and you will realize that it is best not to pitch it in a very windy place.
The fly is 75D PU polyester ripstop with 1500 mm waterproofness rating, and the floor is very durable 150D PU polyester ripstop with the same 1500 mm rating. Two hubbed aluminum poles are with a Y-shaped design and they provide an excellent and flexible structural stability which helps in the case of winds.
The vestibule can be removed or you can roll it up. Behind it you have a large door with a dual-entry design, and inside you have panels for versatility and privacy. As typical for cabin tents, you have large screen windows on all sides of the tent. They are equipped with panels for privacy and for protection against the rain.
Note that this series includes also a bigger brother for 6 people with very similar features, see more about it here.
Key features
Freestanding.
Single-layer type.
Unique pole structure, so you have lots of volume here.
Easy setup; all is color-coded.
Large screen windows and great ventilation.
Removable vestibule.
Very tall tent, no need to crouch or duck when entering.
Specifications
Weight: 19 lb 9 oz (8.87 kg).
Total dimensions: 10 x 10 ft (305 x 305 cm).
Floor area: 69 ft² (6.41 m²).
Vestibule area: 27 ft² (2.5 m²).
Peak height: 78 in (198 cm).
Packed size (L x D): 28 x 10 in (71 x 25 cm).
Warranty: limited lifetime.

---
3. Eureka Desert Canyon 4 Person Tent
This Desert Canyon 4 tent is a very new item on the market, it appeared in 2018. I guess more cabin-style one tent cannot possibly be, here you have almost completely vertical walls and the tent is incredibly tall. The floor area is 64 ft² (6 m²) so you have 16 ft² (1.5 m²) per person. This is not much and it is best to downgrade it to 2 or maximum 3 people. But the peak height is something rarely seen, you have 86 in (218 cm).
The poles are a combination of steel and fiberglass, and the fabric is with the waterproof rating 1200 mm for the tent body and the fly, and 1800 mm for the floor. This is quite enough for a typical summer camping.
You have a shelter pitch option, so you can use the fly and the poles only to create a shade in the garden or on the beach. Please read more in my full review.

---
4. Eureka Copper Canyon 4 Tent
This is a very typical summer camping tent, a simple square and stable structure with huge windows and a large door. These windows make it very pleasant and livable, but its incredible height of 84 in (213 cm) also adds to a great feeling you have in this tent.
The tent is freestanding and you can literally pitch it on concrete, grass, sand, rock, anywhere. But this structure is not aerodynamic and you should not miss staking it out if you can.
The four vertical poles are steel, and they are 19.5 mm thick, while roof poles are 12.7 mm fiberglass. The fly is minimal, designed to cover only the ceiling and to let you have unobstructed views through all those great windows.
Key features
Tall and very livable tent.
Freestanding, so you can indeed pitch it on any terrain.
Huge windows.
Impressive packed size, so you can transport it even on a motorbike.
Electricity port available.
Gear loft included.
No vestibule.
Specifications
Packed weight: 19 lb 4 oz (19.25 lb, 8.73 kg).
Floor size: 8 x 8 ft (96 x 96 in; 244 x 244 cm).
Floor area: 64 sq ft (5.95 m²)
Interior peak height: 7 ft (84 in, 213 cm).
Packed size: 26 x 7 in (66 x 18 cm).
Doors: 1.

---
5. Eureka Jade Canyon 4 Tent
This tent is rather similar to the Copper Canyon model above. So again you have a square 8' x 8' floor area and lots of headspace in this tall and pleasant tent.
The poles are steel and aluminum combination, with 19 mm and 16 mm diameter, so this is a very strong freestanding structure which you can set anywhere. But stakes and guylines are included to anchor the tent to the ground when possible.
You have internal storage pockets and dual gear lofts. Note that you have a Media Center pocket where you can keep a notepad and other devices and watch while sitting in the tent. In addition, you have an integrated port to run an electrical cord through the wall.
An interesting feature is reflective panels on the ceiling, they maximize the glow of your lantern when you hung it there.
The tent is with 4 mesh windows, and the mesh is also in the canopy which is protected by a 75D StormShield polyester rainfly. The walls are also 75D polyester, and you have a 1800 mm waterproofness rating here. The floor is a bathtub-style 75D polyester with a 2000 mm rating, designed to keep the interior dry.
A bit more you can see in this video:
Key features
Freestanding.
Shock-corded steel main poles, and aluminum roof poles, so this is an important difference as compared to the Copper Canyon tent above.
Matching color-coded webbing on tent and fly make set up fast and easy.
Zippered E! Power Port.
Reflective panels increase brightness.
Media Center hanging sleeve.
Great packed size.
Specifications
Weight: 18 lb 1 oz. Note these are official numbers from the Eureka site, and they are different from some other sources you can see on the Internet.
Floor size: 8 x 8 ft (244 x 244 cm).
Floor area: 64 ft² (5.95 m²).
Peak height: 7 ft (213 cm).
Packed size (L x D): 26 x 8 in (66 x 20 cm).
Doors: 1.
Warranty: lifetime.

---
6. OT QOMOTOP Tent 4 Person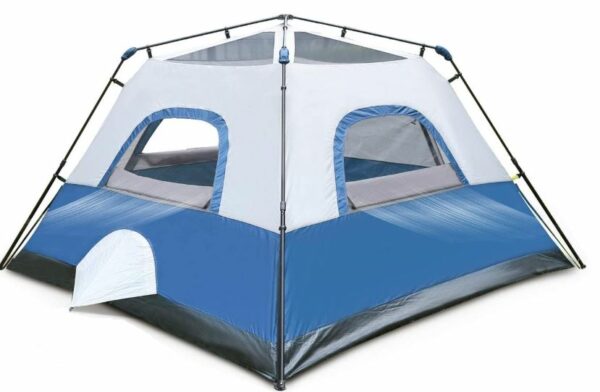 This OT QOMOTOP Tent 4 Person is cabin style freestanding tent so this is why it is here in the list. But this is also an instant setup tent with 60 seconds setup. It is pleasant with all these windows visible in the picture, and it is also nicely ventilated. This is a tall tent with its 59 inches (150 cm) peak height.
It has an E-cable port, and its weight is 16.75 lb (7.6 kg). The floor area is 64 ft² (5.95 m²). Note also that it comes with a great price tag.

---
7. ALPS Mountaineering Camp Creek 4 Person Tent
Here again, you have a very typical cabin tent, very tall, with minimal fly and very large windows. The walls are almost vertical so you can use bunk cots and make it even more livable and save lots of the floor area. The tent has received very good reviews by users.
You have small awnings over the front door and back window, which means that you can keep them at least partly open even when it is raining, so you can always have a good ventilation here. The tent is a part of a series which includes also a 6 person tent, just to know if you need a bigger tool.
The materials are very robust here. So you have a 75D 185T polyester fly with 1500 mm coating designed to resist UV damage. The floor is a 150D polyester oxford floor with 1500 mm coating. All seams are factory-sealed. The vertical 4 poles are 19 mm steel, and the roof poles are fiberglass.
Key features
Freestanding design.
Very tall tent.
Durable fabric.
4 windows.
1 door.
Very good packed size.
Specifications
Weight: 20 lb (9.07 kg).
Dimensions: 102 x 90 in (259 x 229 cm).
Floor area: 63.8 ft² (5.93 m²).
Peak height: 84 in (213 cm).
Packed size: 28 x 7 in (71 x 18 cm).

---
8. Gazelle 22272 T4 Pop up Portable Camping Hub Tent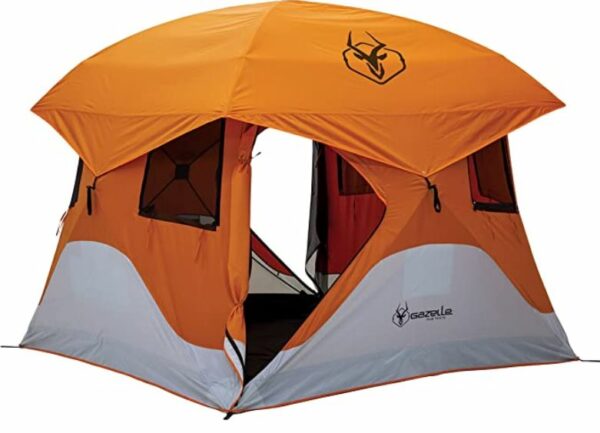 This Gazelle 22272 T4 Pop up Portable Camping Hub Tent is unique on the market, but it is here because of its patent-pending design, it looks like a cabin-style tent. This is an instant setup structure of a particular type, with the official setup time of 90 seconds.
The tent is with a great waterproof rating, 2 doors, and 6 windows. It has a removable floor and fiberglass poles. Note that it is rather heavy with its 30 lb (13.6 kg), and the area is 61.4 ft² (5.7 m²). I have included it also in my separate list of best 4-person car camping tents.

---
9. Kelty Sequoia 4 Person Camping Tent
This Sequoia 4 is a part of a completely new 2018 series by Kelty. The tent is 78 inches (198 cm) tall and it is a sort of hybrid between a dome and a cabin type tent. The poles are not completely straight so the walls are also not completely flat but they are so steep and tall that it deserves to be included in this list.
The tent is with a full-coverage fly and this is a true 3-season tent which will keep you dry in any weather conditions. It offers 60 ft² (5.6 m²) of the inner area, plus 35 ft² (3.3 m²) under its large vestibule. So this is plenty of space when you compare it with the most typical cabin type tents here in the list which have no vestibule. But this list is ordered by the inner area only and this is what puts this tent relatively low on the list.
The packed size is 26 x 8 x 8 inches (66 x 20 x 20 cm) and this is small enough to be transported on a motorbike. Please read more in my separate review.

---
10. Big Agnes Big House 4 Deluxe 3 Season Camping Tent
Here you have a superior quality tent from a renown brand. Perhaps some might argue that it does not belong to the group of cabin tents, and indeed it is a bit lower than other tents, so you have the interior height of "only" 68 inches (172 cm). But this is again a structure with almost straightened tall walls and with the floor area of 5.57 square meters (60 sq ft).
This is a 3-season camping tent in the true sense and you can certainly rely on it regardless of weather conditions. The rain fly is awning-style, so it does not cover the whole tent but it goes almost to the ground on the sides. So you do not have a true vestibule here and all stuff will be kept inside the tent.
But you should know that they sell the vestibule separately, and you can see it here. In such a combination this transforms into a very luxurious camping tent. Such an addition adds an extra 40 square feet (3.72 m²) of protected external storage space.
Note also that this series includes a bigger tent as well for 6 people, and it is important to stress that this is a freestanding type. But very sturdy aluminum stakes are included so you can always secure the tent.
This is a very livable tent with 10 internal mesh pockets that provide places to stash clothes and gear. You also have gear loft loops where you can attach the gear loft from the same brand, which they sell separately.
Note that you have 2 large doors here, which also adds to the livability. They are protected by integrated panels which you can raise behind the door when it is raining or just for privacy.
The setup is easy with only 2 poles with press-fit connectors and with color-coding which is applied here. The carry bag is a briefcase-style with nice interior storage pockets and easy-carry shoulder straps.

---
11. KAZOO Family Camping Tent 4 Person Saturn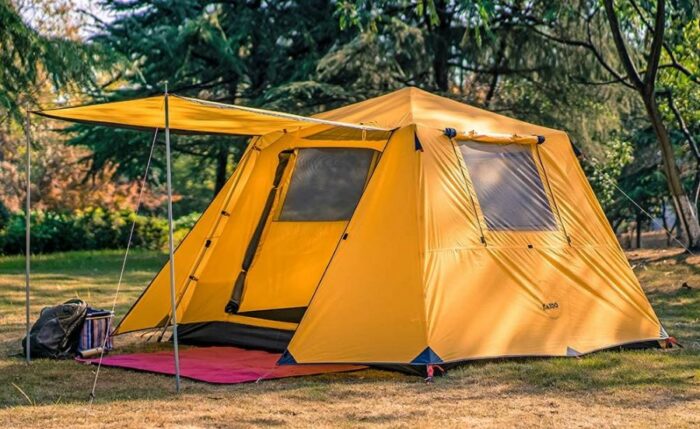 This beautifully designed KAZOO Family Camping Tent 4 Person Saturn is full of great features and it is a very typical cabin style tent. You have aluminum poles, a pair of windows on the fly, it offers an awning configuration shown in the picture, and much more.
You have an instant setup tent here, and yet another great feature is its full-coverage fly. The tent is with 2 doors and fully freestanding. It comes with a great waterproof rating and a great price. The tent weighs 14.31 lb (6.5 kg) and it offers an area of 56.8 ft² (5.3 m²).

---
12. Coleman Instant 4 Person Camping Tent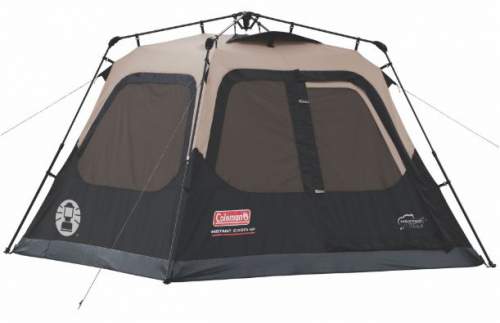 This is the only instant cabin tent here. So if you think that the setup of other tents is easy and straightforward, you should see this Coleman tent in action. The frame is preassembled and attached to the tent in the factory, so you just spread the tent and expand its telescopic poles.
This is also a single-layer tent, in this respect similar to the NEMO model above. They call this the integrated fly design.
Key features
Freestanding.
The only instant tent here, so the easiest setup that you can imagine.
Great price. The current price is around 75 and up, no other tent here is a close match to this tent.
The lightest tent in the list.
Huge windows.
It is not very tall, the lowest tent here.
Specifications
Weight: 9.8 lb (4.45 kg).
Dimensions: 8 x 7 ft (2.44 x 2.13 m).
Floor area: 56 sq ft (5.2 m²).
Peak height: 4 ft. 11 in (59 in, 1.5 m).
Packed size: 38 x 18 x 9.5 in (97 x 46 x 24 cm).

---
13. CORE 4 Person Straight Wall Cabin Tent 8 x 7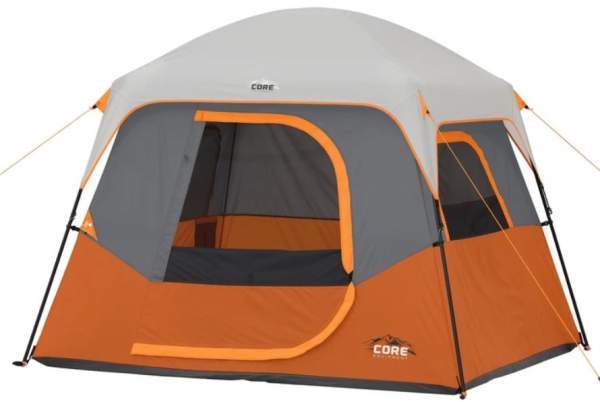 Here you have a nicely designed freestanding tent from a renown brand, with a simple structure based on four leg poles and two roof poles. The tent is with windows on three sides and there is one door visible in the picture above.
The official capacity is 4 people and the tent offers an area of 56 ft² (5.2 m²). The weight is 13.4 lb (6.1 kg). It comes with an E-cable port, a gear loft, and a couple of storage pockets on the walls. It is incredibly affordable.

---
14. Outdoor Products 4 Person Instant Cabin Tent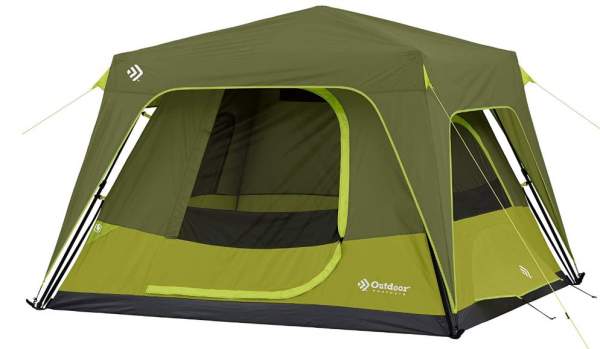 This Outdoor Products 4 Person Instant Cabin Tent is what its name says and this is why it is here in the list. It is easy to use and you can pitch it in one minute due to its instant design.
It comes with an extended eave and overhanging fly, this protects the windows and the door from rain and it adds extra space for ventilation. The tent is nicely ventilated also because of its 2 floor vents. You also have an E-cable port included. It is heavy because of its steel frame, it weighs 21 lb (9.5 kg). The area is 56 ft² (5.2 m²).

---
How to choose your 4 person cabin tent
So this was my list of best 4 person cabin tents that are currently on the market and that will be the top tools in the coming years. As you realize, the differences in prices are really drastic. So you have plenty of reasons to choose carefully.
Now, how to choose really?
Setup time
If this is about the setup time, and you want something easy to use, for example if you change your camping place frequently, go for some instant setup design. It is hard to find a tent here that would match to the Coleman Instant tent.
Packed size
Typically, instant tents remain long when packed, bear this in mind, so this is a downside in spite of their great setup time.
Protection
There are big differences regarding protection from elements. This is related to the price as well. If you know you will be in areas with lots of rain and wind, go for the tents with a full-coverage fly, for lower and more aerodynamic structures.
But if this is for warm and quiet summer camping, you might consider any of the tents with large windows and doors. Yet another great option is a canvas tent.
Seasons
This is related to protection and price. If you want to have a tent for all seasons, definitely choose a canvas tent, you have some in the list above. Such materials perform well in warm weather because it is breathable and it is cooler. In harsh conditions it will give a bit of insulation and it will perform better than synthetic tents.
If you need a 3-person camping tent, please check this list of tents with great waterproof rating, some are suitable for all seasons. Thank you for reading. Please use the comment box below if you have any question or comment. I wish you a nice day.