---
The Bushnell Instant Pop-Up 4-Person Tent is very tall, freestanding and pleasant with its 8 windows, nicely ventilated, and very easy to use.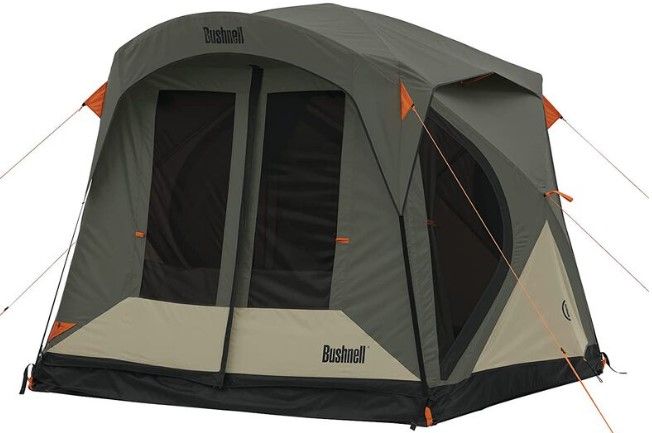 ---
Key features & benefits
Instant setup tent.
Cabin type.
Very tall.
Freestanding.
6+2 Windows.
Floor vents.
Roof vents.
E-cable port.
---
What this is about
This is a tent from the new series of four tents they launched recently. It is easy to get confused with the name. So the name in the title is used by some sellers, and some use the name Bushnell 4P Pop-Up Hub Tent, and also Bushnell 4 Person Instant Pop-Up Tent.
These tents should not be mixed with their Bushnell Shield series that have been on the market for several years already. Note that on the site of the brand these new tents are under the name Preserve Series. So this particular tent they call the Bushnell Preserve Series 4 Person Instant Cabin Tent.
The most important words in the name are Pop-Up. The meaning is that there are three panels on the side walls and one on the roof with integrated X-crossed poles inside. So the frame is pre-attached, and all you have to do is to pull out those orange loops in the middle of the panel and the wall will pop-out. Then you do the same with the ceiling panel.
This is what the word Instant in the name is supposed to mean. But there are a few poles that you have to put in place around the door, they create an almost completely vertical door as you realize from the pictures.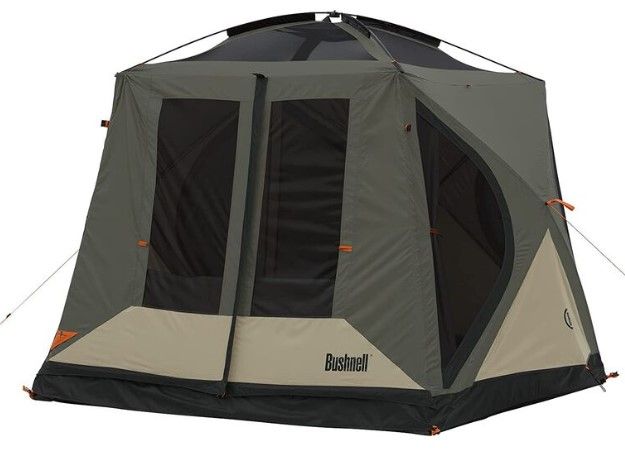 The tent is obviously a cabin-type as you realize from the picture above, and it is very tall for its base size, you have a 78 inches (198 cm) peak height here. It is also fully freestanding, and this holds even after you attach the fly. So you can set it up anywhere, and you can also rotate it and move short distances in the camp.
There is only one door but it is huge and this is perfectly enough. Its zipper is inverted-T shape.
But you have 6 separate windows, plus two of them on the door. All of them are double-layer type with mesh and panels. With such a height and such great views around, this is an incredibly pleasant tent.
The picture below shows how it looks inside. As you see, the ceiling is all mesh. Observe one of those panels with X-shaped poles.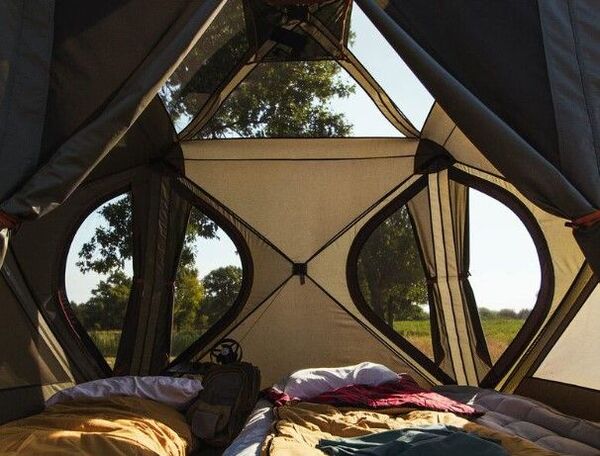 Other details
This tent comes with a cable port shown in the picture below. You also have a removable gear loft to keep your smaller items off the ground.
Materials
The poles: You have those that are integrated into the side and ceiling hubs, and they are made of fiberglass. The same material is used also for the awning pole, and for the pole above the door. There are also two leg poles that are made of steel.
The fabric: They use very strong material here, so the walls are a 210D polyester and the floor is also polyester but 300D value. The waterproof rating is 2000 mm, and all seams are taped.
Ventilation
You have already seen its 8 mesh window, plus the ceiling which is all mesh. But even when you close all the windows in the case of rain, you will still have plenty of air flow. They have added two large floor vents, one is shown below.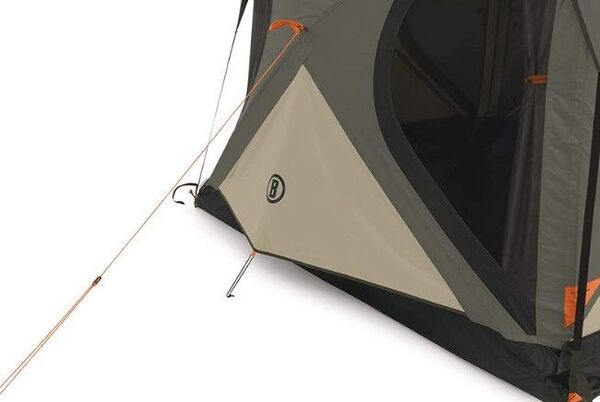 The fly protects the ceiling, and they have added stiffeners that raise the fly and create what looks like fly vents, see one in the picture: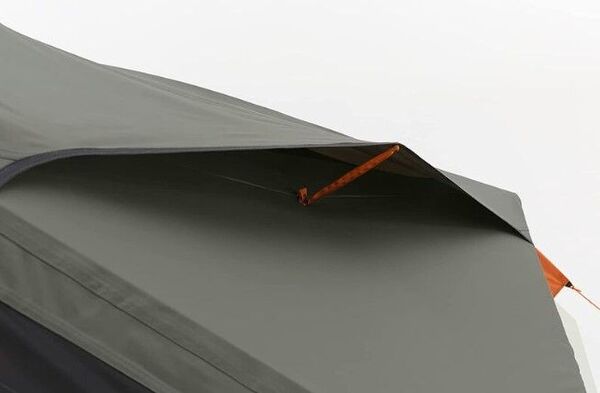 This allows vapor to escape, and floor vents will always generate enough of vertical air circulation. So venting in this tent is indeed optimal.
---
Who is it for
Regarding the best use & climate, this is a 3-season tent, fully closable when you feel cold, and also nicely ventilated both when the sky is clear and when it rains.
The waterproof rating is very good, and the fabric is exceptionally durable, so you will be protected. But you have seen how tall and boxy it is, so I do not think this tent is a great option for windy places.
Regarding the size, the tent is officially for four people, and for this you have 61.3 ft² (5.7 m²). So this is not much, but you can indeed put four pads on the floor.
However, the walls expand outside, and the tent is very tall, so you have lots of volume and head space inside. In any case, I see it as best suited for couples or perhaps for parents with one kid.
Regarding the weight, it is heavy with its 28.25 lb (12.8 kg). Being a car camping tent, this is not so important.
But it is extremely long when packed, see how it looks in its carry bag. See the numbers in the specifications below.

Regarding the price, it is very steep, but this is not an ordinary tent, it is worth the money.

---
Specifications
Official capacity: 4 people.
Weight: 28.25 lb (12.8 kg).
Dimensions (L x W): 94 x 94 in (239 x 239 cm).
Area: 61.3 ft² (5.7 m²).
Peak height: 78 in (198 cm).
Packed size (L x D): 66.5 x 10.9 x 9.7 in (169 x 28 x 25 cm).
Warranty: They show a lot of confidence in their products with their warranty, see yourself: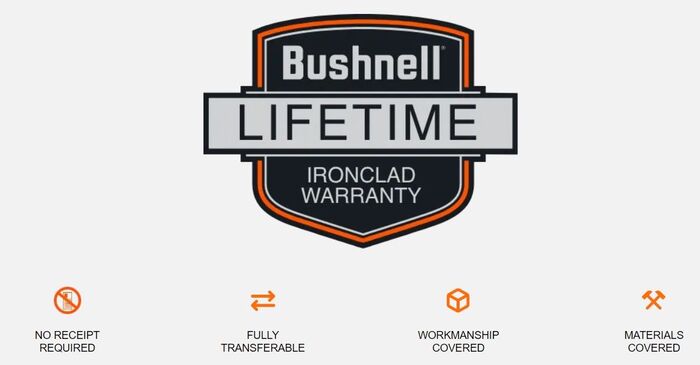 ---
Final thoughts & rating
In summary, this Bushnell Instant Pop-Up 4-Person Tent is exceptionally nicely built, and it is very pleasant with its almost two meters high ceiling and its 8 windows. Ventilation is the best you can expect from such a tent, and they used very strong fabric for its construction.
It is also easy to use with its four panels that have integrated poles. But this all has resulted in a very heavy and expensive tent that affect my rating.
I have included it in my list of best 4 person cabin tents and also in the list of best 4 person tents for car camping.
Below you can see how I rate it against my usual rating criteria so that you can easily compare it with other items of this type:
BEST PLACEs TO BUY
For more options, please check under the category Tents for 4 People.
Bookmark this site and come again, this will keep you informed because I add texts here regularly. Let me know if you have questions or comments, there is a comment box below. Have a nice day.