---
This OT QOMOTOP Tent 4 Person is cabin style freestanding with 60 seconds setup, pleasant and nicely ventilated, and with a great price tag.
---
Key features & benefits
60 Seconds setup time.
Freestanding.
Cabin type.
Tall tent.
Floor vent.
E-cable port.
Great price.
---
What this is about
These OT QOMOTOP Tents are becoming very popular in this season and I use plural because this is a series and this 4 person cabin is the smallest of them. This is a very typical cabin-style tent, simple and elegant, well-proportioned and reasonably tall structure with a peak height of 59 in (150 cm).
So this is not a stand-up height but its straight walls give lots of headroom. The fly is minimal and it covers only the ceiling where you have all mesh, see the picture below.
The structure is pleasant also because of its large windows, you have them on every side. There is only one door but it is large and tall, quite enough for such a tent. The picture below shows the tent without the fly so you can see its elegant frame.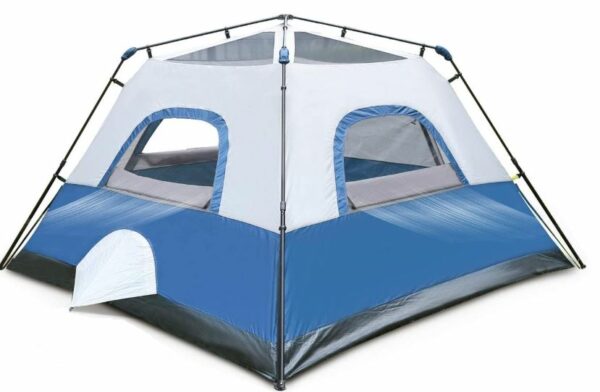 But probably the most important feature here is its instant design, or better to say its official 60 seconds setup time. One person can easily do this in the given time.
This is due to the fact that the tent and frame are permanently attached to each other, so you just unfold the structure and extend its telescopic poles. When you turn down the tent you do the opposite and pack the frame and the tent together. The setup steps are shown in the pictures: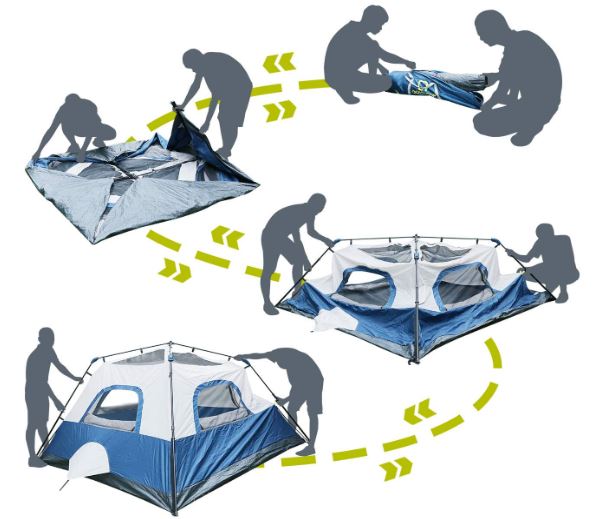 The tent is very sturdy and freestanding, so even after you add the fly you can still move it and rotate. This is because the fly attaches to the tent, there are some loops for this purpose. But stakes are included and secure it to avoid trouble.
Ventilation
In synthetic tents ventilation is important to fight condensation. So here you have large windows with mesh on all the sides, and the ceiling is also mesh. The fly is minimal and vapor should be able to escape but the tent would be better with a vent on the fly.
When it is raining, all these openings must be closed and this is why they have added a floor vent, you can see it in the picture above. It is on the rear side of the tent. So there is not much one could object to ventilation, this is all in place as it should be.

---
Materials
The frame is steel, you have 4 legs and 4 roof poles and those converge to the hub element on the top. The fabric is a durable 68D polyester with PU coating that gives it a 600 mm waterproof rating. So this is a minimal rating, not much above an ordinary umbrella, but seams are taped and you do not need more.
All the windows are dual-layer structures with mesh and with panels for protection and privacy. The panels and the walls have the same rating as the fly.
On the floor, you have a 115 g/m² polyethylene, this is a plastic material, fully waterproof and sturdy, with welded corners. Note, this is a bathtub design.
Other features
There is an e-cable port.
Wall pockets.
Foot mat.
9 Steel stakes.
Carry bag is included.
---
Who is this OT QOMOTOP Tent 4 Person for
Regarding the space, you have an area of 64 ft² (5.95 m²). The declared capacity is 4 people and in this case you would have 16 ft² (1.49 m²) per person. So the tent can accommodate 4 users, this is a square space of 8 x 8 ft (244 x 244 cm).
But for a realistic camping, I see it best suited for a couple, or for parents with a small kid. You have enough space for a queen airbed, and some space to spare for your camping gear.
Regarding the seasons & climate, this is a tent for 2 seasons, best suited for quiet summer camping without much rain and wind. Such a boxy structure is pleasant but not very aerodynamic. So avoid harsh conditions with such a tent, and test it at home first for eventual leaks.
Regarding the weight, the tent is heavy with its 16.75 lb (7.6 kg). Note that they have 3 different numbers for the weight on the same page on Amazon where they sell it.
Anyway, such a weight is normal for cabin tents of this type. The poles are strong and thick and they are telescopic, so there is a lot of metal here and the weight is justified.
The packed size is such that the tent is long when packed but it is a thin the tube. So this is again typical for such tents with telescopic poles. There are sections of the poles that overlap, with a tube within another tube, this must be so to have a stable structure.
All in all, this is a car camping tent so the weight and packed size are of secondary importance. Please see this short video and you will realize how to set this tent up and how to pack it after that:
---
Specifications
Declared capacity: 4 people.
Weight: 16.75 lb (7.6 kg).
Dimensions: 8 x 8 ft (244 x 244 cm).
Area: 64 ft² (5.95 m²).
Area per person: 16 ft² (1.49 m²)
Peak height: 59 in (150 cm).
Packed size: 38.6 x 7.1 x 7.1 in (98 x 18 x 18 cm).
1 Year limited warranty.
---
Final thoughts, rating, pros & cons
In the summary of this OT QOMOTOP 4 person tent review to stress again that the best feature of this tent is instant setup. So if you plan to move from place to place frequently and want something that is extremely easy to use, this is it. The tent is also a very pleasant structure with its 4 windows and straight walls, and the price is excellent. I have added it to my list of best 4 person cabin tents.
Please see how I rate this tent against my standard set of criteria so you can compare it easily with the other tents here in the site:
Please check under the category Tents for 4 people if you need more options. Note that we add texts here on a regular basis, so bookmark this site, come again and stay informed about the outdoor equipment development. Thank you for reading and have a nice day.