---
This Gazelle 22272 T4 Pop up Portable Camping Hub Tent is unique on the market, with instant setup, great waterproof rating, 2 doors, and 6 windows. Keep reading.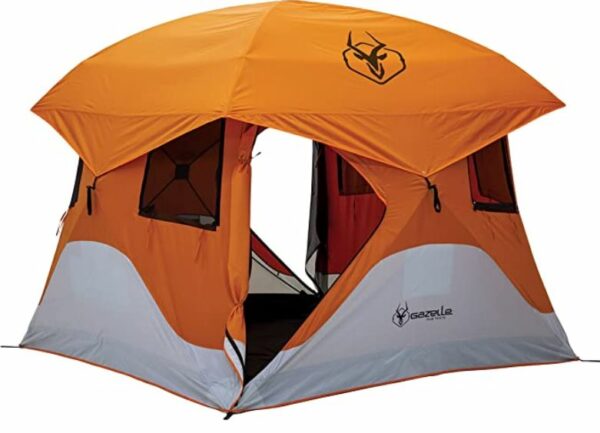 ---
Key features & benefits
90 Seconds setup.
Patent-pending design.
Removable floor.
2 Doors.
6 Windows.
Fiberglass poles.
Huge waterproof rating.
---
What this Gazelle T4 Pop up Portable Camping Hub Tent is about
Here you have a completely unique structure, a pop-up tent with a patent-pending design. The official setup time is 90 seconds only and this is quite realistic. Though there is a fly that must be added separately and you will need a few minutes more, but in any case this is a tent with an incredibly easy setup.
The frame is pre-attached to the tent and you get some idea about it from the picture below. This is a pop-out design, and you will see this in the video below, you simply pull each of the walls out.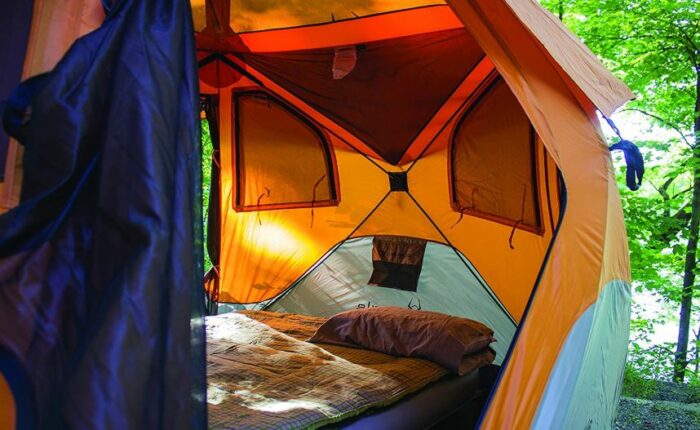 This is a sort of a cabin-type tent and it is very tall, the peak height is no less than 78 inches (198 cm). So this is a stand-up height, but note also that the walls are more or less vertical, or they are angled outwards, so the tent is very pleasant and it offers lots of volume.
The great feeling in the tent is only increased with its 6 interesting windows and the 2 uniquely shaped doors, see the picture below. Note that all these openings are double-layer structures with mesh and with panels, so you have full protection from insects and from elements. The floor is removable, and this is yet another unique detail.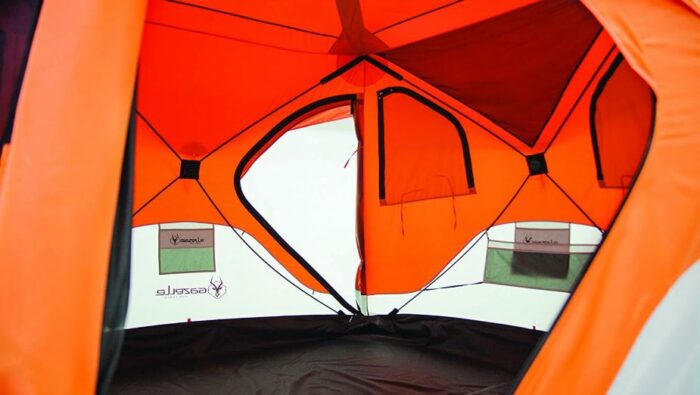 The tent is also freestanding, but there are stakes and guylines included so do not miss staking it properly. it looks complicated but one person can easily set it up. You can have a look at this manual to see more. The rainfly with its integrated poles gives the tent a shape that reminds me of a mushroom.
Ventilation
With so many windows and doors with mesh, plus the ceiling that is all mesh (see one of the pictures below), this tent has plenty of options for ventilation.
But when it is raining, you have to close all the windows and the doors, and in such situations you would want to have some floor vents and also a fly vent. Those are missing here, pity.

---
Who is it for
Size-wise, the tent is with the declared capacity of 4 people and for this you have the area of 61 ft² (5.7 m²). This implies 15.2 ft² (1.4 m²) per person and this is not much but it can accommodate 4 users. As usual, it is best to downgrade the number of users to 3, and the tent is definitely perfect for a couple. You can put any queen size bed inside and still have lots of space around.
Seasons-wise & climate-wise, the tent is a 3-season item, the waterproof rating is huge so you are safe from rain and from groundwater. But with such pop-out walls, you would not want to expose it to very strong side winds, it might collapse under pressure from the side or from above.
With so much mesh on the ceiling, see the picture, it is better suited for warm-weather camping than for a cooler climate.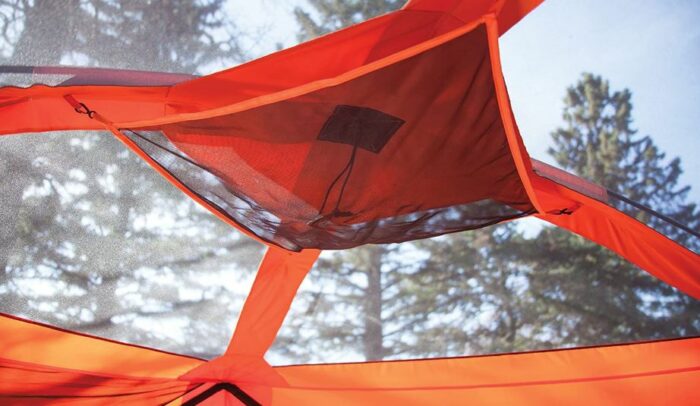 Weight-wise, the tent is very heavy with its 30 lb (13.6 kg) of weight. This is because of its numerous poles, and fiberglass is not the lightest material on the market.
The packed size is also far from great, the package is thin but long, the dimensions are 67.5 x 8 x 8 inches (171 x 20 x 20 cm). So this is one of the longest packed tents presented here in the site.
In view of all this, the tent is for places with car access. I have included it in my list of best 4 person car camping tents.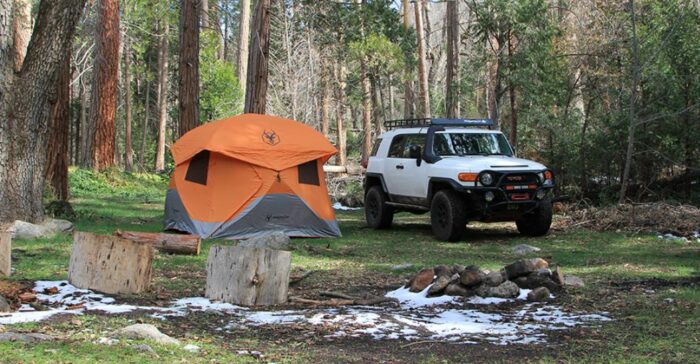 ---
Materials
The materials are a mix of some excellent and far from excellent parts.
The poles
The poles are fiberglass, and this is a heavy and not very durable material. You would expect something better in view of its price, this is not a budget tent, but it is indeed unique.
The fabric
You have a removable rain fly and the wall material that is a very durable 210D Oxford Weave shell, and its waterproof rating is 2000 mm. The floor is also polyester but even more durable 300D Oxford Weave and its waterproof rating is 5000 mm.
They claim that all these materials feature a UV50+ rating. So there is nothing one could object here, these are excellent features. Note also that all the zippers are beefy YKK, and those are among the best you will find on the market.
Other features
Removable gear loft.
Two side storage pockets.
Four wall-mounted pouch pockets.
Please see a bit more in this video:
If this is not detailed enough, I warmly suggest that you see this much longer video with unpacking so you will completely understand the structure of the tent:
---
Specifications
Declared capacity: 4 people.
Weight: 30 lb (13.6 kg).
Dimensions: 7.84 x 7.84 ft (239 x 239 cm).
Area: 61.4 ft² (5.7 m²).
Area per person: 15.2 ft² (1.4 m²).
Peak height: 78 in (198 cm).
Packed size: 67.5 x 8 x 8 in (171 x 20 x 20 cm).
Poles: fiberglass.
---
Final thoughts, rating, pros & cons
In the summary of this Gazelle 22272 T4 Pop up Portable Camping Hub Tent review, if you want something completely unique, this is it. The price may look a bit steep, but you have plenty of great features, it is tall, pleasant, easy to use, and livable. This tent is particularly suitable for people who change camping places frequently.
It can accommodate 4 people but if you want comfort, it is best to downgrade the number of users. I have included it in my list of best cabin type 4-person tents.
Please see how I rate this tent against my standard set of criteria used for all the tents here in the site. This allows for easy comparison:
If you need more options, just check under the category Tents for 4 people. You might want to check this Ayamaya Pop Up Tent with Vestibule and also the MOON LENCE Pop Up Tent, both are instant tents but of a different type.
Bookmark this site, we add texts here regularly so stay informed and visit it occasionally. Thank you for reading and have a nice day.