---
Ayamaya Pop Up Tent with Vestibule is an instant-setup 2-layer 3-season car camping tent, easy to use, unique, and very affordable. Keep reading.
---
Key features & benefits
Instant setup.
2 Windows.
1 Door.
Floored vestibule.
2-Layer tent.
E-cable port.
Reasonable price.
---
What this Ayamaya Pop Up Tent is about
The top picture above shows what the words Pop Up in the name mean. When you unpack this tent and throw in the air it will open up automatically. The only thing you have to do after that is to stake it down properly. So this is one of those tents that fold and pack into a circular shape, and it becomes like a disc.
The structure is fully freestanding, and after it expands by itself (due to its pre-assembled elastic poles), you can move it around and position as you wish. Note that you have all stakes and guylines included, so never miss staking the tent properly.
The design is quite interesting with a number of unique details, but not all of them are really useful. Formally, this is a single-room. But there is more to this, more below.
If you look at its shape, it could be described as a tunnel-type structure with its 4 loops poles that give it the shape. Note that they build it in two different color combinations, one is shown above and here is the other: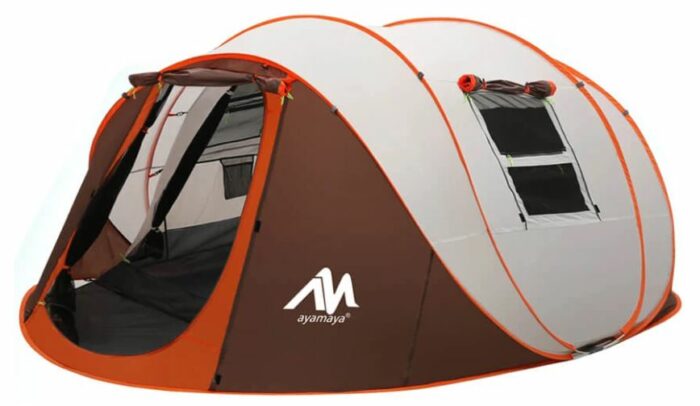 Single or double room tent?
First to stress that this is a double-layer tent so you have an inner tent that is preattached to the shell, see the picture below. The inner tent has its own sewn-in and sealed floor, and this floor extends to the front vestibule.
The floor in the vestibule is not sealed to the shell, this is what is normally described as a linked-in floor, see the details in the picture below. So you have no protection here from the crawling insects and snakes, but the inner area is fully protected.
But this vestibule is fully covered, see the picture below, and it looks like yet another front room. It is not a big mistake to describe this tent also as a 2-room structure.
The doors & windows
This is a large tent, yet you have only one door on the narrow side. But it is large and with dual zippers on the sides, so you can roll it up and fix above. Note that this door is fully double-layer; you have a mesh zippered door as one layer (shown in the picture above), and the external panel with the mentioned two zippers.
Observe that the tent is quite low, you have a peak height of 51 in (130 cm). Though the big door helps a lot with such a height so getting in and out is not so difficult.
The windows are interesting but this does not make them great. You have two fly windows, and they are 2-layer type, with mesh from inside and with flaps from outside. Now, the mesh layer is with a zipper in the center (see the picture below), and this is paired with the zipper on the inner canopy.
The idea of this design is that you pass the arms out and to open or close the flap which you see here rolled above the window. But doing this is not so easy from the inside, so this is not the best design. A zippered flap from the inner side instead of the outer side would make quite a lot difference here.
Ventilation
This tent has a large inner door and this is all mesh, the external door has a full-size mesh layer, and there are windows on the sides. There is plenty of mesh on the canopy. The inner tent hangs attached to the shell, and there is a wide gap between them for air circulation.
This all looks fine and in place as it should be, but when the door and the windows are closed you have to rely on the vent (shown above). They have added this quite small roof vent on the back, and in my view, this is far from enough.
So, ventilation is not the best feature of this tent and you might have issues with condensation when you keep the tent closed during long periods of rain.

---
Materials
The poles behave like spring wires, but in fact, this is fiberglass with a 7 mm diameter. They are incredibly flexible, and they create those loops and the tunnel shape.
The shell fabric is a PU-coated 190T polyester with an impressive 3000 mm waterproof rating. The floor appears to be polyester as well but here you have 4000 mm rating. All the seams are taped. The inner tent is a polyester taffeta and a B3 mesh.
This all looks good, but as usual, it is best to test the tent in controlled conditions. Spray it with water in the garden and check how it behaves to avoid unpleasant surprises. I have seen some talking about leaks, but some also claim it is fully waterproof as it should be in view of its high rating.
Other features
A lantern hook is available.
A couple of small wall pockets, far from enough.
There is an e-cable port with the exit to the vestibule area.
4 Ropes are included.
There are at least 8 aluminum stakes.
A carry bag is included.
---
Who is it for
Regarding the weight, the tent weighs 11.9 lb (5.4 kg), these numbers are directly from the manufacturer and they are different from those on Amazon. This may look like a light tent if you assume it is really for 6 people, but see more below. In any case, this is a car camping tent so the weight is immaterial.
Regarding the packed size, when you see it packed in the shape of a disk that measures around 34.6 x 34.6 x 5.9 inches (88 x 88 x 15 cm), you realize this is indeed a car camping tent. Note that on Amazon they give the thickness of the packed disc only 3 cm (1.18 in) which makes no sense at all.
Regarding the capacity, the tent is officially for 4-6 people, so let's see what this implies and how much space it gives. The manufacturer does not give the exact floor area, so here is what you can deduce from the official dimensions.
Note that the overall ground shape of this tent is oval, an ellipse where on the front you have a separate vestibule. Though the manufacturer gives the floor plan shown below where it looks like a rectangular tent, but this is not so. The inner dimensions are given in the specifications below.
So the inner area is not a full ellipse, and this is around 5 m² (54 ft²). The vestibule area is around 1.5 m² (16 ft²), these are my rough estimates. This is far from enough for 6 people, but you have enough space for 4. This is why I have included this tent in my list of best 4-person car camping tents.
In the case of 4 users you have the total covered area of around 1.5 m² (16.2 ft²) per person, and this is good enough. But it is far better for 3 people, and perfect for a couple.
Note that the door is on the narrow side, so the picture with the floor plan above showing 8 people in such a position would be very unpractical. Imagine you are the 8ht person at the end and you have to go to the bathroom during the night. So it is best to use it for up to 4 people that would sleep with the pads oriented in the direction of the door.
Regarding the seasons & climate, this is a bit difficult to say. As long as the sky is clear, you can keep all the openings with mesh and you will have perfect airflow and ventilation. But if it rains you have to close everything and in this case condensation will become an issue.
I have seen somebody arguing that the tent is not for strong winds because the poles never cross and the structure is weak. This is true for standard tents, so the more cross points the stronger tent.
Yet, this tent is everything but standard. In fact, you have very flexible poles and they will bend easily under the pressure, but they will restore the shape when the wind pressure drops. But you have guylines and stakes included, and this tent can handle far more than you might think.
But you would not want to use this tent in the area where snow is expected, it is not for snow accumulated on the roof, it would transform into a pancake-shape structure.
Please see a bit more in this video:
Folding the tent may be a bit tricky, so see this series of pictures to realize how this is done: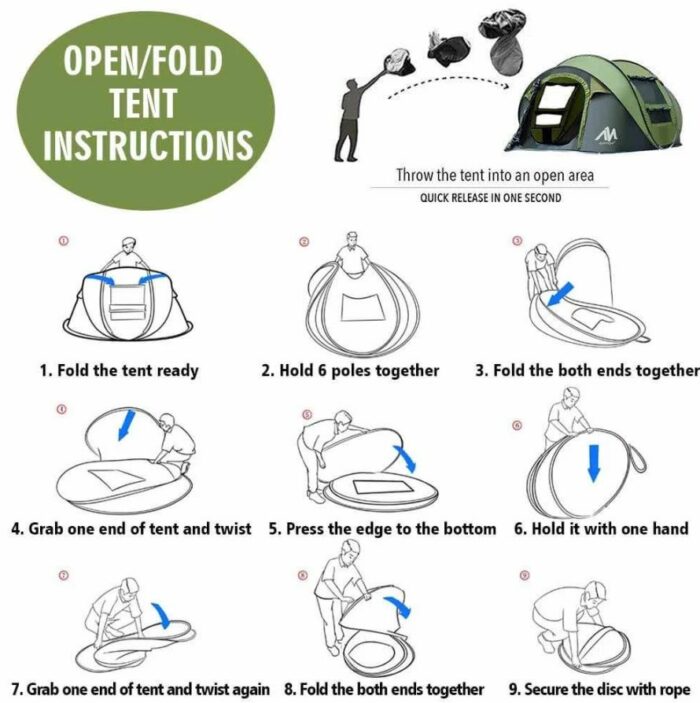 If you have missed something, no worry here is a useful video by these two boys, have a look. You will see how to fold this tent, the boy is able to do this, so you can too.
---
Specifications
Declared capacity: 4-6 people.
Weight: 11.9 lb (5.4 kg).
Dimensions: 149.6 x 102.36 in (380 x 260 cm).
Inner tent dimensions: 106 x 86 in (270 x 220 cm).
Inner area: around 54 ft² (5 m²).
Vestibule length: 31 in (80 cm).
Peak height: 51.18 in (130 cm).
Packed size: 34.6 x 34.6 x 5.9 in (88 x 88 x 15 cm).
---
Final thoughts, rating, pros & cons
To summarize this Ayamaya Pop Up Tent with Vestibule review, what you have here is a very interesting design. Setting this tent up is incredibly easy, but folding it may not be so without some practice. Ignore the declared capacity, this tent is perfect for up to 4 people. The price is more than appropriate for what you have here.
Please see how I rate this tent, I use criteria and formulas for a 4-person tent:
If you need more options in this capacity range, please check under the category Tents for 4 people. Check this Gazelle 22272 T4 Pop up Portable Camping Hub Tent and also the MOON LENCE Pop Up Tent, both are instant tents but of a different type. If you would rather have a tent with multiple rooms, this Coleman Ridgline Plus 4 Four Person Tent is the one to check.
We add texts here on a regular basis, so bookmark this site and stay informed. Thank you for reading and have a nice day.