---
This CORE 4 Person Straight Wall Cabin Tent 8 x 7 is an elegant and pleasant construction for summer camping, with windows on three sides and at an incredible price.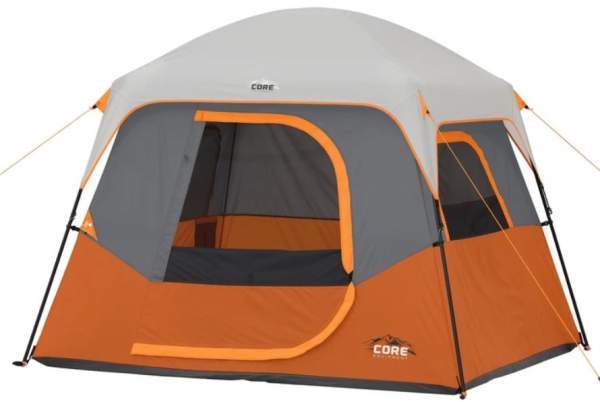 ---
Key features & benefits
Very tall tent.
Cabin style.
3 Windows.
1 Door.
Floor vent.
E-cable port.
Incredible price.
---
What this is about
This is a tent Core launched in 2019, and it is one of the smallest they have. But see its peak height which is 72 inches (183 cm), so this is a beautifully proportioned and tall tent for its overall dimensions. The picture below shows how tall it is in reality.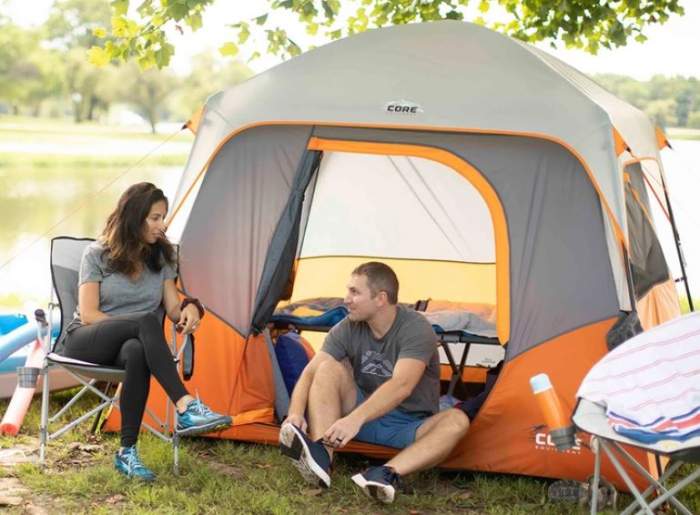 As you realize from the pictures, this is a cabin-style and freestanding tent. This is so even after you add its minimal fly that covers only the ceiling. This means you can move it short distances and rotate even after you set it up. But it comes with a full set of stakes so do not miss staking it to the ground properly. The frame is shown in the picture below where the tent is without the fly.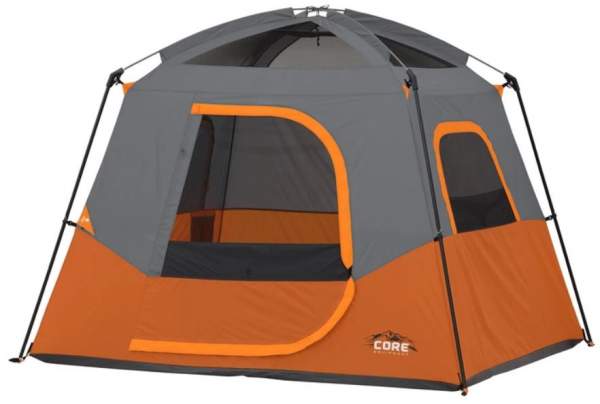 Windows & the door
The tent has two separate windows, plus one on its single door. All of them are with zippers and mesh, for protection and privacy. So only one side is without an opening, and you realize this from the picture below which shows the view inside, but there you have a vent. The panels are visible on the sides.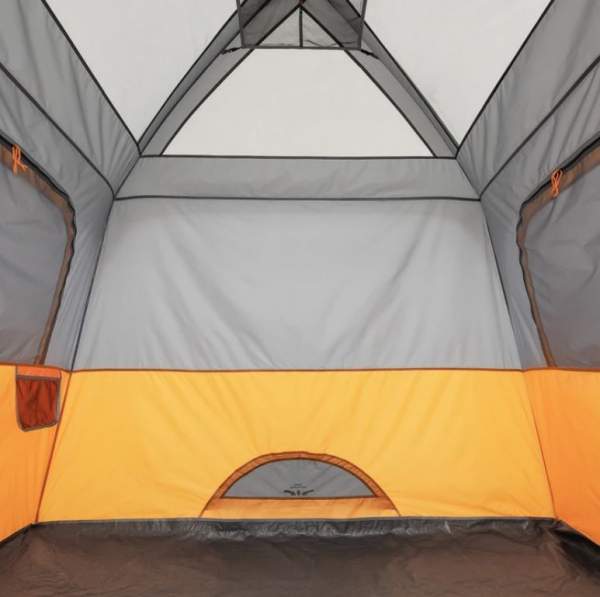 Ventilation
This is a nicely-ventilated tent because of the mesh on all the openings, plus the ceiling which is all mesh, see the picture below. But there may be situations when you have to keep panels closed, and this is why they have added a floor vent which you can see in the picture above. It is also visible in the picture below where you see it staked out.
---
Who is it for
Regarding the area, you have 56 ft² (5.2 m²) in the tent, and the declared capacity is 4 people. This would give 14 ft² (1.3 m²) per person, and this is not much. The dimensions are such that you can indeed put 4 sleeping pads on the ground, so the capacity is determined by following the usual backpacking principle. But this is a camping tent so it is best suited for a couple.

Even with such a relatively small area, you still have plenty of volume inside because of its steep and straight walls. This you realize from the picture below which shows this tent compared with a typical dome-style tent.

Note that you can easily put a queen-size bed here and still have plenty of space around. You can save the floor space by using a bunk-cot, it can fit nicely against the back wall which is without windows.
Regarding the climate & seasons, you have seen its features, so with the ceiling and all other mesh the tent is perfect for warm-weather camping. I would use it for two seasons maximum. This same mesh is not so great if you camp in a cold environment.
The tent is tall and boxy, the fly is minimal, so it is best to avoid areas with strong winds and lots of rain. This is a tent for quiet weather situations.
Regarding the weight, you have 13.4 lb (6.1 kg) here, so this is a heavy structure and you should not plan to carry it anywhere.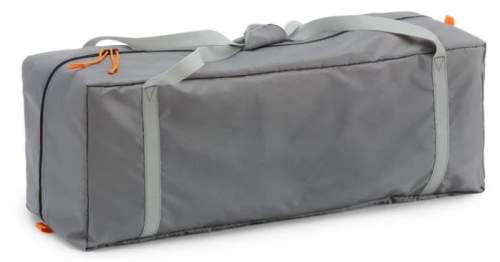 Regarding the packed size, the tent is boxy even when packed, see the carry bag above. You have 27 x 13 x 8 inches (69 x 33 x 20 cm), so this can perhaps be transported on a motorbike, but I see it best suited as a car camping tent.
---
Materials
The poles & stakes
You have 4 thick leg poles and a bit thinner roof poles. They use a pin and ring system for the tent attachment at the base, on the roof you have sleaves. All is color-coded. The stakes are steel and you have them 9 in the package, 7 inches long. All the pieces are shown in the picture below.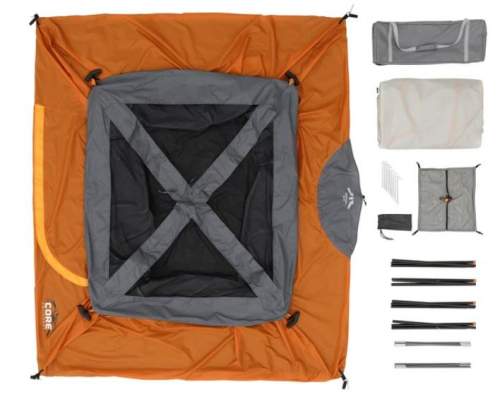 The fabric
They use what they call CORE H20 Block Technology, and this means a water repellent fabric with active bead technology for faster water runoff. The seams are sealed on rainfly, doors, and windows. They do not provide official waterproofness rating. From what I know this should be 600 mm hydrostatic rating, not much but you do not need more if seams are properly done.
This is a durable 68D ripstop polyester and the floor is a durable 115 g/m² polyethylene which is a normally completely waterproof plastic.
Other features
The carry bag is with straps to carry in the hand, you have seen the picture above.
You have an E-cable port on the side, see the picture below.
A gear loft is included, shown below.
There is a couple of small pockets on the walls.
---
Specifications
Declared capacity: 4 people.
Weight: 13.4 lb (6.1 kg).
Dimensions: 8 x 7 ft (244 x 213 cm).
Area: 56 ft² (5.2 m²).
Area per person: 14 ft² (1.3 m²).
Peak height: 72 in (183 cm).
Packed size: 27 x 13 x 8 in (69 x 33 x 20 cm).
---
Final thoughts, rating, pros & cons
In summary, this CORE 4 Person Straight Wall Cabin Tent 8 x 7 is indeed a pleasant structure, easy to use and incredibly affordable. So if you do not want to spend much and want a tent from a brand that has been around for many years already, this is your chance. Fully recommended.
Please see how I rate this tent against my standard set of criteria for easy comparison with the other tents here in the site:
I have added this tent to my list of best 4-person car camping tents and also in the list with best 4-person cabin tents for camping.
I am not paid by the brand, and this is not a sponsored text. Thank you for reading, let me know what you think, there is a comment box below. Have a nice day.