---
ALPS Mountaineering Camp Creek 4 Tent is a nicely designed cabin style tent for car camping, very tall and pleasant with windows on all sides, and fully freestanding.  
---
Key features & benefits
Very reliable tent.
Very tall and pleasant structure.
Freestanding.
---
What type of tent is this
This is a very typical cabin style tent, and this implies almost vertical and straight walls, a very tall structure with a peak height of 84 inches (213 cm), and large windows on all sides. Ther tent is a part of the Camp Creek series from this brand that includes also a 6-person tent, and a 2-room 6-person tent. It is included in my list of the best cabin style camping tents.
The Camp Creek 4 is a fully freestanding tent and this holds even when you add its fly which attaches to the tent structure at the four corners. So you can pitch it anywhere, but do not miss to stake it down if possible; the stakes and guylines for this purpose are included in the package.
With the weight of 20 lb (9.07 kg), this is a heavy structure designed to be used at places with a car access. So this is not something to carry long distances. This is why I have included it in my list of 4-person camping tents.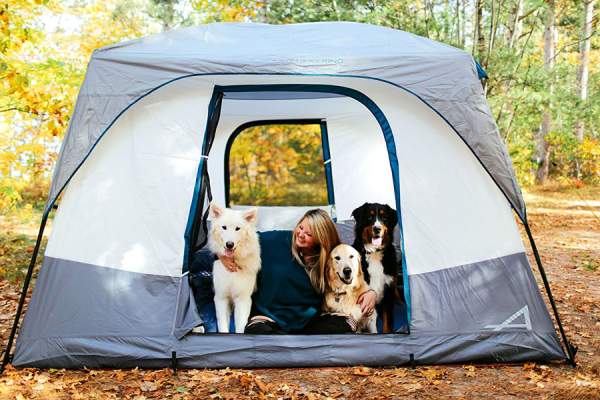 ---
Who is it for
Space-wise, the tent is with the declared capacity of 4 people, but when you see the dimensions you realize that although you can indeed place 4 pads on the floor, this cannot work for real camping. The total area is 63.5 ft² (5.9 m²) and this gives only 15.9 ft² (1.48 m²) per person.
So this is a tent perfect for two people. Note that there is no vestibule or porch to store the gear outside, so all stuff must be in the mentioned space. If you decide to use a bunk cot, this will save a lot of the area. As usual with cots, you can then use the space underneath it to store some of your stuff like boots and similar items.

Seasons-wise and climate-wise, the tent is best suited for summer camping and this in a warmer environment. This is because of the following. It is with lots of mesh on the ceiling and this does not keep the warmth. The fly is minimal, see the picture below, and this is why you have so many great windows, but such a partial coverage is not the best design for very heavy rains.
On the other hand, the mesh is not the best option for an area with lots of sand and dust. In such a case better use some of those fully enclosed tents with PVC windows. There are several of them presented here in the site, so please check this Coleman Oak Canyon 4, or Vango Capri 400XL tent.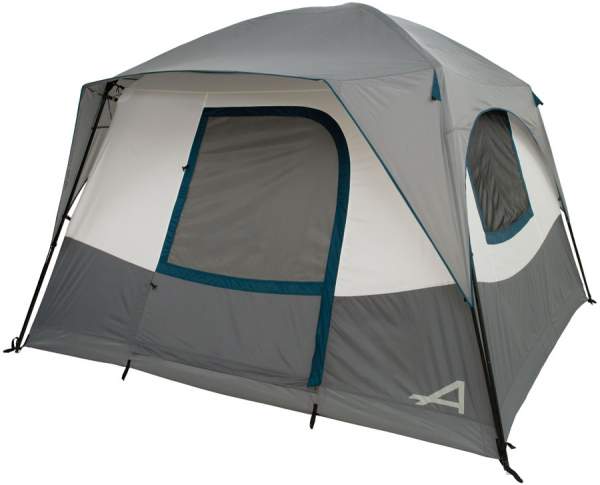 ---
Materials & construction
The poles
The poles are a combination of steel and fiberglass, so all corner poles are strong 19 mm steel tubes, and those on the roof are 11 mm fiberglass which is not a particularly strong material and needs a bit of care.
The fabric
Both the fly and the floor are polyester with a waterproof rating of 1500 mm, so this is quite enough for 1 – 2 seasons camping. The fly is quite durable 75D 185T polyester, but the floor is much more durable 150D polyester. All seams are factory-sealed.
Note that the fly is only partial coverage type and this is why I think the tent is best suited for summer camping, late spring, and early autumn. You have buckles to fix it to the tent poles and this is why the structure is fully freestanding and you can move it around after you set the tent up.
Other features
You have windows on all sides, so the tent is really pleasant. They are double layer type with mesh and waterproof panels for protection and privacy. The same structure is on the only door which you have here.
There are two small brims (awnings) on the front and on the back above the back window as shown in the picture above. With, this you can keep this back window open at least partly even when it is raining, and the same is with the door. So you should always have a good cross flow and ventilation should be good enough although the tent is without floor vents.
---
Specifications
Type: freestanding cabin style tent.
Capacity: 4 people.
Weight: 20 lb (9.07 kg).
Dimensions: 102 x 90 in (259 x 229 cm).
Area: 63.5 ft² (5.9 m²).
Area per person: 15.9 ft² (1.48 m²).
Peak height: 84 in (213 cm).
Packed size: 28 x 8 in (71 x 20 cm).
---
ALPS Mountaineering Camp Creek 4 vs Competitors
I thought you might want to see some other tents built in the same style and to compare, this may help in making and informed decision. So here they are side by side, please follow the links to read more and to check the latest prices:
ALPS Mountaineering 
Camp Creek 4
31 x 18 x 9.5
(97 x 46 x 24)

---
Final thoughts
So as you see, this ALPS Mountaineering Camp Creek 4 Tent is really nicely built, the design is for a mild weather environment and for up to 2-season use. This is a very reliable tent from a renown brand which is known for their great customers' support, so I can fully recommend it.
This tent is highly rated by users, it is also very popular because of its great price. Please see how I rate it:
You might want to know that this same brand owns the license for the Browning Camping Glacier 4 tent so have a look. If you need something different just have a look in my page with tents and shelters, many of them are described there in detail. Check also this beautiful CORE 4 Person Straight Wall Cabin Tent.
Thank you for reading, please use the comment box below in the case of comments and questions. I wish you a nice day.