---
The Eureka Copper Canyon LX 4 Person Tent is a very tall and pleasant freestanding cabin-type tent best suited for a calm weather without much rain and winds.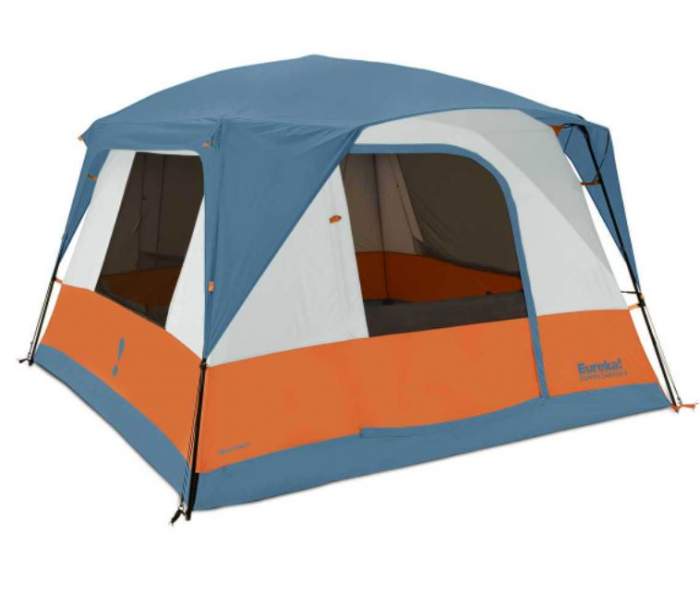 ---
Key features & benefits
Freestanding.
Cabin type.
Very tall tent.
One door.
4 Windows.
Easy to use.
---
What this Eureka Copper Canyon LX 4 tent is about
Here you have the smallest tent from the Copper Canyon series that has been around for a number of years already. It includes also tents for 6, 8, and 12 people. This series has been modified some time ago and they have added the letters LX to the name, no idea what this could mean.
This is a very typical cabin type tent with steep and straight walls as you realize from the picture below that shows the tent without the fly.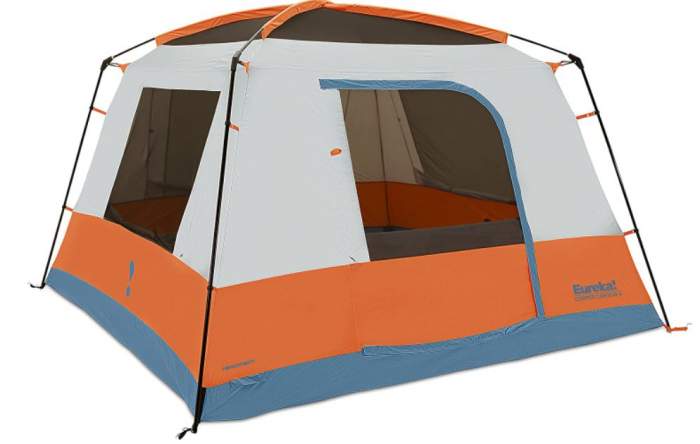 The tent is pleasant with its windows on all four sides and with its incredible peak height of 84 inches (213 cm). Even when the fly is on, the tent is still fully freestanding because the fly is a minimal coverage type and it attaches to the corners. This is why you have views around, but protection is reduced.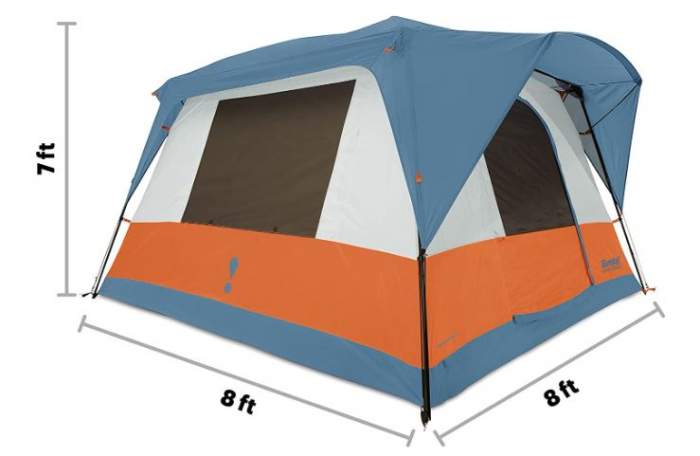 Note that you have only one door, but this is not so bad because it is very large. There is a small awning created by an extra pole so you have a dry entry, this small detail is very important and you will realize this when it starts raining.
The picture below shows view inside so you get some idea about the space. Observe the panels on the windows, they are with toggles, so there are no zippers. Note that if you wish you can close them also at half the height to have some privacy while still having views and air circulation.
This detail is different from the previous version the Eureka Copper Canyon 4 Person Tent (without the letters LX) where the windows panels were with zippers. So this is definitely not an improvement.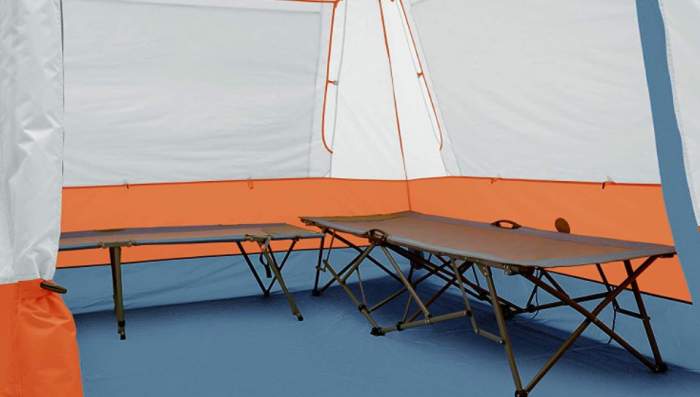 Materials & other details
The poles: You have a combination of thick vertical steel legs poles with a 19 mm diameter, combined with 12.7 mm diameter fiberglass poles used for the roof. They are connected in the corners with plastic elbow elements.
You have pin and ring attachment at the tent's base and higher there are clips and sleeves on the roof. One person can set this tent up, only attaching the fly may be tricky because of the tent's height, and this in particular if it is windy.
It is best to start with the two roof poles and then you add legs one by one as suggested in these pictures: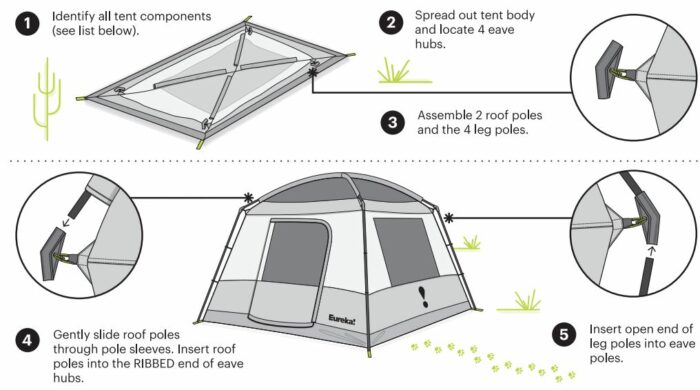 The fabric: The fabric is durable, so you have a 75D 190T polyester taffeta used everywhere, for the walls, the fly, and the floor. The mesh areas are a 68D polyester no-see-um.
The waterproof rating is formally low, only 1200 mm, but this is fine for the upper body, though for the floor one would expect much more. But I do not think this is so important, you should not use this tent in places with lots of rain because of its windows and minimal fly.
Other features include:
Zippered E-cable port, see the picture below.
Guylines pockets integrated into the fly.
Gear loft is included.
Stash wall pockets.
Steel stakes are included.
Ventilation
As long as the sky is clear, with all that mesh on windows and on the ceiling, you will have plenty of air circulation. When it is raining, you have to close the windows, but they are without zippers so you will have drafts in any case. Nevertheless, the tent would still be better with one or two floor vents.
---
Who is this Eureka Copper Canyon LX 4 tent for
Regarding the best use & climate, this tent is very tall and boxy, and I would not use it in very windy places. There are stakes points to secure it to the ground, but those are in the corners only.
Note also that the panels on its large windows are just curtains that attach with toggles, so in the case of wind and rain combined you will get water inside. The ceiling is all mesh and with such windows it is not very suitable for a cold environment. All in all, this is a tent for mild weather conditions.
Regarding the size, the tent is officially for 4 people and for this you have 64.6 ft² (6 m²). This would mean 16.15 ft² (1.5 m²) per person, so this is not really a castle and it is best to downgrade the number to 2-3 users. The size is practically the same as in their another tent built in the same style, the Eureka Jade Canyon X 4 Person Tent.
Below you can see what the manufacturer suggests for using the space, so you can indeed place for pads on the floor. This can work for a group of friends at some open-air festival or any similar event.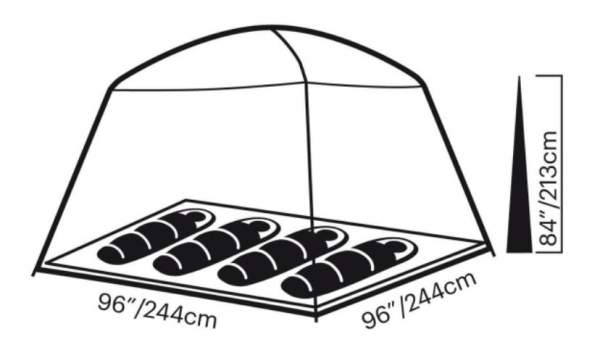 Regarding the weight, the tent is heavy with its thick poles, and the weight is 19 lb 4.96 oz (8.76 kg). But I do not think this is a big deal because this is a car camping tent.
It is also quite bulky when packed, the carry bag is roughly (L x D) 27 x 9 inches (69 x 23 cm), see how it looks: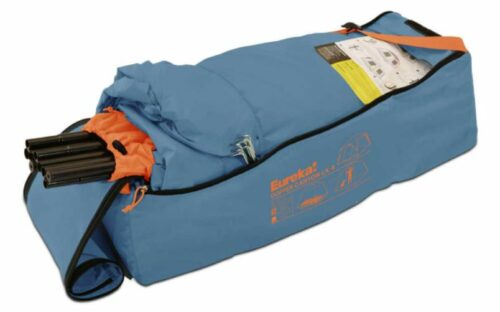 ---
Specifications
Official capacity: 4 people.
Weight: 19 lb 4.96 oz (8.76 kg).
Dimensions (L x W): 96 x 96 in (244 x 244 cm).
Area: 64.6 ft² (6 m²).
Area per person: 16.15 ft² (1.5 m²).
Packed size (L x D): 27 x 9 in (69 x 23 cm).
Peak height: 84 in (213 cm).
---
Final thoughts & rating
In summary, if you are a tall person and want a tent to match your body height, this Eureka Copper Canyon LX 4 Person Tent is the one to consider. It is incredibly tall for its overall size, so you have plenty of headspace plus a high door. Large windows offer views around.
But do not put this tent to harsh tests, it is designed for calm weather and for summer camping.
Below you can see how I rate it against my usual rating criteria so that you can easily compare it with other items of this type:
BEST PLACEs TO BUY
For more options, please check under the category Tents for 4 People. In particular, check this NEMO Aurora Highrise 4 Person Tent with its unique design and aluminum poles.
Bookmark this site and come again, this will keep you informed because I add texts here regularly. Let me know if you have questions or comments, there is a comment box below. Have a nice day.