---
The NEMO Aurora Highrise 4 Person Tent is supported by quality aluminum poles, it has a unique design and it includes two doors, two side windows, and two vestibules.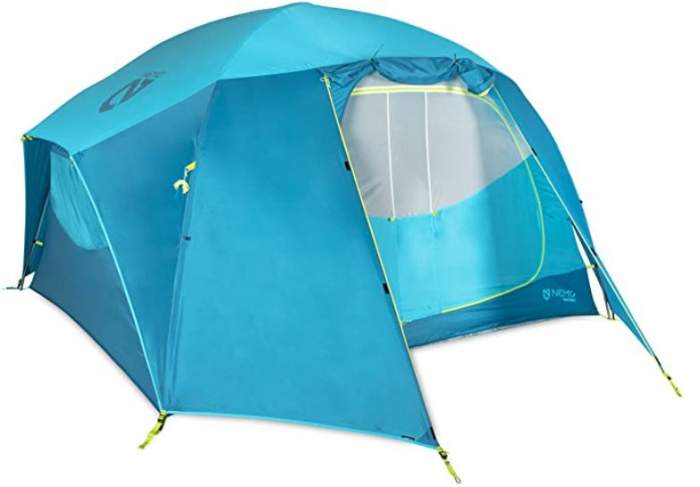 ---
Key features & benefits
Dome style tent.
Very tall.
Unique design.
2 Doors.
2 Vestibules.
Aluminum poles.
---
What is in the name
This NEMO Aurora Highrise 4P Tent is from their new series that includes also a 6-person tent. So the tent should not be mixed with their NEMO Aurora tents that are built for backpacking.
Here you have a unique design, but this is not surprising for the NEMO brand that is owned by a person who studied industrial design. The picture below shows the tent without the fly so you can better understand its structure.
So this is a dome tent but they have added two ridge poles that pull up the sides with windows, and they do the same with the other two sides with the doors. This makes all four sides of the tent vertical and adds lots of volume inside.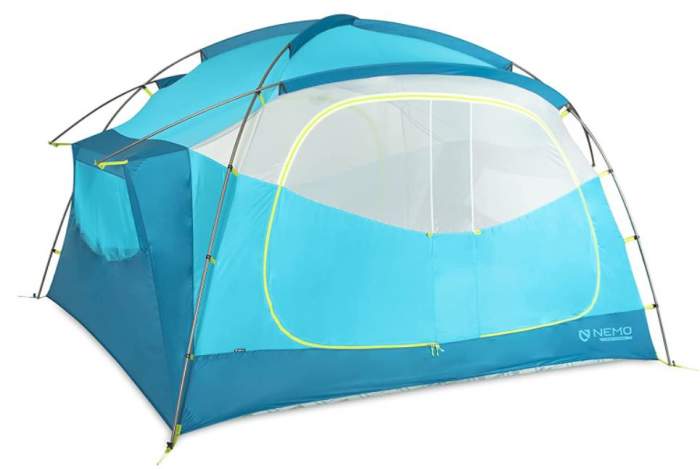 In the picture above, the tent is completely freestanding. The mentioned ridge poles create tension in the fabric so the structure is very stable and you can move it around as you wish. Note also that it is very tall, you have 75 inches (190.5 cm) peak height.
The doors, windows & vestibules
The tent has two asymmetric doors, the front one is oval and you can unzip it completely and store in a pocket underneath the door. The rear door is half the width of the front door, and it is D-shaped, see it here: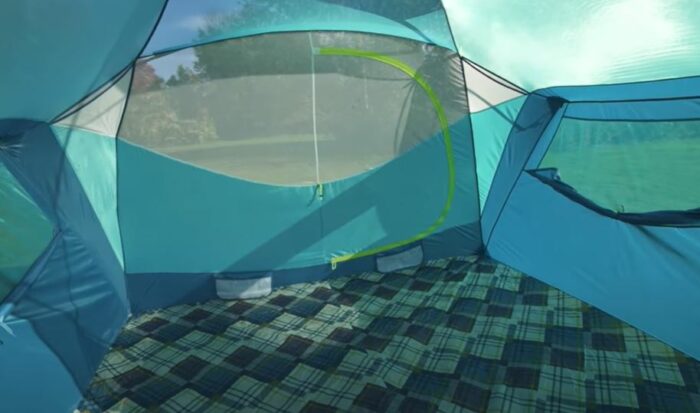 With the fly, the tent has two vestibules, but they are also asymmetric. The front vestibule is with two parallel zippers, so you can unzip the flap and roll it up. This is shown in the top picture above. You can also create an awning as shown in the picture below.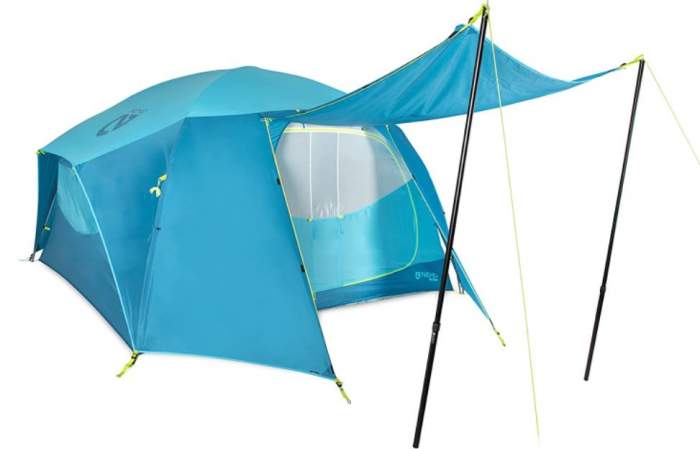 The rear vestibule has one zipper so you can unzip it and have a sort of a side entry as shown in the picture below. This space can also be used for storage as well. Note that with the fly on, the tent is not freestanding, this all must be staked to be functional.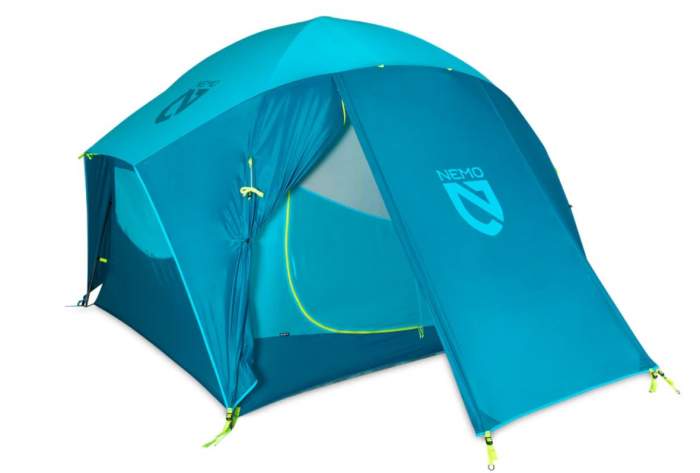 The two side windows are not covered by the fly, but they are partly protected under the fly as you see from the picture above. Below you can see both of them, note that they are with their own inner zippered panels for protection and privacy.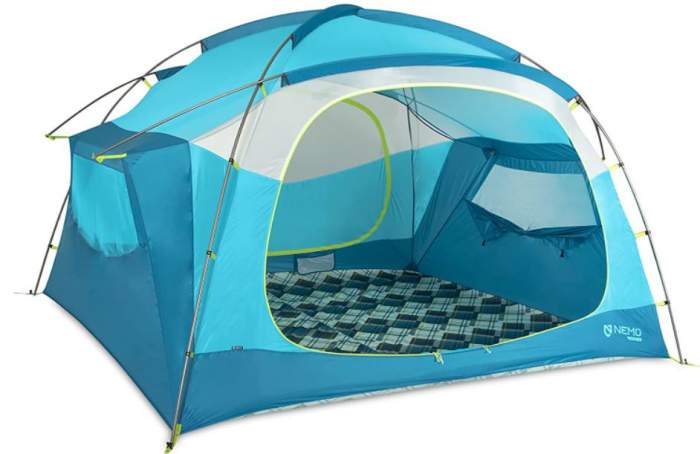 Materials & other details
The poles: There are two main support poles for the dome plus two short ridge poles, and this is a shock-corded aluminum with 12 and 13 mm diameters. The attachment to the tent is through sleeves on the roof and clips on the sides, and through grommets at the base.
The fabric: The fly is a 68D PU polyester with a 1200 mm waterproof rating, and the canopy is 68D polyester and No-See-Um mesh. The floor is a 150D PU polyester with a 1500 mm rating. All seams are taped.
So these are durable materials that meet flame-retardant standards without the use of harmful chemicals. Note that the floor is unique and fun printed, see below how it looks, this is not a carpet or anything similar.
You also have a Nightlight Pocket headlamp diffuser (the picture above)
The tent has several floor pockets and several ceiling pockets.
Meets CGSB-182.1 requirements.
Oversized duffel storage bag makes packing a breeze.
Gatekeeper door clips.
Aurora Highrise footprint is available and it can be ordered separately. It weighs 14.6 oz (414 g), its packed size is 13 x 8.5 x 1 inches (33 x 21 x 2 cm), and it measures 100 x 90 inches (254 x 229 cm). This is a 68D PU polyester (1200 mm).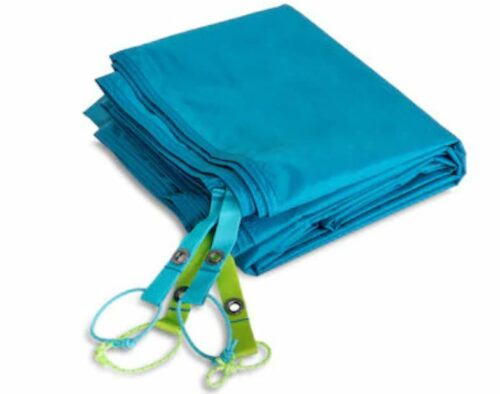 Ventilation
The canopy is with lots of mesh, and you have it also on the doors and on the windows. So this should be good for vapor to escape. The fly is without vents, but vapor can escape in the sections above the windows. However, there are no floor vents here, but the side windows may compensate for this.
Warranty
This tent is covered with Nemo's lifetime warranty against defects in workmanship and materials. So you know what you are buying and this is partly behind its steep price.
Please see more in this short video:
---
Who is this NEMO Aurora Highrise 4P Tent for
Regarding the best use & climate, this is a 3-season tent but best suited for a warmer environment. The waterproof rating may not look very high but you never need more when the seams are properly sealed. 
The tent is tall and the fly above the windows is not particularly aerodynamic so it is better to avoid very windy places. 
Regarding the size, you have 62.5 ft² (5.8 m²) of the floor area and this is supposed to accommodate 4 people. The two vestibules add lots of extra space for storage, you have 19.5 + 19.5 ft² (1.8 + 1.8 m²). So there is enough space for 4 sleeping pads on the floor, and you have plenty of storage space.
Regarding the weight & packed size, the tent is a bit on the heavy side but the packed size is good. It weighs 15 lb 14 oz (7.2 kg) and its carry bag shown below measures 25 x 8.5 x 8.5 inches (64 x 21 x 21 cm). So this is a tent for places with a motorized access.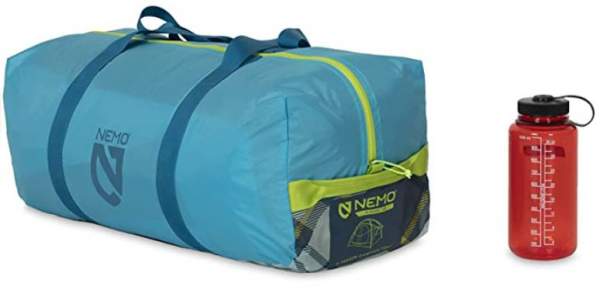 ---
Specifications
Type: dome tent.
Official capacity: 4 people.
Weight: 15 lb 14 oz (7.2 kg).
Floor dimensions: 100 x 90 in (254 x 229 cm).
Area: 62.5 ft² (5.8 m²).
Vestibules area: 19.5 + 19.5 ft² (1.8 + 1.8 m²).
Peak height: 75 in (190.5 cm).
Packed size: 25 x 8.5 x 8.5 in (64 x 21 x 21 cm).
Poles: aluminum.
---
Final thoughts & rating
In summary, this NEMO Aurora Highrise 4 Person Tent offers spacious standing height with lots of shoulder space because of its completely vertical sides. The two vestibules provide lots of storage area, and you have views around through its unique windows.
All in all, this is a high quality product backed with a lifetime warranty and you have a renown brand behind this product. Fully recommended. I have included it in my list of best 4 person car camping tents.
Below you can see how I rate it against my usual rating criteria so that you can easily compare it with other items of this type:
BEST PLACEs TO BUY
For more options, please check under the category Tents for 4 People. Bookmark this site and come again, this will keep you informed because I add texts here regularly. Let me know if you have questions or comments, there is a comment box below. Have a nice day.