---
The NEMO Aurora 3 Person Backpacking Tent is very light, with quality aluminum poles, 2 doors & 2 vestibules, ventilated, and with a footprint included.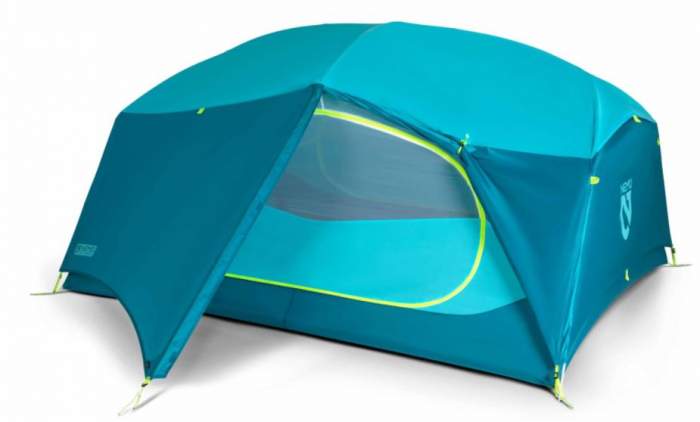 ---
Key features & benefits
2 Doors & 2 vestibules.
Aluminum poles.
Fly vents.
Footprint included.
Very light tent.
Steep walls.
---
Overview
So here you have a tent from a series of two tents that includes Nemo Aurora 2 and Nemo Aurora 3 tents. Both are shown below without the fly, so you realize that they have the same basic structure.

The Aurora 3 tent shown below without its full-coverage fly shows that this is a fully freestanding construction with a double-hubbed pole system that is Y-shaped on both ends. As soon as you place the ends of the poles into the grommets, the frame is self-supporting.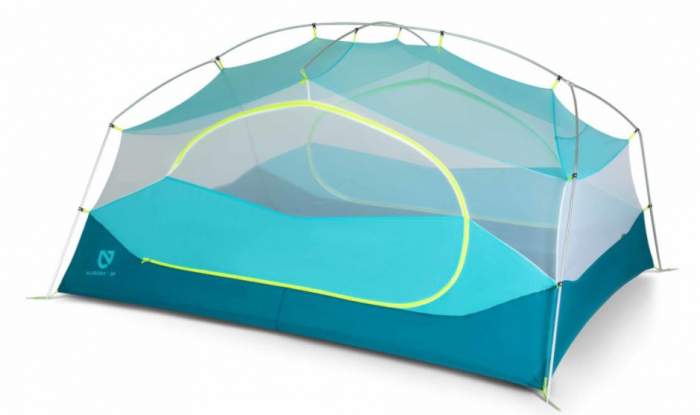 Note that these hubbed poles are pre-bent so that the tent looks almost like a low cabin structure. The short ridge pole pulls the side walls and makes them steep. Below you can see the tent from the narrow side, with the fly and without it.
With such poles, the tent has lots of volume. Below you can see this presented visually and by numbers, so you get some idea of how the tent is roomy when you are inside.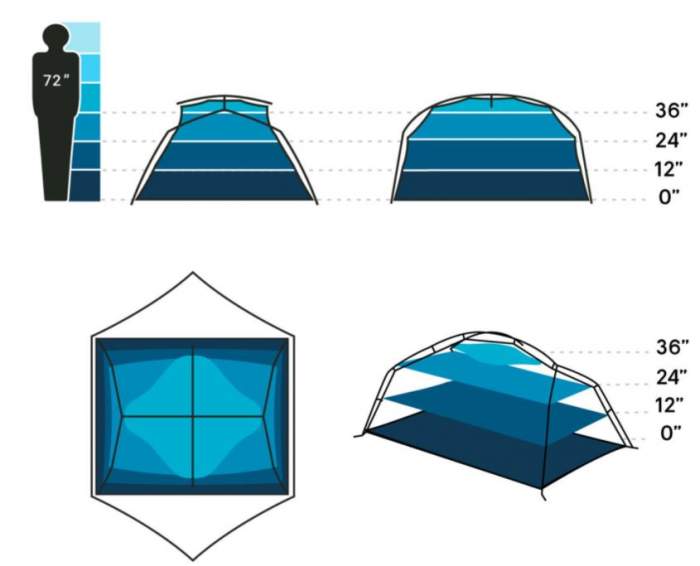 You have realized already that the doors are on the longer sides of the tent, and you have a full-coverage fly. It creates two vestibules, and the flaps can be rolled to the sides independently. On the top picture above you have seen one flap rolled, and below you can see them both rolled to the sides. Observe again the vertical wall on the right.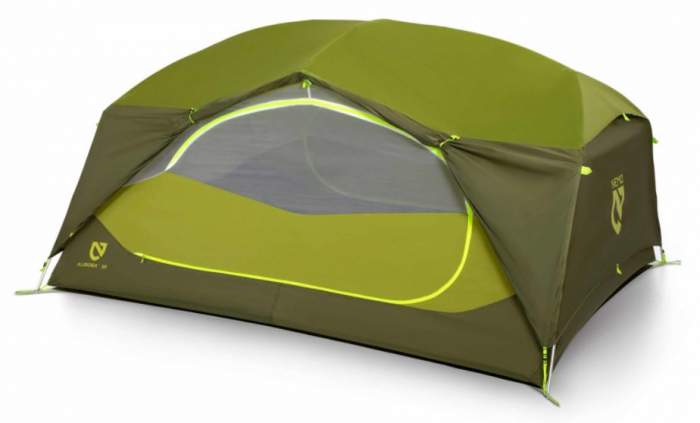 To have the vestibules functional, they must be staked properly, so as usual, strictly speaking, the tent with the fly on is not freestanding.
Ventilation
You have already seen the canopy of this tent, and it is all mesh. The fly is full coverage type but they have designed it nicely so that you have plenty of air circulation under the fly, you can see this in the picture below that shows the tent with its fully closed fly.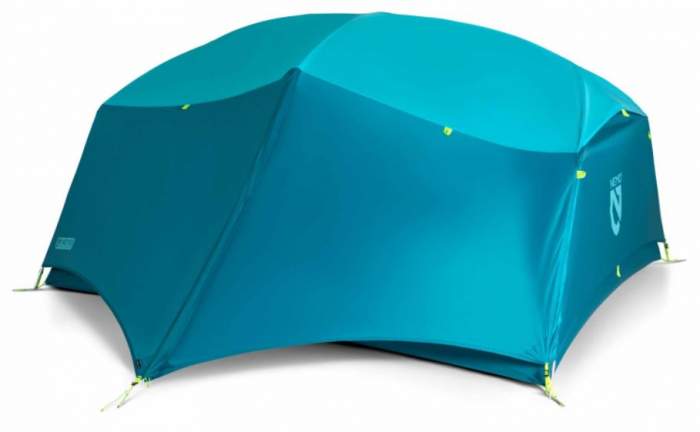 But without vents this would not be enough, and they have added roof vents. The picture above shows a vent positioned properly so that rain should not get in easily in the case of side winds.
Materials
All the poles are aluminum and 9.5 mm in diameter. Below you can see some details about the pole attachment to the tent. So you have color-coded grommets at the tent's base, and clips on the canopy.
The fly and the floor are both 68D PU polyester with a 1200 mm rating. This is a very modest value, in particular for the floor but the denier value is very good for such a light tent. The mesh areas are a 30D polyester and No-see-um. Note that the tent comes with a footprint included, you will need it with such a floor material. 
They claim that no restricted chemical substances are used, or other added chemicals for flame resistance. Yet, the tent meets CGSB-182.1 requirements for flammability. It comes with NEMO Lifetime Warranty.
Other features
Built-in snaps for Pawprint that makes it safe for a dog.
Overhead Light Pockets with a special light-diffusing fabric. You can use your headtorch here.
Gear Pockets for ample storage.
Please see more in this video:
---
Who is this Nemo Aurora 3 Tent for
Regarding capacity, the tent is officially for 3 people. The picture below shows its floor plan and the most important dimensions. The inner floor area is 44 ft² (4.1 m²), so this means 14.7 ft² (1.37 m²) per person.
So this is not a castle, but this is supposed to be a backpacking shelter. The two vestibules add 9.2 + 9.2 ft² (0.9 + 0.9 m²) so the total protected area is not bad, you have 62.4 ft² (5.9 m²).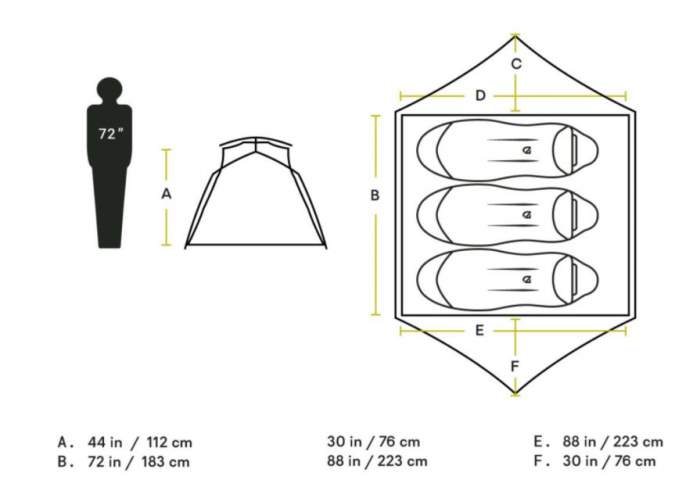 Regarding seasons & climate, the tent is nicely ventilated but it is also with a full fly. So you will be fully protected in a 3-season use, and I see it suitable for any environment. 
Regarding the weight, with 6 lb 8 oz (2.95 kg) the tent is light but not ultralight. This is almost the same as the ALPS Mountaineering Backpacking Acropolis 3 tent. So I have included it in my list of best backpacking 3 person tents, but there are much lighter options on the market. It is more suited for activities where you would not have to carry it in the pack. The packed size is (L x D) 23 x 7.5 inches (58 x 19 cm) so this is quite good for its size.
Regarding the price, it is steep and there are more affordable options on the market. But this is a top-quality tent and the price is normal for what you have here.

Here you can see a bit more about how to secure the tent properly:
---
Specifications
Official capacity: 3 people.
Minimum weight: 5 lb 5 oz (2.41 kg).
Packed weight: 6 lb 8 oz (2.95 kg).
Dimensions: 88 x 72 in (224 x 183 cm). 
Packed size (L x D): 23 x 7.5 in (58 x 19 cm).
Peak height: 44 in (111.75 cm).
Floor area: 44 ft² (4.1 m²).
Floor area per person: 14.7 ft² (1.37 m²).
Vestibules area: 9.2 + 9.2 ft² (0.9 + 0.9 m²).
Total protected area: 62.4 ft² (5.9 m²).
---
Final thoughts, rating, pros & cons
So this NEMO Aurora 3 Person Backpacking Tent is a high-quality tent with a level of craftsmanship that is expected from such a renown brand. It is not the lightest option for backpacking but it offers lots of volume and protected space. Fully recommended.
Please see how I rate this tent against my usual rating criteria so you can easily compare it with some other tents presented here in the site:
If you want more tents in this size group please check under the category Tents for 3 people. Check this Sea to Summit Telos TR3 tent which is a bit lighter.
Let me know if you have questions, there is a comment box below. Thank you for reading and have a nice day.