---
In the specifications of outdoor fabric, you will frequently see the denier value. So what is denier rating for tents and other outdoor fabric and is it important? Keep reading, you will find the answer here.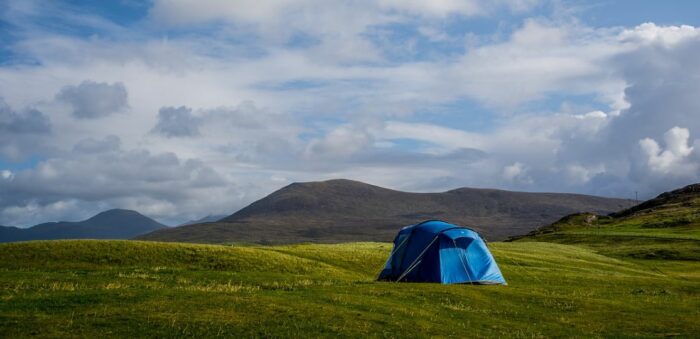 What is denier rating in general
The definition of denier you can find on Wikipedia, and there you will see that it implies the following: this is the mass in grams of 9000 meters of the fiber. This all started with silk as the natural fiber, so 9000 meters of silk weighs around one gram only. Now you can compare all other fibers with it, and you will have the denier valuer for each of them.
So when you hear the term microfiber, this means its denier value is below 1. In other words, 9 kilometers filament of such a fiber weighs below one gram.
When you see a lightweight sleeping bag like this Nemo Sonic -20 with its 20D fabric, this means that 9 km of its thread weighs 20 grams.
On the other hand, the term ballistic is used for very strong and sturdy thick materials used for backpacks, with the denier value in hundreds.
Did you know that human hair has the denier value 20? Well, now you can compare it with some of your outdoor stuff.
But what is fabric tenacity?
So the denier value should not be mixed with tenacity. The fabric tenacity is the ratio of load (required to break the thread) and the linear density of the thread. It is sometimes expressed in units g/denier, but there are many other units used.
What is a good denier value for a tent
The answer is – there isn't. This depends on the tent's purpose. Take Exped Mira II HL with 20D and Eureka High Camp 2 tent with its 70D fabric. The former is built as an ultralight backpacking tent and this thin fabric is expected and justified to shed the weight. The latter is a winter tent designed for harsh conditions, so the denier value is naturally higher.
See also this nicely built Mountainsmith Mountain 2-Person Tipi (see the picture) where you have 40D ripstop Sil-Nylon used for the fly and 68D x 190T Poly on the floor. So this is a good and reasonably strong material for a tent, but the tent weighs 6.93 lb (3.15 kg), so you would not carry this on the trail.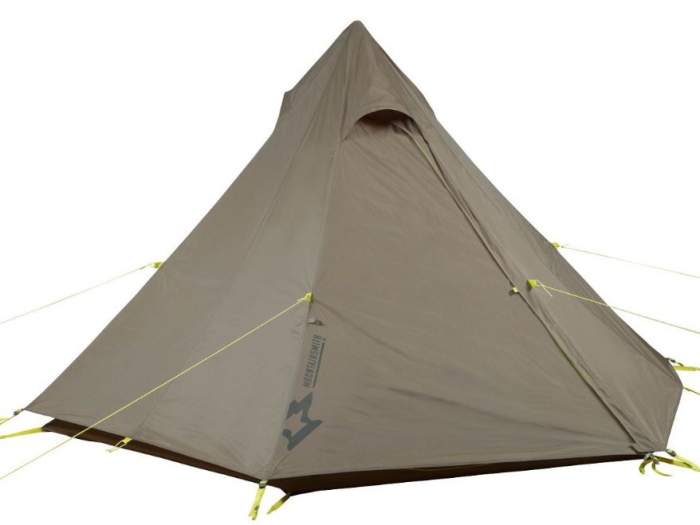 Thin tent material is normally lightweight, and this also means it is very noisy when it is windy outside. So if you want to avoid this, go for some cotton-canvas tent like this Kodiak Canvas 8.5 x 6 ft Flex Bow 2 Person VX Tent 6086.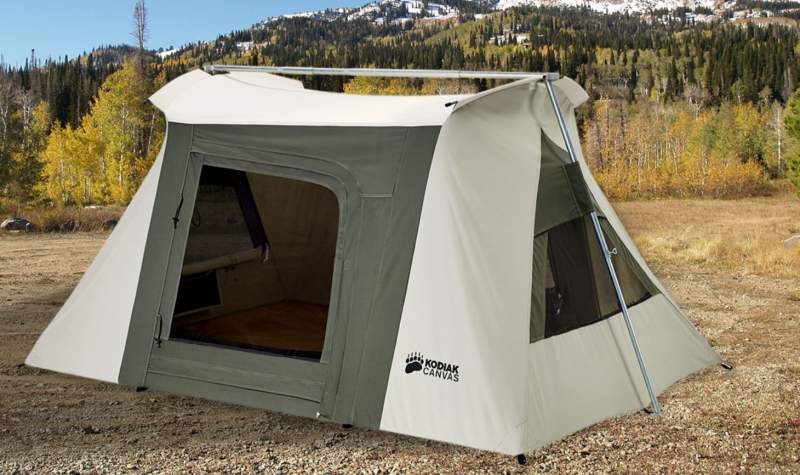 What denier value to expect in a sleeping bag
There are incredibly packable backpacking sleeping bags on the market, and some of them you can see in my list of best compact sleeping bags. So for example, this Therm-a-Rest Hyperion 20 Degree Sleeping Bag is built from a 10D nylon ripstop fabric. This is an exceptionally thin but strong material, and this is why the bag is so lightweight and packable. It weighs only 1 lb 4 oz (0.58 kg). The reason is obvious, this is to reduce the weight.

You can compare this with Kelty Tuck 20 Degree ThermaPro Ultra Sleeping Bag which weighs 3 lb 11 oz (1.67 kg). So it is much more durable but this is not an item to carry in the pack.
How about outdoor jackets' denier values
Many manufacturers give some different ways to describe the durability of their jackets, so you can have tenacity given as in the case of this Columbia Bugaboo interchange jacket for women. Others give oz/yard as a unit and you can see this in the Marmot Featherless Component Jacket.
But there are jackets described through their denier value, like this Mountain Hardwear Stretch Ozonic Jacket where you have 40D, or this Outdoor Research Women's Interstellar Jacket where it is 20D. But see also this The North Face Resolve jacket for women where you have 70D. So this all depends on the purpose of the jacket.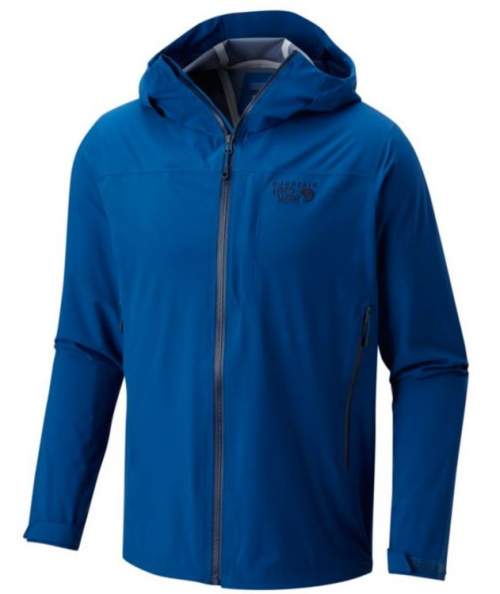 How is this with backpacks
You will see much higher denier numbers in some packs on the market. So Mountainsmith is known for its strong and durable products and you can see this Mountainsmith Approach 45 Backpack with 305D Multi-Rip Cordura HP used for the main body, and 610D Cordura HP on the bottom. This is what you can describe as a very durable pack.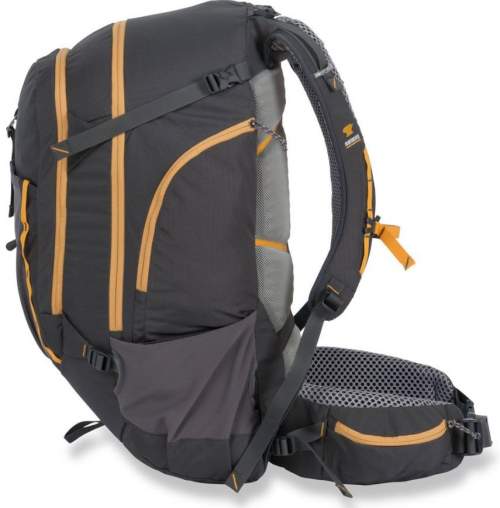 The best Deuter's pack, the Deuter Futura Vario 50 + 10 has 210D nylon as the main fabric, and PES 600D at more exposed areas. So this is again very strong.
In the case of Kelty Zyro 54 pack for women you have 210D nylon used for the body fabric and 420D for reinforcement fabric. So you get the idea, quite generally, these numbers are by about one order of magnitude higher than those in sleeping bags.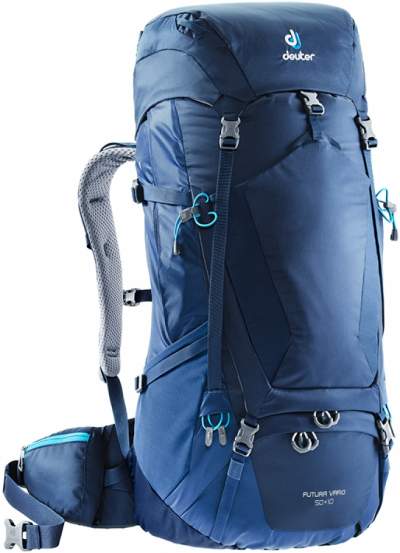 ---
It is OK to have such lover D value in the equipment where you want to shed the weight and which is not subject to high abrasion in any case. But in the case of backpacks you should expect higher numbers, or at least have them in more exposed sections of the item, like on the bottom. In the case of jackets, you have such reinforced areas on elbows and also on shoulders because of a pack's shoulder straps.
Thank you for reading. I hope the text was useful and you now have some better idea of what denier rating is and what to expect in some pieces of your equipment. Do let me know if you have any question, there is a comment box below.
Please bookmark this text if you find it useful, and subscribe to our weakly newsletter, the subscription box is given below. Have a nice day.