---
The North Face Resolve jacket for women is a 2-layer fully waterproof, breathable, windproof jacket, with all seams fully taped. Very comfortable and stylish, it is ideal for daily life and for occasional outdoor use.
General description
The North Face Resolve jacket for women is a very comfortable and fashionable rain jacket available in a variety of colors. This is a completely waterproof piece of clothing, with a HiVent water membrane.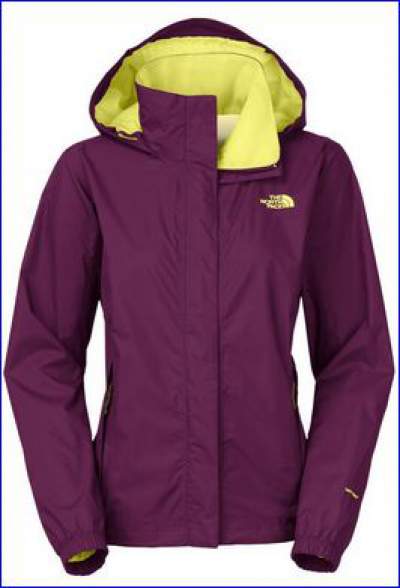 On the front, you have a full-length zipper with an external storm flap which is equipped with velcro tabs for closure, all along the flap. I must say that I do not like velcro tabs on the storm flap. I prefer snap buttons.
You have (only) 2 zipped pockets, equipped with storm flaps as well. Adjustment cords with toggles are available on the hem.
On the cuffs, you have elasticity only, no velcro adjustment. I must say that here I love to have velcro tabs adjustment together with elastic.
Inside, you have a very pleasant mesh layer that protects the membrane and gives additional comfort and insulation. You will be able to see some of these features in the short video below.
The hood: It is just of a proper size, helmet-compatible, and with adjustability cords and toggles on both sides of the face. There is no adjustment on the back of the hood. The brim is not so prominent but it is good enough. The hood rolls up into the collar.
---
Membrane material: waterproofness and breathability

Dryvent material used here is fully waterproof, windproof and breathable.  The outer shell is treated with a durable water-repellent finish. It helps to form droplets and it repels water from the surface.
All Dryvent clothing and accessories used by The North Face are fully seam-sealed. In this particular jacket, a 2-layer construction is used, an outer fabric and a membrane. In this case, the membrane is a polyurethane (PU) coating. It consists of a multi-layer structure for waterproof protection, moisture permeability, and durability.
Typically (but not always), 2-layer jackets have an extra lining for the membrane protection. The Resolve jacket is lined with an additional internal mesh for extra comfort and increased warmth. This mesh is my favorite feature in rain jackets.
This jacket has the waterproof rating 25 PSI minimum after 20 launderings. Here PSI means 'Pounds per Square Inch'. If this is complicated to you, the conversion rate is 704 mm = 1 PSI. This means that a fabric of 1 PSI can withstand 704 mm of rainfall in 24 hours.
This put the membrane used here into the group of those that are very water-resistant. It will withstand heavy rain and wet snow, and quite some pressure. For comparison, a hurricane rain is typically in the range 10 PSI. So I would say you are completely safe with this jacket.
As for breathability, well, the standards are far less clear in general. In this particular case, the data presented by the manufacturer are not completely clear either. What kind of test they did, upright cup test or inverted cup test? So, this jacket is indeed breathable, but I would say that breathability is not its strongest feature. If you plan hard exercises in this jacket, with a lot of sweating, then perhaps this is not an ideal choice.
You can read more about breathability and waterproofness in my another text and you can also have a look to this pdf text.
Here is a short promotion video about The North Face Resolve rain jacket for women:
Technical specifications & summary of features
Avg. weight: 470 g (16.6 oz).
Fabric: 70 D 105 g/m² (3.1 oz/yd²) nylon ripstop Dryvent 2L.
Waterproof rating: 25 PSI minimum after 20 launderings.
Breathability: 750-800 g/m²/24 hours average.
Windproof.
Seam-sealed.
Attached adjustable hood stows in collar.
Mesh lining.
Hem cinch-cord.
Brushed chin guard.
Full-length front zip with velcro tabs.
Two side pockets.
Lifetime guarantee (this means jacket's lifetime!).
6 sizes: XS, S, M, L, XL, XXL.
A huge number of colors (with various combinations outside and inside):


---
Pros & cons
Note that some of my pros are not necessarily yours. Example: mesh lining which I love, but you may see this liner just as extra grams. In my view, it adds to insulation, and I do not like the rubbery feeling when touching the membrane. So a liner is a must for me.
Similarly, some of my cons may not always be your cons. Example: I love to have elastic together with velcro tabs on cuffs.
So here is my short summary:
 Cons
 Pros

Not lightweight.
No internal pocket(s).
Only two pockets.
No pit zips.
No velcro tabs on cuffs.

Waterproof.
Breathable.
Windproof.
Very good price.
An incredible choice of colors.
Mesh lining.
Pleasant collar.
The choice of colors implies both, colors of the external fabric alone, and the combination of the external fabric and the color of the collar and the internal fabric.
---
Conclusion
From many points of view, The North Face Resolve jacket for women is a great option as a rain jacket for daily life and for occasional outdoor tours. The jacket is very popular for many good reasons, you have seen above the huge number of reviews by Amazon customers. It is very comfortable and packable so it is a very suitable piece of clothing to have with you in your luggage when traveling. I fully recommend this jacket.
If you need something for layering, please see this text about Columbia fleece jackets for women.
Thank you for reading. If you find this text useful, please share it with others. I shall be happy to have some comment from you, there is a comment box below. Have a nice day.