---
Mountainsmith Approach 45 Backpack is an ultra-durable and reliable panel loading pack for overnight hiking trips, weekend road trips, or for day hikes, with 7 pockets and an affordable price.
---
Key features
Very durable Cordura fabric.
Great capacity.
Great price.
---
What this is about
The MS Approach backpacks have been around for at least 7 – 8 years already. But the pack you have here is the latest version, and this is the largest pack in the series, there are also two smaller packs with 25 liters of volume (separate versions for men and women).
This is a top-loading pack and it looks smaller than what its volume number 45 tells you, but this is usually so with packs without a lid. Note that its first versions were 40 and 50 liters, so do not get confused if you see this somewhere. This time they made it in the middle of the two.
The pack is hydration compatible, with a sleeve inside of the main compartment and a port behind the neck. Note that they use the number 45 in its name, but the official volume on the Mountainsmith's site for this pack is 44 liters.
---
Who is it for
Size-wise, with its 2685 in³ (44 L) of volume, with good attachment features, and with the weight capacity of 50 lb (23 kg), this is a pack good enough for overnight and weekend hiking and backpacking tours. But it has dual compression straps on both sides so you can reduce its size and use as a day pack as well.
Weight-wise, with 3 lb 3 oz (1.4 kg) of weight, I would call it a lightweight pack but not ultra-lightweight of course. If you are an ounce counter, better check this incredibly lightweight and functional Gregory Optic 48 pack.
But note that this is a very strong and durable construction, hence its impressive weight capacity mentioned above.

---
Overview of features
The fabric
The Mountainsmith brand is well-known for the durability of their items, so this pack is not an exception. You have a combination of a 305D Multi-Rip Cordura HP used for the main body, and 610D Cordura HP on the bottom, with 210D Nylon Embossed Liner. You will not find so many packs of this size with such strong materials.
The suspension system
The shoulder straps are anatomical and with a very good cushioning, rolled-up around the edges to avoid any hot-spots and rubbing close to the neck, and with a breathable mesh over the dual-density foam. You also have load lifter straps in place.
The lumbar padding is massive, as typical for this brand, and it is a bit curved so it gives a very good support, see it in the picture below.
The hip belt padding is very good, and you have side straps on the belt that allow you to stabilize the pack and keep it closer to the body when needed. The front straps on the hip belt are wide and strong, pull-forward type.
The adjustable sternum strap is a ladder-type, so you have several positions for it. This is a system that can never fail, you can see it in the picture, those are the orange elements on the shoulder straps. I know that some people would rather have a more modern rail-type design which allows for better tuning.
Note that the torso length is not adjustable except for minor changes on the shoulder straps. The suspension is supported by a rigid plastic behind the back padding, plus an aluminum spine stay.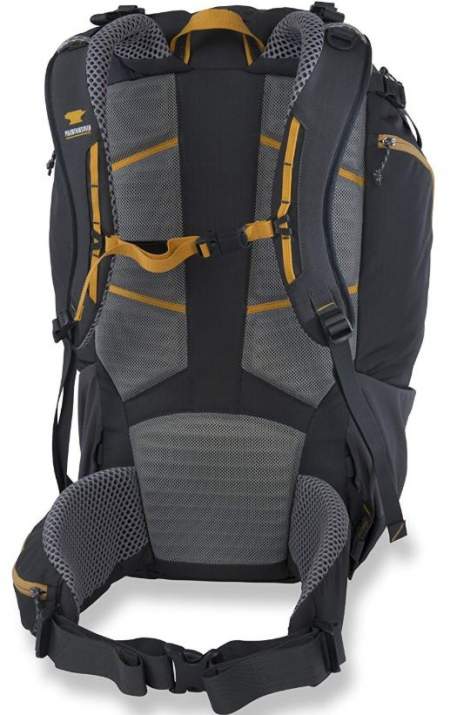 The pockets
You have quite a number of pockets here although the pack is without the lid, and some of them I really like. They include the following:
Two side stretch pockets for water bottles, perhaps not deep enough in my view, see the picture below.
Two upper side zippered pockets. This is my favorite feature here, they are very useful to keep you organized on the trail.
One very large front stretch pocket with a buckle on the top. Here you can store any wet clothes or the stuff used on the go.
One zippered smartphone-compatible hip belt pocket. I just wonder why not two pockets? You have a wasted space on the left side of the hip belt, just see the picture above.
One large and very functional zippered front organization pocket with several small inner pockets.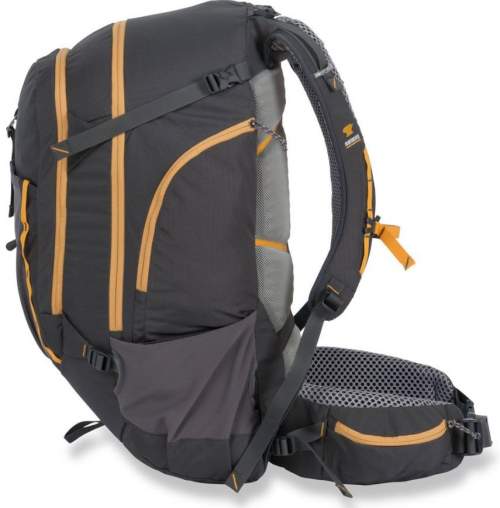 Attachment elements & straps
You have a trekking pole loop on the left side, and it is paired with a bungee tie-off higher on the pack, see the picture below.
Dual daisy chains are on the front.
The lower side compressions straps are with inside-out feature (visible below), to pass them through the side stretch pockets or over them.
You also have a pair of upper compression straps with buckles shown above in the picture.
I really miss a pair of bottom straps here.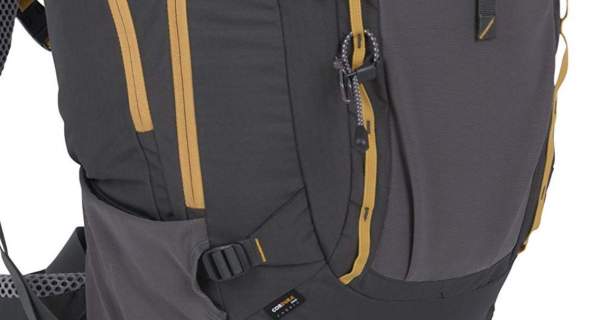 Other features
They claim the pack is FAA carry-on size. But 25.5 inches seems to be too big.
YKK zippers. So you have the best again.
They offer a lifetime warranty on this pack.
Anvil Airway ridged EVA back panel padding.
Please see more about this series in this short video by the brand:
---
Specifications
Weight: 3 lb 3 oz (1.4 kg).
Volume: 2685 in³ (44 L).
Weight capacity: 50 lb (23 kg).
Dimensions (H x W x D): 25.5 x 12.5 x 12 in (64.8 x 31.8 x 30.5 cm).
Torso fit: 17 – 21 in (43 – 53 cm).
Waistbelt circumference: 28 – 48 in (71 – 122 cm).
---
Mountainsmith Approach 45 Backpack vs Competitors
I have decided to show you this Approach 45 pack side by side with two other top-notch packs built in the same style. They are with the same volume as well. It is interesting to observe that the price for the Teton Sports pack is exactly the same on the day of writing this text. But this changes by the day, so better check the links for updates.
Mountainsmith
Approach 45
Kelty Redwing
44 Tactical 
---
Final thoughts
In the description of this Mountainsmith Approach 45 Backpack, the manufacturer used the words "Swiss army knife" of backpacks. For any other brand, this would sound like bragging, but this brand is known and respected for the durability and quality of their products.
So yes, this is a well-built and versatile pack and it will serve you for years, but it is fair to say that it lacks some features which I find necessary, though they may not be essential for you. They bought me with the side zippered pockets, I love this feature, and have them in several of my packs.
So far it has received incredibly high ratings by Amazon customers. Please see how I rate it for several parameters:
If you need more options to consider, please check my page with backpacks in the range 35 – 55 liters, all top brands are presented there. Check also the Mayhem 45 pack from the same brand, and this excellent Deuter Aircontact Lite 40 + 10 pack. If ventilation is essential, check this brand new item on the market, the Osprey Rook 50 Backpack.
Note that this is not a sponsored text and I am not paid by the manufacturer. Thank you for reading, please use the comment box below in the case of questions or comments.