---
This Teton Sports Talus 2700 Backpack review is about a lightweight, 1.45 kg only, hiking and backpacking 40 liters pack suitable for various overnight or weekend tours.
---
What sets this pack apart – Key benefits
Teton Sports packs are generally very affordable. The same holds for the Talus 2700 pack.
Integrated tarp poncho which serves also as an emergency shelter.
---
Where to buy
The best place regarding the price and shipping conditions is usually Amazon.com.
---
Talus 2700 backpack – description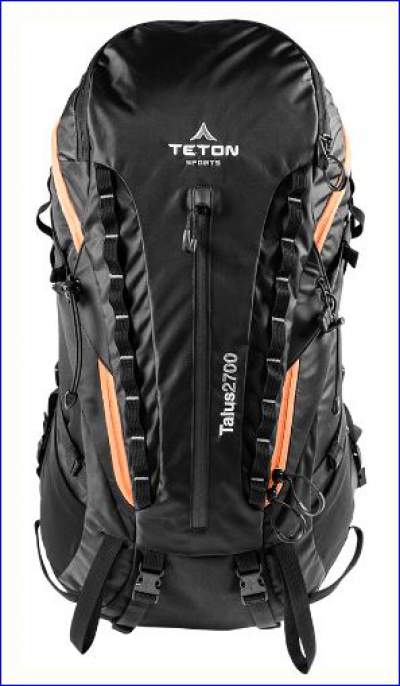 With its 44 liters (2700 cubic inches) volume, the Talus 2700 is a great pack for overnight or even weekend tours. This is a very convenient mid-size pack which can be used for various outdoor activities.
It comes with a lot of attachment elements so you can indeed carry much more that you would expect from the pack of this size.
At the Teton Sports site, they describe this pack as "designed to meet the needs of the most aggressive users at a price that is friendly to beginners."
This is a panel-loading type pack, which means you have a very long U-shaped zipper which goes along both sides and over the top of the pack. It creates a huge opening to the main compartment and you have an easy access to everything stored there. You can see the zipper as the long orange line in the picture right.
The mentioned bonus poncho-tarp is something really useful. A good thing with it is that it has tie-outs both in the corners and in the middle of each side. So this will be useful if you use it as a tarp or as an emergency shelter. But of course it serves also as a poncho and it is very large, covering you and the pack together. As a poncho, it has a hood with a cinch-cord around your face. You can see it in the picture below.
On both front sides, you will see very long daisy chains, I find them very useful and nicely designed, with this somewhat V-shaped design. On the bottom section, you have dual compression straps with buckles, to attach a sleeping pad or a tent, or any similar item.
Above them, you have dual gear loops that can be tucked away when not used, and they are in pairs with bungee loops higher up on the pack. So here you can attach and fix trekking poles and an ice axe. On the bottom side sections you have additional and unusually large dual gear loops, they are visible in the picture above.
The sides of the pack are rather standard: you have upper and lower compression straps with buckles, and side pockets. But note that you have yet another pair of small loops high on both sides of the pack, useful by all means.
The pack is hydration compatible and the water hose port is behind your neck. Inside the main compartment is a large sleeve which can accept a 3-liter bladder, and you have a velcro hanger there as well, plus two extra hooks which you might need, dependent on the type of the bladder you use. On the shoulder straps, you have webbing loops to hold the hose.
You will notice rather long pull loops on all zippers, this is again nicely done so you can handle zippers with thick gloves very easily.
The fabric of this pack is very durable 420 D ripstop nylon.
---
---
Pockets
The absence of a top lid implies that you have less pockets than in many others classic shape packs.
On the front, you have a long vertical centrally positioned zipper which leads to the front pocket. It is large but when the pack is fully loaded you will not be able to put a lot of stuff there, perhaps only some relatively thin items like maps or books.
As mentioned above, you have dual mesh side pockets for water bottles or for any other objects which can fit into the pockets, so you can fix them with the dual straps which you have above them.
On the top of the pack, you have a zippered pocket where the mentioned tarp-poncho is stored.
The hip belt is with a single zippered pocket on the right side, I would really love to have two.
---
The suspension system
The suspension is based on dual vertical aluminum stays on the back of the pack, they are partly visible in the pictures. These stays give stability and transfer the load to the waist belt. The harness is, in fact, adjustable, so you can move it up and down to find your best torso length.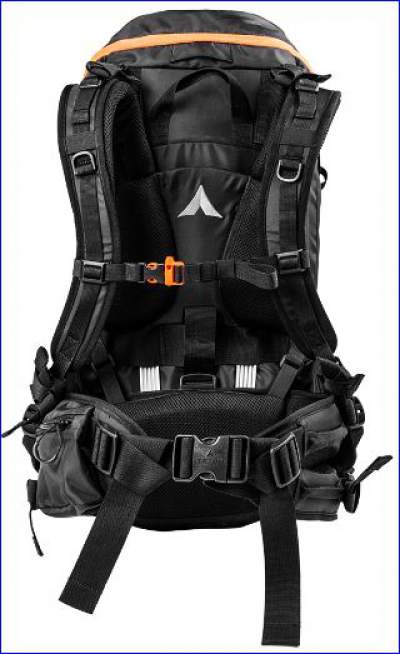 The lumbar zone is very generously padded and the sternum strap is with an emergency whistle. The padding behind the shoulders is rather thick and separated from the lumbar zone. As a result, there is a large opening in the middle where the air can freely circulate to both sides. So I find this a very good design for ventilation.
The hip belt is with dual wishbone construction. It may be necessary to say a few words about this system, it is really good to have it because it allows for an increased comfort. It hugs your hips over a rather wide area and spreads the weight, reducing chances for hot spots.
The point with this system is also that it can be adjusted and directed (angled) up and down to accommodate your body profile. To do this, you have dual straps on the sides of the hip belt, so you can pull these split structure separately. In addition to this, on the front, you have dual straps that spread from the main front buckle. So when you tighten the belt, these straps pull the split construction separately.
This all may be of particular importance for women (if they would decide to have a pack with such a color) in view of the naturally different shape of their body. Note also that such a split structure with openings allows for some extra ventilation of this zone which is normally under pressure all the time, so this feature is really good to have here.

---
See all these features of the Talus 2700 pack in this video by Teton Sports:
---
Specifications
Weight:
– 4.1 lb (1.86 kg) with tarp poncho.
– 3.2 lb (1.45 kg) without tarp poncho.
Capacity: 2700 cubic inches (44 liters).
Size: 26 x 11 x 9 in (66 x 28 x 23 cm).
Torso fit: 15 – 20 in (38 – 51 cm).
Waist belt fit: 31 – 49 in (79 – 124 cm).
Split wishbone hip belt construction.
Adjustable harness length.
Hydration capacity: 101 oz (3 liters).
Fabric: 420 D black oxford 1000 mm WR.
Frame: dual aluminum stays.
Color: blackout.
Integrated 66 D 3 mm poly ripstop tarp poncho with 2000 mm water resistant coating. It can be used as a shelter, rope tarp, or poncho.
The main compartment opens completely for easy internal access.
Dual external daisy chains for external gear attachment.
Dual wishbone construction waist belt for increased comfort.
Independent top and bottom hip adjustments offer a more customizable fit.
Large internal pouch and Velcro tab for the hydration bladder.
Guarantee: l

imited lifetime.
---
Pros & Cons
My summary is as follows
 Pros
 Cons

Great price.
It looks cool.
Bonus poncho tarp.
Adjustable harness.
Huge access opening.

No side zippered pockets.
One color only.
No separate bottom compartment.
Only one hip belt pocket.
Short torso length.
I love the color of this pack, but indeed it comes in one color only and this could be an issue for some people.
I have seen some users complaining about the torso length, so if you are a tall person you might consider looking for some different pack.
Teton Sports Talus 2700 backpack has received very good reviews by many users. On Amazon, the average rate for this pack is very respectable 4.6/5.
---
Conclusion
To summarize this Teton Sports Talus 2700 backpack review, this pack comes with a price tag that is hard to match when it is about branded packs of this type. Perhaps only Kelty can come close with they packs, like for example Kelty Redwing 44 which is of the same size and similar price.
Note again the relatively short torso length. Other than that, this pack looks really cool, and the poncho tarp adds a lot of value, functionality, and versatility to this pack.
If you need some larger pack from the same brand, note that many of them are described in this site, like this Teton Sports Mountain Adventurer 4000 Backpack from the same series, or Teton Sports Scout 3400, Teton Sports Hiker 3700. Need something smaller? See this Teton Sport Oasis 1100.

So, I hope this text has been useful to you. I shall be grateful if you share it with others. If you have any question and comment please use the comment box below. Thank you for reading and have a nice day.
---