---
In this Gregory Optic 48 Pack Review you can read about a pack from a new series of ultra-lightweight internal frame packs with a bonus rain cover.
---
Key features & benefits
Ultralight pack.
Removable top lid.
Moisture-wicking Aerospan suspension.
Ventilated dual-density shoulder harness and hip belt.
Great hip belt and lumbar zone padding.
Bonus rain cover.
QuickStow feature for sunglasses.
---
What kind of pack is this
Here you have the smaller pack from a completely new series that Gregory launched in the beginning of 2018. The series also includes the Optic 58 pack, and the corresponding two packs for women, Octal 55 and Octal 45 liters. This is the lightest series they have built so far, but when you see all its features you will realize that not much is missing here in spite of such an incredible weight.
The pack is a top-loading type so you have the usual lid, but this is both floating type and removable for a stripped weight, see the picture below. If/when you remove the lid, you can use a flapjack which is included with the pack for this purpose. This flap is also removable and this makes it different from some models from Osprey where you have the flap which is fixed, you can see it in the new Exos and Eja packs by Osprey.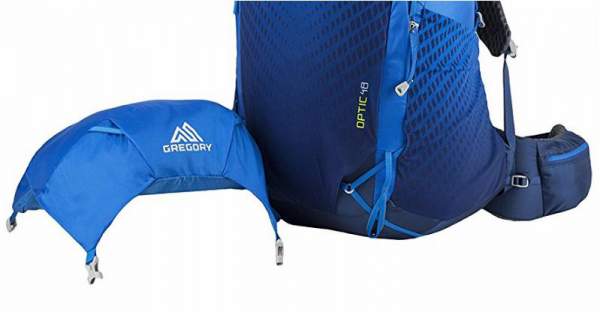 On the top you also have a quick-release system which allows you to get to the main compartment where you have an internal hydration sleeve and a hose port in the middle so you can route the water pipe along any shoulder harness. Note that the pack has no bottom compartment.
---
Who is it for
This is a great pack for backpackers and hikers. There are lighter packs on the market, but not many can match the features which you have in this pack. Typically in such ultra-lightweight packs, the weight is on the account on features, but this is not the case here. With this pack, you will comfortably carry the weigh even if you go to the prescribed limit of 14 kg (30 lb).
There are three sizes, and the notation they use is SM, MD, and LG. Since the harness length is not adjustable, choose the size which suits you best, see more in the specifications below.

---
The construction
Suspension system
You have a peripheral 7001 aluminum frame accompanied by an anti-barreling cross stay. The frame is profiled so that it transfers the weight to the generously padded lumbar zone which you see below. The same quality padding you have also on the hip belt and on the shoulder harness. The padding is with a dual-density foam, positioned strategically depending on the pressure points.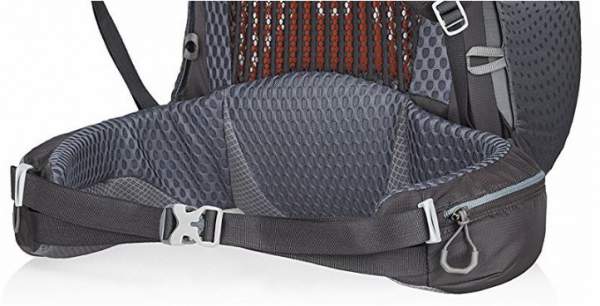 One feature which I want to point out here are those double straps which you see in the picture above, on both sides of the front hip belt system. They create a horizontal V-profile with the two straps on each side which work independently and cinch the side padding on the hip belt. Both the upper and lower section of the hip belt fins are cinched and this increases the effect of hugging of the hip bones.
There are also side cinch straps on the hip belt, for pulling the pack against your hips when needed to stabilize the load.
The back panel is a super ventilated design due to the suspended mesh which you have here. It separates the pack from the body and you can realize this from the picture: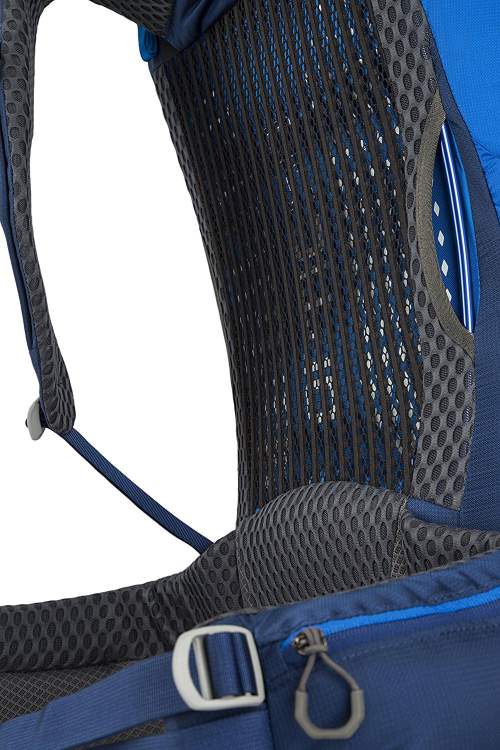 The sternum strap is with sliders and you also have the QuckStow loop here for sunglasses, see the picture below. They have this feature also in their Paragon 48 and Maven 45 packs.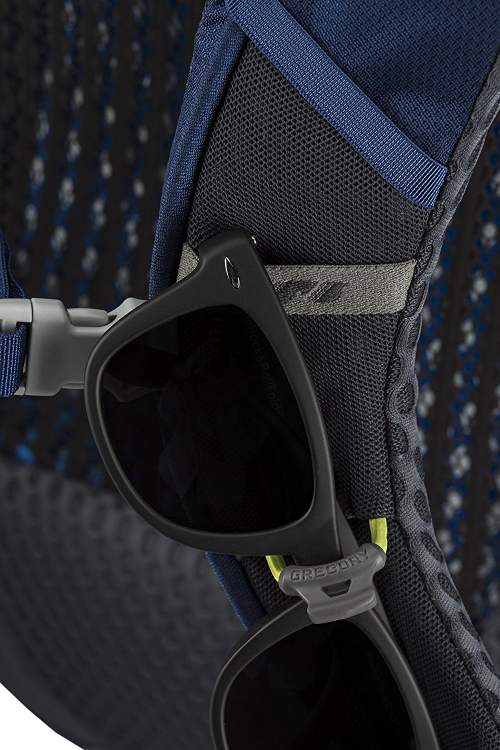 Pockets
You have 7 pockets, not bad for a pack which is designed to be an ultra-light tool:
There is one zippered pocket underneath the lid where you will find a rain cover.
Yet another zippered pocket is on the top of the lid.
There are dual stretch mesh side pockets with dual top and side entrance points.
One very large stretch pocket with a buckle is on the front of the pack.
Dual zippered pockets are on the hip belt.
Attachment points and compression straps
Underneath the lid you have a cinch strap to compress the load or to fix a rope that you can carry in such a way.
On the sides, you have inside-out design in the V-shaped lower side compression straps, so you can route them over or through the side pockets.
The same V-shape design is in the upper side straps. So these light straps span all over the sides of the pack and you can attach lots of stuff here or have fixed some longer objects which you would carry in the side pockets.
The pack is with a dual attachment system for trekking poles and an ice axe, and it includes loops on the lower section paired with dual bungee cords higher up; one is shown below.
You also have several attachment loops on the lid and on the front of the pack.
Please see more in this video by Gregory:
---
Gregory Optic 48 and Gregory Paragon 48 – comparison
The Optic packs are an ultralight design so, naturally, some features are missing. You can realize this when you compare the Optic 48 with the Paragon 48 which Gregory launched last year.
| | | |
| --- | --- | --- |
| | Optic 48 | Paragon 48 |
| Weight (M) | 2.47 lb (1.12 kg) | 3.19 lb (1.45 kg) |
| Adjustable harness | no | yes |
| Pockets | 7 | 7 |
| Adjustable hip belt | no | yes |
| Bottom compartment | no | yes |
Note that the Paragon series was exceptionally nicely built, with all possible features you can expect in a great pack. So in view of this, you might get the wrong impression that Optic is too much stripped of features, but this is not so and you will realize this from yet another comparison table below.
In my view, the ventilation system is slightly better in this new Optic series.
---
Specifications
Type: backpacking & hiking top-loading pack.
Three sizes: SM, MD, LG.
Weight:
– SM: 2.39 lb (1.08 kg).
– MD: 2.47 lb (1.12 kg).
– LG: 2.62 lb (1.19 kg).
Stripped weight:
– SM: 2.28 lb (1.03 kg).
– MD: 2.37 lb (1.08 kg).
– LG: 2.51 lb (1.14 kg).
Capacity:
– SM: 2746 in³ (45 l).
– MD: 2929 in³ (48 l).
– LG: 3112 in³ (51 l).
Dimension (H x W x D):
– SM: 26 x 12.5 x 10.5 in (66 x 32 x 27 cm).
– MD: 28 x 12.5 x 11.5 in (71 x 32 x 29 cm).
– LG: 30 x 12.5 x 12 in (76 x 32 x 30 cm).
Max carry weight: 30 lb (14 kg).
Torso size:
– SM: 16 – 18 in (41 – 46 cm).
– MD: 18 – 20 in (46 – 51 cm).
– LG: 20 – 22 in (51 – 56 cm).
Hip belt size:
– SM: 26 – 45 in (66 – 114 cm).
– MD: 28 – 48 in (71 – 122 cm).
– LG: 30 – 53 in (76 – 135 cm).
Materials:
– Fabric: 100% nylon 100D & 210D.
– Frame: aluminum.
Colors: 2, see the pictures.
What if you are in-between sizes
They suggest the following: if you are a very slim person, it is best to size down; if you are a big person, size up.
---
Gregory Optic 48 Backpack vs Competitors
In the table below I give the Optic 48 pack and two other packs from top brands. I think it is obvious that those are not a match for the Optic pack. But you realize the huge difference in the price of the Kelty Siro pack and the other two packs, and you also have a tensioned mesh here as well, and ventilation is excellent.
---
Final thoughts, rating, pros & cons
So, I would conclude this Gregory Optic 48 Pack Review by stressing again its weight which is exceptional, yet the pack has far more features than the other celebrated ultralight pack, the Osprey Exos 48. You notice that they are the same price, but the Optic 58 Pack comes with a bonus rain cover.
The suspension of the Optic 48 is such that it will allow you to carry the weight with ease, so generous padding you would not expect to find in a pack with such a weight.
The ventilation is also excellent, the tensioned mesh keeps the pack away from the body and you have a free airflow all the time.
I am impressed with the pack but my opinion is unbiased and I am not paid by the brand. What I write here is what I think. But if you would like something stronger and with more features (but also heavier) check this new 2018 Deuter Futura Vario 50+10 which is a top-notch pack in this size range.
Note that the rain cover alone costs around $35. In view of this, the price sounds quite reasonable for such a quality pack. See how I rate it:
Gregory Optic 48 Large Hiking Backpack
You might want to know that they have recently launched an ultralight Gregory Focal & Facet series of backpacking packs. So compare this pack with their Gregory Focal 48 pack. They are almost the same weight.
Thank you for reading. Please let me know what you think, there is a comment box below. Have a nice day.