---
Gregory Maven 45 Backpack for women is a part of a completely new series launched recently. With 1.39 kg, this is one of the lightest packs in this size group.
---
Benefits & unique features
Very lightweight.
Adjustable harness.
New Aerolon suspension.
Quick-stow feature on the shoulder strap for attaching glasses on the go.
Rain cover.
---
The Gregory Mountain Products Maven series
There are four Gregory Maven packs for women, and here are some basic numbers for all of them:
Weight (kg)
Volume/weight
ratio (L/kg)
Maven 35

1.33

26
Maven 45

1.39

32

Maven 55

1.53

36
Maven 65

1.56

42
All of them belong to ultra-lightweight packs and you will see this also from the comparison table below. I love to show the Volume-to-Weight (VW) ratio, I think this is a useful parameter. As you see, it is better for larger backpacks and this is natural because of the basic elements they all have in common, like the harness and the hip belt.
The large value of the VW parameter usually implies the lack of features, but you can be sure this is not the case here, these packs have all the essential features you need.
Just to mention the differences between the two bigger packs and the two smaller packs:
The hip belt is adjustable in the 55 and 65 liters packs, and this is absent in the smaller packs. You can see more if you follow the links above.
Related to this, there is a possibility to re-position the hip belt pockets in the bigger packs, not available in smaller packs.
The water bladder sleeve in the 55 and 65 liters packs is removable and it is designed to be used as a daypack. Here again, this is not available in the smaller packs.
Internal divider in the 55 and 65 liters packs doubles as a top flap for a lidless use. This is absent in the two smaller packs which have no divider.
Now, these are packs for women, but there exists the parallel Paragon series for men, with Paragon 38, Paragon 48, Paragon 58, and Paragon 68 liters packs.

---
Maven 45 backpack – description
This is a classic looking pack with a top lid and with the top entrance underneath it where you have an extendible spindrift collar. Yet another access point is on the bottom where you have a zipper and this looks like a bottom compartment but there is no divider there.
By size, I would say this is a great pack for overnight and weekend tours, perhaps even a few days tours if you have top-notch equipment which packs nicely. This is because of numerous attachment elements that you have here, see more below.
The lid is floating type and this means it comes with straps on the back and you can raise it in the case of an extra load. This extra load you can add after expanding the collar, so by raising the lid you still have a fully functional pack with a fully protected top entrance.
You will also see people putting a climbing rope on the top, under the lid, so the lid is used to fix it in place. Note that you also have an extra strap over the collar to fix such extra pieces. This is what makes packs with lid more functional than panel-loading packs, not to mention extra pockets which such a lid usually contains, see more below.
The main compartment is with a large hydration sleeve on the back and with a hook at the top for the water bladder.
The bonus which you have with this pack (and with all series) is the rain cover. It is stored in a separate zippered pocket underneath the front pocket. In the area where I go, the Alps, I would not consider going without a rain cover. More about rain covers you can see in my separate text.
The harness and suspension – Aerolon system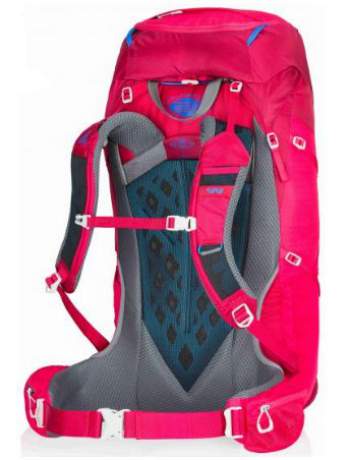 The packs are built in two sizes XS/S and S/M, see more in the specifications below, so make sure to choose your proper torso length in the moment of purchase. There is a tab on the pack where you can see the pack's size and the torso length.
However, you also have the possibility for fine-tuning as the torso length is adjustable. To adjust the torso you do the following:
Loosen the load lifter straps and break the Velcro connection behind the harness.
Then slide the harness in the desired position.
After that just press the harness to re-engage the Velcro again.
There are some markers but without numbers indicating the torso length so you might have to try a few times to get to the right length. I wonder why they do not print in the numbers, this would help, in particular, if two or more people use the same pack.
The adjustment range is 4 inches (10.2 cm). I find this useful also if several family members use the same pack, and the same is if the pack is for a growing teenager, so it will grow with the user.
The suspension system is very advanced, designed with weight saving in mind but nothing is minimalist here. They call it the Aerolon system. You have an ultra-lightweight 7 mm diameter hollow aluminum frame along the perimeter of the pack, and in the lower section, it is directed to the lumbar zone where it transfers the weight. In this critical lumbar area, you have a nice padding.
This is a great design with enough padding and with a great support which reduces the stress on shoulders. It is shown below. Something similar you can see in yet another series by Gregory, the Zulu packs, see this great Zulu 30 pack with a massive lumbar padding.
So the frame gives the shape and rigidity to the pack, but the pack still remains flexible. There is no standard back panel there, it is not needed.
Above the lumbar zone is what they call Matrix Ventilation System, a foam matrix panel covered by a very breathable suspended mesh. There is space between this panel and the pack, you can pass your hand through it. So this is all designed for excellent airflow and ventilation, and again with weight saving in mind.
A similar matrix cutout structure is in the foam used on the shoulder straps' padding. Here again, you have mesh and great ventilation. The hydration hose webbing loops are on the shoulder straps, as well as the rails for the adjustable sternum strap.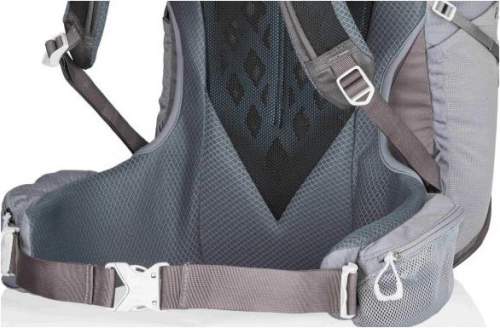 The hip belt
The hip belt is contoured and here you have a multi-density LifeSpan EVA foam, see the picture above. It is equipped with straps that attach it to the pack. You will use them to tighten it if you need a better load control, for example in some tricky passages and rock scramble.
As mentioned above, here you have differences in the design as compared with the bigger packs where the hip belt pockets can be re-positioned and the hip belt itself can be adjusted.
Attachment elements
On the sides of the Maven 45 pack, you have very functional dual compression straps. The lower straps are with the inside-out feature, which means that you can run them through the pockets in order to compress the pack or over the pockets to secure the items stored in the pockets.
If you carry some long objects in the side pockets, like tent poles or a tripod, you can fix them and secure them with both lower and upper side straps.
On the left shoulder strap, you have what they call the quick-stow feature for sunglasses. This includes a webbing loop and a tie-off cord, so when you attach the glasses, you can secure them with the cord. There are other packs on the market with this same feature, you can see in Osprey Talon 33.
On the bottom, you have two useful compression straps. Here you can attach a sleeping pad or a tent. There is also a bottom loop for an ice axe or for trekking poles, and it is paired with a tie-off bungee cord higher on the pack.
There are four webbing attachment loops on the top of the lid, see the picture below, very useful to have for various purposes. So you realize, many attachment elements, and this makes the pack effectively far bigger than it looks.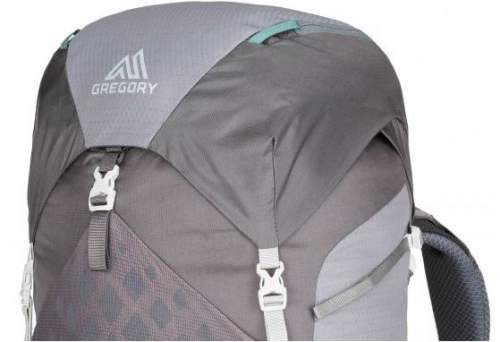 Pockets
There are 7 pockets, plus the pocket for the rain cover. Two zippered pockets are on the top lid. A very big stretch shove-it pocket is on the front, for various things which you may need on the fly, or for wet stuff. There is an extra buckle which fixes it to the pack, visible in the picture above.
The rain cover pocket is underneath this front pocket, a bit hidden. It is zippered and you can use it for any purpose if you are in a dry area without rain.
Two usual stretch pockets with angled access for a water bottle are on the sides, they are large enough for Nalgene bottles. Two zippered pockets are on the hip belt, one fabric and one mesh.
---
Specifications & summary of features
Gender: for women.
Purpose: hiking, mountaineering, travel.
Two sizes: XS/S, S/M.
Weight:
– XS/S: 1.28 kg (2 lb 13 oz).
– S/M: 1.39 kg (3 lb 1 oz).
Volume:
– XS/S: 43 l (2642 cu in).
– S/M: 45 l (2746 cu in).
Size (L x W x D):
– XS/S: 64 x 33 x 25 cm (25 x 13 x 10 in).
– S/M: 69 x 33 x 25 cm (27 x 13 x 10 in).
Materials:
– Main fabric: 210 D ripstop nylon.
– Secondary fabric: 210 D HT ripstop nylon.
– Lining: 135D HD polyester.
– Frame: aluminum.
Maximum weight: 40 lb (18 kg).
Torso length:
– XS/S: 33 – 43 cm (13 – 17 in).
– S/M: 41 – 51 cm (16 – 20 in).
Access: bottom, top.
Adjustable torso.
Adjustable sternum strap.
Hipbelt circumference:
– XS/S: 22 – 46 in (56 – 117 cm).
– S/M: 23 – 48 in (58 – 122 cm).
Ventilated back panel.
Compression straps.
Rain cover included.
Ice axe/pole attachment.
Hydration compatible.
Hipbelt pockets.
Colors: 3.
Warranty: limited lifetime.
---
Summary, rating, pros & cons
In conclusion of this Gregory Maven 45 Backpack for women review, this is a pack rich with great features and yet exceptionally lightweight and very functional, nothing is missing in spite of its weight. I can fully recommend it for any weekend or overnight tour.
The torso length adjustability is important to find the optimal position of the waist belt, this reduces stress on shoulders and allows you to breathe more freely and deeply. This also makes it suitable for several family members and for growing teenagers. Bear in mind that you have several packs in the series if you need something bigger or smaller. But this Maven 45 also comes in two sizes itself.
Gregory Mountain Products Maven 45 Liter Women's Lightweight Hiking Backpack
You might want to check also this Gregory Amber 44 pack for women, redesigned in 2017. In any case, visit my page with packs in this size range, many great packs are presented there. Check also this Deuter Aircontact Lite 35 + 10 SL from the new 2018 series.
Thank you for reading. Let me know what you think about this new Gregory's series, there is a comment box below. I wish you a pleasant day.