---
Gregory Zulu 30 pack is the smallest one from the series which also includes packs of 35, 40, 55, and 65 liters. The pack comes in two sizes, M and L. It is very lightweight and most suitable for day hiking and mountaineering tours.
---
Standout features
Lightweight.
Great ventilation with a suspended mesh.
Note that they have launched a new 2019 version of this pack, the summary of changes is given here.
---
Description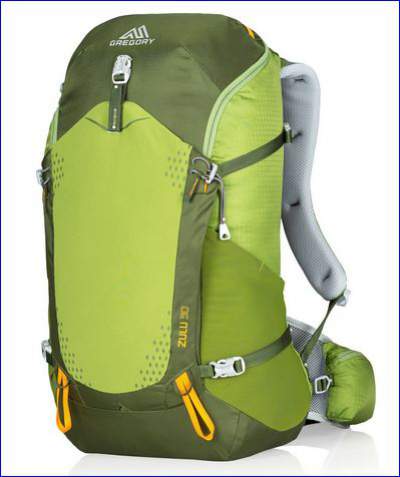 Zulu is a new series of Gregory packs. This pack has a sleek and elegant design, and you can find it in several nice colors for both M (30 liters) and L (32 liters) versions.
This is a panel-loading type pack, so you do not have the traditional top lid, as you see from the picture.
Instead, you have a large zipper in the upper part of the pack. This makes it look like an ordinary pack for daily life, perhaps this was the idea of its designers. So the pack is versatile, it is not so big and you can use it in commuting and in daily life.
The pack comes with an integrated rain cover that is stored in its separate zippered pocket on the front.
You have dual compression straps on both sides of the pack, visible in the pictures, to cinch the pack or to attach some pieces of equipment.
On the lower front section, you have dual attachment loops, plus dual small loops in the same position. They are accompanied with tie-offs higher up on the front of the pack, see the picture above. This is for walking poles and ice axe attachment. These loops are nicely designed and functional, I love to see this feature here.
You will notice, there is no bottom compartment and no compression straps on the bottom whatsoever. This is not so great, but for using it as an outdoor daypack you may not need these features in any case.
The pack is hydration compatible, so you have a sleeve in the main compartment to store a water bladder.
---
Suspension system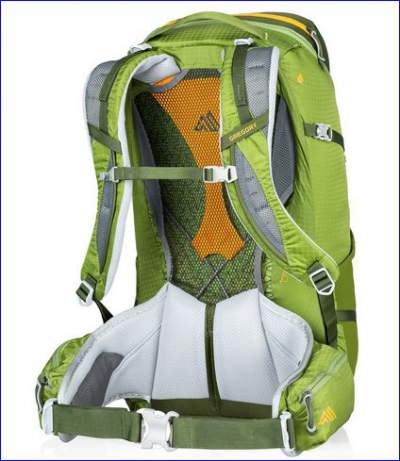 The suspension system you have here is simply great, this is what Gregory calls CrossFlo ventilated suspension. This is a suspended mesh, or trampoline-type system, the best possible for ventilation.
The tension is achieved by an X-frame which gives the structure and stability to this system. It is visible in the picture.
The same mesh system you will see in the Deuter Futura pack and in Stratos pack in the table below. It was Deuter who invented the system several decades ago. My own Deuter pack has the same system, but the mesh is more separated from the pack then what you have here with Gregory.
Particularly great in the suspension which you have here is also the lumbar area, with an excellent padding and a ventilation channel, just see the picture above.
Shoulder straps are beautifully designed, anatomic and with a great padding. The same material is on the waist belt.
But the harness is not adjustable, bear this in mind. Not many models of this size have an adjustable harness, though there are exceptions. So you have to know your torso size and should choose M or L model in the moment of purchase.
---
Pockets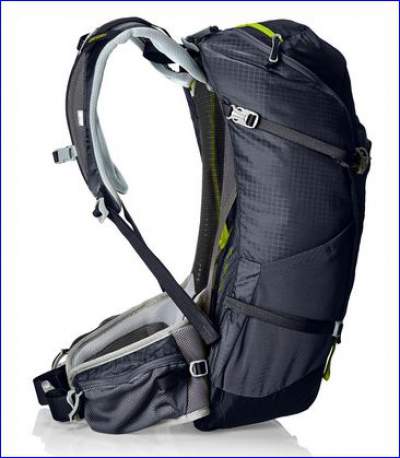 The pack is with a very big mesh stretchy pocket on the front, secured by a buckle on the top and with the straps that go to both sides of the pack. You can easily put a helmet here or anything of this size. Inside of this pocket, you have yet another zippered pocket mentioned above, for the rain cover.
Dual stretch mesh pockets are on the sides of the pack, with the usual straps to secure the stuff in the pockets. You van see them here in the picture.
Two zippered pockets are on the hip belt. One very big zippered pocket is on the top section of the pack.
One small zippered pocket is inside of the pack, and it is on the internal side of the front panel, accessible when you unzip the main entrance to the pack.
---
See all these features in this video:

---
Specifications
Weight:
– M: 2 lb 7 oz (1.11 kg).
– L: 2 lb 11 oz (1.22 kg).
Volume:
– M: 1830 cu in (30 l).
– L:  1952 cu in (32 l).
Dimensions:
– M: 21.5 x 13 x 8 in (54.6 x 33 x 20.3 cm).
– L: 23.5 x 12 x 8 in (60 x 30.5 x 20.3 cm).
Torso fit:
– M: 18 – 20 in (46 – 51 cm).
– L: 20 – 22 in (51 – 56 cm).
CrossFlo suspension.
Panel access to the main compartment.
Integrated rain cover with its own pocket.
Pockets on exterior and interior of the panel access.
Two side stretch mesh water bottle pockets.
2 waist belt pockets.
Trekking pole attachment points and ice axe loops.
Interior security pocket with a key clip.
---
Pros and cons

Here is my summary:
 Cons
 Pros

Fixed harness.
No bottom compartment.
No bottom compression straps.

Great back ventilation system.
Top quality.
Very lightweight.
Very reasonable price.
A fixed harness is not an exception for this size packs, but there are packs with adjustability, just to know if this is of importance for you. I have seen a video with a guy who bought this pack for his kid. I think this is a bad idea, there are packs for growing youths and they are built to adjust to the body change.
The bottom compartment is missing here (and see its competitors in the table below), but indeed this is not a big pack and you can manage without it. In fact, this makes it more versatile, suitable for daily life and commuting, it does not look like a typical outdoor pack.
---
Conclusion
To summarize this text about Gregory Zulu 30 pack, the quality is never under question when you speak about a Gregory pack. So you can be sure you are buying a tool that is designed to last and which will not let you down. So Zulu 30 backpack is indeed nicely done and with a modern design, yet it lacks a few features which I love to have in an outdoor pack. Perhaps this was done on purpose, to make it suitable for around-town use.
I hope the text has been useful to you. If this is so, please share it with others. It will be great to hear from you, there is a comment box below. Thank you.