---
Osprey has redesigned several of their famous series, and this Osprey Talon 33 review is about the new version of their ultra-lightweight pack. The suspension is completely different now.
---
Standout features & key benefits
Ultra-lightweight.
External hydration sleeve.
Quick-stow feature for attaching glasses on the shoulder straps.
Adjustable harness.
Unique continuous tensioned mesh in the waist zone.
---
What is new in the new model
Completely redesigned back system, see the two pictures below.
A small difference in the size: 24 x 9 x 10 inches previous model and 24 x 12 x 11 inches new model.
Removable top lid in the previous model and fixed top lid in the new model.
More durable accent fabric in the new model.
Instead of two pockets on the shoulder straps that were available several years ago (but not in the previous version), now you have one pocket on the left shoulder strap, and you have elastic cords for the attachment of glasses, visible in the picture below.
A different choice of colors.
---
Talon & Tempest families
The Talon 33 pack is a part of a large series that includes the following backpacks for men: Talon 44, Talon 33, Talon 22, Talon 11, and Talon 6 liters.
The Tempest series for women includes the sizes: Tempest 40, Tempest 30, Tempest 20, Tempest 9, and Tempest 6 liters.
---
Talon 33 pack – description
The pack has been on the market for a number of years and it has been redesigned several times, just to know to avoid confusion. Both new and previous versions are available on Amazon, so in general be careful when you search on the Internet.
You will find customers' reviews from the previous version attributed to the new version, there are mixed descriptions, mixed pictures, etc. The links given here lead to the new version on Amazon, but even there you will see mixed pictures of the old and new version.
This is a top-loading pack with a classic fixed lid and a collar with a drawcord closure, and a compression strap on top of it so you can use it to cinch the load or to fix a rope if you carry it here. The Talon 33 pack comes in two sizes, S/M and M/L, see more in the specifications below. The pack weighs only 2 pounds, but it is designed to carry up to 30 pounds of weight.

Other features include Osprey's Stow-on-the-Go trekking pole attachment system, which includes a loop on the left side and a bungee tie-off on the left shoulder strap. Here you can attach the poles on the fly when you need free hands for any other activity, or when you temporarily walk over a flat terrain where poles are not needed.
This pack has an external hydration sleeve behind the harness, shown in the picture below, a nice feature that allows for an easy access to the water bladder. It is equipped with a clip on the top to attach the bladder.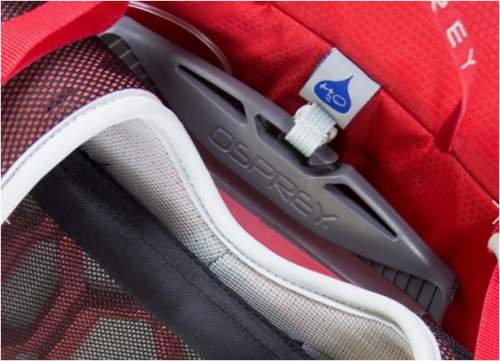 Suspension system
As you see from the pictures above, this is the biggest change here. The torso length is adjustable as in the previous version, all you have to do is to break the Velcro connection behind the back panel and to slide the harness up or down. After that press the harness back to re-engage the hook and loop connections.
But the back panel padding is totally different and the same holds for the continuous mesh which is now introduced in the waist and lumbar zone. What you have in the lumbar zone is very similar to the new Sirrus and Stratos 2017 models.
The back panel is what they call AirScape, and it offers a flexible support and good breathability. The hip belt is adjustable Biostretch padded with die-cut foam and covered in a very pleasant mesh. On the front, you have an ErgoPull closure.
The adjustable sternum strap is semi-elasticated and equipped with an emergency whistle.
Attachment points
The lower compression straps on the sides are with InsideOut feature, they are Z-shaped, see the picture above, so you can use them through the pocket if you only want to cinch the pack, or over the pocket when you want to secure and fix the items (e.g., a bottle) in the pocket.
Dual loops for ice axes and poles are on the bottom, and they are paired with bungee tie-offs higher on the pack; when you do not need them, these bungee cords can be stored in their tiny pockets. This is good to have to avoid problems when you pass through bushes. The same is with the bottom loops which can be tucked away.
On both shoulder straps, you have elastic cords to attach and fix your glasses. This quick-stow feature is very useful and you will find it also in the new Paragon series by Gregory.
Pockets
There are 8 in total. A small unique detail is a stretch mesh pocket on the left shoulder strap. Dual zippered pockets are on the hip belt. One zippered pocket is on the lid, and yet another zippered mesh pocket is underneath the lid.
Dual stretch pockets are on the sides and one large shove-it pocket is on the front.
Here is a short promotion video by Osprey about their Talon and Tempest series:
Specifications
Type: hiking daypack.
Two sizes: S/M and M/L.
– S/M: 31 l (1892 cubic inches).
– M/L: 33 l (2014 cubic inches).
Weight:
– S/M: 1 lb 14.4 oz (0.86 kg).
– M/L: 2 lb 0.3 oz (0.92 kg).
Maximum weight: 30 lb (13.6 kg).
Adjustable torso length.
Top loading.
Fixed lid.
Torso fit:
– S/M: 16 – 20 in (41 – 51 cm).
– M/L:  19 – 23 in (48 – 58 cm).
Waist fit:
– S/M: 26 – 45 in (66 – 89 cm).
– M/L: 28 – 50 in (71 – 127 cm).
Max size: 24 x 12 x 11 in (61 x 30 x 28 cm).
Materials:
– Main: 70D x 100D Nylon Mini Shadow Brick.
– Accent: 420HD Nylon Packcloth.
– Bottom: 420HD Nylon Packcloth.
Exterior pockets: 8.
Colors: 4.
Guarantee: Osprey's All Mighty.
Hydration compatible; external hydration sleeve.
Stow-on-the-Go trekking pole attachment.
Lower InsideOut compression straps.
Dual side stretch mesh pockets.
Dual zippered stretch hip belt pockets.
Single stretch harness pocket.
Top zippered stash pocket.
Under-lid zippered mesh pocket.
Large stretch mesh front pocket.
Dual ice tool loops with bungee tie-offs.
---
Summary, rating, pros & cons
To conclude this Osprey Talon 33 review, if you are in search of an ultra-lightweight pack that still has many great features, this is it. I normally go to the Alps, and I would not use it without a rain cover which is missing here. But this may not be essential for you. In any case, the rain cover can be ordered separately.
This is a quite small pack and the lack of the bottom entrance (or bottom compartment) is not such a big deal. The back mesh is such that it is not good for winter use, bear this in mind, if the snow gets there you cannot get it out until it melts down and you become wet.
Please note that many reviews on Amazon and elsewhere are about the previous versions, you can see this from dates. The pack is ultra-lightweight but this is because it is without a metal frame. This may not be an issue with a small load but this is not the best option for me.
The lack of upper side straps reduces the role of the side pockets, you cannot store any elongated object there. Also, there are no bottom straps to attach equipment. So I do have many objections and many features are missing, but on the other hand, the existing features are excellent. See hoe I rate it:
But if you want a pack with more essential features, I would warmly suggest reading my review of the Stratos 34 which has been modified recently.
Thank you for reading. I hope this text has been useful to you, please share it with others. In the case of comments and questions, please use the comment box below. I wish you a pleasant day.