---
This Osprey Talon 44 review presents an ultralight and functional 1.04 kg and 44 liters volume backpack for weekend and day tours.
---
Construction and materials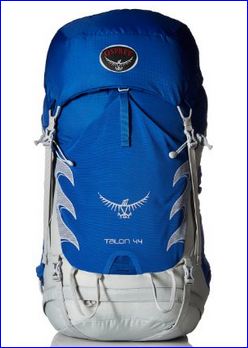 The suspension system is with a Talon AirScape foam back panel, and with an aluminum wire frame which defines the shape of the back. This all allows for the load up to 35 pounds which you will carry very comfortably.
Flexible shoulder straps are with a fairly good cushioning, and similar structure you have in the hip belt as well.
There are 3 sizes, S, M, and L, but in addition to this, the harness is adjustable. So if your body size is somewhere between these 3 sizes, you will still be able to adjust the pack to fit you perfectly. This is due to a Velcro on the back, and you can move the harness up and down for a few inches quite easily.
The load comes through the top collar opening and there is additional access to the load from the bottom section of the pack.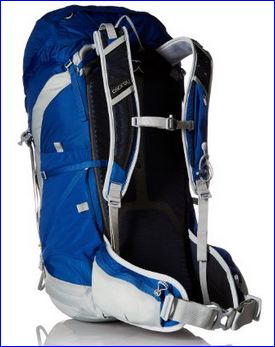 The top lid is removable. Tool attachment loops are on the outside, together with bungee cords. Sleeping pad non-removable straps are on the lower part of the pack. The hydration sleeve is between the harness and the back of the pack.
Pockets
There are  8 pockets in total. One very large stretch pocket is on the front, secured by a buckle attachment. There are 2 big mesh pockets on the sides of the pack, with two access, from the top and from the side.
Two zippered stretchy mesh pockets are on the hip belt. One narrow but useful pocket is on each of the shoulder straps. Two pockets are on the lid; one from the outside and one from inside, both zippered and good size pockets.

---
Technical specifications  and summary of features
Weight (for S, M, L sizes): from 2 lbs. 4 oz. to 2 lbs. 5 oz. to  (1.01-1.04 kg).
Capacity (for S, M, L sizes): from 2563  to 2685 cubic inches (42 to 44 liters).
Maximum size: 67 x 29 x 26 cm (26.4 x 11.4 x 10.2 in).
Torso fit: for < 19 inches (S, M), 19+ inches for L.
Waist/hips fit: 27-32 inches for S, M; 33+ for L.
Material: ripstop nylon.
Lightweight Osprey AirScape back panel with molded foam ridges with air channels.
Vertical air channel.
Back covered in soft, airy mesh.
Both hip belt and shoulder straps cover with mesh and die-cut slotted foam BioStretch.
ErgoPull closure system on the hip belt.
Rope-carry strap under the top lid.

Stow-on-the-go trekking pole attachment designed to conveniently stow your poles when not in use.
---
The new version details
The Talon series has been updated recently. The main changes are in the back panel padding and in the hip belt design. See the picture how it looks now: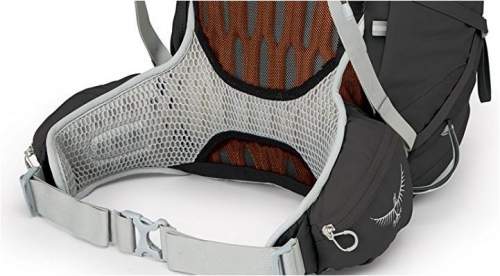 Please see this very recent short video by Osprey which presents all packs from the new Tempest and Talon series:
---
I hope this Osprey Talon 44 review was useful to you. If this is so please share this test with others. If you are certain this is the right choice for you, you can order it in the links. Please see below how I rate this pack.
You might want to know that there exists a corresponding version for women, under the name Tempest 40, please have a look.
Thank you for reading. If you have some experience with any from Osprey Talon backpacks series it would be great to hear from you. There is a comment box below. I wish you a pleasant day!