---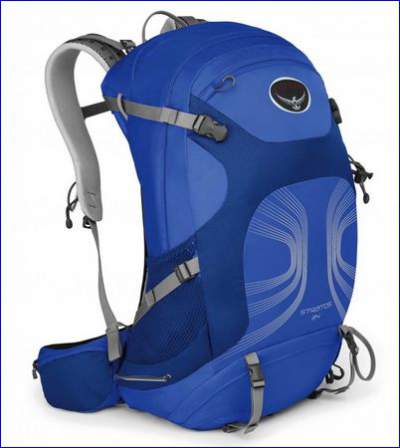 This Osprey Stratos 34 review is about a versatile backpack, which is suitable for day hikes and overnight hikes, as well as for short mountaineering and climbing tours. It has some truly great features, in particular regarding back ventilation.
This is a panel loader type pack, with a long zipper on the top of it. It come in 2 sizes small/medium (SM) and medium/large (ML). You will find the size tag on the side of the pack. The difference in volume is 2 liters.
Stratos 34 comes in 4 colors: orange, green, black graphite, and blue.
Note, the Stratos 34 backpack has been very much modified and improved. So please check below the summary of changes and the pictures of the new version.
Suspension system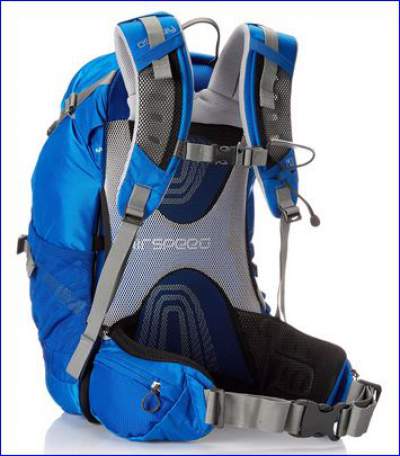 There is no harness adjustability here, so it is important to choose a proper size when you buy it.
Shoulder straps are well padded with foam, and with cutout vents, all covered by a mesh. You have load lifters on the top. The sliding sternum strap is adjustable, and it has an emergency whistle on it.
One cannot avoid mentioning a great feature which you have here: stow-on-the-go pole attachment system,  you can see it partly in the picture.
You can attach your poles there when you do not need them, or when you want free hands to make some photo or anything similar.
On the back of the pack, you have AirSpeed system, visible in the picture above. This is one of the best of all ventilation systems. You have something similar in Manta series, and this all is very similar to Deuter Futura packs. The main part of it is a tensioned mesh, well separated from the back of the pack. Its tension comes from the lightweight alloy frame which runs along the perimeter of the back of the pack.
I have such a mesh system in my own pack and I am sure this is the best. I sometimes store my rectangular foam sitting pad in the space between the mesh and the back of the pack. That tells you how much space you have there between your back and the pack's back.
The hip belt is also well padded with foam and mesh. It closes through a very good buckle, and it is then cinched through an ergo pull wide strap. You have nice size zippered pockets on each side. This all you can see in the picture above.

Front of the pack
The top of the pack contains a small zippered pocket for small items. Behind it is yet another zippered pocket that goes to the back side of the pack, and it is equipped with a key clip.
On both sides, you have one stretch pocket for water bottle or anything else, with inside-out type straps. This means that straps can run over the pocket to cinch the bottle, or through the pocket.
Above the side pockets, you have yet another strap, one on each side of the pack. Perhaps you have guessed already, so yes, these straps are on your way when you try to unzip the main entrance to the pack. The straps are shown in the picture below. Their purpose is to secure the zipper but I find this annoying. The same feature you have in some other Osprey panel loaders, see for example Osprey Manta 36.
An ice axe attachment loop is on the upper part, designed to be stowed away in a small pocket below the fabric, a nice small feature again. You will use it in combination with a single attachment loop which is close to the zipper of the bottom compartment.
On the lower part, you have a bottom compartment with a loop zipper. The divider between the main and the bottom compartment is with 2 toggles. So it is removable and you can open it and make one big compartment.
On the bottom, you have 4 attachment spots with removable straps which you can use to attach your sleeping pad or even sleeping bag. Below them, you have a zippered pocket for the integrated rain cover.
Main compartment
As I mentioned above, to access it you have to open the upper side straps first and then to unzip the entrance.
The main compartment is one single large space, with a back sleeve where you can store your water bladder. On the bottom of it, you have a fabric divider fixed by clamps, so you can open it as mentioned above
In the upper part, you have one hole on each side, to run your water hose through any of them. You will notice that it is designed to go below your armpit, so it is not along shoulder straps.
All nice features of Osprey Stratos 34 pack you can see from this nice video:
List of features
Weight
– SM: 2 lbs 10 oz (1191 g)
– ML: 2 lbs 12 oz (1247 g).
Size:
– SM: 22 x 13 x 13 in (56 x 33 x 33 cm)
– ML: 24 x 13 x 13 in (61 x 33 x 33 cm).
Volume:
– SM: 1953 cu in (32 L)
– ML: 2075 cu in (34 L).
Torso fit:
– SM: 16-19 in (41 -48 cm)
– ML: 18-21 in (46 – 53 cm).
Maximum weight: 25 lbs (11.3 kg).
Zippered panel access.
Integrated detachable rain cover.
AirSpeed trampoline suspended mesh back system.
Frame: aluminum.
Hydration compatible.
Bottom compartment.
Sternum strap with emergency whistle
Stretch mesh side pockets with InsideOut straps.
Material: high-tenacity nylon.
2 top pockets.
2 zippered hip belt pockets.
Stow-on-the-Go trekking pole attachment.
Warranty: lifetime.
Internal key attachment clip.
Removable sleeping pad straps.
Side compression straps.
1 ice axe loop.
4 colors:


What is new in the new version
The most visible difference is the seamless mesh on the back, on the harness, and on the hip belt.
Adjustable torso length.
Front zippered pocket.
The weight is different:
– S/M: 2.95 lb (1.34 kg).
– M/L: 3.08 lb (1.40 kg).
My own rate for this pack is now 9.2/10.
See the pack in the new shape:
See more details about the modified Stratos and Sirrus series in this short video by osprey:
---
To conclude this Osprey Stratos 34 review, this is a very good backpack and with many great features. It ranks very nicely among other top brands. Please see how I rate it:
If you need a smaller pack from the same series, please see this Osprey Stratos 24 or Stratos 26 pack.
If this text has been useful to you, please share it with others. I shall be happy to have some comments from you in the comment box below. Thank you, and I wish you a pleasant day.