---
This Gregory Amber 44 review is about a pack for women completely redesigned in 2017, ultra lightweight, 1.25 kg (2 lb 12 oz) only, ideal for weekend and overnight tours and for travel. 
---
Benefits & bonuses
Incredibly lightweight.
Adjustable harness.
Rain cover included.
Versatile tool.

---
Previous and new versions – Main differences
I shall mention just the most important ones:
The new pack is with adjustable torso length, this was not available in the previous version.
Related to this, the new version is one size, as compared with 3 sizes in the old version.
The front pocket is totally redesigned, see below.
The back padding and ventilation is very different.
See them both here:
---
Gregory

Amber 44 pack for women – description
In my previous text, I have announced the arrival of the new versions of Gregory Amber and Stout packs, and I gave a few details there about the whole series, please have a look. So this Amber 44 pack is a part of a big series, no less than 5 Amber packs for women and 5 Stout packs for men. These packs are totally modified so it is strange that Gregory has kept the same name.
The Amber 44 pack for women is a mid-size versatile tool, so in principle, you can use it as a day pack and as a weekend pack. The pack is hydration compatible, with a standard sleeve inside the main compartment, and with a single centrally positioned exit port behind the harness.
Designed with women-specific needs, this pack incorporates a specific shoulder harnesses profile to fit the female figure, and the hip belt is built to adjust to women's body shape.
Note that there are some essential differences between the two largest packs in this series and the smaller packs, like adjustability in the hip belt etc.
Access points
This is a classic backpack design, so you have a floating top lid and the collar underneath it. There is an extra strap across the collar so you can cinch the load or add some extra gear and fix it with the strap, like a rope or anything similar.
Yet another access to the main compartment is from the bottom. So you have the usual zippered entrance, but note that this is not a separate compartment, there is no divider, so this is just an extra entry. This appears to be a new trend now, you can see the same in Gregory's smaller packs from the Paragon and Maven series, check the Maven 45 and Paragon 48 as examples.
The harness and suspension system
The suspension is based on a spring steel internal frame with 3 mm and 4 mm spring steel wishbone shape. The first thing you will notice is how flexible this system is. There is a lot of torsional flexibility so the pack moves with your body. See how it looks like: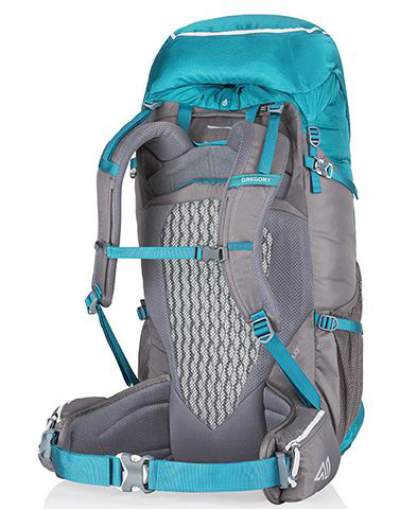 The torso length is adjustable, just break the Velcro connections behind the harness and move it to your desired position. There are labels for the size printed, to guide you. With this, you can comfortably fit any torso size in the range 14 – 20 inches (36 – 51 cm). Remember what I said about one size in this new version, with such adjustability you have even more than what you had in the previous version, and this is fine-tuning for your perfect fit.
I must say that I am not impressed with the hip belt padding, it is really tiny and I would not suggest carrying a lot of stuff in the pack and for long distances. Well, I guess this is partly the reason for such a weight (or lack of it thereof), as usual. But this may be convenient if you use the pack for travel, such a hip belt folds nicely close to the pack, and there is less chance for damage.
But the lumbar padding is good, practically the same what you have in Gregory's Maven and Paragon packs, or in their Zulu packs. The same is with the padding on the shoulder straps where you have dual density foam, stitching are away from your body, all pleasant and in place as it should be.
The back of the pack is with foam and mesh, obviously very comfortable. This is again their Trailflex ventilation technology and it is claimed to provide an enhanced airflow and increased comfort. But I do not think that ventilation is great here. If you need a pack to use in warm areas, I think it is better to try something else, perhaps the packs from the Maven series or Zulu series.
Pockets
There are 7 pockets plus a rain cover pocket. A large stretch mesh pocket is on the front. The design of this pocket is one of the most obvious differences when you compare the new and the previous version of the Amber 44 pack. Underneath this front pocket is the mentioned zippered pocket with the rain cover in it.
Dual water bottle pockets are on the sides, and you also have dual zippered pockets on the hip belt. One large zippered pocket with 2 zipper pulls is on the top of the lid, and one zippered mesh pocket is underneath the lid.
Attachment points
There are two compression straps on the bottom, ideal for attaching a sleeping pad or a tent, or anything similar. They are not removable.
Dual attachment loops are also on the bottom, for trekking poles or ice axe attachment, and they are paired with bungee tie-offs higher on the pack, so this is really a useful feature.
Dual compression straps are on the sides, so you can store any elongated object in the side mesh pockets and fix it in place with these straps, very useful again.
---
Pros & Cons
My summary looks as follows:
 

Good

 

Less good

Bonus rain cover.
Good suspension and harness.
Very good and durable fabric.
Bottom access.

No side zippered pockets.
A bit expensive.
I miss some attachment loops on the lid.
I find the pack expensive, but the price is still reasonable in view of its quality and the bonus rain cover. See below its competitors which are even more expensive. A minor objection: no emergency whistle on the sternum strap, not a big deal for me but it may be for some.
Rating of Gregory Amber 44 backpack for women
Volume to weight ratio -

9.5/10

Features and bonuses -

8.7/10

Comfort -

8.3/10

Price -

8/10
---
Specifications & summary of features
Best use: hiking, mountaineering, backpacking, travel.
Volume: 2685 cu in (44 l).
Weight: 2 lb 12 oz (1.25 kg).
Maximum carry weight: 40 lb (18 kg).
Size: 27 x 13 x 10.5 in (68 x 35.5 x 27 cm).
Torso fit: 14 – 20 in (36 – 51 cm).
Adjustable torso length – Trailflex suspension.
Adjustable sternum strap.
Access: top & bottom.
Floating top lid.
Rain cover included.
Hydration compatible.
Materials:
– Frame: spring steel.
– Body: 200D x 900D dobby polyester and 210D ripstop polyester.
– Base: 630 ballistic polyester with 135 polyester reinforcements.
Warranty: limited lifetime.
Trailflex ventilation technology.
Dual zippered hip belt pockets.
Dual side pockets.
Front stretch stuff pocket.
Dual trekking pole attachment points.
Dual compression and lash points.
Colors: 2, see the pictures.
---
Gregory Maven 45 vs Gregory Amber 44
In 2017, Gregory has launched yet another new series for women, the Maven series. They look very similar to the new version of the Amber series and it may be hard to notice differences. So here I compare this new Amber 44 and Maven 45, see how they look like:
Gregory Maven 45
Gregory Amber 44
Weight (kg)
1.39

1.25

Volume (l)
45

44

Access
top, bottom

top, bottom

Rain cover
yes

yes

Lower compartment
yes*

yes

*
Frame
aluminum
steel
Harness adjustable
yes

yes

Bottom straps
yes

yes

Bladder sleeve
internal

internal

Top pockets
2
1
Back system
Aerolon
TrailFlex
*This is just an entrance, not a compartment in the strict sense.
The prices of the two packs at the moment of writing this text are, respectively, $180 and $160. There are differences in the fabric, just follow the link to see more.
I could continue and compare the new Amber 44 with the packs from Gregory's Zulu series, for example with this Zulu 40 pack. All in all, I am convinced that in the case of ventilation, the new Amber packs are below the level of the Maven and Zulu packs. The tensioned mesh in the Zulu packs is the best option. I am using packs with such tensioned mesh and I am sure this is the best option for such mid-size packs.
---
Comparison with competitors: Gregory Amber 44 vs Osprey Kyte 46 vs Kelty Sira 45
Here are a few basic features side by side, for the Gregory Amber 44 pack and two other packs in the same size range, and all three women-specific tools:
Gregory




Amber 44

Osprey
Kyte 46
Kelty
Sira 45
Weight (kg)

1.25

1.61
1.28
Volume (l)

44

46
45
Access

top, botom

top, side
top, front
Rain cover

yes

yes
no
Lower compartment

yes

*
yes
no**
Zippered side pockets

no

yes, 1
no
Harness adjustable

yes

yes
no
Bottom straps
yes
yes
no
Bladder sleeve
internal
external
external
Top pockets
1
2
1
My rate

8.8/10

9.0/10
8.6/10
*This is only the bottom entrance.
**Here you have a huge vertical front opening, so no need for bottom access.
Obviously, when it comes to the weight, it is hard to find a match for the Amber packs. The prices for the three packs at the moment of writing this text are $160, 180, and 200, respectively.
---
Summary
To conclude this Gregory Amber 44 review, as you realize, the weight is one of its strongest features, and yet you have practically all the usual features you need on the trail, nothing is sacrificed here. The pack is built from strong and durable materials, to stress again the spring steel frame, quite surprising in view of such a weight.
The rain cover is a true bonus, it adds a bit of weight (74 grams only) but for me this is essential in my tours in the Alps, I would not consider going without it. A bit more about rain cover you can read in my separate text.
The Amber 44 backpack for women compares nicely with its competitors and with other similar packs from Gregory. Needless to say, I trust the brand behind this tool, so I can fully recommend this reliable and sturdy pack. The corresponding version for men, with the same features, is the Gregory Stout 45 pack.

I hope this text has been useful, thank you for reading. Let me know what you think, there is a comment box below. I wish you a pleasant day.
---