---
In this Gregory Zulu 40 review you can read about a lightweight backpack very suitable for overnight and weekend hiking and mountaineering tours.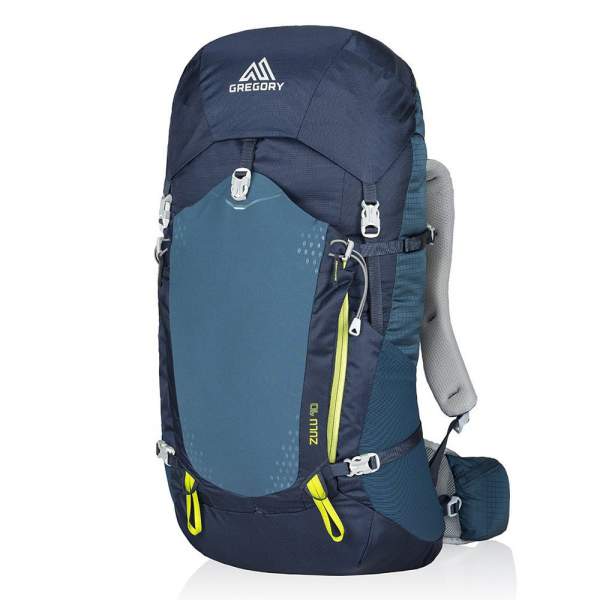 ---
Key benefits
Two access points to the main compartment.
Integrated rain cover.
Great ventilation system based on a trampoline-type mesh.
Steel frame.
Note that they have launched a new version of this pack, the summary of changes is given here.
---
Description
The Gregory Zulu 40 backpack is one in the Zulu series, a larger version of 65 liters is also presented in this site. With the 40 liters of volume, it is in the mid-range, so you could use it as a daypack as well as a weekend pack.
This model alone includes in fact 3 sizes, 38, 40, and 42 liters. They are with a different torso and hip belt size, so you can choose the size that suits you most, see more in the specifications below.
The pack is built of very good materials, and its frame is made of steel. It comes with an integrated rain cover, which adds extra value to this pack.
It is hydration compatible, the sleeve is in the main compartment and the pass-through is in the middle behind your neck. There is a clip on the shoulder strap for the water hose so that you can fix it there.
On the bottom section on the front, you have dual tool loops, and they are accompanied with bungee cords higher up on the front of the pack. You can see them in the picture above.
---
Access points
You have two of them. This is a pack with the lid, so you have a classic top access. One strap runs across the collar under the lid, which you can use to fix extra gear like a rope or pieces of clothes
There is an additional U-shaped front access which may be useful to access the stuff that is in the lower part of the main compartment. I am not so sure if you really need this for the pack of this size, but some may find this feature useful.

The suspension system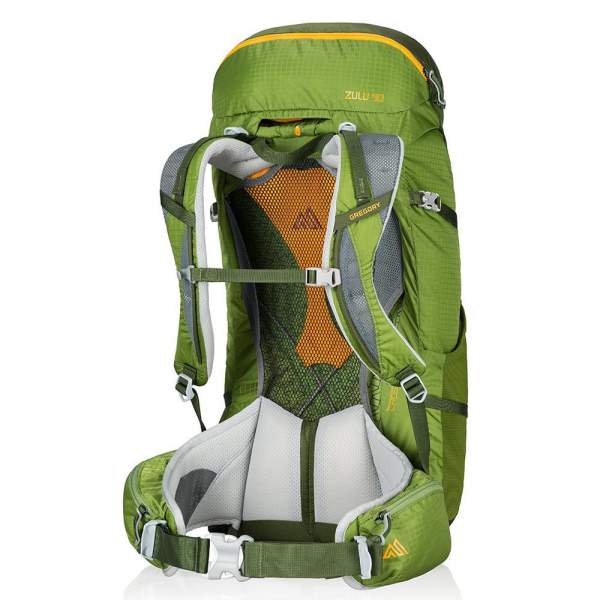 The suspension is really a great side of this pack. You have here what they call CrossFlo suspension system, based on an X-shaped light wire steel frame and a trampoline-style suspended mesh. Such systems provide the best possible ventilation, the pack is largely separated from your back. You will see more about it in the video below.
I have a pack with similar tensioned mesh and the space between the mesh and the pack is so big that sometimes I put a sitting pad in between and carry it that way.
The lower section is with a lot of pleasant EVA padding in the lumbar area, you can see this in the pictures. Die-cut EVA foam is also in the shoulder straps padding and in the hip belt.
Pockets
You have nice zippered dual pockets on the hip belt, this is something always useful to have. Dual stretch mesh pockets are on the sides of the pack, normally used for water bottles, or for anything else.
There are two zippered pockets in the lid of the pack, one with the entrance from outside and one from beneath the lid.
On the front of the pack you can see the large stretch mesh pocket, with the buckle on the top and with compression straps that run to the sides of the pack. You can put a lot of stuff there. The rain cover pocket is inside of this large front pocket.
A few comments about the design
For a pack of 40 liters it is a bit surprising that it has no separate bottom compartment for the sleeping bag. I guess the role of the extra U-shaped front entrance is partly to compensate for this.
The harness is not adjustable but this is not such a big issue because you can choose one of the 3 possible sizes in the moment of purchase. See more numbers below in the specifications.
As for the side zippered pockets, I love to have them but this is not the part of the design of this pack.
All these features you can see in this video about the complete Zulu series:
---
Specifications
Three sizes:
– S: 38 liters (2318 cubic inches).
– M: 40 liters (2440 cubic inches).
– L: 42 liters (2562 cubic inches).
Weight:
– S: 1247 g (2 lbs 12 oz).
– M: 1332 g (2 lbs 15 oz).
– L: 1418 g (3 lbs 2 oz).
Torso fit:
– S: 16 – 18 inches (41 – 46 cm).
– M: 18 – 20 inches (46 – 51 cm).
– L: 20 – 22 inches (51 – 56 cm).
Waist fit:
– S, M, L: 26 – 40+ inches (66 – 102+ cm).
Maximum weight: 35 lbs (16 kg).
Access points: top & front.
Large U-shaped zipper for front access.
Internal X-shape frame backpack.
Frame material: 4 mm spring steel/HDPE.
Fabric:
– Body: 210D Nylon, 100D Nylon.
– Base: 210D Nylon.
Integrated rain cover.
Hydration compatible, internal sleeve.
Crossflo suspension system.
Ventilated die-cut EVA foam harness and hip belt.
Dual zippered hip belt pockets.
Dual stretch mesh side pockets.
Front stuff pocket with surface-mounted quick-release buckle closure.
Cross-over side compression straps with ultra-durable quick-release buckles.
Independent tool and trekking pole attachment loops.
Warranty: limited lifetime.
Colors:
---
Conclusions & rating
So to summarize this Gregory Zulu 40 review, what you have here is a nicely constructed pack, built with really good materials and with a suspension system that provides the best possible ventilation. The pack is lightweight in spite of the steel frame used here. I can fully recommend it.
This pack has received an incredibly high rating on Amazon, this is not surprising at all, this is a nicely built pack. Please see below how I rate this pack:
Note that Gregory has developed a separate but completely similar series for women under the name Jade packs.
Thank you for reading. It will be great to hear from you, so please use the comment box below. I wish you a pleasant day.