---
This Gregory Paragon 58 review is about the second largest backpack for men from new Gregory's series which includes four packs. This is a very lightweight backpacking and hiking pack with several bonuses and with some unique features.
---
Benefits & unique features
Rain cover included.
Internal divider doubles as a top flap for a lidless use.
Very lightweight.
Adjustable harness.
Unique adjustable hip belt.
New Aerolon suspension.
The water bladder sleeve doubles as a SideKick daypack.
Quick-stow feature on the shoulder strap for attaching glasses on the go.

---
Gregory Mountain Products Men's Paragon 58 Backpack – description
There are four packs in this new 2017 series for men by Gregory, with 68, 58, 48, and 38 liters of volume. The two largest packs have some extra features that are not available in the two smaller packs.
The Paragon 58 is a classic top-loading backpack with an adjustable floating lid and with an expandable spindrift collar underneath it. You also have a bottom sleeping bag compartment with the usual zippered entrance, so this is yet another alternative access to the pack.
The pack comes in two sizes, S/M and M/L, it is exceptionally lightweight, 3 lbs 8 oz (1.59 kg) for the S/M and 3 lbs 9 oz (1.62 kg) for the M/L size. You will see below that such an incredible weight is not on the account of missing features, in fact, this pack is packed with many extraordinary features.
Lidless use
The top lid is completely removable, so the question is what to do with the pack when you remove the lid. Well, they have a cleverly designed ultra-lightweight variant of this already lightweight pack and you can use it lidless as I already pointed out above.
So, when/if you remove the lid, you can also remove the divider between the main compartment and the sleeping bag compartment. It has 4 buckles which fit the buckles used for the lid, so you attach this divider/flap on the top of the pack and it again looks like a standard but shorter pack, see the picture below. You might want to compare this with the flap-top design in the Osprey Aether AG and Ariel AG packs where the flap is permanently attached to the pack.
The rain cover
The rain cover mentioned above is one of the bonuses with this pack. It comes stored in an external zip pocket beneath the front stuff pocket. This pocket is quite big and can be used as a standard pocket because it is positioned on the front, in the middle of the pack, so it is easily accessible, contrary to the design in many other packs where such a rain cover pocket is far on the bottom.
So as you see, here too you have a small detail which adds to the functionality of this great pack/series (all the packs in the series are with this same feature).
Attachment points
It is appropriate to mention this issue separately because of so many options here. You have very functional dual side compression straps. The lower straps are with the inside-out feature, so you can run them through the pockets in order to compress the pack, or over the pockets to secure the items in the pockets. The upper straps are v-shaped, so they run twice across the sides of the pack. You will notice that they are very narrow, they have taken care of the weight in every segment of this pack.
One small extra bonus is the quick-stow feature for sunglasses. This includes a webbing loop and an elastic cord on the left shoulder strap. When you attach your glasses there, you can secure them with the cord. This is very effective and necessary, I believe everybody will find this useful.
There are bottom compression straps, narrow and lightweight, and also removable, all in the spirit of shedding the weight. The Paragon 58 pack is equipped with a bottom loop for ice axe or poles attachment, accompanied by a tie-off higher on the front of the pack, see the picture below.
On the top of the lid, there are four attachment loops. Similar webbing loops are available on the bottom as well, so plenty of options to attach stuff.
The daypack
The Paragon 58 pack is hydration compatible, but there is more to that. Here again, you have a clever design which is used also in some other packs by Gregory, like in their Amber 60 pack and in the Stout 65. The internal reservoir sleeve doubles as an ultra-lightweight removable daypack perfect for day trips, summit hikes, or for town walks.
This daypack has two vertical daisy chains on the front, in addition to a large zippered pocket, see the picture above. Its shoulder straps are with some thin padding.
To remove the daypack from the main compartment, just detach it from the two hooks and you have your daypack ready to go.
Pockets
There are 8 external pockets available with this pack. A large shove-it stretch pocket is on the front (visible in the pictures above) to store things which you may need when you are on the go, or to store wet stuff. It is secured by a buckle on the top.
Dual side stretch pockets with dual angled access for water bottles are at the usual positions on the pack. Dual zippered hip belt pockets are of different materials, one is fabric and one is mesh, see the pictures below. They can be repositioned independently due to the Velcro tabs. This is again a small useful detail which you have in this pack, and I mentioned it in the benefits above.
There are two zippered pockets on the lid. Finally, do not forget the mentioned front zippered pocket where the rain cover is stored.
The suspension system
I have left this most important feature to the end. As mentioned above, the pack is built in two sizes to choose your proper torso length and pack size in the moment of purchase. But the torso size is also adjustable for fine-tuning. To adjust the torso length, just break the Velcro tabs behind the panel and slide the harness into the desired position. After that just press firmly to re-engage the hook and loop connections. You have 4 inches (10.2 cm) span of torso adjustment for each of the two sizes.
To adjust the torso length, just break the Velcro tabs behind the panel and slide the harness into the desired position. After that just press firmly to re-engage the hook and loop connections. You have 4 inches (10.2 cm) span of torso adjustment for each of the two sizes.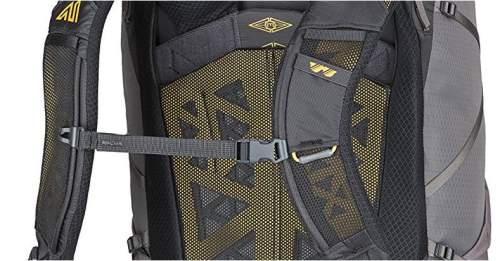 The suspension system used here is new and they use the term Aerolon. It is based on an ultra-light 7 mm hollow 7001 aluminum frame with entirely new geometry and flexibility. The frame is inverted U-shape, and its lower ends are directed towards the lumbar zone where you have a siliconized padding for extra grip. This is what they call the Gripton pad system.
The back panel is with what they call Matrix Ventilation System, a foam-matrix structure covered by a very thin and breathable mesh, with an excellent air flow and moisture evaporation. See it in the picture above. This is all done to shed weight, and the same matrix structures you have in the foam used for shoulder strap padding. Needless to say that the shoulder straps are contoured and anatomical.
The hip belt is contoured and padded with a multi-density LifeSpan EVA foam, which is the same as the one used on shoulder straps.
Note that you have two different sizes for the waist belt. In addition to this, the hip belt is also adjustable. I find this very useful in particular if the pack is used by family members with different waist circumference. Velcro tabs keep the hip belt pockets in place, so you undo this connection, loose the hip belt side strap stabilizer, and then pull the hip belt until you have the desired length and proper padding around the waist. After that, re-engage the Velcro and tighten the stabilizer.

---
Pros & Cons
Here is my summary:
 

Good

 

Less good

Daypack bonus.
Rain cover bonus.
Great suspension and harness.
Very good fabric.
Great organization.
Bottom compartment.
Lidless use.
Several unique features.

No side zippered pockets.
Not many packs nowadays have side zippered pockets, but this is something I love to have and I do have it in several of my packs. But this may not be so essential for you.
Rating of Paragon 58 backpack for men
Volume to weight ratio -

9.5/10

Features and bonuses -

9.3/10

Comfort -

9.2/10

Price -

8.5/10
---
Specifications & summary of features
Gender: for men.
Purpose: backpacking, hiking.
Two sizes: S/M, M/L.
Weight:
– S/M: 1.59 kg (3 lb 8 oz).
– M/L: 1.62 kg (3 lb 9 oz).
Volume:
– S/M: 55 l (3356 cu in).
– M/L: 58 l (3539 cu in).
Size (L x W x D):
– S/M: 74 x 33 x 27 cm (29 x 13 x 10.5 in).
– M/L: 79 x 33 x 25 cm (31 x 13 x 10 in).
Materials:
– Main fabric: 210 cryptorip nylon and 100D high tenacity nylon.
– Secondary fabric: 210 D HT ripstop nylon.
– Lining: 135D HD polyester
– Frame: aluminum.
Maximum weight: 50 lb (23 kg).
Torso length:
– S/M: 38 – 48 cm (15 – 19 in).
– M/L: 46 – 56 cm (18 – 22 in).
Access: bottom, top.
Adjustable lid.
Adjustable harness.
Adjustable hip belt.
Adjustable sternum strap.
Hip belt circumference:
– S/M: 58 – 122 cm.
– M/L: 64 – 135 cm.
Ventilated back panel.
Compression straps.
Removable daypack included.
Rain cover included.
Ice axe/pole attachment.
Hydration compatible, 3 liters sleeve.
Hip belt pockets.
Warranty: limited lifetime.
Colors: 2, see the pictures.
---
Comparison with competitors
See here some basic features of the Gregory Paragon 58 backpack for men side by side with two of its top-ranked competitors:
Osprey Aether
AG 60
Deuter Futura
Vario 60

Gregory




Paragon 58

Weight (kg)
2.34*
2.3

1.62*

Volume (l)
60*
60+10

58

Frame
aluminum
steel

aluminum

Rain cover
yes***
yes

yes

Adjustable harness
yes
yes

yes

Daypack
yes
no

yes

Side zippered pockets
no
yes

no

Access
top, side, bottom
top, front, bottom

top, bottom

$Price**
290
229

230

Bottom compartment
yes
yes

yes

My rate
9.3/10
9.3/10

9.2/10
*This is for the M or M/L size.
**In the moment of writing this text; please follow the links for updates.
***Please follow the link so see more about this issue.
The three packs in the table are, in fact, the highest ranked so far in the site. In my view, they are the top items in this industry.
---
Summary
To conclude this Gregory Paragon 58 review, after seeing all these features, now you can realize how extraordinary the weight of this pack is. There is practically nothing missing here, and yet you have an ultra-lightweight pack with 1.62 kg only, and you can make it even lighter with all those options you have.
For example, if you do not need the sleeve, you can live it at home, you still have the two side water bottle pockets. The same is with the lid, and with the removable bottom straps.
This pack for men is full of bonuses and features, some of them completely unique for this series only and some unique for the Gregory brand. There are 3 other sizes in this Paragon series, so plenty of options to choose. The Paragon 38 liters, Paragon 48, and Paragon 68 are presented in my separate posts.
Gregory has also launched a parallel series for women under the name Maven, with the same essential features and in four sizes. You can read about the Maven 35, and the Maven 55 in my separate texts, just follow the links.
This is an addition in 2018; Gregory has launched a new super light series, so check this Optic 58 pack.

So, thank you for reading. I shall be happy to hear from you, there is a comment box below. Have a nice day.
---