---
Many of modern backpacks presently available on the market have some sort of adjustability with their lid. This is usually described in specifications as a floating lid. So what is a floating lid used for? Find the answer below.
About terminology
The top section of a pack is usually called a lid but sometimes you will see the term hood used as well. So such a lid/hood can be:
fixed
adjustable or floating
removable.
Below, I am going to say a few words about these cases.
Why is a lid adjustable or floating? 
These features of a lid are accompanied by certain features of the collar underneath the lid. The collars are sometimes designed as expandable or extendable, they have at least one and sometimes two cinch cords, and some of them even have an extra strap that runs across the collar from back to front.
In particular, Deuter packs are famous for their huge expandable collars. You can see this in the names of many of their packs presented in this site, like Deuter Futura Vario 50 10 (or 50 +10) and Deuter Aircontact PRO 70 15 shown below. So these +10 and +15 denote extra volume you have when you expand such a collar. Clearly, these features are a bonus, such an expandable collar adds 10 or 15 liters of volume with a truly negligible extra weight.
In some other backpacks, you can find specially designed holsters under the lid, added there to carry a tent or other gear. One great example of this kind is the Teton Sports Mountain Adventurer 4000 backpack described in the site. So this requires extra space and the lid should be moved up. You can see this in the video by Teton Sports:
So back to the topic, a floating lid is designed to accommodate for such an extra volume or gear, and this is the main reason why it is adjustable or floating. It can be moved up and down thanks to its two straps on the back.
Note the following. Even if the lid is fixed (on the back of the pack), its front straps allow for some moderate extension, so you can add things under the lid. The collars with such fixed lids are also a bit expandable and you can have extra 3-5 liters volume in packs of some good brands. I have such an example with my old Deuter Futura 38, its lid is fixed, but very frequently I add things under it either by expanding the collar or just by putting stuff on the top of the pack and then fixing it with the lid.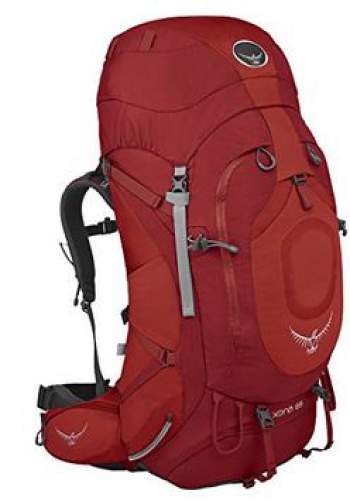 How about a removable lid?
Most of the floating lids are also removable. There are at least two good reasons for this:
to reduce the weight when you do not need the lid
to use the removed lid as a daypack or summit pack.
The second option explains what to do with such a removed lid. To be used as daypacks of various kinds, such lids are equipped with their own straps. So you can have one strap and carry such a removed lid as a small daypack on the back and with its strap diagonally across the chest.
Yet another option is to attach it around your waist and carry the lid as a lumbar pack. There are many packs with such lids described in the site, Osprey Xena 85 pack for women shown in the picture is one of these. You can have a look in my another text about backpacks with daypacks.
But the best example ever is the daypack DayLid which you have with the Osprey Aether AG and Ariel AG series. You can see it in my text about the Aether 70 AG and Ariel 65 AG. At the moment of writing this text, there is nothing on the market that could match this extraordinary design, see the picture below.
What to do with the backpack when the lid is removed?
As its name suggests, a lid/hood protects a pack in the area where it is most exposed to the elements. When you remove it, the pack looks shortened, ugly, incomplete, and above all unprotected.
Some good brands come with great solutions for that. So for example in the Osprey's Aether and Ariel AG series and in several other models by Osprey, you have an extra flap in the design. It is always on the top of the pack, it has two buckles, and when you remove the lid, the flap closes the pack nicely. So it looks like an ordinary pack, just a bit shorter.
Yet another ingenious solution to this problem is the design you have in the Gregory Paragon and Maven 2017 series, you can see it in the Gregory Paragon 68 pack for men and in Gregory Maven pack for women, both described in the site. They have designed a removable divider between the main compartment and the bottom compartment, it has 4 buckles, so when you remove it, you can use it as a top flap to close the pack.
Summary
A lid or hood on the backpack is a very useful part, it usually has at least one and frequently three pockets, so you can store a lot of gear in the lid itself. To accommodate for an extra load, the lids are frequently floating or movable up and down, and their own straps are such that they can fix some items carried on the top of the main compartment, like a rope or a tent.
Lids are very functional elements of a pack, but they add extra weight due to their own zippers and straps. So they can be removed if you want to shed the weight.
On the other hand, there are many packs in the mid-size range that are designed without a lid. Those can be packs with some really specific design like this Granite Gear Crown VC60 pack or Kelty PK 50. Yet another type are the panel-loading packs and many of them are described in the site, see the Kelty Redwing 50 and 44 liters packs.
But most of the packs on the market are with a lid and many of them, in particular larger packs, are floating type. I love to have a lid in general. Its adjustability and pockets add a lot of value and organization to a pack. I really do not mind extra weight that comes with a lid.
Let me know what you think about this issue, there is a comment box below. Thank you for reading and have a nice day.
---