---
Osprey Ariel AG 65 pack for women is so-called anti-gravity version of the celebrated Osprey's pack, launched recently. This series includes also packs of 55 liters and 75 liters. The packs from this series are the ultimate backpacking tools with extraordinary features.
---
Bonuses
Top lid converts to a fully functional daypack.
Attachment points for the Osprey Daylite pack.
Rain cover.
---
Key benefits
Advanced suspension system.
Adjustable torso length.
Moldable hip belt and harness.
Interchangeable hip belt.
Interchangeable harness.
Four sizes to choose from.
---
The changes in the new model
There are two very important changes:
Completely redesigned harness.
Completely redesigned daypack.
---
Ariel AG 65 – description
The Ariel AG 65 is mid-size in the series of three packs. The number 65 describes it official volume, but within this size, you really have four different sizes/volumes, 59, 62, 65, and 68 liters. This also includes 4 different sizes XS, S, M, and L for the harness and for the hip belt. In addition to this, its harness is also adjustable.
This is a top-loading pack with a removable lid and the collar underneath it, but it has an extra access point on the front.
Internal reservoir sleeve is with a buckled loop to clip the reservoir and to keep it upright, see more about it below. There is a bottom compartment with the usual zippered entrance. The divider between the main compartment and the bottom section is collapsible.
The pocket organization is standard and you have 7 pockets in total. Two stretch mesh pockets are on the sides, dual zippered pockets are on the hip belt, there are two pockets on the lid, and one very large pocket is on the front.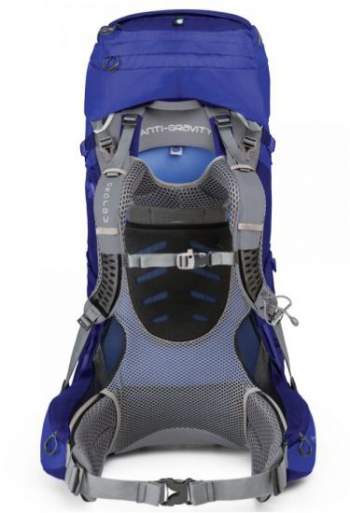 The suspension
This AG system is quite different from their starting design used in the Atmos and Aura series, so this is not the continuous seamless mesh that you have in the original AG design.
I see this as one variant of the AG system, yet another one is introduced in their Stratos and Sirrus packs, you can see it in my another text. But the tensioned mesh on the back of Ariel AG 65 looks really cool. The frame of the pack is a LightWire peripheral aluminum alloy structure.
The hip belt ISOFORM 5 CM is with custom heat molding and it is interchangeable. So after you choose your best fit at the moment of purchase, it will mold naturally by your body heat to fit you perfectly. The same is with the ISOFORM 5 AG mesh harness, which is also interchangeable and you can choose one of 4 sizes. So both the harness and the hip belt have some break-in time and they accommodate and form to your body shape after a few wears.
But you can speed this up if you wish because good outdoor shops usually have an Osprey's oven for this purpose. We have it in our local shop in Belgium. It is a simple box of the size of a micro oven, see it in the video below.
Family members or partners can use the same pack, but they may use their own specific (molded) hip belt and harness to ensure a perfect fit.
See here how Osprey's oven works:
How to adjust the harness
All you have to do is to slide your hand between the back panel and harness and to release hook and loop attachment. Then move the harness into the desired position. There are indicators that will guide you.

Attachment points for Osprey's Daylite pack
I mentioned this attachment as one of the bonuses above. On the front of the pack, you have two vertical flaps with horizontal straps, this is the part of what they call dual front compression system with StraightJacket compression.
When you undo them, you will see that underneath the flaps there are 4 attachment loops. These loops are there to attach Osprey Daylite pack, which itself is designed for such a purpose and it can be added to many of Osprey's packs. When the Daylite pack is attached, you can additionally secure it with the mentioned straps.
Another bonus: top lid convertible to a daypack
Contrary to the previous Aether version where you have the removable lid that serves as a lumbar pack for short tours, in the new version you have a fully functional backpack which they call the DayLid daypack. It is with 16 liters of volume.
The DayLid pack includes the following features:
Shoulder straps with mesh and edgeless wrap.
Dual access to the main compartment.
An adjustable chest strap.
Apart from the main compartment, you also have a zippered pocket.
There is even an external hydration sleeve with a hanger for the water bladder.
On the bottom, there is a tuckaway attachment loop which is paired with a bungee cord on the top, to attach an ice axe.
4 attachment webbing loops.
Weight: 12.3 ounces (349 g).
The sternum strap of this DayLid pack can be fixed to three different positions, you have loops for this purpose on both shoulder straps. So those loops that are not currently used for the sternum strap, can be used for attachment of equipment.
Since this pack is the lid itself, the attachment loops that are normally on the top of the lid, are now on the front of this daypack, so imagine, you have 4 extra attachment points of course.
When the lid is removed you have an additional flap with buckles to close the big pack properly. So it again looks like a normal top-loading pack, yet considerably shortened and lighter for 349 grams.
Other attachment points and straps
There are four webbing loops on the lid, two big attachment loops are on the bottom and those are paired with bungee cords higher up, so you can attach two ice axes. Dual removable compression straps are on the bottom.
The pack comes with Osprey's Stow-on the-Go trekking pole attachment system. This is useful to have when you need free hands on the fly, to take a photo, to eat and drink something, or when you have some scramble to do.
On the sides, you have dual compression straps. The lower of the two are with the InsideOut features. This means they can be routed inside (to compress the pack when not full to ensure its stability), or over the side mesh pockets (to secure items in them).
On the front, you have the already mentioned StraightJacket compression straps and two vertical flaps.
---
In this short video by Osprey Europe you can see some of the features of the pack. Note that it includes the rain cover (not available in the US version), but it does not include the new DayLid daypack (which is available on the US market):
---
Osprey Ariel AG 65 pack vs Competitors
In the table below I show the Ariel AG 65 side by side with two other top-rated packs for women from the same size range, it is in between them regarding the volume. Obviously, it is a bit heavier, please follow the links to see more features and to check for the updates about the prices.
**Contradictory descriptions
I already pointed out in my text about the Aether AG 60, that there is a lot of confusion about:
the rain cover,

the hydration sleeve.
In the description of the pack on Amazon, there is no rain cover mentioned. So it is possible that the cover is not available there. However, in my local shop in Belgium, the Aether & Ariel AG packs are with the rain cover stored in the top lid pocket. You can see the pictures here.
Equally confusing is the issue of the hydration sleeve. Even in the Osprey's video given here in the text, there is a statement that the pack comes with an external hydration sleeve. However, I have had these packs in hands and can confirm that there is no external sleeve in this pack.
Of course, there is some space behind the harness, but this is not a water bladder sleeve. If you put anything there, you will not have proper ventilation on the back. Besides, there is no hook or loop to attach anything there, so whatever you put will slide all the way down to the lumbar zone.
The pack available on EU market is with standard internal hydration sleeve, with a hook on the top, but this true sleeve is nowhere mentioned in Osprey's site. Instead, they mentioned the "external" sleeve, both in the description and in the video.
I have contacted Osprey about the sleeve issue, and here is their answer:
"Hi Jovo, thanks for your inquiry.
I understand that in the images there is no clip showing in order for the reservoir to be hooked onto. However, this pack does have this loop and does enable you to attach your reservoir to it and use the external hydration sleeve.
I hope I have answered your question, please let me know if you mean something else and provide any pictures so I can better understand where this information is displayed."
I am sure there is no hook or loop. If you put a water bladder in that space behind the harness, you will have only the mesh between your body and the bladder which will be completely on the bottom, behind your lumbar zone. You will have no ventilation at all.
This is an addition in May 2017, they have modified the promotion video and published on May 26, so here it is:
---
Specifications
Gender: for women.
Frame: peripheral wire.
Purpose: backpacking, mountaineering, thru-hiking, travel.
Four sizes:
– XS: 59 liters (3600 cubic inches).
– S: 62 liters (3783 cubic inches).
– M: 65 liters (3967 cubic inches).
– L: 68 liters (4150 cubic inches).
Weight:
– XS: 2.16 kg (4 lb 12.2 oz).
– S: 2.23 kg (4 lb 14.6 oz).
– M: 2.32 kg (5 lb 1.9 oz).
– L: 2.39 kg (5 lb 4.5 oz).
Carry weight: up to 27 kg (60 lb).
Torso fit:
– XS: 14 – 17 inches (36 – 43 cm).
– S: 16 – 19 inches (41 – 48 cm).
– M: 18 – 21 inches (46 – 53 cm).
– L: 20 – 22 inches (51 – 56 cm).
IsoForm harness sizes: XS, S, M, L.
IsoForm waist belt sizes to choose:
– XS: 24 – 28 in (61 – 71 cm).
– S: 27 – 31 in (68 – 79 cm).
– M: 30 – 34 in (76 – 86 cm).
– L: 33 – 37 in (84 – 94 cm).
Maxium pack dimensions (H x W x D): 31 x 15 x 12 in (79 x 38 x 30 cm).
Materials:
– Main: 210D Nylon Dobby.
– Accent: 210D High Tenacity Nylon Shadow Box.
– Bottom: 500D Nylon Packcloth.
Adjustable torso.
LightWire tensioned, full peripheral frame.
Suspended mesh.
The lid transforms to a daypack.
Access: top, bottom, front.
Sleeping bag compartment with a removable divider.
Front stretch mesh pocket.
Adjustable sternum strap with emergency whistle.
Integrated FlapJacket to use when the lid is removed.
Dual zippered hip belt pockets.
Dual upper side compression straps.
Dual front StraightJacket compression.
Dual access side stretch mesh pockets with Inside-Out compression straps.
Stow-on-the-Go trekking pole attachment system.
Dual ice tool loops with bungee tie-offs.
Removable sleeping pad straps.
Internal hydration reservoir sleeve.
Colors: 3, see the pictures.
Guarantee: Osprey's All Mighty.
---
Conclusion
To summarize, with the Osprey Ariel AG 65 pack for women and with the whole Aether & Ariel AG series Osprey has built one of the most sophisticated backpacking tools. The convertible lid is beyond comparison with any other pack on the market, a complete perfection. Note that they also have the Pro version, the Osprey Ariel Pro 65 Pack for women. I summarized the comparison of the two packs in my separate text.
I have some concerns regarding the suspension and ventilation, but the time will show how this system really works in practice. If this pack is too big for you, please see the smaller Ariel AG 55 described in my another text. The corresponding packs for men are Aether AG 70 and Aether AG 60, both described in the site, so please have a look.
The pack is indeed on the heavy side, but this is not a true objection. Just see what it offers, so the weight is the consequence of so many useful features. I have some objections elaborated in my text about Osprey Aether AG 60, so please have a look. See how I rate this pack:
Osprey Packs Ariel AG 65 Women's Backpacking Backpack
You might want to compare this pack with yet another top-notch tool mentioned in the comparison table above, the new 2018 Gregory Deva 70.
Thank you for reading. I hope this text has been useful to you. If this is so, please share it with others. If you have any question or comment, please use the comment box below. Have a nice day.