---
Here you have the comparison Osprey Ariel Pro 65 vs Osprey Ariel AG 65 with all the differences and similarities. The same applies to Aether Pro 70 vs Aether AG 70.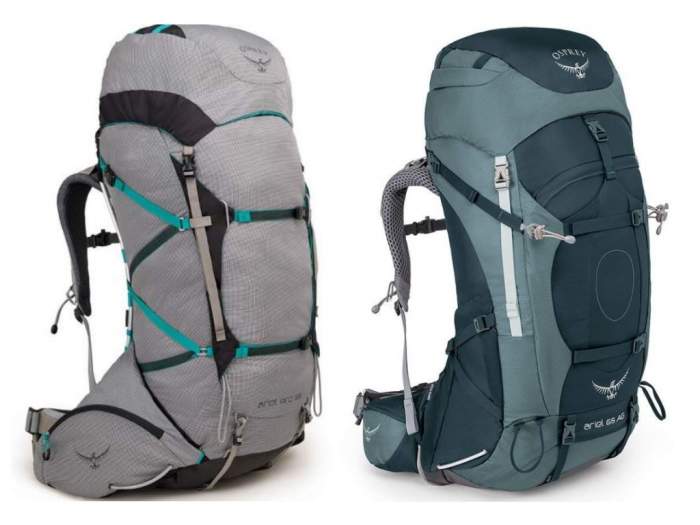 ---
Why this comparison
Osprey Ariel AG 65 backpack for women is one of the best packs this brand has ever built, and they have the corresponding Aether AG series for men with the same features. But they also have Pro variants for both of these series, so people who do not follow this industry very closely may easily get confused with this terminology.
So this is why I make this comparison Ariel AG 65 vs Ariel Pro 65. All the conclusions for these two packs can directly be applied to other packs in the series as well as to Aether AG vs Aether Pro packs. Why I choose 65 liters packs? This will become clear below.
---
Ariel Pro & Ariel AG – Similarities
BioForm harness. This means that the foam used in the construction molds by the body heat and adjust to the body shape.
Dual front compression straps. Those you can use to attach snowshoes or other gear.
Integrated Stow-on-the-Go trekking pole loops. This is Osprey's unique system used in many of their packs.
Adjustable torso length. Very similar systems based on Velcro tabs for a perfect fit.
Floating & removable lid. This floating feature allows for adding extra gear under the lid and then fix it in place with the lid.
Integrated FlapJacket. This is a piece of fabric with buckles sewn in behind the collar. When you remove the lid, you use this to close the pack and it is protected from the rain.
Front cord loops to attach Osprey Daylite daypack or Osprey Alpine Pocket, both sold separately.
Interchangeable hip belt and shoulder harness. This means that the shoulder harness, as well as the hip belt, can be removed and replaced with some other size which you can order. This is useful also if two people with very different body shape use the same pack. The same design is also in their Xenith and Xena packs.
Removable bottom straps. This lets you shed the weight a few grams if you do not need those straps.
Internal reservoir sleeve. So both paks have the same design, the internal sleeve that can accommodate a reservoir of up to 3 liters.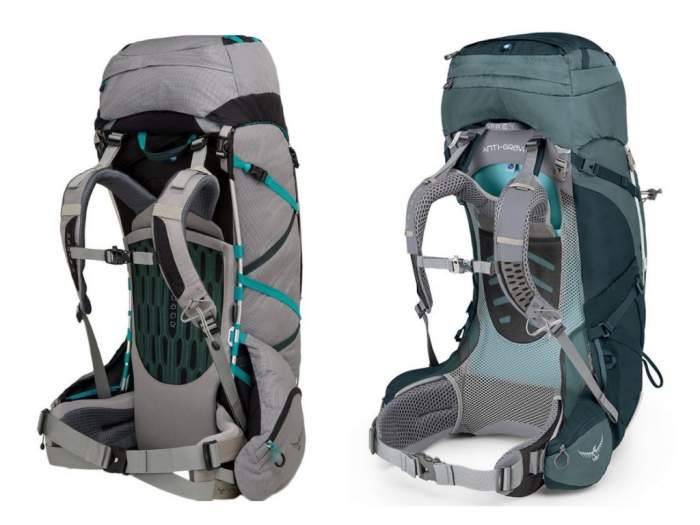 ---
Ariel Pro & Ariel AG – Differences
3 Volumes vs 4 Volumes. The meaning of this is that the Ariel Pro 65 is in fact built in three different volumes (or sizes if you wish), with 62, 65, and 68 liters (those are denoted as XS, S, and M). This is typical for many Opsrey's series. This may be confusing but this helps you to find the best possible fit. On the other hand, the Ariel AG 65 is built in 4 volumes/sizes XS, S, M, and L with 59, 62, 65, and 68 liters respectively.
Only one Ariel Pro 65 pack vs 3 in the Ariel AG series. Now you know why I compare 65-liters packs from these two groups. But do not mix this with 3 & 4 volumes mentioned above. So you also have Ariel AG 55 and Ariel AG 75 (with corresponding sub-sizes).
Weight. So Ariel Pro 65 is lighter than Ariel AG 65. The reason is the number of features. The weight of Ariel Pro 65 (S, which is 65 liters) is 3 lb 12 oz (1.7 kg). The weight of Ariel AG 65 (M, which is also 65 liters in this series) is 5 lb 1.9 oz  (2.32 kg). So the difference is significant.
Dimensions. There seems to be a small difference in the dimensions. The Ariel Pro 65 S is 33 x 16 x 14 inches (84 x 41 x 36 cm) as compared 33.5 x 15.3 x 12.6 inches (85 x 39 x 32 cm) in the Ariel AG 65 packs.
3 Pockets in Ariel Pro 65 vs 7 pockets in Ariel 65 AG.
AirScape vs AG back panel. So the former is in the Ariel Pro 65 pack while all Ariel AG packs are with what they call anti-gravity (AG) back panel. The latter is incredibly popular and offers far better ventilation.
No daypack in the Pro pack. So both packs have a removable lid. But the difference is that in the Ariel AG packs (all of them) this lid transforms into an incredibly well designed DayLid daypack. I do not think that there is any better daypack on the market.
No front stretch pocket. So this is a feature missing in the Pro series. The front is just an empty space.
Lid pockets. The Pro packs are with one lid pocket, while you have a complete DayLid pack in the AG series with several pockets.
Removable side straps. This is the feature in the Pro packs only, so you can reduce the weight a bit.
Removable hip belt pockets. This is again only in Pro packs. These pockets are built as a hybrid between the side pockets and belt pockets, they are (too) big and removable, and asymmetric in the design. One has a zipper and the other has a cinch cord. Note that the Pro pack is without the usual side pockets.
Removable dual ice axe loops. This is only in the Pro series.
Frame with a central stay. So this is the difference, an extra stay in the middle in the Pro series. Both series also have a peripheral LightWire frame.
Single access vs dual. The Pro packs have only top access. On the other hand, you have an extra U-shaped front zippered access in the AG 65 pack.
No bottom compartment. So Pro packs have no bottom compartment. You have it in the AG series.
Colors. Just see the pictures, this is the only color for the Pro packs, AG packs come in several nice colors.
Please see more about the Pro packs in this short video:
And here is a video about the Ariel AG and Aether AG packs, have a look:
---
So which is better: Osprey Ariel Pro 65 or Osprey Ariel AG 65
I think the answer is easy, the Ariel AG 65 is better, with many useful features and a more comfortable and ventilated suspension system. But this is a far heavier pack.
---
How about Osprey Aether Pro 70 vs Osprey Aether AG 70
You realize that here you have 70 liters, the Aether Pro for men is built as a 70 liters pack.
The same features are in these series, so what you have in the Ariel Pro you also have in the Aether Pro, and the same is with the AG packs. So the conclusion is the same, the Aether AG is better.
---
So, this is what I have had to say about these Osprey series. You have the links in the text so you can read more in my full reviews. Thank you for reading. Please let me know if I have missed mentioning something important, there is a comment box below.
---