---
This 2018 Osprey Xenith 75 pack review is about one of the most comfortable backpacks for heavy loads and extended tours, with plenty of pockets, 4 access points to the main compartment, and a great daypack.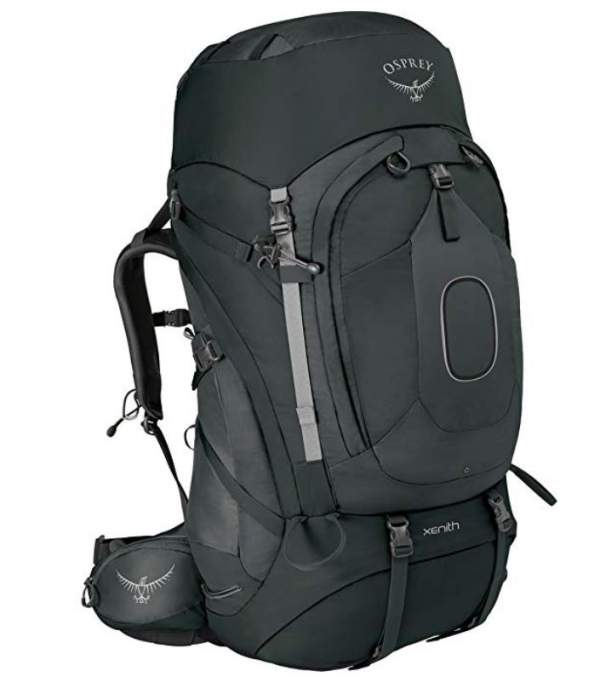 ---
Key features
Detachable top lid converts to a daypack.
Adjustable torso size.
Interchangeable harness and hip belt.
Heat-molded hip belt.
3 + 1 access points to the main compartment.
Bottom compartment with a removable divider.
Stow-on-the-Go trekking pole attachment.
9 pockets.
External hydration sleeve.
FlapJack for lidless use.
Built in 3 different sizes.
---
Where to buy this backpack
Check on Amazon. They usually have the best prices and their shipping conditions are without a match, you probably know that they currently have some 15 or so separate stores on 5 continents.
---
Osprey Xenith 75 for men – what this is about
The number 75 in the name indicates the volume in liters, so this is a huge load-hauling pack. Yet it is still the smallest in the Xenith series which also includes the Xenith 88 and Xenith 105 packs. These are currently the largest packs from Osprey, designed for extended backpacking and expedition tours, but they partly overlap in size with the Aether packs, where you have the Aether 85 AG as the largest pack.
Note also that they build a separate corresponding series for women under the name Xena, so check this Xena 85 pack and Xena 70 if you need something for women.
The version presented here is the model 2018 that is different from the 2017 model. The only substantial change is the lid which is now convertible to a beautiful daypack. The other changes are: i) colors, and ii) the redesigned logo. Observe that they sell both versions together, so do not get confused.
These packs incorporate almost all the best features and bells and whistles that you can find in Osprey packs in general, you have already seen some of them mentioned above. I said almost all, so is there anything missing in this Xenith series? Well, these packs are without the so-called anti-gravity suspension system, just to know if you are particularly interested in this feature (you have it in the mentioned Aether series, and also in the Atmos AG packs but those are smaller).
So, back to the Xenith 75, this is a top loading pack, but you also have two side J-shaped zippered entrances on both sides as well. Is this not enough? If not, you also have a bottom compartment with a bottom zippered entrance and a removable divider between the two main compartments. So this makes it 4 access points to the inner area, quite incredible.
This backpack is also hydration compatible and you have a separate external sleeve for the water bladder located behind the harness, see the picture below.
They build this pack in three sizes, M, L, and XL, you will see the numbers for the volume and weight in the specifications below.
---
Overview of features
The suspension
This is a top-notch suspension which is based on several key elements that include:
LightWire peripheral frame which is a rather thin aluminum structure.
Mesh and ridged foam back panel with a dual density BioForm CM foam. This is what they call the AirScape ventilation system.
BioForm CM hip belt, see the picture below. The BioForm implies a foam that molds by your body heat, and this happens in a couple of days. You can speed the process up and use an oven which they build for this purpose. It is available in good sport shops, we have it in our local shop and I have a picture of it in my text about their Aether AG 60 pack which has the same BioForm system.
The hip belt design includes also the ErgoPull system which means that the belt draws tension along the top and the bottom of the belt with split support wings. In my view this is always the best construction you may have in any load-hauling backpack. This is because the hip belt hugs the hip bones in the most comfortable way, you have two V-shaped straps and when you pull forward, the upper part creates the tension first.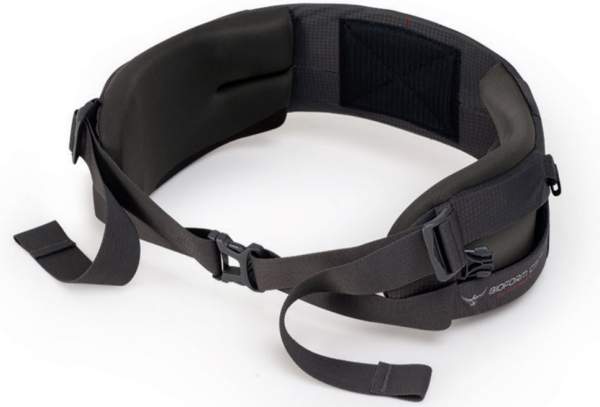 There are several sizes for both the harness and the hip belt, medium (M), large (L), and extra large (XL). But you can choose them independently for the hip belt and the harness to find your best possible fit.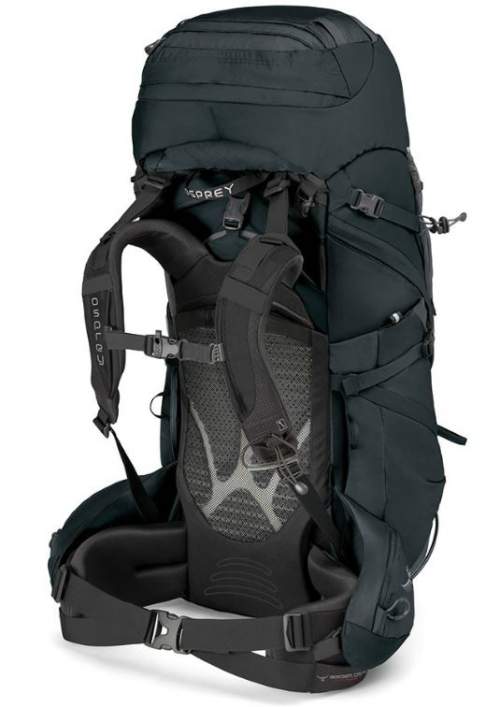 As you see from the picture, the sternum strap is sliding type and it is equipped with an emergency whistle. Load lifters are also in place for fine-tuning.

Adjustable harness
The torso size is adjustable and you can move the torso for up to 3 –  4 inches within each of the three sizes. All you have to do is to break the large Velcro tab behind the harness, then position the harness and press back again.
If you happen to be in between any of the sizes, statistically it turns out that more people feel more comfortable when they go to the longer size than to the shorter size. This holds in particular with heavier loads. But as usual, statistical data do not apply for any particular single case, so it is always best to try and then you will know.
The DayLid daypack
The earlier version of this series had a removable lid which was used as a lumbar pack. But in this 2018 version, the top lid converts into a very functional daypack, you will see it in the video below. It has numerous features and they include:
Integrated padded shoulder straps.
Separate reservoir sleeve.
Multiple attachment loops.
Adjustable chest strap.
One zippered pocket.
Note, on the EU market they sell the backpack with the previous lid version. Pity. In any case, I have included this pack in my list of best backpacks with daypacks.
When you remove the lid, you have a flapjack with buckles which you can use to close the pack properly.
Pockets
This pack comes with 9 pockets in total and they include:
Two zippered hip belt pockets.
Two very deep stretch mesh side pockets with dual access, from above and from the side.
Two gigantic pockets with weather-resistant zippers are on the front and with the access from the sides.
One large mesh stretch pocket on the front.
Two zippered pockets on the lid.
Attachment elements and straps
♦ Stow-on-the-Go trekking pole attachment: Osprey is famous for this system which they use in many of their packs, and you can see it in the picture. It includes loops on the left side of the pack and on the left shoulder strap where you can attach the poles when you need your hands free when you are on the go, to take a snack, to make a photo, or to do some scramble.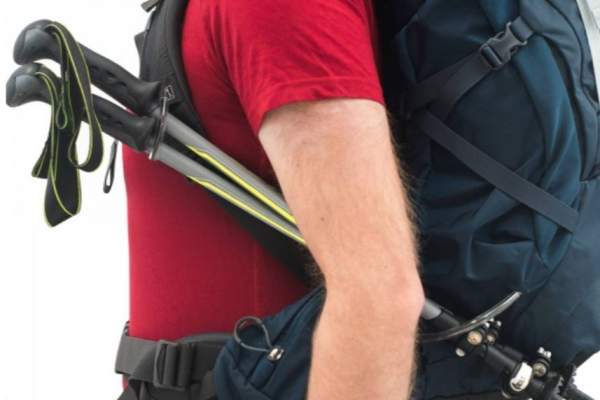 ♦ The pack is with a pair of removable straps on the bottom compartment, so you can use them to attach a sleeping pad or anything similar.
♦ You also have dual side compression straps. The lower straps are V-shaped because of very deep side stretch pockets, so you can cinch properly whatever you carry in them.
♦ Dual attachment loops are on the lower front and they are paired with bungee cords higher on the pack. This is for ice axe or when you want to attach poles for a longer time.
♦ There are 4 webbing loops on the lid, so here you can attach a solar panel when you are on the go, or anything else with a few extra pieces of cords. I always have them in a pocket for such a case.
Please see more in this short video by Osprey:
---
Specifications
Best use: hiking, backpacking, expeditions.
Weight (there are differences in the EU model due to a different lid):
– M: 5 lb 7 oz (2.47 kg).
– L: 5 lb 9 oz (2.52 kg).
– XL: 5 lb 11 oz (2.58 kg).
Volume:
– M: 4577 in³ (75 l).
– L: 4821 in³ (79 l).
– XL: 5065 in³ (83 l).
Weight capacity: 70 lb (32 kg).
Torso fit:
– M: 18 – 21 in (46 – 53 cm).
– L: 20 – 23 in (51 – 58 cm).
– XL: 22 – 25 in (56 – 64 cm).
Dimensions:
– M: 34 x 16 x 15 in (86 x 41 x 38 cm).
– L: 36 x 16 x 15 in (91 x 41 x 38 cm).
– XL: 38 x 16 x 15 in (96 x 41 x 38 cm).
Warranty: Osprey's AllMighty.
Materials:
– Main: 420D High Tenacity Nylon.
– Accent: 210D High Tenacity Nylon.
– Bottom: 500D Nylon Packcloth.
---
Osprey Xenith 75 backpack vs Competitors
I thought it would be appropriate to put this pack side by side with some other top-notch load-hauling packs so you can make an informed choice. The Baltoro pack from Gregory is a natural choice as this is one of the best-known examples in the category, and it has also been improved this year. The choice of the Kelty pack may be surprising to you, but this is an extraordinary backpack and it deserves to be here.
As you realize, all of them are rich in features and the weight is almost the same. So please follow the links for more.
---
What is the main difference between the Xenith 75 and Aether AG 70
You might want to know the differences and similarities between these two packs designed for heavy loads. So here are the most important of them:
Similarities:
The Volume/Weight ratio is practically the same, around 30 liters/kg. You realize this if you take the XL version from the Aether AG 70 (which has the volume 76 liters), and the M version of the Xenith 75 pack.
Both have the same BioForm design.
Both have the same DayLid daypack.
Both are without the rain cover.
Differences:
Xenith 75 offers 9 pockets as compared to 7 in the Aether AG 70.
Xenith 75 is built in 3 sizes while you have 4 sizes in the Aether AG 70.
Xenith 75 has the ErgoPull design on the hip belt, this is not so in the Aether AG 70.
Aether AG 70 has the AG (anti-gravity) suspension design, as compared to AirScape in the Xenith pack.
Aether AG 70 has StraightJacket compression straps on the front, which you do not have in the Xenith pack.
Xenith 75 pack has a separate hydration sleeve, while it is inside the main compartment in the Aether AG 70 pack.
Xenith 75 pack has 4 access points to the main compartment, as compared to 3 in the Aether AG 70 pack.
---
Final thoughts, rating, pros & cons
So this Osprey Xenith 75 pack is a tool for extended trips and heavy or bulky loads in general, and you might want to consider it also if you go on some winter tour that normally implies more bulky stuff. The comparison table above shows you that its weight is quite normal for such a type. It is not lightweight, but it compensates for this with comfort which it offers.
Both 2017 and 2018 versions are currently on the market and the differences in the prices can be drastic, so choose carefully. The new version comes with its incredible daypack and this is the most important difference. You might want to see Osprey Xenith vs Gregory Baltoro comparison, my conclusion is that Xenith is better.
Please see my rating, I use several criteria and apply them to all packs here in the site, so instead of considering the absolute value it is better to compare the packs.
If you need more options, please visit my page with large packs above 56 liters. You will find all the top models there. If you are curious how this pack compares to the Osprey Aether series, please check my text Osprey Xenith vs Osprey Aether backpacks.
Note that this is not a sponsored post and I am not paid by the brand or by anybody. Thank you for reading, please use the comment box below in the case of questions or comments. Have a nice day.