---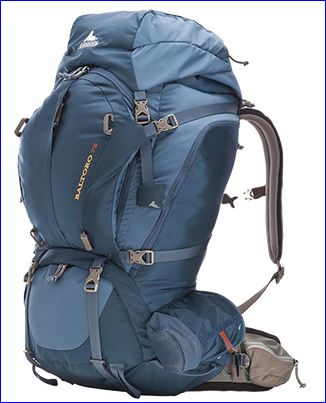 In this Gregory Baltoro 75 review, you will learn all the features of an amazing multi-day pack. It represents a great combination of load-hauling capability, comfort, and organization.
Baltoro 75 comes in 3 different sizes to accommodate for different lengths. In terms of capacity, this means a volume between 4300 and 4800 cubic centimeters.
Although this is, without a doubt, a top-quality backpack, I still rank it below Deuter Futura Vario Backpack. This is mainly due to Deuter's unsurpassed suspension system.
Note, there is a new version of this pack, the summary of changes is given in this text.
---
Suspension and other features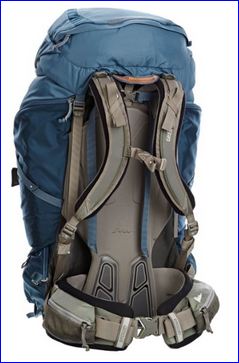 To start with the suspension, Gregory Baltoro 75 features A3 response suspension system, where A3 describes 'automatic angle adjust' properties. You will see independently moving shoulder belts, as well as independently moving 2 fins of the hip belt.
Both hip and shoulder belts can be customized by choosing between various sizes. In its pre-curved Quick Swap suspension system, there are 3 harness options that can be combined with 5 different hip belt sizes.
So you have in total 15 different combinations to fit your body features and torso length.
The pack has an internal aluminum frame, combined with the back frame sheet. There is padding everywhere on the back, and gaping which allows for the air to circulate. The sternum strap is sliding and adjustable.
The main loading is from the top but the main compartment has access as well from the front face, through a U-shaped zippered opening, see the photo below. This feature is somewhat similar to some of Deuter models.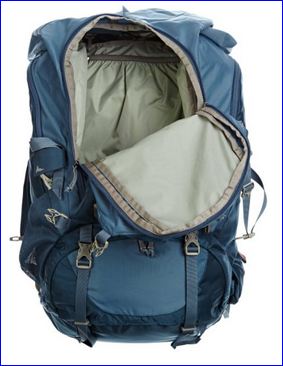 The pack has another vertical zippered opening on the front which leads to a huge front pocket, which contains yet another zipped mesh pocket inside, for rain cover which is included.
In addition, the pack has big bellows pockets on each side. There are two pockets on the hip belt, one meshed and another waterproof for electronics.
There is a lid on the top, which can be lifted to accommodate expandable collar in situations when you need some extra volume. The lid has two zipped pockets on the top, and one internal pocket for valuables.
The lid can be removed completely. I must say that what remains does not look so great. A similar objection I have for some Deuter models which you may find here within the site (see some of them mentioned below).
The pack comes with a light summit pack stored inside, which you can use when you have no much gear, or indeed for summits.
On the bottom, you have a compartment for a sleeping bag. There is a divider between the lower and the main compartments, which can be removed to make one single big compartment.
The pack has a sidewinder bottle holster that is positioned in such a way to allow an easy access to the bottle without removing the pack. This side pocket can be tucked inside when it is not used, giving the pack a streamlined profile. The pack has a hydration sleeve inside, and openings for drinking tubes on both sides. There are many gear attachment loops for ice axe, walking poles.
You might want to see this YouTube video presenting Gregory Baltoro 75:
---
Summary of Gregory Baltoro 75 pack features
Weight:
-S-type 5 lbs. 1 oz. (2.32 kg);
-M-type 5 lbs. 5 oz. (2.42 kg);
-L-type 5 lbs. 8 oz. (2.532 kg).
You will notice that it is a bit heavier than Deuter Futura Vario, though it is bigger.
Torso size: S-type 16-18 inches (41-46 cm); M-type 18-20 inches (46-51 cm); L-type 20-22 inches (51-56 cm).
Gear capacity (cubic inches): S-4333 (71 liters); M-4577 (74 liters); L-4821 (79 liters).
Waist/hips fit: 26 – 46+ inches.
Frame material 7075 aluminum/HDPE; internal frame.
Material(s) Nylon/polyester/EVA/open-cell foam.
Rain cover included.
The number of exterior pockets: 10 + main compartment.
Removable day pack.
---
I hope this Gregory Baltoro 75 review was useful to you. If you need something bigger, you can check the Baltoro 85 from the same series. Please share this text with others. See my rating of this pack:
Thank you for reading. I shall be happy to have some comments from you. I wish you a pleasant day.