---
This Osprey Xena 70 review is about the pack from a celebrated series of load-hauling backpacks for women with a fully adjustable harness and great features.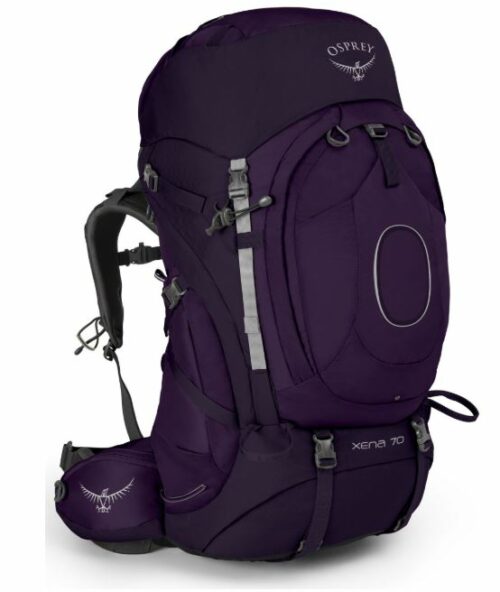 ---
Key features
Adjustable torso size.
Heat-moldable harness.
DayLid daypack.
FlapJacket for lidless use.
4 Access points.
3 Pack's sizes.
External hydration sleeve.
9 Pockets.
---
What this is about
This Xena 70 pack is the smaller of the two packs in this series which includes also the Xena 85 pack. The corresponding packs for men are Xenith 75, Xenith 88, and Xenith 105 packs. They share the same features so all conclusions about Xenith apply to Xena as well, and vice versa.
This series has been updated recently so this is the new 2018/2019 version. The Xena 70 includes almost all the best features and bells and whistles available in Osprey's packs, except for the so-called anti-gravity system and a rain cover. These are among the best packs which they have built and they are designed for heavy loads.
In my separate text, I have discussed Osprey Xenith vs Osprey Aether packs, so Xenith & Xena features are the same and therefore the conclusions are the same. My conclusion is that Xenith & Xena are better backpacks than Aether & Ariel.
In yet another text, I have made a comparison Osprey Xenith vs Gregory Baltoro backpacks and the conclusion was that Xenith & Xena are better than Baltoro & Deva packs.
So you realize what you have here, this is one of the best series on the market, so let's see what makes it so good.
---
Overview of features
Xena 70 is a pack with 4 access points to the internal area. So you have a top lid plus a large bottom compartment (see the picture below) with a removable divider, and two vertical zippered entry points on the side. The divider itself is not particularly impressive, this is just a fabric shelf with straps, so you do not have a zipper here which would completely close and separate the two compartments. In other words, small items can slide down to the bottom compartment.
Note that the pack is with a removable lid which transforms into an excellent DayLid daypack. This is the new feature introduced in the 2018 version. I do not remember any more functional daypack of that type on the market. The pack comes with an integrated FlapJacket which is equipped with buckles, so you can use the pack with the lid and it will still be nicely closed just like with the lid.
The pack is hydration compatible and you have a separate external compartment behind the harness, shown below, where you can put your reservoir. It is compatible with Hydraulics and Hydraulics LT Reservoirs.
The suspension system
It should be possible to carry up to 70 lb (32 kg) of load in this pack, and to do this comfortably.  You have a 3.55 mm LightWire aluminum peripheral frame which transfers the load to the hip belt. The torso length is adjustable, all you have to do is to break Velcro and to slide the harness up or down and press back again. So different users can use this pack without issues. Note also that you can choose all the elements separately, the pack (which is built in 3 sizes, XS, S, and M), the shoulder harness, and the hip belt.
The back is a mesh-covered ridged foam, this is Osprey's AirScape back panel system, so this allows for good ventilation while still keeping the load close to the body. This is what makes it different from the packs with tensioned mesh where ventilation is better but the pack is separated from the body.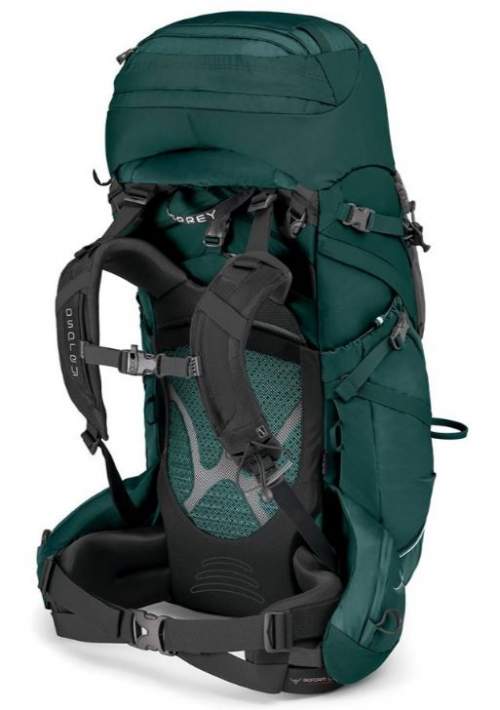 You have what they call the BioForm hip belt and shoulder harness. This means that the belt and harness form to your body due to the body heat. This happens in a few days of carrying the pack, or you can make it faster – good outdoor equipment shops have an oven which heats the foam and when you put it on, it will form according to your body shape and you will have a perfect fit.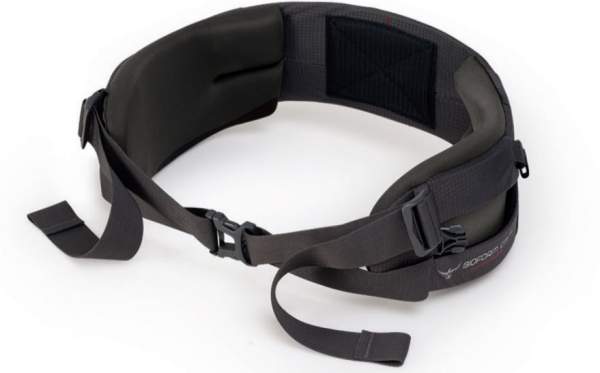 Note also the ErgoPull design on the hip belt which is split in the middle. This includes dual V-shaped front straps on both sides which tension the belt from the top and from the bottom sections for a great hugging of the hip bones. This is always the best design on a hip belt. The NeoSpacer fabric is used for all the harness.
Load lifters are in place and they do a great job for such a tall pack, there is a lot of it above the shoulder height. The sternum strap is fully adjustable rail-type.

Pockets
You have 9 pockets in total and this includes:
Two zippered hip belt pockets.
Two very large stretch mesh side pockets.
Two huge zippered front pockets with vertical weather-resistant zippers, so you can store a lot of stuff inside.
One large mesh stretch pocket on the front.
Two zippered pockets on the lid.
Attachment elements and straps include:
Osprey's famous Stow-on-the-Go attachment system for poles shown in one of the pictures above.
Dual side compression straps.
Dual ice tool loops with bungee tie-offs.
Removable sleeping pad straps.
Please see more in this short video by Osprey:
---
Specifications
Best use: backpacking, hiking, travel.
Weight:
– XS: 5.07 lb (2.3 kg).
– S: 5.15 lb (2.32 kg).
– M: 5.26 lb (2.38 kg).
Volume:
– XS: 3783 in³ (62 l).
– S: 4028 in³ (66 l).
– M: 4272 in³ (70 l).
Maximum carry weight: 70 lb (32 kg).
Fits torso:
– XS: 14 – 17 in (36 – 43 cm).
– S: 16 – 19 in (41 – 48 cm).
– M: 18 – 21 in (46 – 53 cm).
Dimensions:
– XS: 29 x 15 x 16 in (74 x 38 x 41 cm).
– S: 31 x 15 x 16 in (79 x 38 x 41 cm).
– M: 33 x 15 x 16 in (84 x 38 x 41 cm).
Warranty: Osprey's AllMighty.
Fabric materials:
– Main: 420D High Tenacity Nylon.
– Accent: 210D High Tenacity Nylon.
– Bottom: 500D Nylon Packcloth.
Frame: aluminum.
---
Osprey Xena 70 backpack vs Competitors
The Xena 70 is a top-notch item so it should be compared with the best only, this is why I show it side by side with Gregory Deva 70 and Kelty Coyote 70. Only basic features are mentioned and it is best to check full reviews, so please follow the links. The weight is similar, but the daypack in the Xena 70 is without a match. On the other hand, Kelty's pack is with the Perfect Fit adjustment which is better in my view because you adjust it with the pack on.
---
Final thoughts & rating
In the summary of this Osprey Xena 70 review, I would point to the statement from Osprey that it incorporates everything they have learned over the last 40 years about building durable, comfortable and intuitive expedition packs.
I fully agree with this, they have built an excellent pack. It is perfect for multi-day backpacking and hiking trips and for travel as well. You can use it with lid and without it, in any case, you have a perfect daypack integrated into it (unless you buy it in Europe, what a shame).
Here is how I rate this pack against the same criteria used for all the packs here in the site for an easy comparison:
If you need more options, please check my page with packs above 55 liters, the best models on the market are presented in detail. You might want to compare this pack with their Osprey Ariel Pro 65 Pack for women.
Note that this is not a sponsored text and I am not paid by the brand. Please use the comment box below in the case of questions or comments. Have a nice day.