---
This text is about new Kelty Coyote 70 backpack for women. This is a new version of the popular Kelty women Coyote 75 internal frame backpack. So the pack is considerably reshaped and modified, and a few new features are added.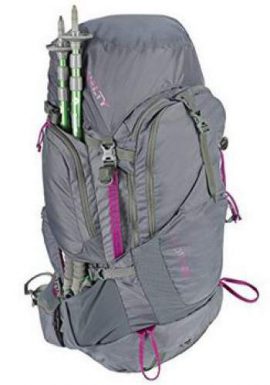 ---
Description
As its name Coyote 70 suggests, this is a huge 70 liters internal frame backpack, ideal for extended multi-day and week-long tours.
The pack has several entrance points. So you have the classic top access under the lid, with a collar with its own cinch cord, and with a strap with buckle which secures the entrance to the pack.
Inside you have the main compartment with a hydration sleeve.
But you also have a large front access to the pack, which is through an inverted U-shaped zippered entrance.
On the bottom, you have a sleeping bag compartment with the usual zippered U-shaped entrance. There are compression straps over the bottom entrance. You will use them to attach a sleeping pad or anything else.
You have a divider between the two compartments, it is removable, fixed in place through 2 toggles. I would prefer to have a zipper here because small items can slide down to the bottom compartment.
On the bottom of the pack, you have webbing loops (daisy chains), two of them in fact, for the attachment of gear, all very useful.
---
Suspension
The suspension system is based on dual aluminum stays and an HDPE frame sheet. They both give stability and rigidity, and they transfer the weight from your shoulders to the waist. Here you have Kelty's PerfectFit system which allows you to adjust the pack to your body shape while you are on the go.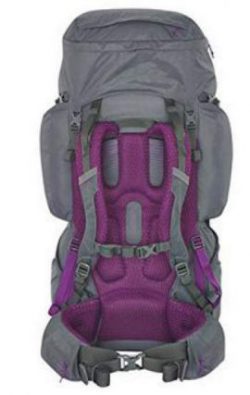 In other words, for harness adjustment, you have two straps on sides and you adjust the harness to your torso length by simply pulling them with the loaded pack on your back. In such a way you have the best feeling about the perfect fit, hence the name of the system. You are able to move it for around 10 cm up or down.
This is a women-specific design, with all that it implies. So you have a more narrow harness, better padding, properly shaped waist belt and lumbar padding, all done to accommodate women's body shape.
Wide spacer mesh is everywhere: on the back panel, on shoulder straps padding, on waist belt padding. You can see it in the picture above. The back panel is with large airflow channels. You have load lifter straps and hip belt straps for additional adjustability, as well as a sternum strap.
Here is a video about Kelty's PerfectFit suspension system, have a look:
---
Pockets 
There are many pockets here and some are rather specific. You will be able to see some of them in the video below.
You have 2 zippered pockets on the hip belt. In the lid you have 2 zippered pockets on top of each other, one small and one much larger. The access to them is from the back side of the pack.
On the sides of the pack, you have 2 stretchy mesh side pockets. Higher above them you have 2 big zippered side pockets.
In addition to this, you have 2 pass-through pockets, behind those upper zippered pockets. You can store tent poles or walking poles in these pass-through pockets. This is a very useful space.
On the front, you have a zippered organization pocket with additional compartments inside. And in addition, you have a stretchy mesh pocket on the front; it is secured through a strap and a buckle that clips higher up above the zippered front pocket.
---
Other features
The lid is adjustable, this is a so-called floating lid, and it is also removable so you can use it as a  summit or day sling-pack.  In this case, you will have a padded shoulder strap and yet another that goes under the armpit. This is a great feature indeed.
Two compression straps are on both sides of the pack. You will use them to secure the stuff in the mesh pockets and to cinch the pack in case of less load inside.
You also have 2 attachment loops on the bottom, and 2 carry handles on both sides of the front of the pack.
Here is a nice video by Kelty which shows all these nice features of the Coyote 70 pack. Observe how huge this pack truly is:
---
Summary of specifications & features
Weight: 5 lbs 1 oz (2.3 kg).
Volume: 4250 cub in (70 L).
Internal frame.
Torso fit:  14.5 – 18.5 in  (37 – 47 cm).
Size: 33 x 17 x 14 in (84 x 43 x 36 cm).
Materials:
– Fabric: Poly 420 D Small Back Stafford.
– Reinforcement fabric: Poly 75×150 D Tasser Coal.
– Frame: Aluminum + HDPE. Dual light beam aluminum stays.
Loading: top and front panel.
PerfectFIT adjustable suspension.
HDPE frame sheet.
HDPE reinforced waist belt.
Top lid converts to sling pack.
Hydration compatible.
Zippered side pockets.
Stretch front shove-it pouch.
Front pocket with organization.
Side compression straps.
2 ice axe loops.
Dual pick-up handles.
Ventilating spacer mesh back panel.
Lumbar support.
Spacer mesh on shoulder straps, waist belt, and in lumbar padding.
Load-lifter straps.
Belt stabilizer straps.
Sternum strap.
---
What is new in the new model?
The old model is 75 liters; the new model is 70.
Front mesh pocket in the new model. Absent in the old version, see the picture on the right.
2 side carry handles in the new model; 1 in the old model and positioned on the front, see the picture.
Aluminum stays are completely invisible in the new model; partly visible in the old model.
Completely redesigned back panel padding.
Spacer mesh in the new model, completely different from the old model.
Air flow channels redesigned.
2 attachment loops in the new model, 1 in the old model.
Sleeping bag compartment in the new model. It was not available in the old model.
In the moment of writing this text, the old version is more expensive, click the picture to check.
---
Conclusion, rating, pros & cons
To conclude this text about new Kelty Coyote 70 backpack for women, this is definitely an improved version of the 75 liters version which was already a great pack in every sense. Presently, even the price of this new version is lower, this makes the new backpack a true bargain. I can fully recommend it.
The new version is definitely an improved pack. The rain cover is missing but you can order here. Please see how I rate this pack:
Just to add that there also exists a model for men, Kelty Coyote 80, described in the site.
I hope the text has been useful to you. It will be great to have some comment, there is a comment box below. Have a nice day.