---
This Gregory Deva 70 Pack For Women review is about the new version of the celebrated and award-winning series that has been awarded again. Read here why.
---
Key features & benefits
New and improved version of the celebrated award-winning series.
15 different combinations in sizes for the hip belt and harness.
2 positions for the torso length.
The pack is built in 3 different sizes.
Great load hauling capacity.
Detachable daypack.
Rain cover included.
Auto Angle Adjust (A3) hip belt and shoulder harness.
QuickStow system for glasses.
Matrix ventilated back panel.
3 access points, top, bottom, front.
Crossover compression straps.
10 pockets.

---
New 2018 Gregory Deva series
The Deva and Baltoro series are the best-known items by Gregory, and they have been around for several years already. But these packs have been redesigned and I have blogged about this recently here in the site.
These great packs have been awarded in the past, and this new and improved version has again received an award recently. So this is what you have here, an excellent pack from the series which includes also Deva 60 and Deva 80 packs.
---
Who is this pack for
Deva and Baltoro packs are designed as load-hauling tools. This was with their initial design and this is still the same with this modified version. So Deva 70 is in the middle of the series and this is a large tool for extended backpacking and hiking tours and for expeditions. The suggested carry weight capacity is up to 55 lb (25 kg), though I am sure it can support much more if you can carry it.
The Deva series is designed specifically for women, with the narrower harness, the pack is smaller as compared with the Baltoro pack for men, the hip fins are angled to follow the women's body shape, the torso is shorter, and you have a different padding structure in various sections of the harness and in the lumbar zone.
---
Overview of features
This is a pack with 3 access points, so you have the top lid and the collar underneath the lid. But the pack also has the bottom access through the sleeping bag compartment where you have a removable divider between the two compartments. In addition to this, you also have the third huge U-shaped zippered front access to the main compartment.
The main compartment is with a hydration sleeve which doubles as the daypack. It is equipped with shoulder straps and you see it in the pictures below. Note that the bottom straps on the main pack are removable and you can use them as the hip belt for this daypack, see the picture below.
As you realize, the day pack has dual daisy chain on the front for the attachment of gear which you may need for a summit tour.  Its hip belt visible on the picture is created by the removable bottom straps from the main pack.
The suspension
You have a strong tubular aluminum wishbone frame which is profiled so that the weight is transferred directly to the lumbar zone, and it is strengthened with anti-barreling support. This all gives the shape to the pack and it acts in such a way that the load is kept as close to the body's center of gravity as possible.
The back panel is very different now, you have what they call the Matrix Ventilated system. The structure is with cut-outs and covered by a very breathable mesh. This design will surely enhance moisture management and you have a better airflow here. You can see a part of it in the picture below.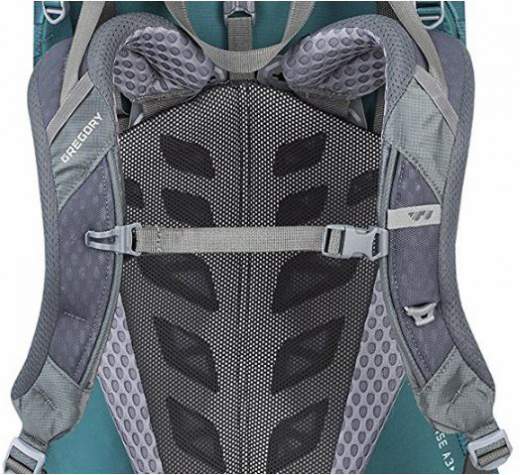 The shoulder harness is anatomic and with a perfect padding, and the same is on the hip belt fins. The lumbar zone is again with a Tune Pad located behind the ComfortGrip section. You can position it so that it fits your body curvature.
I have already mentioned the A3 (Auto Angle Adjust) system. It is applied to both the hip belt and shoulder harness. It basically allows for the left and right harness and hip belt sections to rotate independently of each other, and to follow your body movement over a varied terrain, which reduces fatigue and saves energy. So the pack will not work against you, it will move with you. I cannot stress enough how important this is and how great this pack works with respect to this.
The hip belt is with Gregory's PreCurve design and with a multi-density LifeSpan EVA foam. All is covered by a 3D AIR mesh which wicks away moisture.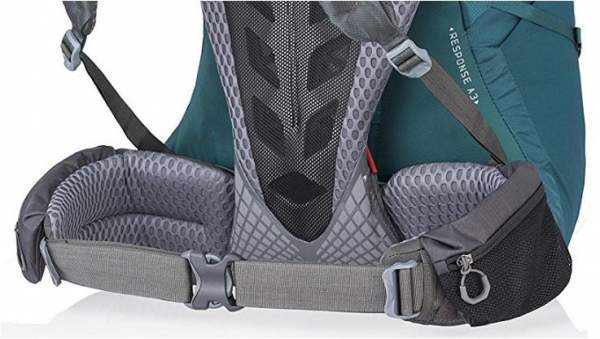 Multiple size combinations
The pack is built in three sizes XS, S, and M, you will see more in the specifications below. But it also comes with the Quickswap feature. This implies that the hip belt and the harness can be replaced and you have 5 sizes for the hip belt and 3 sizes for the harness. This makes 15 different combinations and you will surely find your perfect fit.
Partly adjustable torso length
In addition to the variety of sizes mentioned above, you also have a simple torso length adjustment here. This is only an additional inch of adjustability so you can move the harness between the upper and lower AutoCant slot.
Pockets
This pack has 10 pockets in total, so let me tell you more. On the lid you have a double-barrel design with 2 zippered pockets from the two sides, overlaying each other, see the picture above. One zippered pocket is underneath the lid, and here you have the rain cover stored.
There are 2 pockets on the hip belt. On the left side of the pack, you have the usual stretch mesh pocket while on the right side you have a sidewinder bottle holster which you can tuck away when not in use, it is visible in the picture below.
On the front, there is a large stretch mesh pocket, and underneath it, you have 2 zippered pockets with vertical zippers from the two sides, see the picture below. This is an overlay structure similar to what you have on the lid.
Attachment elements
I have already mentioned dual removable bottom straps. The new feature is the Quickstow strap on the left shoulder strap, see it below. It appears that Gregory is adding this in all new packs, you can see it in the new Optic and Octal packs, as well as in the Paragon and Maven packs. This is a small but very useful detail, but just in passing, you have it in several packs of Osprey as well, see for example this Osprey Tempest 40.
You have 4 lash points on the lid for a solar panel, and also on the front of the pack. Dual compression straps are on both sides, and you have a new feature here – you can redirect the side straps over the front of the pack if you need to cinch it differently or to attach some bulky stuff.
You also have dual loops for the trekking poles and ice axe attachment, paired with bungee tie-offs higher on the pack.
Please see more in this short video by Gregory:
---
Good and less good features & rating
Here is my short summary:

Great design.
Excellent suspension system and padding.
Top-quality materials and workmanship.
Bonus rain cover.
Daypack.
Great organization with many pockets.
Cross-over straps.

Not so great divider design.
Heavy.
Expensive.
The divider is just a shelf which attaches to the pack with 4 toggles. This is typical for Gregory and I have never liked this design. Smaller items from the main compartment can easily slide along the sides of the divider and end up in the bottom compartment. I would love to see a zipper and a true divider.
This pack is obviously heavy, but this is nothing unusual for such packs designed to carry heavy loads and to carry them with ease. So this is not a big issue really, heavy loads need heavy packs, as simple as that.
The price & rating
The Amazon price for this pack is $330. So this is a lot, but the pack is the top quality. But this price affects my rating:
My rating of the Gregory Deva 70 Backpack
Volume/Weight ratio -

9.2/10

Features & bonuses -

9.5/10

Comfort -

9.5/10

Price -

7.8/10
---
Specifications
Best use: hiking, backpacking, mountaineering, expeditions.
Weight:
– XS: 4 lb 10 oz (2.1 kg).
– S: 4 lb 12 oz (2.15 kg).
– M: 4 lb 15 oz (2.24 kg).
Volume:
– XS: 4028 in³ (66 L).
– S: 4272 in³ (70 L).
– M: 4516 in³ (74 L).
Maximum carry weight: 55 lb (25 kg).
Dimensions:
– XS: 26 x 13 x 13 in (66 x 33 x 33 cm).
– S: 28 x 13 x 13 in (71 x 33 x 33 cm).
– M: 30 x 13 x 13 in (76 x 33 x 33 cm).
Torso fit:
– XS: 14 – 16 in (36 – 41 cm).
– S: 16 – 18 in (41 – 46 cm).
– M: 18 – 20 in (46 – 51 cm).
Detachable daypack.
Rain cover included.
Material: nylon.
Frame: aluminum.
Warranty: limited lifetime.
---
Gregory Women's Deva 70 Backpack vs Competitors
It is useful to compare the features of this pack with some other top models on the market, this is a way of understanding them properly. So here it is side by side with the Osprey's and Kelty's packs, all are women-specific designs. Please follow the links to see more.
Clearly, the Deva 70 is the most expensive, but this may be temporary, the pack is very new on the market. Here you see that its weight is quite normal for such packs. But there are certainly much lighter packs on the market, check the Gregory Maven 65 as an example.
---
Final thoughts
So this Gregory Deva 70 Pack For Women has been improved in several ways. The suspension is as strong as it has always been, but the back panel is better ventilated. So this is a true improvement. You have more pockets now, and the front of the pack is quite modified. It is no surprise that these redesigned packs have received the Gold Outdoor Award. I have included this pack in my list of the best women's backpacking packs.

Thank you for reading. If you need something different, check my page with large packs above 56 liters. Check this Deuter Aircontact 60 + 10 SL pack which is also designed for women.
Note that I am not paid by the manufacturer, and this is not a sponsored text. Please use the comment box below if you have any comment or question. Have a nice day.

---