---
The Gregory Octal 55 Pack For Women is a completely new ultra-lightweight model with an excellent suspension and ventilation system, and with a rain cover included.
---
Key features & benefits
Ultra-lightweight.
Excellent hip belt and lumbar zone padding.
Removable top lid & FlapJack.
Moisture-wicking Aerospan suspension.
Ventilated dual-density shoulder harness and hip belt.
QuickStow feature for sunglasses.
Bonus rain cover.
---
So what this is about
Gregory has launched a completely new series in 2018, this is what they do every year, but this time they did something special. This Optic & Octal series (for men and women, respectively) is ultra-lightweight.
Now, the word ultra-lightweight only has meaning when you compare the pack with some other packs, and you will have this below. But the point is to make a pack which still has all the necessary features which you need on the trail, and these packs have them, you have seen some of the key features above, more below.
The Octal series includes this 55 liters pack and also Octal 45, and the packs for men are the Optic 58 and the Optic 48. They all share the same basic features.
---
Who is the pack for
As the title suggests, the pack is built for women, so you have some features appropriate for women's body, like a narrower harness, narrower back padding zone, more padding at certain places, smaller and softer buckles, and angled hip belt fins to follow the women's body shape.
With 55 liters volume capacity and 35 lb (16 kg) weight capacity, this Octal 55 is big enough for multi-day hiking and backpacking tours. In spite of its sleek design, it has enough attachment elements for these activities and for mountaineering as well.
The pack is built in 3 sizes, XS, S, and M, you will see more in the specifications below. This is because it has no harness length adjustment, except for the usual elements like load lifters and straps adjustments.
The pack is built with a classic lid, so you have a top access only. Note that the lid is floating and removable, and you can replace it with the included FlapJack which is a cover with buckles that closes the pack, see the picture below. In such a case, the pack looks much shorter and appropriate for overnight and perhaps even day hikes, in particular if you cinch it down with its side compression straps.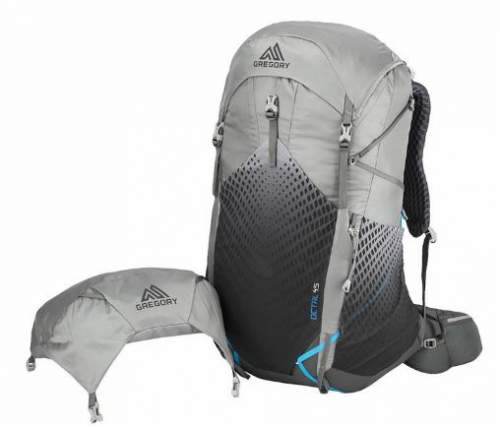 The main access is with a drawcord, and you also have a top strap under the lid to cinch the load and to fix a rope here if you have it in the equipment. The rest of the main compartment is just a single simple space with the sleeve for a water bladder. The hose port is in the middle so you can route it along any shoulder strap, see the picture below.
---
Overview of features
The suspension
This is the best part of the pack, and the most important one. They call it the AeroSpan system and it utilizes a perimeter frame made of an ultra-lightweight 7001 aluminum and a horizontal anti-barreling bar. It is typical for Gregory's packs that with such a frame the load is transferred to the generously padded lumbar zone, and this is what you have here as well, see the picture below.
A nice addition here is the tensioned mesh which is suspended between the pack and your body, so you have a free airflow in all directions. Such a mesh system I have been using for almost 2 decades now and I am sure there is nothing better against sweating. But you will sweat, this is inevitable. The point is how to reduce it and how to improve the ventilation. The mesh is there for this purpose.
You have an adjustable sternum strap which is rail type so you can position it wherever you want. Load lifters also help in adjusting the load and improving the stability.
The shoulder straps are contoured and with dual-density design, a great design without edges that would create hot spots. A similar design is on the hip fins, so they did not reduce padding to shed the weight, nothing is missing here, see how mighty it looks.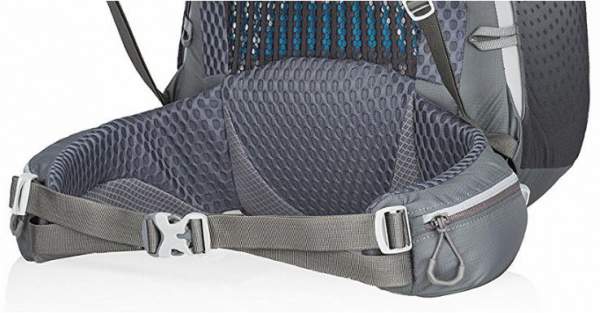 Yet another great feature is visible in the picture above – the dual front straps. So you have two on each side and when you cinch the hip belt you have a perfect hip bones' hugging. This is the best system that you can have in a hip belt. Observe also that the hip fins are long for a great comfort and hugging.

Pockets
The lid is with 2 pockets, both good size, one external and one underneath the lid. The latter is used also to carry the included rain cover and the mentioned FlapJack.
The front pocket is stretchy and very large, and the same material is used for the side pockets. So when they are empty they are quite inconspicuous. But they can take a lot of stuff. Note that the side pockets are with dual top and side access, the latter is convenient for a water bottle so that you can access it easily while on the go, one is shown in the picture below.
They did not forget the hip belt pockets, so you have them two and they are both zippered and very useful. So you have 7 pockets in total.
Attachments and straps
The straps are narrow but strong. You have two of them on the bottom for a sleeping pad or bag, or for a tent. There are loops for the trekking poles, and those are in pair with bungee tie-offs on the front, one is shown above.
The side straps are V-shape and very functional (see the picture below), there are two of them on both sides. The lower are with inside-out design, so you can use them through the pockets or over the pockets.
On the left shoulder strap, you also have the QuickStow bungee cord for glasses, see the picture below. There are several attachment webbing loops on the lid and on the front.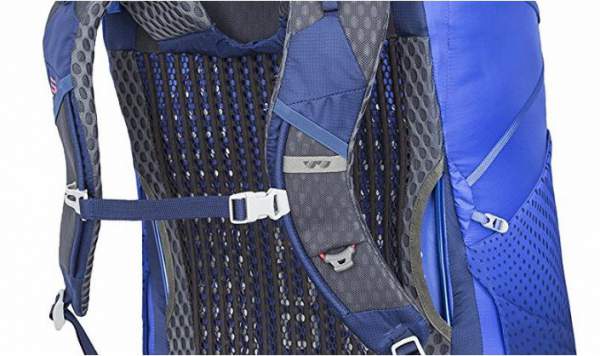 Please see a bit more in this short promotion video by Gregory:
---
Specifications
Best use: hiking, mountaineering, backpacking.
Top access.
Three sizes: XS, S, M.
Weight:
– XS: 2.31 lb (1.05 kg).
– S: 2.40 lb (1.09 kg).
– M: 2.52 lb (1.14 kg).
Stripped weight:
– XS: 2.20 lb (1 kg).
– S: 2.29 lb (1.04 kg).
– M: 2.42 lb (1.1 kg).
Rain cover weight: 0.2 lb (0.09 kg).
Capacity:
– XS: 3173 in³ (52 l).
– S: 3356 in³ (55 l).
– M: 3539 in³ (58 l).
Dimension (H x W x D):
– XS: 24 x 12.5 x 10.5 in (61 x 32 x 27 cm).
– S: 26 x 12.5 x 11 in (66 x 32 x 28 cm).
– M: 28 x 12.5 x 12 in (71 x 32 x 30 cm).
Max carry weight: 35 lb (16 kg).
Torso size:
– XS: 14 – 16 in (36 – 41 cm).
– S: 16 – 18 in (41 – 46 cm).
– M: 18 – 20 in (46 – 51 cm).
Materials:
– Fabric: 100% nylon 100D & 210D.
– Frame: aluminum.
Colors: 2.
Warranty: Limited Lifetime.
---
Gregory Octal 55 Pack vs Competitors
It is always good to compare a pack with other brands in order to understand its features and to realize if it is expensive or not. So here I give the Octal 55 side by side with two top-brands' packs, all are models for women.
You realize that those are not a match for the Octal 55 pack. The Granite Gear pack is lighter, but it is without many essential features. Please follow the links in the table to read more.
Granite Gear
Crown VC2 60
---
Final thoughts, rating, pros & cons
So this was my Gregory Octal 55 Pack For Women review, as you see they have built an excellent pack, with many great features and an incredible weight. The most important part of any pack, the suspension system, is as great here as in any other Gregory's backpack. Nothing can go wrong with such a design. I can fully recommend it.
The volume/weight ratio here is 50.5 liters/kilogram, there are no many packs on the market that are close to this value in a pack with so many features.
The price is high but the rain cover makes the pill less bitter, if you would order it separately you would pay around $35. This makes the pack alone around $175 which sounds much better. Bear in mind all its features, this is an ultra-lightweight pack yet with all that you need, a reliable Gregory's product. See how I rate it:
Gregory Mountain Products Women's Octal 55 Liter Backpack
$198.10
Pros
Great ventilation.
Excellent suspension system.
Bonus rain cover.
The weight can be stripped.
Quality materials and workmanship.
Incredibly high volume/weight ratio.
Cons
No bottom compartment.
Not adjustable harness.
Expensive.
If you need a smaller pack from the series, please check its smaller cousin the Octal 45 pack. But if you need something different or more affordable, please visit my page with packs in the range 35-55 liters, many top-notch items are presented there in detail.
Thank you for reading. Please use the comment box below in the case of questions or comments. Have a nice day.