---
This Granite Gear Crown VC 60 review is about an ultra-lightweight backpack with the weight below 1 kg, and with a very specific design. There exist versions for men and women, and both are presented in the text.
---
Crown VC 60 – Description
This is a top-loading pack of a specific type, see more about this below. VC in the name means 'vapor current', which describes the suspension system with channeling and contours on the back panel.
The suspension is supported by an ultra-lightweight HDPE frame sheet. This frame sheet can be removed completely.
The pack is with a fixed harness and shoulder straps. You will notice stretch mesh pockets on both shoulder straps.
There is yet another large mesh stretch pocket on the front of the pack, see the picture, and you have compression straps that run over it. So you can attach some stuff there and carry efficiently.
On both sides of the pack, you have large stretch mesh pockets, for water bottle or any similar piece of equipment, see the picture above. They are equipped with compression straps that can run through or over the pockets.
So you realize, the pack is without any zippered pocket. Inside, you have a water bladder sleeve. On the bottom, you have dual attachment loops.
The pack is built in two different sizes. This compensates the fact that it has no adjustability in the harness. But it offers a lot of adjustability in the hip belt, see below.
---
Stand out features
1. Ultra-lightweight
For its size, and with the weight below 1 kg, this is indeed an ultra-lightweight pack. But there are some downsides of this absence of weight; this implies the absence of some essential features as well.  See more about this below.
2. Roll-top access
This is an interesting feature; the top collar can be rolled in and then fixed on both sides by clips. This is visible in the picture below. So you do not have a traditional top lid (it can be purchased and added separately, see below).
3. Interchangeable hip belt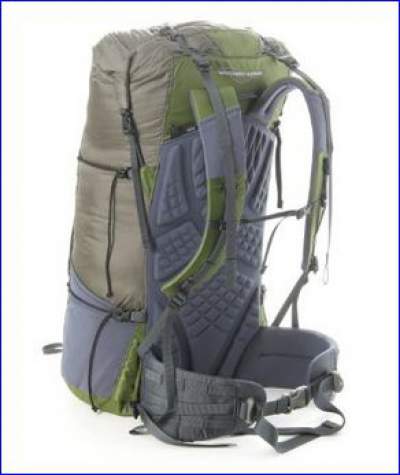 The following options are possible for the hip belt at the moment of purchase:
Small: 26 – 30 in.
Medium: 30 – 34 in.
Large: 34 – 38 in.
XL: 38 – 42 in.
Women's belts (see below about the model for women) are specifically sculpted to fit the angle of women's hips.
Unless you specify otherwise, you will get the following by default:
Regular torso – men's medium belt; 30 – 34 inches waist.
Long torso – men's large belt; 34 – 38 inches waist.
---
In this video, you may see how to attach the lid to Granite Gear Crown VC 60 pack. You will see how the pack changes its overall shape:
---
Technical specifications & summary of features
Two sizes, regular (R) and long (L).
Men's design.
Purpose: ultralight multi-day backpacking.
Weight:  0.96 kg (2 lbs 2 oz) for R and 1.0 kg (2 lbs 4 oz) for L.
Volume, liters (cub in):  60 (3660) for R and 65 (4000) for L.
Carry weight: up to 35 lbs (16 kg).
Frame: Vapor Current frame, HDPE.
No torso length adjustability.
No rain cover.
Torso fit: 18 – 21 inches for R, and 21 – 24 inches for L.
Waist/Hips fit: 26 – 42 inches for R, and 26 – 42 inches for L.
Fabrics: Cordura 100 D and  210 D Nylon.
Access: roll top.
Pockets: 3 stretch pockets, side and front, plus 2 on the shoulder straps.
Interchangeable belts.
Lineloc compression.
Tool loops.
Hydration ports and internal hydration sleeve.
Extended overflow crossover straps.
---
Here is a short promotion video about the Crown VC 60 pack, have a look:
---
Granite Gear Crown VC 60 is indeed ultra-lightweight. But see some reasons for this:
There is no true metal frame.
There is no bottom compartment (which would imply one external long zipper that adds to the weight, plus a divider which in some packs also has a zipper that adds to the weight).
There are no external zippered pockets, every zipper adds to the weight!
There are no hip belt pockets which also add to the weight, etc.
The price is high and if you want to buy the lid, this will add some $30 to the price. But it is fair to say that you do not need the lid.
---
Here is a video about the model for women:
---
Conclusion, rating, pros & cons
To conclude this Granite Gear Crown VC 60 review, what you have here is a quality pack, built of good materials and very reliable. However, this is a rather big, pack, and in my view, a proper internal frame is a must. For such a size, it is strange that it is not with an adjustable torso fit.
The pack lacks quite a number of features which I love to see in any pack, and in particular in a pack of this size. Therefore my rate as given in the table above. This is how I see the pack, but bear in mind the incredible rating which the pack received by others at Amazon.
My own rate of this pack is quite different, and reasons for such a rate are summarized below. My most important objection is about the harness and frame, and the lack of features.
You might want to see their new Granite Gear Blaze 60 – 2019 version with a fully adjustable suspension. Note that there exists yet another very good pack described in this site, with the same roll-top access, Mountainsmith Lariat 65. Yet another very lightweight pack to check is this Osprey Eja 58.
So, I hope this text is useful for you. Perhaps it might be useful to others as well, so please share it through your favorite social media.
I shall be happy to have some comment from you, there is a comment box below. Have a nice day.