---
This Granite Gear Blaze 60 – 2019 Version is ultralight and ultradurable backpacking pack with a fully adjustable harness and a versatile removable lid that can be used as a lumbar pack.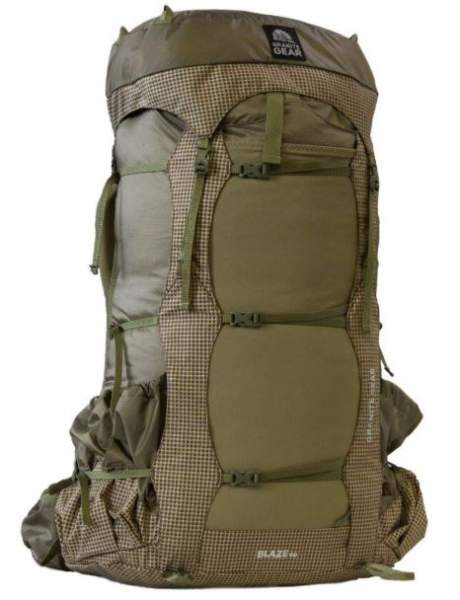 ---
Key features
3 Sizes.
Adjustable torso.
Adjustable hip belt length.
Ultra lightweight pack.
Removable lid.
Lid can be used as a lumbar pack.
Top & front access.
No bottom compartment.
---
Where to buy
This Granite Gear Blaze 60 is available on Amazon. So follow the link and benefit from their efficient shipping service.
---
What this is about
If you are familiar with this brand then you surely know that they have the minimalist Blaze AC lidless version of this pack and this is still on the market.
But what you have here is a new version they launched for the season 2019. The pack is built in three different sizes S, R, and L, but this only applies to the torso range. The actual volume is the same in all three sizes, so you have a 60 liters pack.
The pack is full of features and far from a minimalist design, yet it is still an ultralight backpack with the volume/weight ratio 44 liters/kg for the R size. Note that they do not use the letters AC in the name but you still have the same AC system in place.
This is a top loading pack with the collar that has two overlapping compression straps with buckles, so this is a roll and cinch design and this allows you to remove the lid if you want to shed the weight. But you also have a zippered side/front access that allows you to get stuff from the lower part of the pack, see the picture below.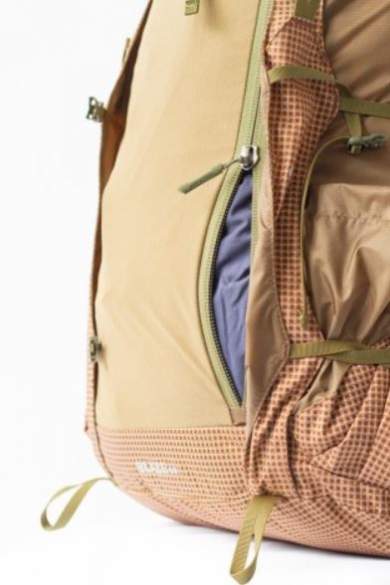 This front access is not particularly great because the zipper is under one of the front flaps that are connected with three front compression straps. So to get to the zipper, you have first to undo these straps as you see in the picture above.
Note that there is no bottom compartment here. The pack is hydration compatible and you have an internal sleeve and hose port in the middle.
---
Overview of features
The lid
The lid is a new feature in this 2019 version, versatile, floating, and removable, and you have a spindrift closure collar. You can also use the lid as a lumbar pack; for this purpose you remove the hip belt from the pack and use it with the lid as a lumbar pack. This is why I have included this pack to my list of best backpacks with daypacks. See in the picture how it looks, and you will see more in the video below:
Yet another option is to attach the lid on the front as a chest pack. To do this, you simply loop the straps of the lid around the load lifter straps and then buckle the lid. This is shown in the picture below.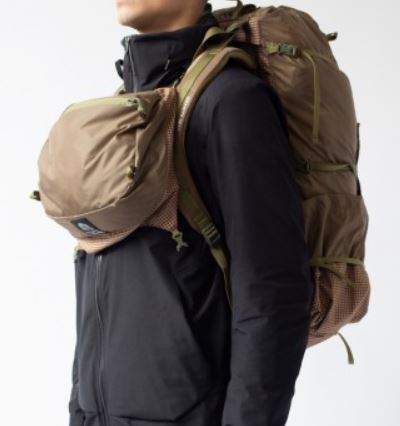 Suspension
The pack is supported by an A.C. (Air Current) polycarbonate frame. So there are no metal elements here, and this is partly behind its incredible weight. The back panel is a molded foam with channels for air circulation. You can see it in the picture below. The foam is soft and pleasant but the channels are a bit shallow: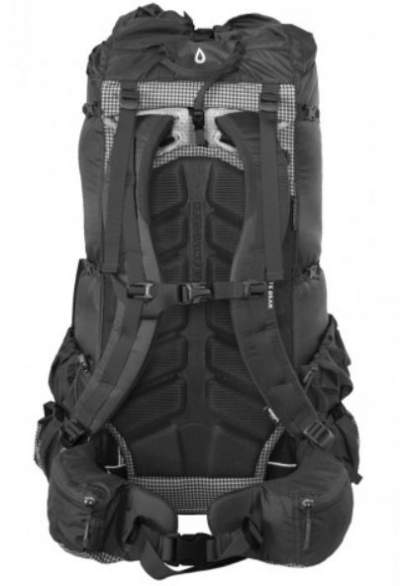 The shoulder straps are with dual density foam and the same dual density material is on the hip belt. Note that you have side stabilizers straps on the hip belt, and the usual (but removable) sternum strap with a whistle is on the shoulder harness.
Here you have a fully adjustable suspension. This means that both the torso and the hip belt are adjustable. Here is what this means. For the torso adjustability, you have a 1-inch increment and 3 separate positions, so you simply move the harness to a different position. You will see the numbers in the specifications below. There are numbers on the frame sheet so you can choose your torso length.
For the hip belt adjustability, first thread the stabilizers out, and from the right side behind the lumbar pad break the Velcro connection. Then pull the belt out. You have markers to guide you where to position if you know your hip size, you can see them in the picture below.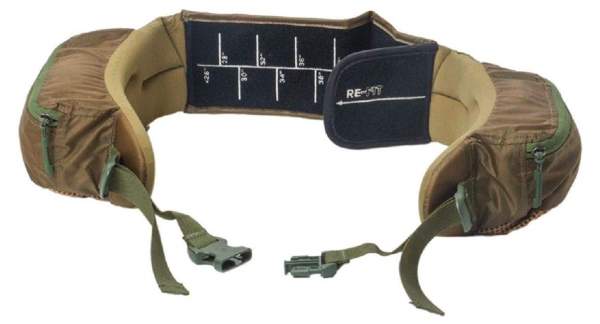 The same procedure for the hip belt you will apply if you want to use it with the lid as mentioned above. The hip belt adjustability range is 26 – 42 inches for the unisex model, and 24 – 40 inches on the women's version.
Pockets – 6 in total
There is one zippered pocket on the lid.
You also have dual zippered hip belt pockets.
One full-length stretch mesh pocket is on the front.
On the sides, you have gigantic side cinch pockets that can accommodate two bottles each, or any other elongated item which you would fix in place with multiple side straps. See the picture: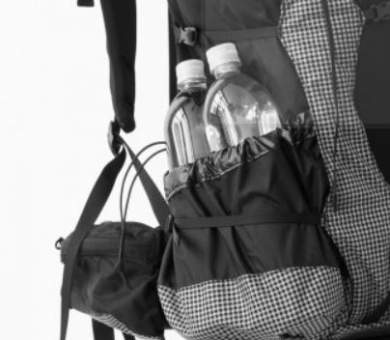 Attachment points and straps
The lid is with 4 lash points.
There are 3 compression straps on the front. You can use them also to attach some long items.
Also, 3 compression straps are on each side of the pack. So these are real straps and not just strings as in the previous Blaze AC 60 version. Having them three allows for attaching some extra gear on the sides. The lowest straps are dual-use design and can run through or over the side pockets.
Dual loops are available on the bottom. But there are no bungee tie-offs higher on the pack for attaching the poles or an ice axe.
Materials
They claim that this is their most durable pack built to date, with an innovative technology and a triple ripstop 210D Robic nylon UHMWPE (Ultra-High-Molecular-Weight-Polyethylene) in the high-impact and high-abrasion areas. In the main body, they used 100D Robic High-tenacity nylon with Barrier DWR.
Here is a bit more in this short video, please have a look:
---
Good and less good features & rating
Here is my short summary:

Completely adjustable suspension.
Very versatile design.
Ultralight backpack.
Removable lid to shed the weight.
Very durable.

Expensive.
No bottom straps.
No bottom compartment.
No rain cover.
Not great front access design.
The pack is without a separate bottom compartment and a bottom access, but you have the front access which is not so great because the zipper is hidden under the front flaps. There are no bottom straps, but you have extra straps added on the sides.
The price & rating
This pack is currently on the market with the price of around $270, so it is more expensive than some of its competitors, you will see a couple of them in the comparison table below. Please see how I rate it against the same criteria used for all the packs in the site:
Volume/Weight ratio -

10/10

Features & bonuses -

8.5/10

Comfort -

9.5/10

Price -

7/10
---
Specifications
Best use: backpacking.
Sizes: S, R, L.
Volume: 3660 in³ (60 l).
Weight:
– S: 2.9 lb (1.31 kg).
– R: 3 lb (1.36 kg).
– L: 3.1 lb (1.41 kg).
Carry capacity: 50 lb (22.7 kg).
Torso fit:
– S: 15 – 18 in (38 – 46 cm).
– R: 18 – 21 in (46 – 53.5 cm).
– L: 21 – 24 in (53.5 – 61 cm).
Women's fit:
– S: 15 – 18 in (38 – 46 cm).
– R: 18 – 21 in (46 – 53.5 cm).
Hip belt fit:
– Unisex model: 26 – 42 in (66 – 107 cm).
– Women's model: 24 – 40 in (61 – 102 cm).
---
Granite Gear Blaze 60 backpack vs Competitors
I have decided to show you this Blaze 60 pack side by side with two ultralight packs from other top brands. So as you see in the table below, it is only slightly heavier but there is a big difference in the suspension here. The Blaze 60 has everything adjustable and this is missing in the Osprey Exos 58 and in the Gregory Optic 58. But these two packs have a better ventilated back panel, so bear this in mind if ventilation is important.
Note also that the Blaze 60 backpack is more expensive while it is without a rain cover which you have with the Gregory Optic 58 pack. So follow the links for more details.
---
Final thoughts
So this Granite Gear Blaze 60 – 2019 version is indeed improved and more versatile than the previous Blaze AC 60 pack. It is suitable for multi-day backpacking tours and for heavy loads. You have all the features needed for a comfortable use, an adjustable hip belt and an adjustable shoulder harness, durable fabric, and just enough pockets.
But there are a few things missing here and a few that I dislike. Nevertheless, this is an excellent pack and I have added it to my list of best backpacking packs for men.

You might want also to see their Granite Gear Crown VC 60 pack which is even lighter, can you believe this. For more packs in this size range check my page with packs over 56 liters.
Note that this is not a sponsored text and I am not paid by the brand. Please use the comment box below in the case of questions or comments. 

---