---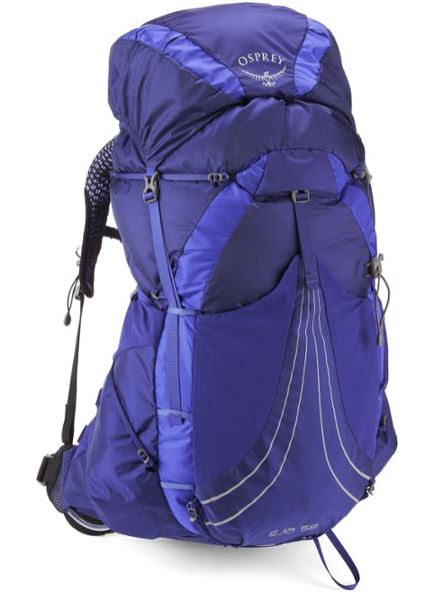 This Osprey Eja 58 pack review is about the largest pack from a new series for women launched recently, an ultra-lightweight tool with an excellent ventilation.
---
Key feature & benefits
Ultra-lightweight.
Excellent ventilation.
Floating & removable lid.
Stow-on-the-Go attachment system for poles.
---
What is this about
If you are familiar with Osprey's Exos series for men, then you probably know that they have never had a parallel series for women. Well, now they launched it, so this Eja 58 pack is the biggest pack in the series for women, corresponding to the Exos 58. There are two more packs in the series, Eja 48 and Eja 38.
But if you are going to make a comparison with Exos, a small warning. The Exos series has also been modified, so do not compare with the previous Exos 58; there is a new 2018 version of the pack. The same is with the smaller packs in the series.
So the Eja 58 is a top-loading, internal frame backpack. The lid is floating type so you can move it up and down to accommodate more load if needed. You can also remove it completely (but you lose two pockets which are in the lid), and in this case, you close the pack with an integrated FlapJacket panel which is there all the time for this purpose only. So this will be a short pack in such a use.
The main compartment is with a sleeve for a hydration bladder, you have a loop with a buckle to attach a bladder. Note, there is no bottom compartment here.
---
Who is it for
Obviously, this is a model for women, and it comes with gender-specific features. This implies a harness cut wider through the collarbone and an ergonomic taper in the chest area. The colors are also different from the Exos packs for men.
It is best suited for backpacking and hiking, and for travel in general. The pack lacks a few features that may be important, like a rain cover which is missing here, so if you are going to use the pack it outdoor, you might consider buying a cover.
Sizewise, this will depend on the equipment you carry, more expensive stuff usually packs better, and winter equipment is bulkier than the summer camping stuff. But in any case, this pack is big enough for a tour of several days and for weekend tours.
The pack is built in three sizes, XS, S, and M, more in the specifications below, so choose your proper torso size because you do not have torso adjustment system.

---
Materials & construction
The main material is 100D high tenacity nylon, the accent is 100D high tenacity nylon triple check dobby, and the bottom is 210D high tenacity nylon.
You have seen in the key features above that it is ultra-lightweight. So this is typically a moment for me to ask 'what is missing'. A few things are indeed missing here and this is partly behind such an incredible weight. The weight is around 1.17 – 1.19 kg, dependent on the size, see in the specifications below. But let me start with the most important aspect of the pack, of carrying the load.
Suspension system 
You have a peripheral 6065 aluminum frame which is the base for the nicely designed tensioned mesh on the back, which you see in the picture below. The mesh looks somewhat similar to the Osprey's AG packs, and you also have something of this kind in their Stratos and Sirus packs, but this is a different design here.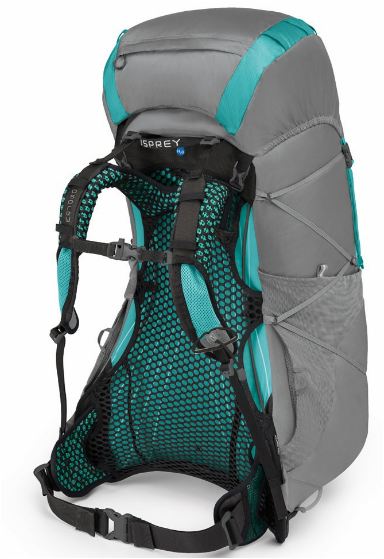 The space between the mesh and the pack is wide enough that you can pass the hand behind it. So the pack is never in touch with the body and ventilation here is excellent. You can see it also in their smaller packs, just launched this year the Hikelite 26 and Hikelite 18. It appears that Osprey is going to introduce this AirSpeed mesh system in all their packs.
The shoulder straps are with a nice and breathable mesh and a bit of padding which they call Exoform, quite minimal but it is enough. There are no edges or seams here, it is very ergonomic and pleasant.
More problematic is the hip belt where you only have two very short side fins with mesh and almost without padding. Note that the weight capacity is up to 40 lb (18 kg), but with such a hip belt, I would rather not go anywhere close to the limit.
Pockets
For those who know the previous Exos 58, the bad news here – there are no hip belt pockets in the new version. So the same is here in the Eja 58. They built a minimalist pack so this is fine, but some might be disappointed with this.
There are two pockets in the lid, one is external and yet another mesh pocket is underneath the lid.
On the sides, you have stretch mesh pockets with dual access, from above and from the side. One large stretch mesh pocket is on the front. Here you can store your wet close or anything similar, there is a buckle on the top to secure things in it. So this is it, more minimalist it can hardly be.
Attachment elements
To start from the lid – here you have no less than 6 webbing loops for attachment of gear, this is always useful to have.
There are several webbing loops on the front, 3 on each side, so here you can attach any larger object with some extra cords.
The pack comes with the great Stow-on-the-Go attachment system for poles, so you have a bungee cord on the left shoulder strap plus a loop on the side of the pack. With this, you can attach the poles when you walk, in situations when you need your hands to be free for some other activity like taking shots, eating, drinking, or just for a small scramble on the route.
The dual side compression straps are very narrow and removable, and on the bottom, you have an equally narrow and removable strap.
You also have a loop for the ice axe, and it is in pair with a bungee tie-off higher on the pack. As usual, you also have the sliding sternum strap with a whistle.
Shedding ounces even more
This pack is ultra-light, but you can make it even lighter:
As already pointed above, it allows for a lidless use.
The bottom strap is removable.
The side straps are removable.
You can carry a water filter instead of a huge amount of water.
Please see a bit more in this short video by Osprey:
---
Specifications
Best use: backpacking, hiking.
Sizes: XS, S, M.
Weight:
– XS: 2.58 lb (1.17 kg).
– S: 2.60 lb (1.18 kg).
– M: 2.63 lb (1.19 kg).
Volume:
– XS: 3173 in³ (52 l).
– S: 3356 in³ (55 l).
– M: 3539 in³ (58 l).
Dimensions:
– XS: 28 x 16 x 15 in (71 x 41 x 38 cm).
– S: 30 x 16 x 15 in (76 x 41 x 38 cm).
– M: 32 x 16 x 15 in (81 x 41 x 38 cm).
Torso size:
– XS: 14 – 17 in (36 – 43 cm).
– S: 16 – 19 in (41 – 48 cm).
– M: 18 – 21 in (46 – 53 cm).
Access: top.
Maximum weight: 40 lb (18 kg).
Colors: 2.
Guarantee: Osprey's All-Mighty.
---
Osprey Eja 58 vs Competitors
Here I give two packs from top brands compared with the Eja 58, all are models for women. To read more please follow the links in the table:
*Instead, there are two pockets on the shoulder straps.
As you realize, the Gregory Maven 55 is a pack with far more essential features. On the other hand, the Eja 58 is not the lightest option on the market; the Volume/Weight ratio for the Granite Geat pack is 62 l/kg.
---
Final thoughts, rating, pros & cons
So this was my Osprey Eja 58 pack review, as you realize the back ventilation system is the best part of the pack, and its weight is impressive. It lacks some features so this is a sort of trade-off, see what you need and decide if the pack is for you or not. Its quality is beyond doubts, this is Osprey after all. I can fully recommend it.
The objections listed below are related to the design of the pack. The absence of these features is on purpose, they wanted a lightweight pack and they managed in doing this. So if those features are essential to you, simply check some other model, like the Sirus 50 from the same brand which is a truly impressive pack.
Note that the Volume/Weight ratio here is 49 l/kg, and this is among the highest values for the packs reviewed here in the site. As I mentioned earlier, you can still reduce the weight in several ways. So if you are an ounce counter, you will know what to do.
Osprey Packs Eja 58 Women's Backpacking Backpack
Pros
Great ventilation system.
Ultra lightweight.
Incredibly high volume/weight ratio.
Quality materials and workmanship.
Osprey's All Mighty Guarantee.
Cons
No hip belt pockets.
Short hip belt fins.
No bottom compartment.
Not adjustable harness.
No rain cover.
Expensive.
Thank you for reading, if you need something different in the same size range, please check my page with packs above 55 liters, in particular, this Gregory Octal 55 pack which is lighter.
But if you need something with a more substantial hip belt and more padding, please check this Deuter Aircontact Lite 60+10 SL Backpack For Women and also the brand new item from Osprey, the Osprey Renn 65 Backpack for Women. For smaller packs please see here and check its smaller cousin the Eja 38 pack. In the case of questions or comments, please use the comment box below.