---
This Osprey Stratos 24 review is about my new great pack for light and fast day hiking, mountaineering, or cycling tours. It offers exceptional comfort and ventilation, and it comes with a rain cover and an adjustable torso length.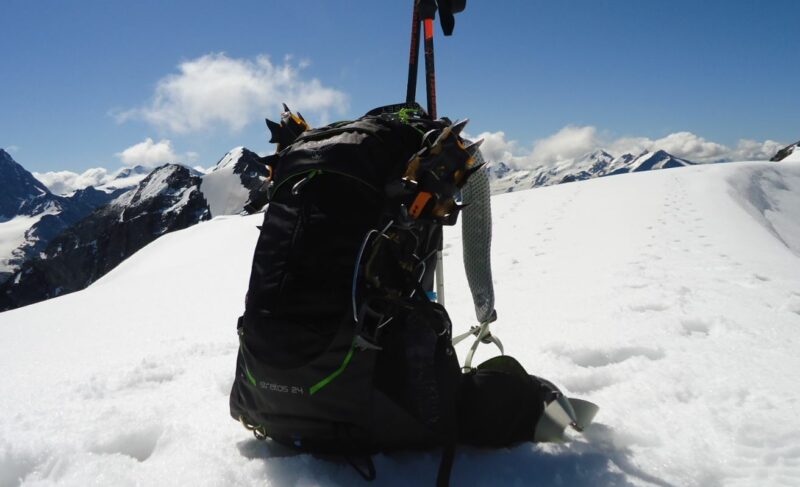 ---
Key benefits

Exceptional comfort, breathability, and ventilation.
Rain cover.
Adjustable torso length.
Hydration compatible.
---
Osprey Packs Stratos 24 backpack – what this is about
So this is about my new daypack which I used this summer in several day tours in the Alps. You can see it in my reports of climbing Monte Vioz, Cima Piazzi, and also on my short tour to Geisterspitze (Punta degli Spiriti). If you follow the links and scroll through the posts you will see it in pictures.
In fact, I used it also on several other tours that are still not described here in the site, and in my failed attempt to get to Monte Cevedale. So I can say quite a lot about this pack, this is all my own first-hand experience.
I always wanted to have this pack, so this summer I noticed it in my local outdoor store and purchased it for 65 Euro which was a true bargain, though it is more expensive on Amazon and some other online sellers, there will be links below. Apparently, the price was so great because of its black color so customers would rather go for some other of 4 possible color options.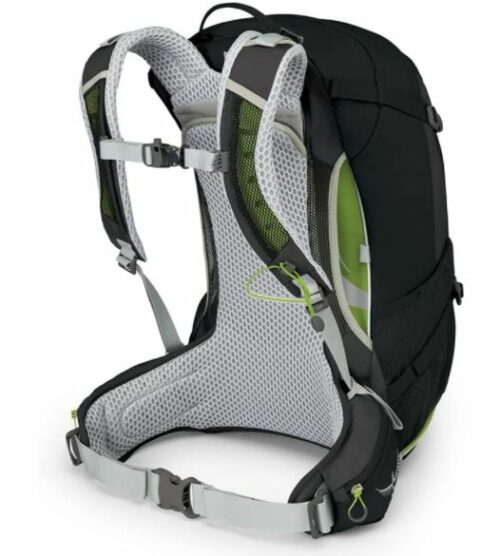 In some of the mentioned tours, I was carrying some really unnecessary equipment, but I was able to put all in this small pack, and what could not fit inside I was attaching from outside. So I was pleasantly surprised by the pack's performance.
Now back to the pack's features. So this is the smallest pack in their Stratos series. It is a panel-loading type pack with a zipper instead of a top lid. This is a daypack so you have one main compartment with the mentioned zippered access, see how it looks: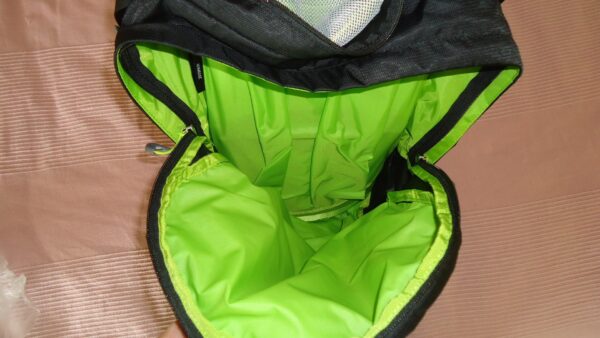 Observe that the inner color is very different from the outside color, so you can easily see what is inside, this is already something that I like, and I think they have chosen the inner color wisely. The same is with all the pockets, you will realize this from the pictures below.
The pack comes with a bonus rain cover that is stored in its own dedicated pocket on the bottom, see the picture below. Note that the cover is removable so you can use the pocket for other purposes as well.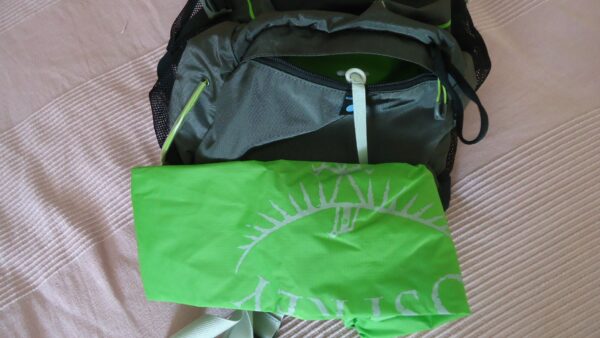 In the area where I do climbing, I would never go without such a rain cover. In one of the unsuccessful tours this summer I was in the snow and rain for more than 6 hours. So such a rain cover is simply a must.
The pack is hydration compatible, there is a deep sleeve in the main compartment, and a hose port is behind the neck, see the picture, so you can route it on either side of the shoulder harness.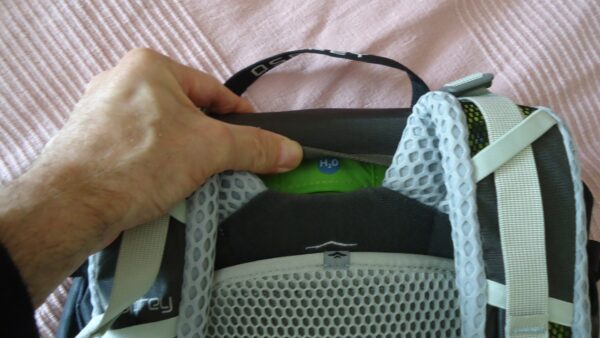 The suspension system
This pack has an adjustable torso length, and this is what makes it different from the previous version. So you have a Velcro hook-and-loop pad on the back and adjusting the torso length is easy. Simply break the connection and then move the harness into the desired position, and after that press firmly to re-engage the connection. There are some markers that can help, see the picture: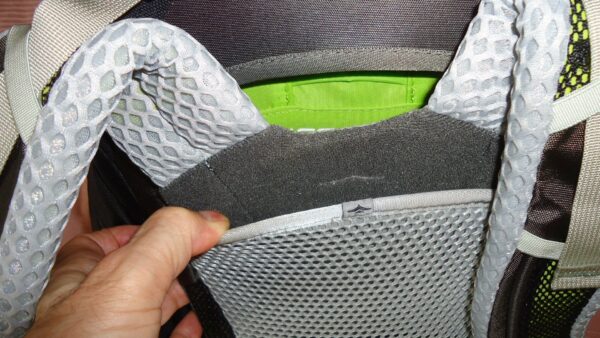 They build it in one size and this is perfectly fine, with such a torso adjustment several family members can use the same pack. The shape of the pack is defined by a peripheral LightWire alloy frame, it is partly visible as shown in the picture: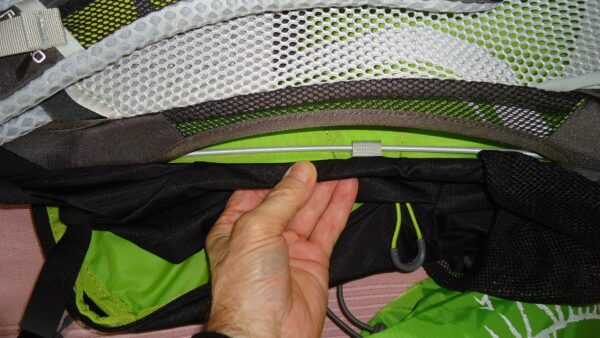 The back panel is what they call the Airspeed Suspension, and this means a trampoline-style ventilated tensioned mesh, see the picture below. You can pass your hand behind the back mesh, the pack is completely separated from the body, so air is free to escape in all possible directions.
This system is now becoming widely popular and you will see it in packs from many brands, but it was originally introduced several decades ago by Deuter in their Futura series. I have been using such Deuter packs for almost two decades already and I am completely convinced that there can be nothing better if you want a ventilated pack.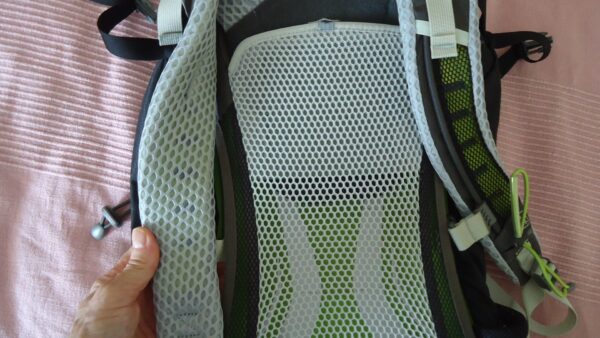 The picture above also shows breathable padding on the shoulder straps. You can see numerous EVA foam cutouts for ventilation. This is an excellent design, as you surely know you will sweat whatever you have, even if it is about such small packs, but this is the best you can have to reduce sweating.
The hip belt is surprisingly wide for such a small pack, it is lightly padded and also very nicely ventilated, see the picture below. What you cannot see is that the lumbar zone is without any foam, the breathable mesh from the hip fins continues smoothly to the lumbar zone, and behind it you have yet another layer of a much stronger and denser mesh for some extra support.
On the front of the belt you have what they call the ErgoPull belt closure. So you pull forward and this is easier than when you have to pull to the sides, I have packs of both types and can compare. The sternum strap is with a sliding connection and you have a safety whistle here, see how this looks: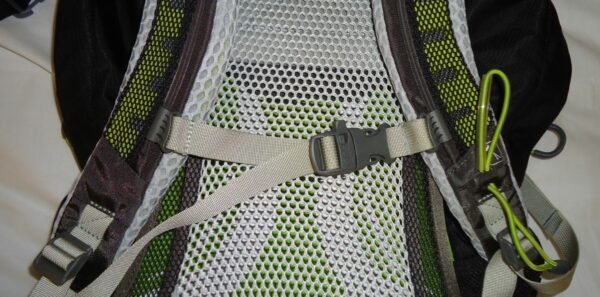 So as you realize, I have spent quite some time describing the suspension, it deserves it, this is a really great design, and completely appropriate for such a small pack.
Now, because the pack is so separated from the body, some claim that it is pulling you backward and that there is a problem with balance. As mentioned above, I have been using such a system for many years and I disagree with such views. I have never had a problem with balance. But indeed, the fact is that the back of the Stratos 24 pack is rather curved.
Pockets
The pack has 8 pockets in total and this is surprising in view of its size and the fact that it is without the lid where you normally always have some extra pockets. So here is what you have:
One zippered top pocket with a key clip inside, the picture below.
Dual zippered hip belt pockets with nice pull loops that you can use with gloves, one is shown below.
Dual side mesh pockets. On one occasion I was carrying my Petzl crampons packed in their carry bag in one on the side pockets, you will see this in my text about Monte Vioz.
One large zippered front pocket with a vertical zipper, see it below on the left. Here you can keep thin and large items, like maps or books.
Yet another small zippered front pocket where I keep very small items and my reading glasses.
The mentioned bottom rain cover pocket.
Attachment elements and straps
I would start with the element unique to Osprey, the Stow-on-the-Go attachment system for trekking poles. I was using them in the mountains quite often. This is useful when you need free hands for a small scramble, or when you want to take a photo, etc. This includes the loop on the left shoulder strap and a loop on the side of the pack, both are visible in the picture: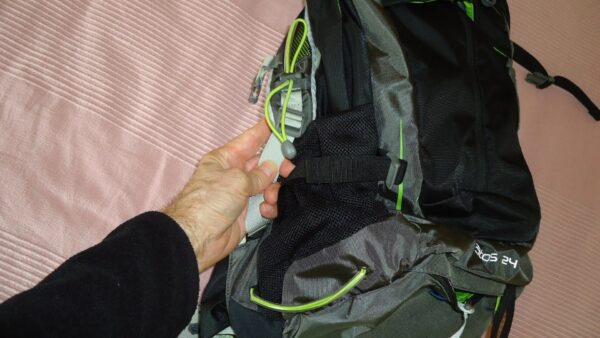 You also have lover side compression straps that run over the side mesh pockets or through them, you can choose. There is also a pair of upper side straps, you can use them to cinch the pack and also to keep in place any longer item which you might carry in the side mesh pockets, like a tripod or an umbrella. In the top picture above you can see that I was able to attach my crampons with the upper side straps.
One large loop is on the front/bottom, so here you can attach an ice axe. This is paired with a bungee loop higher on the front.
There are also several webbing loops on the shoulder straps, for water hose or simply to attach small items.
Materials
You have already seen some of the materials. Here just to add that they use 2 different fabric types, the main is 210D Nylon Crosshatch, and the accent and the bottom are a 420HD Nylon Packcloth. You can see and feel the difference, but both materials look very durable.
They pay attention to details, and there are many examples here. For example, there are two holes on the bottom, the picture below, one for the rain cover pocket and one for the lumbar zone cavity. This is to drain the water if you store the rain cover wet, and to let the water go if it gets behind the back panel.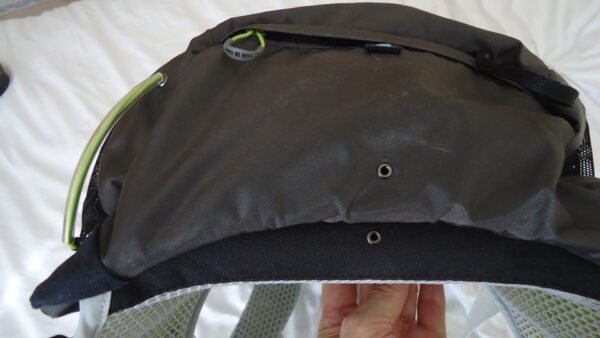 ---
Specifications
Best use: hiking, mountaineering, cycling.
One size.
Weight: 2.756 lb (1.25 kg).
Volume: 1465 in³ (24 l).
Dimensions (H x W x D): 22 x 11.8 x 11.8 in (56 x 30 x 30 cm).
Torso fit: 18 – 22 in (46 – 56 cm).
Waist/Hips fit: 25 – 50 inches (64 – 127 cm).
Maximum carry weight: 25 lb (11.3 kg).
Warranty: Osprey's All Mighty, see the details: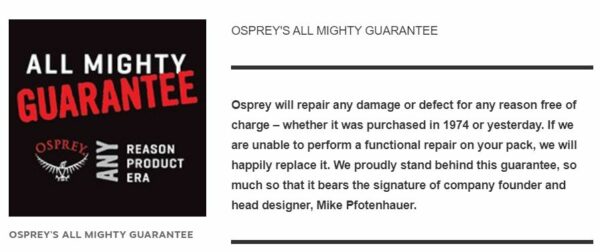 Here are some impressions about this pack from my recent climbing of Piz La Varella (Lavarella) in the Dolomites, Italy:
---
Final thoughts, rating, pros & cons
In the conclusion of this Osprey Stratos 24 review, I think my only problem with this pack is that currently, I do not have enough opportunity to use it. I am writing this in the time of the virus pandemic, and although I managed to go to the mountains in the summer, my plans for the autumn are under question. But I am sure this is a pack that will serve me for many years.
I found it at a price that was a true bargain, but when you check online it may look a bit expensive. However, it is worth the money. This is a top-class pack, with so many useful features, reliable, and from a renowned brand. If you feel it is too small, check the larger versions from the same series Stratos 34, Stratos 36, or Stratos 50 pack.
Note that the corresponding series for women is Sirrus, so you have Sirrus 24 pack with all main features the same as in the Stratos 24, plus some changes in the design introduced to fit women's body.
Here is the rating of this pack against my standard set of criteria, as you see the rating for the weight is not particularly high, but the pack does not feel heavy when you have it in the hands.
You might want also to see my comparison Osprey Stratos vs Deuter Futura Packs, I used this pack partly as a base for the text so please have a look. Check also this Osprey Stratos vs Talon packs comparison. Thank you for reading. Do use the comment box below in the case of questions, I shall be happy to answer. Have a nice day.