---
This Osprey Stratos 24 review is about a great lightweight 1 kg pack for light day hiking, mountaineering or cycling tours. It offers an exceptional comfort and ventilation. 
---
Key benefits

Exceptional comfort, breathability, and ventilation.
Rain cover.
Note, this great pack has been modified and further improved in 2017. See below the summary of changes and the pictures of the new version.
---
Best price & place to buy
---
Osprey Packs Stratos 24 backpack – Description
Several packs from the Osprey Stratos series are described in this site, like the packs of 34, 36, and 50 liters. This is a great series with very popular packs that have been around for a number of years already.
Osprey Stratos 24 has been redesigned in the past and what you see here is its latest version. This is a pack with a panel type zippered access.
Inside the main compartment you have a hydration sleeve, and on the sides, behind your shoulders you have dual hose ports.
On the sides of the pack, you have dual compression straps, useful and nicely designed. The lower of the two straps is with so-called InsideOut feature, so you can route it through the side mesh pocket if you only want to compress the pack, and you will still have access to your side pockets. Alternatively, you can put it over the pocket if you want to fix items you keep in the pocket. The straps are visible in the picture below.
On the bottom section, you have dual removable compression straps for a sleeping pad or for a tent.
If you need your hands free to eat when on the move, to take a photo, or you have a short scramble in front of you, you have Osprey's unique Stow-on-the-Go system to store your trekking poles. You pass the poles through the loop that is on the left side of the pack, and through a bungee cord on the left shoulder strap. The system is shown in the picture below.
On the bottom section, you have a single ice axe loop to attach the items (ice axe or trekking poles) and it is paired with a stowable bungee cord higher on the side of the pack. Completely on the bottom is a separate zippered pocket with the integrated rain cover.
The suspension system & comfort

All packs from the Stratos Series feature AirSpeed trampoline mesh style back system, which provides the best possible comfort and ventilation. You can see it in the picture right. I have been using a pack with such a system for many years and I know how good it is. This tension in the mesh is due to a peripheral light wire aluminum frame.
Some packs of this (and even bigger) size do not have a metal frame at all. However, having it adds a lot to the comfort because the frame transfers the weight directly to the hip belt and reduces stress on shoulders. This is what you have with this pack.
So the structure is such that you have a lot of space between the tensioned mesh and the back of the pack. As you can imagine, the ventilation and breathability are great because air is free to escape in all possible directions. You will read great words about this system (with all good reasons of course), and people call it innovative but it is in fact introduced by Deuter long ago.
Because the pack is so separated from the body, some claim that it is pulling you backward and that there is a problem with balance. I have been using such a system for 13 years and I disagree with such views. My Deuter pack with such a tensioned mesh is in fact much larger, 38 liters, and I carry much more weight. I have never had a problem with balance. But indeed, the fact is that the back of the Stratos 24 pack is rather curved.
As I said above, the comfort which this pack provides is simply excellent, and if sweating is a big issue for you and you will be using the pack in a warm environment, then this is the tool to use.
The spacer mesh harness and hip belt feature ventilated EVA foam cutouts. The hip fins are big enough for the pack of this size. You have ergo pull adjustment on the hip belt, very easy to use. The sternum strap is with a safety whistle.
Pockets
You have 4 zippered pockets in total plus one for the rain cover. Dual nice zippered pockets are on the hip belt, as usual with Osprey's packs. On the top, you have a large zippered pocket, and yet another zippered front pocket.
On both sides, you have dual stretch mesh pockets with compression straps and with the mentioned InsideOut feature.
In the video below you can see the Stratos and Sirrus series presented, so have a look. Note, it shows larger packs with a different top design but other features are the same:
---
Pros & Cons
My short summary looks as follows:
 Pros
 Cons

Great ventilation and suspension.
Rain cover.
The pack really looks great.

Single attachment loop.
Price.
This is a day pack designed primarily for outdoor activities. So if you need a very versatile pack suitable also for around town use, for commuting to your work, or for travel, the Stratos 24 is not an optimal choice. But you will love this pack if you use it in any outdoor activity.
The Stratos 24 has received a very high rating by Amazon customers, with a very respectable 4.7/5 average rate.
Though, I have seen complaints about not having enough space in general, which is in addition 'eaten' with its curved back profile. I think one should be realistic, this is a small pack, 22 and 24 liters only, so what to expect? This is a tool for very light day tours, no more no less. I have a 26 liters pack, with a very similar structure, and I used it last summer on my tour to Kreuzspite in the Alps. So I know well that one cannot put much in it. Take bigger pack if you carry a lot of stuff.
---
Specifications
Purpose: hiking, mountaineering, cycling daypack.
Two sizes:
– Small/Medium (S/M): 1343 cu in (22 liters).
– Medium/Large (M/L): 1465 cu in (24 liters).
Weight:
– S/M: 2 lb 6 oz (1.08 kg).
– M/L: 2 lb 7 oz (1.10 kg).
Torso fit:
– S/M: 16 – 19 in (41 – 48 cm).
– M/L: 18 – 21 in (46 – 53 cm).
Waist/Hips fit:
– S/M: 26 – 45 inches (66 – 114 cm).
– M/L: 28 – 50 inches (71 – 127 cm).
Maximum carry weight: 25 lb (11.3 kg).
Maximum dimensions (L x W x D):  56 x 30 x 26 cm.
Fabric: 210 D high tenacity twill nylon.
LightWire aluminum alloy frame.
AirSpeed tensioned mesh back panel.
Stow-on-the-Go trekking pole attachment.
Access: zippered panel.
Integrated and detachable rain cover.
Adjustable sternum strap with emergency whistle.
Hydration sleeve in the main compartment.
Zippered top slash pocket.
Zippered front slash pocket.
Dual hip-belt zippered stretch mesh pockets.
Hip belt with ErgoPull closure.
Removable sleeping pad straps.
Side compression straps.
Side stretch mesh pockets with InsideOut compression straps.
Single ice axe loop with paired bungee tie-off.
Harness featuring sewn-in spacer mesh.
Colors: 4, see the pictures.
Warranty: Osprey's unique All Mighty.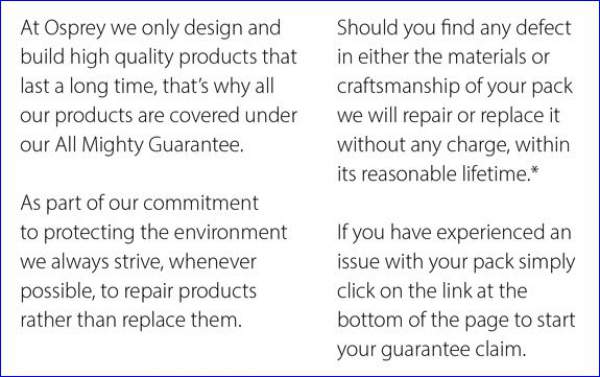 ---
What is new in the new 2017 pack
Adjustable torso length. This is a completely new feature.
A very visible difference is the seamless mesh on the back, the design inspired by the Osprey's anti-gravity system.
The pack is now one-size.
The weight in the new version is 1.25 kg (2.75 lb).
The size of the pack is slightly changed (H x W x D): 22 x 12  x 12 in (56 x 30 x 30 cm).
Front zippered pocket with a centrally positioned vertical zipper.
Consequently, my own rating for this pack is now 9.0/10.
See how this great pack looks now:
Check the new version on Amazon
See here a short Osprey's video about the improved Stratos and Sirrus series:
---
Summary
To conclude this Osprey Stratos 24 review, this is a great pack with an excellent design and suspension system. With 22 and 24 liters of volume, this is a tool for very light day tours. It has enough attachment elements to add some extra stuff if you need it. It may be with a bit high price, but this is a top class pack, reliable and from a renown brand. I am sure it is worth the money and I can recommend it for any outdoor adventure.
If you feel it is too small, check the larger versions from the same series Stratos 34,  Stratos 36 or Stratos 50 pack.
Note that the corresponding series for women is Sirrus, so you have  Sirrus 24 pack with all main features the same as in the Stratos 24, plus some changes in the design introduced to fit women's body.
So I hope this text has been useful to you, and if this is so please share it with others. If you have any question or comment please use the comment box below, I shall be happy to respond. Thank you for reading and have a nice day.


---