---
Osprey Stratos 36 rucksack is a lightweight pack with trampoline-style back mesh system which offers an excellent ventilation. The pack is ideal for day hiking or for very light overnight and weekend tours.
This pack has been noticed by the customers and by experts as you may see from these images below: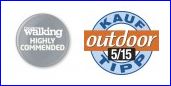 ---
Key benefits
Tensioned mesh back system for an optimal ventilation.
Two access points to the main compartment.
Very good price.
Note, this great pack has been further improved and redesigned. See below the list of changes.
---
Description
Osprey Stratos series includes backpacks in the following nominal sizes: 24, 26, 34, 36, and 50 liters. Within each of these, you have the additional two sub-sizes S/M and M/L. So the 36 liters pack, in fact, includes two sizes 34 and 36, while the Osprey Stratos 34 includes two sizes 32 and 34 liters, etc. A bit strange, I know.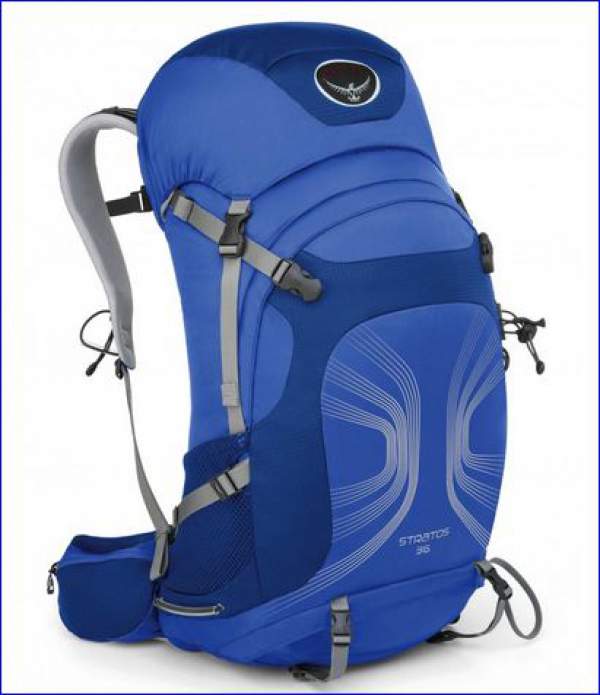 These are very popular backpacks that have been around for a number of years already. They have been redesigned in the past so the latest version has some differences as compared with the models from 2013.
The design of the Osprey Stratos packs is somewhat streamlined, with not so many features, as you realize from the picture above. I assume this was the starting idea of the people in charge with this pack.
Access points
There are 2 access points to the main compartment, very unusual for such a relatively small pack:
First, Osprey Stratos 36 rucksack looks like a classic top-loading pack. So you have a top lid and the collar beneath it with a single drawcord.
Second, you also have a front panel-type access through a U-shaped large zipper on the front of the pack.
Note that you also have a zippered entrance to the sleeping bag compartment which is very low on the bottom section of the pack. But here you do not have a removable divider, so there is no bottom entrance to the main compartment so typical for many other packs.
Pockets
There are two zippered pockets in the lid, one small and one large, very useful in every sense.
Two zippered pockets are on the hip belt. Two mesh pockets are on the sides of the pack, with inside-out compression straps. This means that the straps can be positioned over the pockets, or they can pass through them in case you want to cinch the pack. This is practically all you have here.
Suspension system
Here you have what they at Osprey call AirSpeed suspension. This is a system based on a tensioned mesh, or trampoline-type mesh,  where the tension is achieved by a peripheral light wire aluminum alloy frame. In my view, this is the best ventilation system in general, introduced by Deuter several decades ago and used by several other brands as well. What you have here is a variant of it.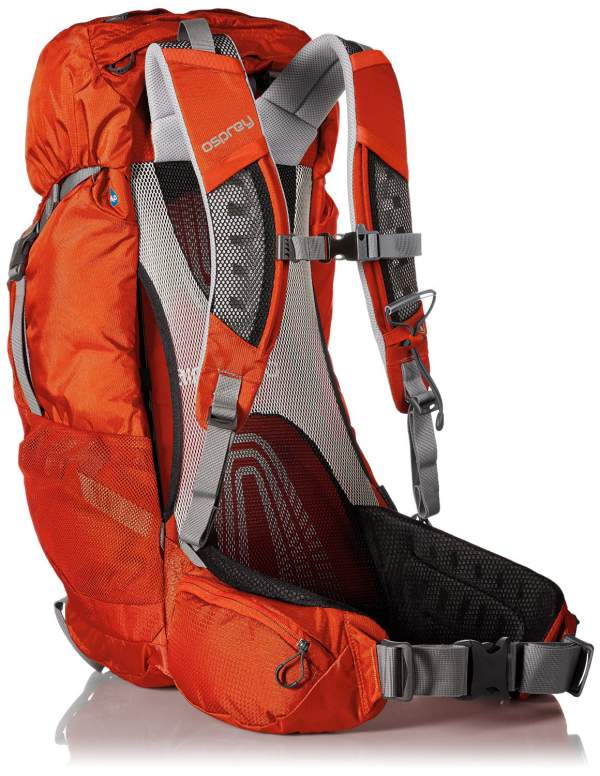 The mesh separates the pack from the body, and this provides the best possible ventilation. You can see this in the pictures above. I have the same system it in my own Deuter pack. Of course, you will still sweat but life is easier with such a system in place. In my view, this mesh is the best part of the suspension.
Shoulder straps are anatomical and padded just enough. You have sewn-in spacer mesh, webbing adjustable sternum strap with whistle, and mesh covered ventilated die-cut foam.
The hip belt is with the similar spacer mesh and with ErgoPull closure, I would say just good enough.
Note that the harness is not adjustable, but you have two possible sizes, so it is good that you know your torso length before the purchase the pack.
Other features
You have yet another upper pair of side compression straps, to cinch the pack or to attach some pieces of equipment. On the bottom, you also have dual and removable compression straps for a sleeping pad or for some other pieces of equipment, like a tent or anything similar.
The pack is hydration compatible, so you have a sleeve inside the main compartment. Note that the bladder is not included. But you have the bladder included in yet another Osprey's pack described in this site, the Manta 36 pack which you will see below in the comparison table.
There is one attachment loop for the ice axe, and it is accompanied by a bungee tie-off higher on the front of the pack which you can stow away.
Completely on the bottom, you have a zippered pocket with an integrated rain cover which adds a lot of value to this pack.
As usual for Osprey's packs, you also have stow-on-the-go attachment system for the trekking poles, as you can see in the picture.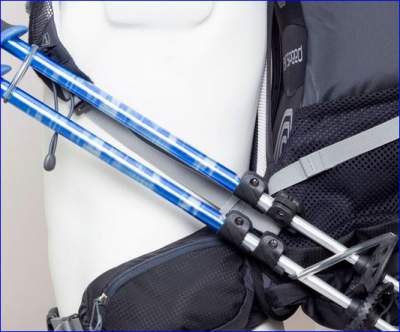 I warmly recommend that you have a look into this manual with a lot of details about the complete Stratos and Sirrus series.
Here is a video where you can see all the features mentioned above:
---
Pros & cons, users' experience

Here is my list:
 Cons
 Pros

No side zippered pockets.
No front pocket.
No adjustable harness.*

Rain cover.
Good materials.
Stow-on-the-go system.
The price.
The weight.
*But see about the new 2017 version below.
As I mentioned above, this pack has been around for a number of years and it has been redesigned in the past. So one of the previous versions has had the front pocket, and this is absent in the latest version of this pack.
The earlier version also had a small mesh pocket on the shoulder strap, which is missing in the new version. So I would say that all 'improvements' in the past were not for the better.
However, the latest version has the bottom compartment which was missing in the previous versions. Osprey Stratos 36 backpack has received an incredibly high rating by Amazon customers.
---
Specifications
Two sizes:
– S/M: 2075 cub. inches (34 l),
– M/L: 2197 cub. inches (36 l).
Purpose: day hiking and mountaineering.
Weight:
– S/M: 2 lb 14 oz (1.30 kg).
– M/L: 3 lb (1.36 kg).
Max. size (l x w x d): 63 x 33 x 31 (cm).
No torso adjustment.
Torso length:
– S/M: 16 – 19 in (41 – 48 cm).
– M/L: 18 – 21 in (46 – 53 cm).
Material:
– 210D High Tenacity Twill Nylon,
– 420HD Nylon Rip.
Integrated rain cover.
Top lid access & front access.
Dual zippered pockets in the lid.
Separate sleeping bag compartment.
AirSpeed trampoline suspended mesh system.
Stow-on-the-Go trekking pole attachment loops.
Sternum strap with emergency whistle.
Stretch mesh side pockets with InsideOut compression.
Twin zippered hip belt pockets.
Internal hydration sleeve.
Side compression straps.
Removable sleeping pad straps.
Single ice axe loop.
Colors: 4, see the picture
Guarantee: Osprey's unique All Mighty guarantee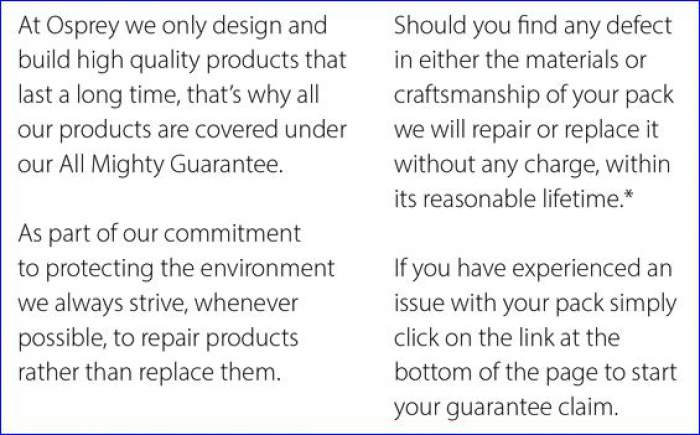 ---
What is new in the new pack
Obviously, the most visible difference is the seamless mesh on the back, on the harness, and on the hip belt.
Adjustable torso length.
Front zippered pocket.
One external zippered lid pocket and one pocket underneath the lid, as compared to two external zippered pockets in the previous version.
Redesigned side entrance.
Consequently, my own rating for this pack is now 9.1/10.
---
Conclusions
To summarize this Osprey Stratos 36 rucksack review, this is a nice pack with the price which is hard to much. It has been around for many years and it still remains popular nowadays. The pack has been redesigned in the past. It comes with a great ventilation system and with the integrated rain cover, both of these may be essential in particular if you do mountaineering and hiking in the Alps. If you need a smaller pack from the same series you might want to see this Osprey Stratos 24 pack.
Osprey is a renown and reliable brand, bear in mind the All Mighty guarantee shown above. I can fully recommend this pack.
Note that the corresponding model for women is known under the name Sirrus 36, with the same basic features but with some elements in the design that are more appropriate for women's body.
Was this review useful? If this is so, please share it with others. It will be great to hear from you, there is a comment box below. Thank you. I wish you a pleasant day.