---
This new Osprey Stratos 50 review is about the largest but still ultra-lightweight pack from the Stratos series. With 50 liters of volume, and only 1.48 kg of weight, this pack is a perfect size for the weekend and multi-day hiking and backpacking tours.
---
Benefits from using this Stratos 50 pack

Rain cover.
Osprey's usual reliability and quality.
Sleeping bag compartment.
Extra front access point.
Stow-on-the-go system.
Note, this already great pack has been redesigned and further improved. Scroll down to see the summary of changes.
---
Best place to buy
The best place regarding the price and shipping conditions is usually Amazon. This link should redirect you to your local Amazon store and you will save on shipping.
In the EU, please check at Bol.com, they have a very efficient shipping service.
---
Description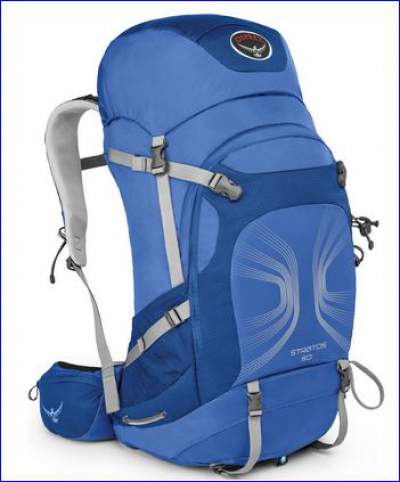 Stratos series includes packs of 50, 36, 34, 26, and 24 liters.  This pack itself comes in two different sizes, S/M and M/L.
This is a pack with two access points to the main compartment: top access with a traditional lid (see the picture), and a front zippered entrance.
So, below the removable lid, you have the usual collar with a cinch cord and a toggle. The front entrance is through a long U-shaped zipper.
You in fact also have the third access through the bottom zippered entrance, but it leads to the sleeping bag compartment which is completely separated from the main compartment.
On the bottom you have removable compression straps which run across the bottom zipper, visible in the picture above. They are very useful to have here, to attach a sleeping pad, tent poles, or a whole tent.
Another attachment point is a single loop on the bottom which is used together with a tucked away bungee cord higher up (it is in a tiny pocket with velcro). This you will use to attach an ice axe.
Completely on the bottom, you have a separate zippered pocket with a removable integrated rain cover.
The pack is hydration compatible, there is an internal sleeve in the main compartment for a water bladder, and a port on the back.
---
Suspension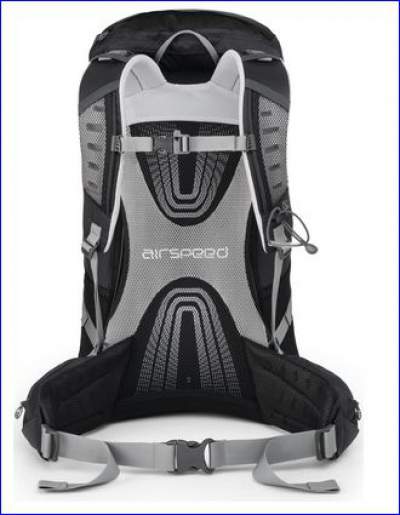 The suspension of this pack is based on a light wire aluminum frame and a trampoline style mesh. This is a construction which provides the best ventilation because the mesh is completely separated from the back of the pack. You can pass your arm between the mesh and the rest of the pack.
I have my own pack with the same suspension which I have been using for years, and I know that it is very effective. The gap between the bag and the mesh is so big that sometimes I put my sitting pad there.
The shoulder harness is with perforated breathable EVA foam covered with spacer mesh. The same structure is in the hip belt wings. These features are partly visible in the picture.
---
Pockets
There are 7 in total, plus the rain cover pocket. So you have two stretchy mesh pockets on the sides of the pack, with inside-out type compression straps. You will use it inside (through) the pocket if you want to cinch the pack, but you will use them out if you want to secure the stuff, like the bottle or tent poles if you put them in the side pocket.
Two zippered pockets are on the hip belt. Two zippered pockets are on the lid, one on top of another and with the entrance from the back side of the pack, quite a standard design. Yet another mesh zippered pocket is on the underside of the lid.
---
Stow-on-the-go system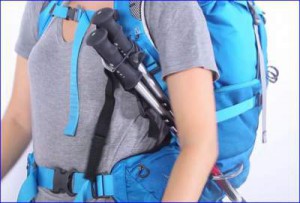 This you can see in the picture on the right. The system includes two attachment points: one is a bungee loop on the shoulder strap, and the other is a loop on the side of the pack.
So you attach your trekking poles temporarily to have free hands for any activity, like eating, taking a photo, or scrambling.
---
See some of these features in this video about Stratos and Sirrus series:
---
Specifications
Weight (M/L):
– S/M: 1.43 kg (3 lb 2 oz).
– M/L: 1.48 (3 lb 4 oz).
Volume:
– S/M: 2868 cu in (47 L).
– M/L: 3051 cu in (50 L).
Max. dimensions
– S/M: 25 x 13 x 14 in.
– M/L: 27 x 14 x 14 in.
Materials:
– Main: 210 D Nylon Dobby.
– Accent: 420 D Nylon Shadowbox.
– Bottom: 210 D Nylon Dobby.
Torso fit:
– S/M: 16 – 19 in
– M/L: 18 – 21 in.
Waist fit:
– M/L: 28 – 50 in.
– S/M: 26 – 45 in.
Top and front access.
Lightweight peripheral frame.
AirSpeed trampoline suspended mesh system.
Max carry weight: 40 lbs.
Die-cut spacer mesh hip belt and harness.
Sternum strap with emergency whistle.
Sleeping bag entrance.
Compatible with Hydraulics Reservoir.
Removable top lid.
Twin zippered hip belt pockets.
Stow-on-the-Go trekking pole attachment.
Integrated rain cover.
Internal hydration sleeve.
Single ice axe loop
Colors: 2, see the pictures.
You might want to see this users' manual provided by Osprey.
---
Pros & cons
  Cons
  Pros

No side zippered pockets.
No front pocket.
No adjustable harness.

Rain cover.
Three access points.
Quality materials.
Stow-on-the-go system.
At Amazon, Osprey Stratos 50 has received a very high average rate 4.7/5. As you have realized from the text above, there are several very good reasons for such a high rate.
---
Comparison with other brands
See how Osprey Stratos 50 stands in comparison with some other truly top brands in this size range:
Kelty
Redwing 50

Deuter ACT
Lite 50+10
Osprey
Stratos  50

Weight (kg)
1.67

2.6

1.48

Volume (l)
51

50+10

50

Loading
panel

top
top, panel

Rain cover
no

no

yes

Bottom compartment
no

yes

yes

Zippered side pockets
yes
no

no

Harness adjustable
yes
yes

no

My rate
8.9/10
9.0/10

8.8/10
For full features of the models from other brands please follow the links.
---
What is new in the new version
The harness is adjustable, as compared with the fixed harness in the previous version.
One external zippered pocket on the lid, as compared to two in the previous version.
One large front storage pocket with a buckle on the top. It is absent in the previous model.
Two front vertical zippers with pockets, as compared to one in the previous version.
Additional side zippered entrance to the main compartment. In the previous version, this was a U-shaped entrance on the front.
---
Conclusions
To summarize this new Osprey Stratos 50 review, this is a very good and reliable pack,  with several exceptional features pointed out in the text. So it is no surprise that the pack is so popular and rated so highly by users. I have a few objections, but those are not critical, I can fully recommend this pack. This is a quality tool. If you need something smaller from the same series you might consider Stratos 26,  Stratos 34 and  Stratos 36, all described in this site.
Note that the corresponding series for women is under the name Sirrus, with 50, 36, 26 and 24 liters of volume.
Thank you for reading. I hope the text has been useful, and if this is so please share it with others. I shall be happy to have some comment from you. Have a nice day.
---