---
There are many portable water filters and purifiers available on the market, but this Pure2Go Water Purifier review is about a completely unique system. This is a reliable and versatile tool with several features that make it unique, here to stress only that it kills microorganisms on contact; but see much more in the text below.
---
Key benefits & unique features
A very reliable tool. The systems have been tested for several decades and used by all branches of the US Military.
Unique 6-stage purification and filtration system which removes even viruses. This is different from any other tool presently available on the market.
A versatile tool which you can use in several different ways.
Lightweight.
Very reasonable price.

---
What is Pure2Go really
You have two different sets currently available on the market:
Pure2Go portable water purifier Go-Kit.

The price at the moment of writing this text is around $95.

Pure2Go personal water purifier Traveler's Kit. The current price around $60.
You can see them both in the images below. So what is the difference? This will become clear below, here only to stress that both systems come with the same essential elements like the Pure2Go purifier and a water pouch, but the Go-Kit has much more in the package.
---
Who is it for
The Pure2Go Water Purifier is suitable for any outdoor activity, like hiking, backpacking, fishing, hunting, climbing, and you name it.
This is a great tool to have in your suitcase when you travel. So very much suitable for mission trips and boat trips, for pilots and military personnel, to use in hotels and resorts.
You will want to have this tool in any emergency situation at home.
It is a great tool to use in disaster areas anywhere in the world.
---
Why you should trust these tools
When it comes to water filtration and purifications, it is absolutely essential that the tools you are using are reliable. What I mean by that is: the manufacturers must provide proofs about independent testing.
In the case of the Pure2Go tools, the situation appears to be better than in any other tool on the market. The company behind the tools is Water One, founded in 1969. In all these years they have been providing high-purity water services for science and industry, in particular for pharmaceuticals, food processing, semiconductor manufacturing, medical labs, etc.
So the same technology of their water purification, known under the name ViroBac, is used in these Pure2Go tools. In this pdf document, you can read about numerous independent testings, no less than 13 listed here, each of them designed for checking the purification for different sort of micro-organisms. In this document, you can see a bit more about the Pure2Go tool itself.
---
So what is ViroBac
The ViroBac system which you have in the Pure2Go purifiers is Water One's proprietary purification media, and this element is what makes these tools completely unique. There is nothing similar on the market for the personal and portable tools of this type.
In the message I received from Kenn Viser from the Water One company, he writes that ViroBac contains a halogenated resin; the proprietary compound is ionically bonded to a carrier media and it kills waterborne bacteria on contact and on demand. Yet it allows the purified water to have no detectable iodine residual.
He further writes that P2Go is the 4th generation of personal water purifier produced by Water One. All three previous versions in the past 25 years used only ViroBac and GAC (Granular Activated Carbon). They were also very effective at purifying water but would plug up much sooner than P2G because they did not have the UF pre-filtration, which is added in the tools presented in this review.
As already mentioned above, this system has been tested extensively for over several decades by various independent laboratories. The initial levels of radioactive contaminants in the testing were very high on purpose because they wanted to mimic the levels found in the water around Chernobyl after the accident.
Water One purifiers have been used by all branches of the US Military all the time since 1998.
---
What does the system remove
The Pure2Go Water Purifier meets or exceeds ANSI/NSF 53 and P231 water purifier standards.
It kills 99.9999% of waterborne bacteria.
It eliminates 99.997% of waterborne cysts.
It kills 99.997% of waterborne viruses.
They claim it removes various radioactive contaminants and they support this with documents showing testing results available on their site.
---
What cannot be removed with these tools
These purifiers cannot remove salt from water. So use them for freshwater only.
Do not use chemically contaminated water from mine tailing ponds or from agricultural collection ponds.
---
Basics: how the purifier works
The main element in both tools is the P2Go filter/purifier. So this is a tube which consists of the upper and lower housing where you have the upper and lower replaceable cartridges. Those are essentially the two filters, the upper cartridge is the ViroBac purifier and the lower cartridge is the microfiber filter. You can see this in the picture, both cartridges are shown here half-displaced from their normal places in the housings: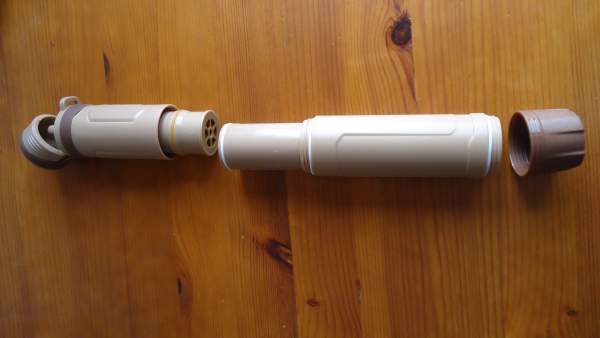 On both ends you have caps, and there is also a hook for a lanyard. This all is a very strong plastic, both in the housings and in the internal cartridges. You cannot feel it from the pictures, but trust me on that. This adds a bit of weight, the P2Go purifier alone is 4.8 oz (136 g), but I really do not mind it; you can feel how durable this tool is.
So the filtration and purification take place in the given order. You first have the water filtered in the lower cartridge (the elements on the right in the picture above), and all eventual pathogens that pass this stage are then killed in the upper cartridge (you can see it on the left in the picture above). In the video below they show that the upper cartridge contains 2 purification systems, the ViroBac and GAC.
But there are a few other elements here which you cannot see, and those were described to me by Kenn from the Water One company after I asked him. So, as already mentioned above, there are 5 stages of filtration and one stage of purification as follows:
Ultrafiltration (UF) membrane in the lower cartridge. It is with pores in the range 0.1 microns. This membrane is effective in the removal of bacteria, pyrogens, high molecular weight dissolved solids and other water contaminants. It effectively eliminates Giardia & Cryptosporidium >99.997%, Bacteria >99.99%, Mercury >89%, Cadmium >88%, Lead >89%.
1-micron, food grade, polypropylene filter disc where water enters upper cartridge.
ViroBac purification media.
200 micron, food grade polypropylene filter pad between the ViroBac and the granular activated carbon (GAC) section.
Granular activated carbon (GAC) section.
A second 1-micron, food grade, polypropylene filter disc after the GAC at the top end of the cartridge.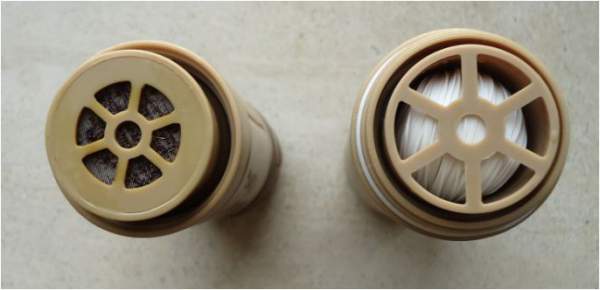 As you see on the right, the filter part is similar to what you have in standard good water filters, like the Sawyer Mini for example. But the element on the left is something totally unique.
The bottom intake cap (shown in one of the photos above) is dual threaded, so you have 28 mm threaded fitting and nipple fitting. This threading is used for the included water bladder, and the nipple fitting I use to attach the intake hose. This saves me from using the purifier as a straw; you can easier get to the water, no need to kneel and have your hands and knees wet. So this is my own small modification when I use the purifier in the smaller set, as a Traveler's Kit.
About granular activated carbon (GAC) filter 
Activated carbon is used to adsorb natural organic compounds, taste, and odor compounds, as well as synthetic organic chemicals. This is because of its structure which is enormously porous. If you follow the link to Wikipedia, you will see that one gram of activated carbon is with an effective surface in excess of 3000 square meters (32000 square feet).
In this particular case, it is in the granular shape and located on the top section of the upper cartridge. Its role here is the following:
It removes odors, Chlorine, Radon, volatile organic chemicals.
It significantly reduces Hydrogen Sulfide, heavy metals, and sediments.
---
Can P2Go help in the case of bioterrorism
As you know, anthrax bacteria have been used in some cases of bioterrorism in past. So you will be safe with P2Go because these bacteria are around 8 microns in size, they will be either physically removed from the water or killed in the upper section.
Yet another thing that comes to mind is radioactive contamination. From all what I gave above, it appears that you should be safe with this tool.
---
So now a few words about each of the two sets mentioned above:
1. Pure2Go portable water purifier Go-Kit
This is the larger of the two sets, with many useful elements that allow for using the system in various ways.
What is in the package
It is best that you see the picture, these are all elements you get when you order this Go-Kit: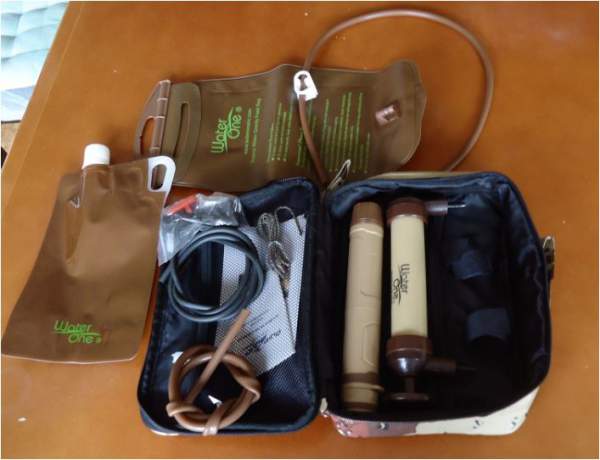 The most important elements are the following:
The Pure2Go purifier described above.
Hand pump for water and air, with intake & outflow tubing, and a float element. This pump can be used for backwashing the purifier with a clean water. Here again, you have a hard plastic body, the piston rod is metal and it looked a bit thin but I did not have issues with it.
0.8-liter (27 oz) collapsible bladder for use with source water. It is on the left in the photo above.
2-liter gravity feed source water bag with on/off clip. This is a soft but thick plastic which feels almost like a rubber.
Camo storage bag. It passed the most important test: my wife liked it. The bag is with a zipper which goes along the three sides and you also have a handle. Inside, you have two mesh pockets for organization of small items.
Accessories and a lot of additional tubing for pumping tires, balls, and other inflatables.
A 6 ft paracord.
A few specifications
The size of the storage case: 2.5 x 8 x 11 inches (6.3 x 20.3 x 28 cm).
2-year limited warranty.
The weight of the set: 24 oz (680 g).
Microfilter: 0.1 microns.
The weight of the P2Go purifier straw alone (with cartridges): 4.8 oz (136 g).

How to use the Go-Kit
This is the full set, and you can use it in several ways:
Drinking directly from the source, so use as a straw.
Use the P2Go straw with the included collapsible bladder and drink directly.
Use as described in the previous item but to collect water in a bottle.
Use the gravity bladder with the P2Go when you are in the camp, to store clean water.
Use the P2Go purifier straw with the included pump to store water.
Use the P2Go purifier straw to drink water from the hydration bladder in the backpack. This is an emergency option only as it implies keeping unclean water in the backpack bladder.
See all these options in this gallery:
---
See more in this video by Pure2Go company:
To explain a statement from the video, about the fact that this system does not accumulate micro-organisms like other tools available on the market.
I was a bit confused with it, so I contacted them. From the messages I received from Kenn, it follows that in the closed system like this, the ViroBac in the upper cartridge will actually kill the micro-organisms that are trapped in the lower cartridge within about 20 minutes.
After some time there should appear an orange staining of the upper part of the UF membrane from the off-gassing of the ViroBac. Similarly, if you put the cartridge with the ViroBac and GAC into a canteen or other container for 20 minutes, all of the water in the container would be purified. This is a demonstration of how ViroBac actually works.
All I could say after reading his lines was just to say 'wow'. I was convinced.
---
2. Pure2Go personal water purifier Traveler's Kit
This is a more lightweight variant, with the same P2Go purifier, truly suitable for travel of any kind as the name suggests. See what you have here: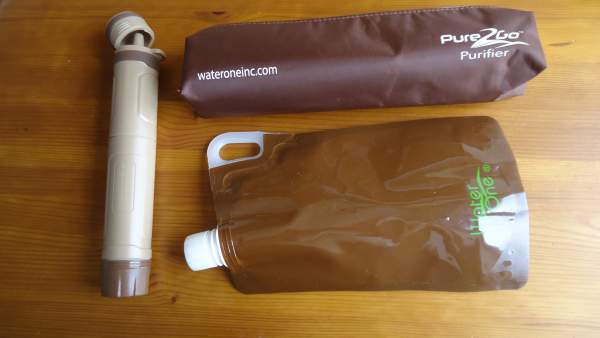 This set includes three elements shown in the photo above:
The Pure2Go purifier.
Collapsible water bladder for source water.
Travel pouch with a zipper.

Specifications
The weight of the set: 8 oz (227 g), so this is considerably lighter than the Go-Kit.
Size (L x D): roughly 28 x 6 cm.
Microfilter: 0.1 microns.
---
3. The super-light variant – the P2Go straw alone
I wish to add this here because of the following. Regardless which of the two sets you have, the P2Go purifier can be used without anything else, as a straw for directly drinking water.
The P2Go purifier straw specifications:
The weight: 4.8 oz (136 g).
The size (L x D): 8.8 x 1.25 in (22.4 x 3.18 cm).
---
My own testing
I have tested all elements in both sets. Here is what I have done:
a) Tested the pump and purifier combination
I tested the pump with the P2Go purifier, and filtered 1 liter of water in some 70 – 80 seconds. This appears to be even faster than what they write in specifications. So the tool has definitely passed this test. See in the photo how this setup looks like: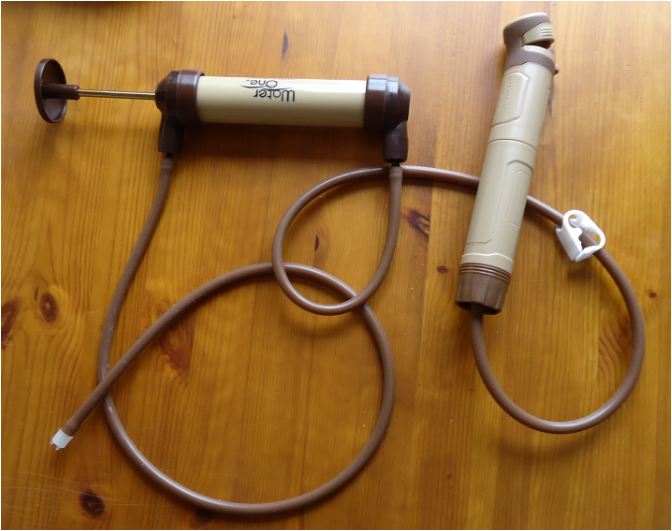 b) Tested the 2-liter gravity feed source water bag with the purifier
This 2-liter bladder is nicely designed, you have marks on one side, with the scale both in liters and ounces, they are visible in the photo below. So you know in advance how much water is there, good for planning.
This element is suitable to use when you are in the base camp, just put water in the bladder, attach the purifier to it, hang it on a tree, and let the clean water run into a bottle while you are busy doing other tings.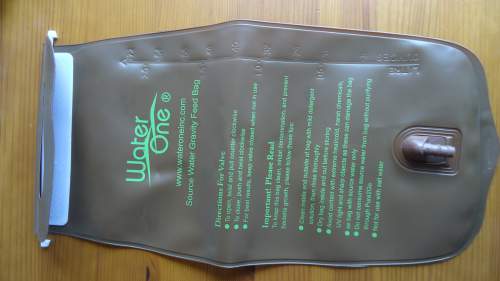 I myself shall not be using this in the Alps because I am always very high in mountains, above the tree line, and have no place to hang the bladder. But I tested it at home and it worked perfectly. After having it full (2 liters), all water was filtered out in around 7 minutes. So, this is really convenient and easy to use in the camp, or in any emergency situation at home, or in disaster areas anywhere in the world.
c) Tested the P2Go purifier with the 0.8-liter collapsible bladder
This combination is essential when
you need water for cooking, or/and
you have to carry a certain amount of water with you, e.g., when you know that there will be no water available in some sections on the trail.
This is why all other straw-type filters and purifiers without such extra items fail, you can use them only when you have some water source; well, this is not always available as you surely know.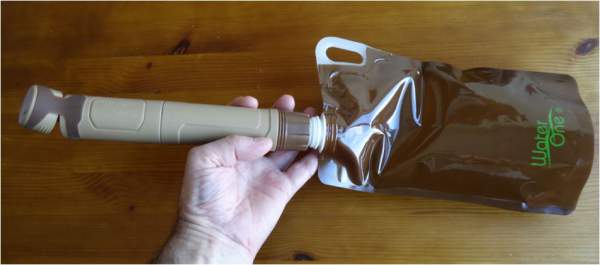 I tested this combination in two ways:
By drinking directly. This is smooth, to increase the flow rate you can press the bladder. So you take the water from the source in the bladder and then drink through the purifier.
By squeezing the water into another clean bottle. This is when you need water for cooking or to collect clean water and carry with you. So, when I fill the 0.8-liter bladder, I am able to squeeze the water out in some 100 seconds. This is good enough for me. I roll the bladder to increase the pressure; this is a bit hard plastic as you might realize from the photo, and when you roll it like that, I am not sure how long it will last before having cracks. Perhaps they might want to make it separately available for sale, just an idea.
d) I tested it during my recent trip to the Alps
I have just returned from the Alps where I have used these tools. First, I was mainly in the Slovenian Alps this time because it was too early in the season and mountains were still under snow, so I went to the lower mountains in the Julian Alps.
Later, I was in the Otzal Alps in Austria, and then crossed to Switzerland and in Italy where I was climbing several peaks, like this Fluela Schwarzhorn near Davos, and Cima Solda near Bormio, and some peaks in Livigno area. I used the Pure2Go all the time, mainly in the combination with the water bladder which you can see in the picture above. This was convenient to collect the water from tiny springs along the routes and then squeeze it through the filter into a clean water bottle. I would recommend having the bladder with you all the time, very useful indeed.
The tools were working as expected, I was really happy with them. Those were day-tours, so I only had one bottle and then I would refill it whenever I was passing water streams. Used it also as a straw where it was possible, and together with the pump at places close to the car.
---
Pros & Cons for both sets
My summary is as follows:
  Good

  Less good

Lightweight.
Very reliable.
Unique features.
Versatile.
Easy to use.
Safe to use.
Reasonable price.
This is a rather new purifier and the number of reviews available on the Internet is limited. At the moment of writing this review, there are only a few customers' reports available on Amazon, and they all give maximum rating to this purifier, 5.0/5. I am not surprised with this. See below the breakdown of my own rating.
Rating breakdown of Pure2Go Water Purifier
Reliability -

9.8/10

Safe to use -

9.7/10

Ease of use -

9.7/10

Weight -

9.3/10

Versatility -

9.9/10

Price -

9.2/10

Flow speed -

8.3/10

Filter lifetime -

8.4/10
Summary
The rate for the price is my mean value for both tools. The Go-Kit is more expensive but it contains far more than the Traveler's Kit, and it is also far more versatile. The safe to use describes how safe the tool is to use without contaminating hands.
Please feel free to give your own rating here.
---
Pure2Go vs LifeStraw and Pure2Go vs Sawyer Mini
I use to add comparison tables, but in this particular case, this is a bit pointless because the full system you have here is completely different from other tools on the market. I would say it is beyond comparison. I suggest you visiting my page about purifiers and filters, so you can see what suits you best.
The only reasonable comparison can be for the Pure2Go purifier straw alone (without all other elements in the set), and for some other models of that shape. So I choose the best known LifeStraw and Sawyer Mini, both presented in the site so please follow the links to see more:
| | | | |
| --- | --- | --- | --- |
| | LifeStraw | Sawyer | P2G |
| Weight (g) | 57 | 57 | 136 |
| Microfilter, microns | 0.2 | 0.1 | 0.1 |
| Carbon filter | no | no | yes |
| Only straw | yes | no, full set | no, full set |
| Removes viruses | no | no | yes |
| Capacity (liters) | 1000 | 380000 | 1135 |
| Price* $ | 15 | 20 | 60 |
*This is at the moment of writing the text, please check the links for updates.
---
Precautionary statements
The upper cartridge contains iodinated resin. Persons from the following groups should consult their doctor before using this device:
People with iodine allergies.
People with thyroid problems.
Pregnant women.
The reason is that minute amounts of iodine may remain in the purified water. For the same reason, supervision is required for children's use.
---
Cleaning and maintenance
All steps about cleaning and maintenance are given in this document.
I have not noticed statements about temperature range for using these tools. But I know from other filters and purifiers with microfibers that they should not freeze because water expands when it transforms into ice crystals, and this can damage the walls of the microfibers.
---
Replacing cartridges
The two cartridges are replaceable and they should be changed every two years or after 300 US gallons (1135 liters), whichever comes first. Both of them are currently available on Amazon, please see the links below.
Replacing cartridges is easy, they both go only one way so there is no possibility for confusion. The upper one you simply pull out, the lower one you push out after unscrewing the bottom cap. All steps are described in this pdf document.
---
Summary
I would conclude this Pure2Go Water Purifier review with a very strong statement: I am convinced that at the moment of writing this text, there is no better and more reliable personal portable water purification system on the market.
If you have a look in my page with water filters and purifiers, you will realize that all those worth reviewing are presented there. There are many great tools available, but this P2Go system is completely unique.
So do I recommend it? Well, you have seen the text above; the answer is yes, definitely so. I am happy to be in the situation to have this tool. I have tested it myself at home and recently in the mountains, it worked perfectly.

I have been in touch with the Pure2Go company recently and hear that they were working with disaster relief agencies and they sent several thousand Pure2Go Go Kits to Puerto Rico following the hurricane disaster.
Thank you for reading. If this text has been useful to you, please share it with others. In the case of comments and questions, please use the comment box below. I wish you a pleasant day.
---
Disclosure: I have received these Pure2Go purifiers from the Water One company on my own request for testing. They have sent it free of charge and at this point, I wish to thank Kenn Viser and Francis Jenkins. However, my judgment about these tools is not affected. I do my best to remain unbiased, you can realize this if you read my another review about a water filter which I also received for free but could not recommend.  


---