---
This Deuter Aircontact 60 + 10 SL review is about a feature-rich women-specific load-hauling backpack with 3 access points, steel frame, rain cover, and much more.
---
Key features & benefits
Adjustable torso length.
Top, front, and bottom access.
Bottom compartment with zipper.
Variable capacity.
Spring steel frame.
Pivoting Vary Flex hip belt.
Rain cover included.
---
Where to buy
This pack is available on Amazon. They operate globally and I have seen it on several of their global stores. So please follow the link and check the price and shipping conditions for your location.
---
What is in the name
The names of several Deuter's series can be confusing. This Aircontact series should not be mixed with Aircontact Lite which is with much lighter packs. You can realize this if you compare this pack presented here with their Aircontact Lite 60 + 10 SL.
But note they also have ACT Lite 60 + 10 SL, this is a series that has been around for many years. This Aircontact series has also been around for several years but they modify the packs occasionally, so what you have here is the latest version of this 60 + 10 SL pack.
Now, the letters SL in the name mean 'slim line' and this basically means version for women. So this includes the following:
The shoulder harness is narrower, more precisely the distance between the shoulder strap attachment points is narrower.
The padding on the shoulder straps is different.
The hip belt padding is different and it is conically shaped to follow the shape of a woman.
Smaller and softer buckles are used.
Torso length range is for shorter people.
This Deuter Aircontact 60+10 SL is a classic top-loading pack with a lid and collar with 2 cinch cords plus a compression strap over it. The number +10 in the name describes the fact that you have an extra 10 liters of volume when you expand its collar. The lid is designed to accommodate this extra volume so you can raise it up, it is floating type and removable.
Note that the lid can be used as a daypack as well, the picture below shows how the pack looks with partially expanded collar and the lid detached.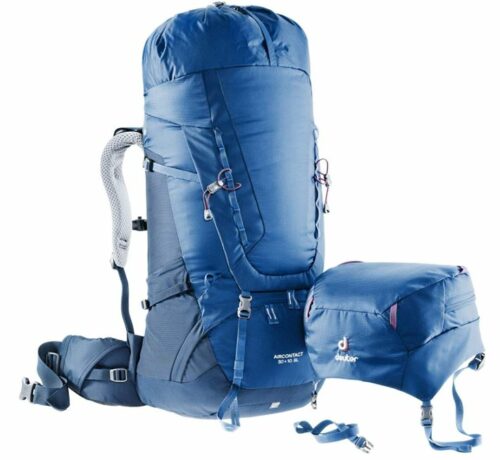 But you have a huge front U-shaped zippered entry point as well, see the picture below. If this is not enough, you have a separate zippered bottom compartment, and the divider between the two compartments is with a zipper. So this is a nice design where nothing can pass from the upper compartment to the lower one. This is not so in many (even expensive) packs on the market where such a divider is just a toggled shelf.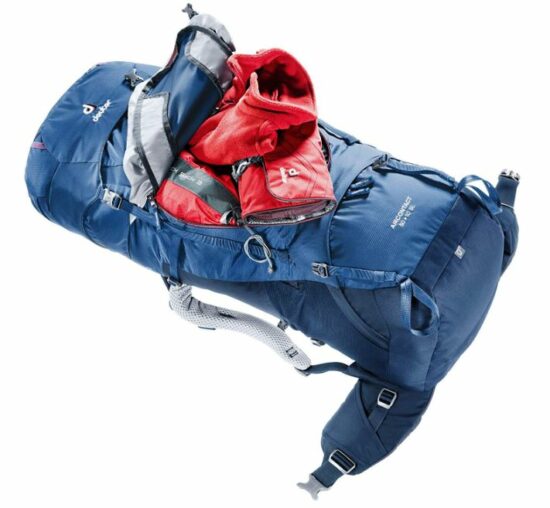 The pack comes with its bonus rain cover stored in a dedicated pocket on the bottom. Also, the pack is hydration compatible, with a sleeve inside the main compartment and here you can use any reservoir of up to 3 liters.

---
Other features
The suspension
The suspension is based on a spring steel frame which transfers the load to the massive lumbar padding and the hip belt. Note that this is an X-frame which is behind the padding.
The hip belt is what they call Vary Flex, and this basically means that it is pivoting. This saves energy a bit and provides better stability because the pack is able to follow your body movement and accommodate to it.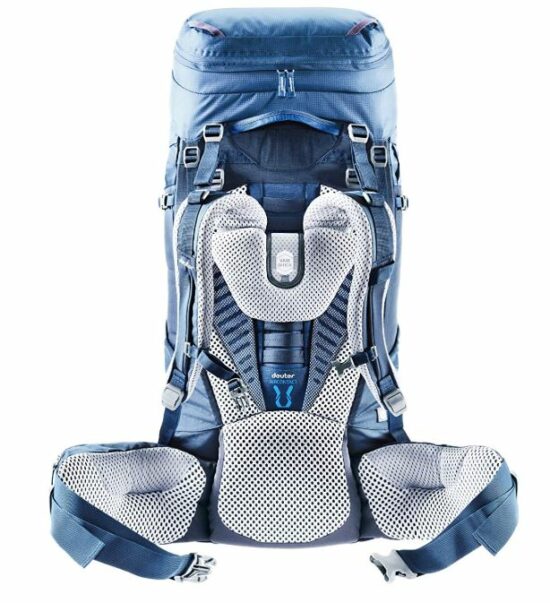 Note also that the massive hip belt is ergonomically shaped, very wide and with dual-density foam structure. The front straps on the hip belt are pull-forward type and V-shaped on both sides, and they converge towards the front buckle. So when you tighten the belt, you have a perfect hugging of your hip bones. This is always the best system in such load-hauling packs.
Aircontact, what is this? So the word Aircontact in the name describes the fact that you have an area in the middle of the harness which is a bit separated from the body and this allows for air circulation.
But this is further helped by the breathable foam and mesh in the padding. This is an open-cell foam technology. So with every movement, air circulates through the cushions keeping the back ventilated. They claim that this results in 15% less perspiration than with other body-contour packs. This is field-tested by Gabriel L.&T. in cooperation with the University of Erlangen (Germany).
The torso length is adjustable and you have the range 14 – 20 inches (36 – 51 cm). They use a ladder-type system so you have multiple discrete positions for the harness. This is what they call Vary Quick system, it is efficient but you should see this Perfect Fit in Kelty Zyro packs to realize what a quick system is.
The pack is with dual load lifters so you can choose depending on your body size, or on the amount of stuff in the pack. The chest strap is there, fully adjustable and with a safety whistle.
The fabric
You might not believe but they use 1000D durable polyester material on the bottom which is also water-resistant, and the rest is 330D ripstop nylon.
Pockets
There are no many of them here, see what it includes:
Dual stretch side pockets for water bottles or any similar items are in place.
One zippered hip belt pocket, I wonder why not two.
There are 2 pockets in the lid, one with top access and one underneath the lid.
Dedicated rain cover pocket is on the bottom.
Attachment elements & straps
From the top to the bottom, here is what you have:
Dual compression straps are on both sides. Note that the lower straps are with inside/out design, so you can use them through the side pockets or over them.
There are 4 attachment loops on the lid.
Top strap over the collar, under the lid.
One carry handle is above the harness.
Dual daisy chains run on the front.
Dual attachment loops are on the bottom, and they are paired with bungee cords higher on the front. This is for trekking poles or ice axes.
Dual loops run over the bottom compartment, so here you can attach a sleeping pad for example.
There is an inner strap over the front opening which keeps the stuff in place when you unzip the front entrance.
---
Specifications
Weight: 5.29 lb (2.4 kg).
Volume: 3661 + 610 in³ (60 + 10 liters).
Dimensions (H x W x D): 33.1 x 12.6 x 10.2 in (84 x 32 x 26 cm).
Frame: spring steel.
---
Deuter Aircontact 60 + 10 SL pack vs Competitors
This is a top-notch pack and as such, it deserves to be compared with some of the best packs on the market. So here I give two of them, both women-specific packs.
There is a big difference in the number of pockets, so Gregory Deva 70 has them 10, and Osprey Aura AG 65 has 9 pockets. The Aircontact 60 + 10 pack is a bit heavier, but it has a bonus rain cover which is missing in the Aura pack. I have had them all in my hands and can tell you they do not feel so heavy when you see their size.
All three packs are expensive but the Deva 70 pack costs more than the other two. If you would ask me which I would choose, can tell you this would be very difficult. Though I love pockets, and Deuter's pack is not so impressive from this perspective. Please follow the links for more details.
Deuter Aircontact
60 10 SL
---
Final thoughts, rating, pros & cons
So I hope that this Deuter Aircontact 60 +10 SL review is detailed enough for you, and that it presents all the essential features of this pack. Deuter is building packs from the 19th century so they know the job, this pack is one of their best. Fully recommended.
I have included this pack in my list of best backpacking packs for women.
This is an expensive item but top quality. Please see how I rate this great pack, I use my standard set of criteria and apply them to all the packs here in the site. This allows for easy comparison:
There are many Deuter's packs in this site, so please visit my page with packs 56 liters plus to see some of them. You will see the corresponding version for men as well, the Deuter Aircontact 65 + 10 pack. For smaller packs, check the page with 35-55 liters packs.
Note that this is not a sponsored text, and I am not paid by the brand. I only have lots of respect for Deuter, have been using their packs in the past 20 years or so.