---
Deuter Aircontact 65 + 10 pack is a heavy-duty and very reliable tool for extended backpacking and mountaineering tours. This is a pack with a lot of adjustability, pivoting elements in suspension, and many other great features, as you will realize from the text below.
---
Standout features
Adjustable harness through Vary Quick system.
Active Fit shoulder straps and Vary Flex hip fins, to follow body movement.
Two different fixing points for shoulder straps.
Three entry points.
Rain cover.
---
Description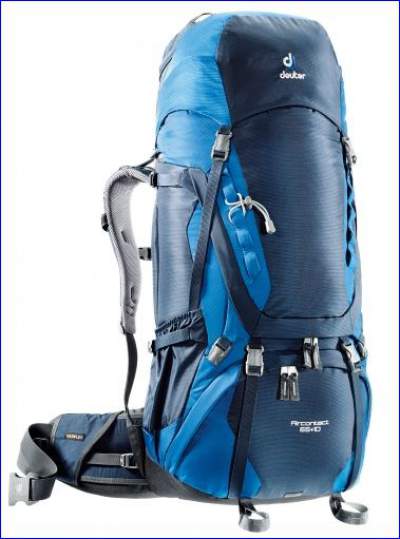 It is always a pleasure for me to write about Deuter packs. I have been using them for many years and know these high-quality tools, the best what you can find in this industry.
This is a German brand that has been in this field from the end of the 19th century, from 1898.  In all these years they have invented quite a number of features used in packs which they have built.
They have truly improved this industry and their packs are used all over the world. You can see a lot about the company in this video.
Deuter packs are durable and built to last. My own is already 13 years in use, and I am far from retiring it. So when you know all this, you should not be surprised if you see that their packs are sometimes heavy and frequently expensive. But they are worth it.
Deuter Aircontact 65+10 is a top-loading pack, but it has also a front entrance through a huge zippered opening. There is a bottom entrance as well, and the bottom compartment.
The top access is under the classic lid, and here you have an extendable collar with a compression strap and buckle, together with two cinch cords. The front zipper is additionally secured with two buckles which you have to undo in order to open the zipper. The bottom access is to an unusually huge sleeping bag compartment. Inside you have a zippered divider between the two compartments, so you can open it if necessary.
The lid itself is adjustable, so you can raise it up in the case of an extra load. You have noticed +10 in the name of this pack. This is the extra volume you have with the expanded collar, and the lid can be moved up to accommodate such an extra load.
Completely on the bottom, you have a separate zippered pocket that contains the integrated rain cover. Here you also have dual attachment loops for walking poles or ice axe. Those are paired with bungee tie-offs higher up on the front face.
Dual compression straps run over the bottom compartment. Dual daisy chains are also available, positioned vertically on the front of the pack. You have attachment loops on the top of the lid as well.
Dual compression straps are on each side of the pack. The pack is hydration compatible, with the sleeve inside the main compartment.
---
Note, there are at least two versions of this pack available on the market. The previous version has three compression straps on each side, and there are differences in the side zippered pockets. The new version comes with the mentioned bungee tie-offs, in the previous version you have velcro tabs.
---
---
Suspension system
As the name of the pack suggests, in this pack you have Aircontact system, one out of many suspension systems developed by Deuter. It is based on an aluminum X-frame which gives stability and structure to the system. You also have what they call a flexible Active Fit shoulder straps system. So the straps are designed to follow and adapt to your body movement.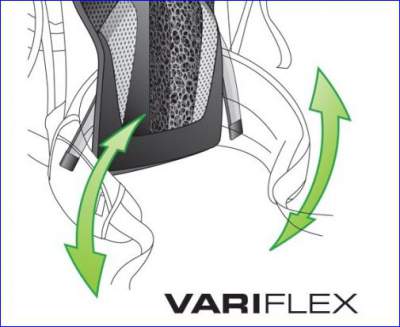 Another thing you have here is Deuter's Vari Flex system applied to hip fins, so they are fully mobile in order to follow the body movement. On the anatomic hip belt, you have multi-layered and very generous pudding.
This is not all: the harness is adjustable and you have what they call Vari-Quick system. It allows you to adjust the harness to any back length, quick and easy by simply breaking a velcro tab.
Adjustability options do not end up here, you still have two different fixing points for shoulder straps. This feature is here to have them at an optimal angle with respect to your body line.
---
Pockets
Dual stretch water bottle pockets are on the sides of the pack, and they are equipped with compression straps. There is a single zippered side pocket.
Again a single pocket is on the hip belt, hard to understand why only one. One huge zippered pocket is on the top of the lid, and you have yet another very big zippered pocket underneath the lid.
All these features you can see in this video, so please have a look:
---
Specifications
All features and technical details are summarized as follows:
Weight: 6 lb 6 oz (2900 g).
Volume: 3970 + 610 cu in (65 + 10 liters).
Size (H x W x D): 33 x 12 x 10 in (84 x 30 x 26 cm).
Material:
– Deuter-Duratex. This is an extremely durable and abrasion-resistant polyamide fabric with a thread of 1000 den and a thick PU coating on the inside.
– 330 D Micro Rip Pro 6.6, durable, robust, and tear-resistant.
Front, top, and bottom access.
Pivoting Vari Flex hip fins.
Pull-forward adjustment.
Adjustable multi-chamber aluminum X-frame.
Side compression straps.
Single zipped pocket on the hip belt.
Floating lid.
Two lid pockets.
Two daisy chains.
Ice axe and hiking pole loops.
Bottom compartment.
Bottom compression straps.
Double-layered base.
Rain cover.
Map pocket on the side.
Colors: 2.
---
Pros and cons
 Cons
 Pros

Single hip belt pocket.
Heavy.
Expensive.

Great suspension system.
Top-quality.
Durable materials and construction.
Pivoting features in the suspension system.
Numerous adjustability options.
Rain cover.
It is hard to find true objections to this pack. But I shall never understand why they put only one hip belt pocket. This is common to many Deuter's models.
Heavy? Yes indeed, but see a bit more about this below.
---
Comparison with competitors
See where Deuter Aircontact 65 stands in comparison with competitors:
Deuter
Aircontact 65 10
Granite Gear
Crown 60
Osprey Aura
AG 65 M
Weight (kg)
2.9
0.96
2.13
Volume (l)
65+10
60
65
Rain cover
yes
no
no
Bottom compartment
yes
no
yes
Adjustable torso
yes
no
yes
Zippered side pockets
1
no
yes
Hip belt pockets
1
no
yes
Metal internal frame
yes
no
yes
My rate
8.9/10
7.3/10
9.1/10
Indeed, the most striking is the weight difference between the models. But you should check this issue more carefully. Those ultra-lightweight packs are good, but they lack so many useful features.
Just compare the Deuter and Granite Gear packs. The former has so many things that add to its weight: a long bottom zipper plus internal divider zipper, side pocket with zipper, rain cover, metal internal frame. All this is missing in the Granite Gear pack, so perhaps you may understand my low rating of this pack, in spite of its quality and reliability.
---
Conclusion
Deuter Aircontact 65 10 pack is one of the best Deuter's packs in this size range, though I do not think it is a match for
Deuter Futura Vario
series. This is a top-quality tool with all the features you need for an extended tour. I can fully recommend it. If this pack is small for you, see the
version 75 + 10
. You might want also to check this new 2018 
Deuter Aircontact Lite 65 + 10 pack
which is with weight below 2 kg.
Thank you for reading. It will be great to hear from you, there is a comment box below. I wish you a pleasant day.