---
Osprey Ariel Pro 65 Pack for women is a lightweight load-hauling pack for experienced outdoor women, built from very strong and durable materials and with many removable elements.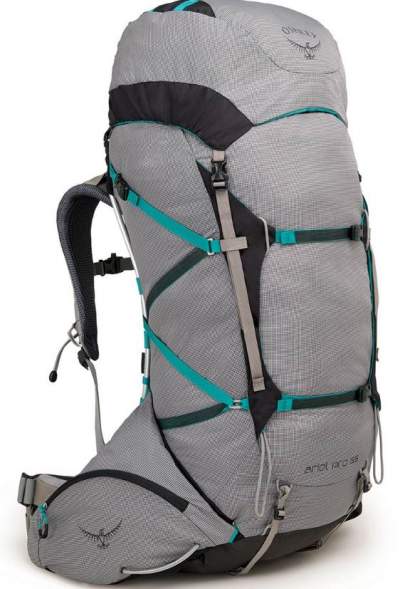 ---
Key features
Lightweight pack.
Removable lid.
Removable side straps.
Removable bottom straps.
Removable hip belt pockets.
Removable dual ice axe loops.
ExoForm harness.
Great load hauling capacity.
---
What type of the pack is this
The Ariel Pro is a women-specific design and a part of the Pro mini-series which includes also the corresponding Aether Pro pack for men. The nominal volume capacity is 65 liters but in fact the pack is built in three sizes XS, S, and M, see the numbers in the Specifications below. Note that they sell it also under the name Osprey Ariel Pro 65 Voyager, I did not notice any differences, so this must be the same pack.
The mentioned women's design means that the hip belt is cut wider and differently shaped, you have an ergonomic taper in the chest area, and the shoulder harness is narrower cut.
This is a top-loading pack with an adjustable and removable lid and the only entrance is from the top. This is what makes it very different from the standard Ariel AG 65 where you have three entry points. So you do not have a bottom compartment here, the inner area is one single space with the top entrance. The comparison of this Pro pack with the standard AG packs is given in my separate text.
When you remove the lid, you have a FlapJacket with a buckle so you can close the pack which then becomes considerably shorter. The pack is hydration compatible and you have an internal sleeve. In general, this is a streamlined design and quite different from the standard Ariel AG packs.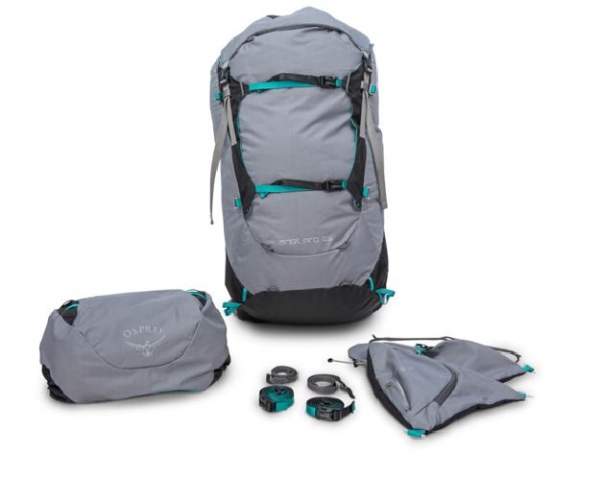 ---
Overview of features
Suspension
The suspension here is based on a LightWire peripheral frame which is a 3.55 mm 7075 aluminum wire, plus a single 6061 aluminum center stay. When you look at it, you realize that this is a hybrid where the frame is both external and internal.
The back panel is what they call AirScape system which includes accordion-shape foam ridges that are covered by mesh. Such accordion-style foam is in their smaller packs from Tempest and Talon series. So this is a breathable construction but totally different from the standard Ariel AG system. The overall structure is more similar to the Osprey Xena 70 design than to the Ariel-Aether AG design.
The harness is padded with what they call the IsoForm foam plus spacer mesh, the same on the shoulder harness and on the hip belt. This is a material that molds by the body heat to create a perfect fit for your body shape. The same is in their Ariel-Aether packs and also in Xenith and Xena packs. So this is among the best you can have.
The torso size is adjustable, you have an easy to use system to find your perfect length. The hip belt is with ErgoPull closure and you will notice that you have two straps on both sides that draw tension along the top and the bottom of the belt, see the picture below. So you have the best possible hugging of the hip bones. There is nothing one could object to this system, I am sure this is the best.
Note also that both the hip belt and harness are interchangeable so you can find a perfect size for you. You have a sliding-type sternum strap with a safety whistle, and the usual load-lifter straps are in place to stabilize the load, all these features are visible in the picture.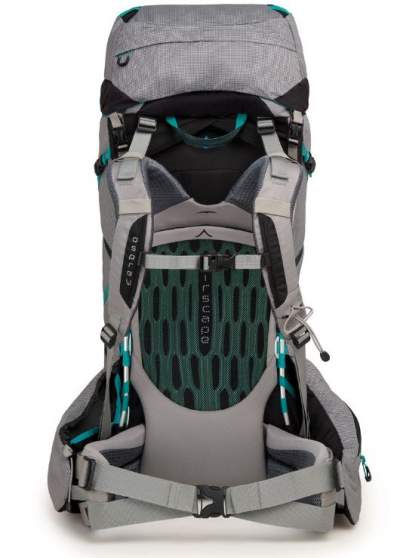 Pockets
This pack has only 3 pockets. These include removable hip belt pockets which are really big and asymmetric in design, one is with a zipper and the other with a cinch closure, and you have one lid pocket.

Attachment elements and straps 
There are compression straps on the sides and they are removable. I am puzzled what they were thinking with such a design, they are clearly too short to attach anything, so you can only use them to compress the pack.
So I asked Osprey and got the answer that "the Aether and Ariel Pro are designed to be lightweight, and if you are looking to load that pack up with lots of weight then this is not the pack for you". Now, this may sound reasonable, but the pack is supposed to support heavy loads of up to 60 lb (27 kg). Naturally, I remain puzzled.
The bottom straps are removable, you can use them to attach a sleeping pad or anything similar. You have reinforced cord loops to attach Osprey Daylite pack or Daylite Plus pack.
There are four webbing loops on the lid. You also have dual removable ice tool loops paired with upper tie-offs.
The pack comes with Osprey's famous Stow-on-the-Go trekking pole attachment system which they have in many of their packs, and this is something unique to Osprey.
The pack has dual front compression straps with StraightJacket compression which you can use to attach various things, including snowshoes.
Please see more in this short video:
---
Specifications
Best use: backpacking, hiking, mountaineering.
Sizes: XS, S, M.
Capacity:
– XS: 3783 cubic inches (62 liters).
– S: 3967 cubic inches (65 liters).
– M: 4150 cubic inches (68 liters).
Weight:
– XS: 3 lb 10 oz (1.64 kg).
– S: 3 lb 12 oz (1.7 kg).
– M: 3 lb 14 oz (1.76 kg).
Torso fit:
– XS: 14 – 17 in (36 – 43 cm).
– S: 16 – 19 in (41 – 48 cm).
– M: 18 – 21 in 946 – 53 cm).
Waist/Hips fit:
– XS: 24 – 28 in (61 – 71 cm).
– S: 27 – 31 in (69 – 79 cm).
– M: 30 – 34 in (76 – 86 cm).
Dimensions:
– XS: 31 x 16 x 14 in (79 x 41 x 36 cm).
– S: 33 x 16 x 14 in (84 x 41 x 36 cm).
– M: 35 x 16 x 14 in (89 x 41 x 36 cm).
Materials:
– Main: NanoFly 210D Nylon & 200D ultra-high-molecular-weight polyethylene (UHMWPE).
– Accent: 315D Nylon Cordura.
---
Final thoughts, rating, pros & cons
So this Osprey Ariel Pro 65 Pack for women is a very specific and lightweight pack with so many removable elements, and it becomes super-light when you remove them all. This is a durable construction but this all comes at a price. I have added it to my list of top-rated expedition packs. But if this is above your budget, check the normal Ariel AG 65 pack or any other in their packs for women.
Please see how I rate it against the criteria used for all the packs here in the site, so you can make comparisons easily:
Many more models for women are available in my page with packs above 56 liters. You might want also to check my list with best women's backpacking packs with some top models currently on the market.
Note that this is not a sponsored post and I am not paid by the brand. Do you have any experience with this pack? If so, please share it here, there is a comment box below.