---
If you need a load-hauling pack for extended tours, check this list with top-rated expedition backpacks, all top-notch products from renown brands.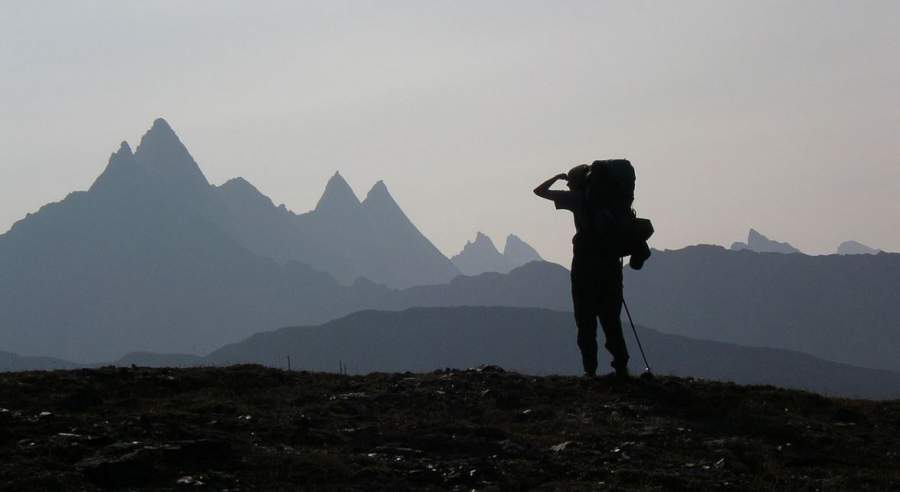 ---
What is an expedition backpack?
You could think about packs presented here as the tools for the following different outdoor activities:
Packs for high altitude mountaineering.
Packs for cold-weather outdoor tours with bulky and heavy equipment.
Packs for explorers and scientists on the tours to some remote areas.
Packs for long thru-hikes, hiking, and backpacking.
So these are backpacks for extended week-long or weeks-long tours. I do not see any important differences in features required for such activities and this is why I think they belong to the same group of expedition packs.
---
Which features to expect in expedition backpacks
These large expedition backpacks come with plenty of features that you will need on a long tour. So here are some which I find particularly important, given in no particular order:
Large volume. There is no doubt you need a pack that can swallow lots of stuff. This is is why all the packs here in the list are with 65-plus liters of volume.
Great weight capacity. This implies that the harness is strong enough to support a heavy load so that you can carry it long distances and without technical problems. Such packs must have a frame, internal or external. This is supposed to transfer the load to the hip belt, the more the better.
Harness adjustability. It is not enough that the pack is strong and that it can support lots of weight. It is essential that you can carry it comfortably for many hours a day. Here, there are several elements with possible adjustabilities, and they include hip belt, shoulder harness, load lifters, sternum strap. More in my separate text about harness adjustability.
Lots of attachment options. Regardless of how large volume you have in the main compartment, you will always want or have to attach some stuff outside. So the more options the better.
Pockets for the organization. This should be self-evident. It is a trend nowadays that packs are built with a sleek profile and without side zippered pockets. But I find such zippered pockets very important. You will see some packs here which have pockets everywhere, and I mean zippered ones, not just stretchy mesh pockets.
Rain cover. This is essential for long tours because there is no way to know what the weather will be like. Some people use plastic bags inside the pack, but this is generally not a great idea because all the stuff in the pockets will remain unprotected unless you use such bags in every separate pocket. The same is with the stuff attached to the pack. Besides, the pack itself becomes heavier when soaked with rain.
Ventilation if possible. You cannot expect too much from such big packs, so you will sweat for sure. But there are packs with suspended trampoline style mesh that allows for air circulation in all directions.
Comfort. This is related to the mentioned harness adjustability, but there is much more to it. The most important is padding and how soft, supportive, and breathable it is.
Gender-specific features. This is closely related to comfort. There are a few top brands in this industry that build packs separate for men and for women. There are physical reasons for this and the features which you can expect are:

The difference in the distance between the shoulder harness attachment points. The packs for women have a narrower shoulder harness.
The difference in the padding on the shoulder harness.
The difference in the profile and shape of the hip belt padding. No doubt men and women are very differently built in this part of the body and such a difference is necessary.
The difference in the lumbar padding and its shape. This is again related to the difference in body shape.
Sternum strap position and its adjustability range are different for women to avoid pressure on their sensitive chest areas. If you are a male, try some of the women's packs and you will realize this.
Buckles can be smaller and softer in women-specific packs.

Material durability. This should be self-evident, and here you have some really strong constructions.
Access points. This is important with such huge packs so that you can easily get to your stuff in the main compartment. Some of the packs here have three or even four access points.
Daypack. With such big packs, it is convenient to have one part of it that can be detached and used as a daypack. There are some truly ingenious solutions here.
So in the description of the packs below, I shall try to mention some of these essential features and this will justify their presence in the list.
---
What is in the list
You have the packs for men and women.
Some of the packs are representatives of series where you can have 2-4 packs all large in size and you can choose.
All these packs are from the top brands in the industry. Many of them have been on the market for many years, tried and tested, so you know what you are buying.
---
My list with best expedition backpacks
Here are the packs given in alphabetical order, so this is not a ranking:
---
1. Gregory Baltoro 95 Pro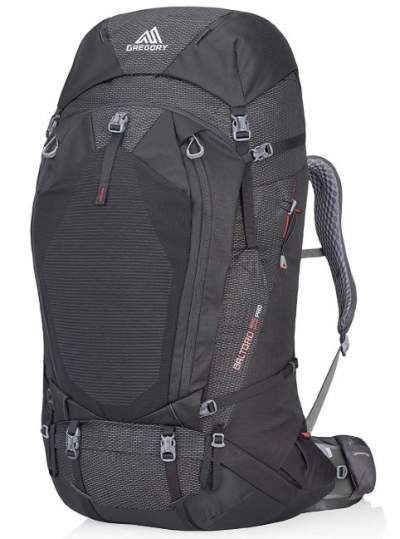 This Gregory Baltoro 95 Pro is the largest among the packs from the famous Baltoro series. So if this is too big for you, check also Baltoro 85 and Baltoro 65 packs. The pack is designed for heavy loads of up to 75 lb (34 kg). This is a tool for expeditions and long tours, built from strong and robust materials and to last for many years.
You have a rain cover included, and a removable SideKick daypack doubles as a reservoir sleeve. There are three sizes to choose from, and the pack is with three access points. Girth-hitched compression bottom MultiStraps double as a hip belt for the day pack.
The shoulder harness has two possible positions, and there is also a lumbar adjustment, which is in the form of a small 10 mm thick pad that can be positioned where you want it between the frame and the lumbar padding.

---
2. Gregory Deva 70 Pack For Women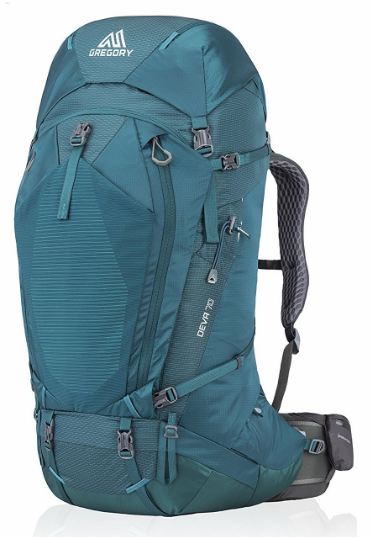 So here you have one of the gender-specific packs, the Deva series by Gregory has been around for many years already and this is a pack for women.
This is a pack rich in features. It is built with 15 different combinations in sizes for the hip belt and harness, and the pack is in 3 sizes. The harness is not fully adjustable, but you have 2 different positions for the torso length. The rain cover is included.
The pack comes with what they call the Auto Angle Adjust (A3) hip belt and shoulder harness. You also have a QuickStow system for glasses on the shoulder harness. The back panel is Matrix ventilated type.
There are 3 access points, from the top, from the bottom, and from the front. You also have a crossover compression straps system, and if you love pockets, no worry, you have them 10 here. Regarding the weight, this is in the group of moderately heavy packs with the weight in the range 4 lb 10 oz – 4 lb 15 oz (2.1 – 2.24 kg).
This is a very reliable tool for heavy loads, and with plenty of storage elements for the organization. Please see more in my full review.

---
3. Kelty Coyote 65 backpack for men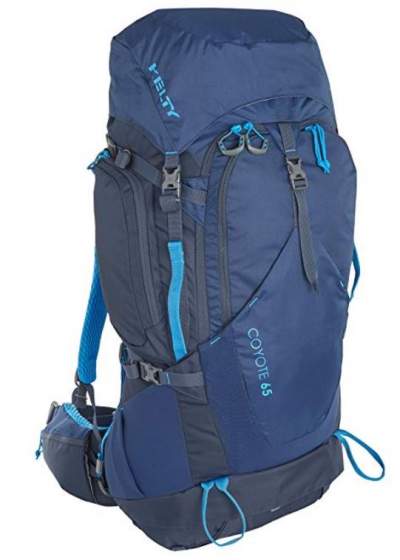 There are two major reasons for having this Coyote 65 pack in the list. The first is its suspension system. Here you have what they call the PerfectFit, and it is as its name says. The meaning is that you can adjust your torso length with the pack on the back, there is no need to stop and take it down, all can be done on the go. So more perfect it cannot be. On the other hand, the padding is exceptionally pleasant and generous. Therefore, the pack is built to carry heavy loads and to carry them comfortably.
The second reason is the number of pockets. You have 10 pockets plus 2 pass-through pockets. You will not find a pack that can match this. This is a rare example where you have side zippered pockets. This is a feature that Kelty keeps in some of its packs.
You also have 3 access points, through the top, from the front, and from the bottom. So there is a removable lid that doubles as a day pack, and you also have the bottom compartment. Note that the pack is without the rain cover.
The weight is 4 lb 13 oz (2.2 kg), so it is not lightweight, but you have very strong fabric here, plus so many pockets, a metal frame, and many attachment elements. Note that there is also a bigger version from the same series, the Kelty Coyote 80. They have built the corresponding versions for women, the Coyote 60 and Coyote 70. Please read more in my full review.

---
4. Kelty Coyote 105 pack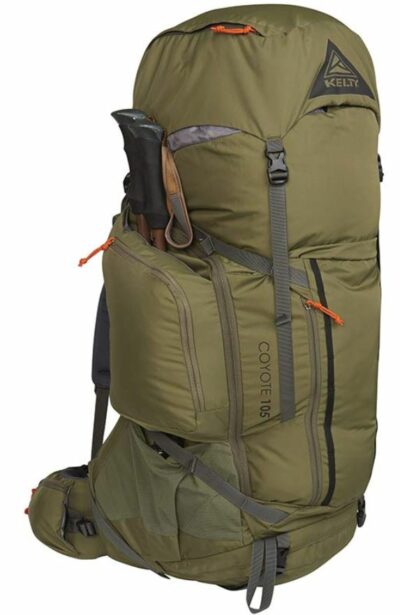 If you are puzzled why yet another pack from the Coyote series here in the list, the reason is that this is a completely different design from the Coyote 65 shown in the list above. So what you have here is the largest pack from the Coyote series, and this is the variant they launched for 2020.
This Kelty Coyote 105 pack is obviously designed for heavy and bulky loads. You have three access points, from the top, from the side, and from the bottom. It comes with the usual Kelty's great organization and features. So you have 12 pockets and pass-through pockets in total.
The pack weighs 5 lb 8 oz (2.5 kg), and if this looks heavy, see its volume/weight ratio of this pack which is 42 liters/kg and this is simply an excellent value. So this is an ultralight pack for its size. The torso length is gully adjustable of course. I have added it also to my list of best backpacking packs for men.

Note that they have yet another smaller pack with the same features, the Kelty Coyote 85.
---
5. Kelty Red Cloud 110 Backpack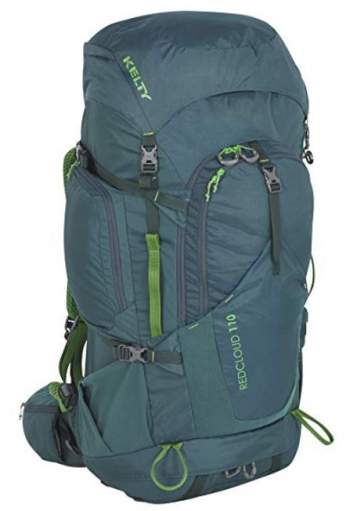 Kelty is known for the great organization features in their packs. So this is where this Red Cloud 110 pack shines. It has 10 pockets plus 2 pass-through pockets on the sides. If you go on an extended trip you will need them. Note that these pockets include upper side zippered pockets as well.
The Red Cloud 110 looks heavy with its 5 lbs 8 oz (2.5 kg) of weight but see its volume/weight ratio which is excellent 44 L/kg. But if you feel the pack is too big, no worry, they have also a 90-liters version with the same features.
There are 3 access points here, from the top, from the front, and from the bottom. The pack is with an internal frame and the padding is excellent. The torso size is fully adjustable and this in the best way, you have here Kelty's PerfectFit suspension, two straps on the sides so you can easily fine-tune your best fit even with the pack on your back.
I do not think that there is a better adjustability system on the market. This is because you adjust the harness when the pack is on your back and fully loaded so you can feel where the hip belt sits and find your best fit. The lid is removable and it can be used as a day sling.

---
6. Kelty Trekker External Frame Pack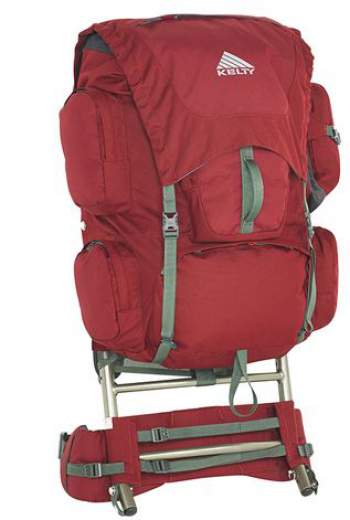 Kelty is one of just a few top brands that is still building these packs with an external frame, and they write that they want to keep the tradition alive. There are some really good sides of such external frames where they are far better than any internal frame packs. If this is about load-hauling, these are the best. Also, you have the frame fully exposed so you can attach your gear anywhere.
This is a pack with 3950 cubic inches (65 liters) of volume and it weighs 5 lb 5 oz (2.4 kg). Note that the shoulder harness is fully adjustable with the torso fit in the range of 16 – 22 inches (41 – 56 cm). It comes with a sleeping bag compartment. The fabric is strong 600D polyester and the reinforcement fabric is 600D polyester Small Ripstop. The frame is aluminum.

---
7. Mountainsmith Apex 80 Pack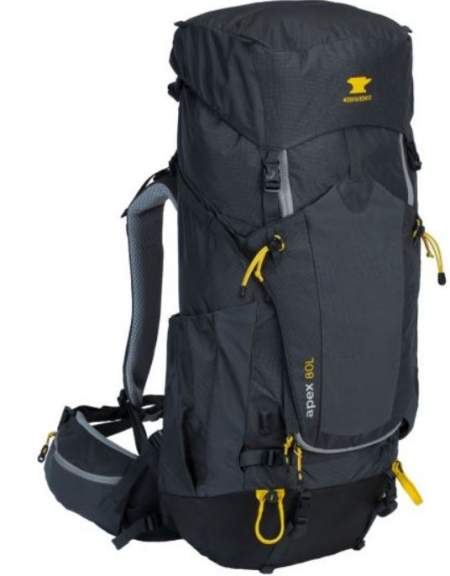 This is one of several packs in the Apex series, so you have also Apex 60 and Apex 100. The Mountainsmith brand is known for its incredibly durable products and this pack is not an exception, so it is built from a durable Cordura fabric. This is a pack with a huge capacity, strong and durable, and at a reasonable price.
You have two access points here. The shoulder harness is adjustable, and the hip belt is also height-adjustable. There are two positions for the load lifters. This is convenient when you have extra stuff added underneath the lid, so you can reposition the load lifter and make the pack more stable. The hip belt is with a TuningFork frame sheet in the waist belt. The lid is convertible to a sling pack.

---
8. Mystery Ranch Terraframe 80 Backpack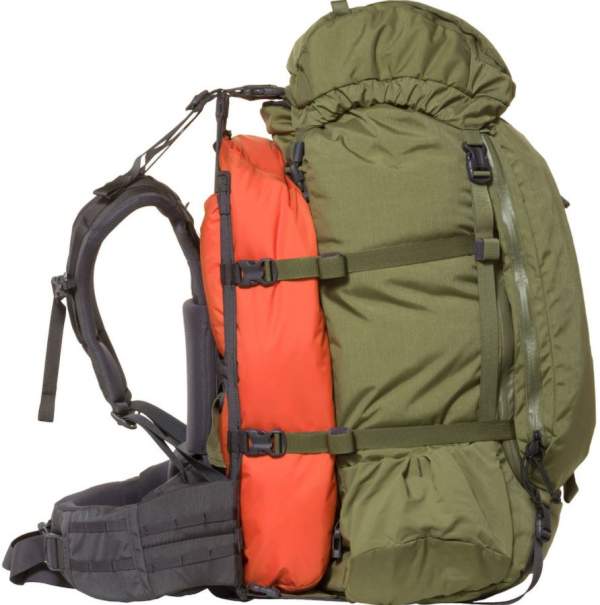 This pack is built from an incredibly durable Cordura fabric. Its frame is also something special, this is a carbon fiber construction. The pack is with a capacity-expanding overload design as shown in the picture.
This means that you can move the pack away from the body and put some bulky stuff in between it and the frame. It is suitable for loads of up to 150 pounds (68 kg).
The torso length is adjustable and the lid doubles as a daypack. It comes with high quality YKK zippers. The backpack weighs 6.1 lb (2.77 kg).

---
9. Osprey Aether AG 85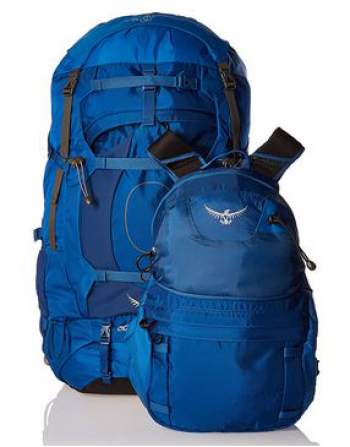 This is one of the best-known packs from Osprey and this is just a representative of the series which also includes Aether AG 60, Aether AG 70 for men, and also Ariel AG 55, Ariel AG 65, Ariel AG 75 for women. This Aether AG 85 pack is built in three sub-sizes 82, 85, and 88 liters.
One of its best features is shown in the picture where the pack is with a removed lid and it is closed with its integrated flap. The lid is converted into that beautiful and very functional DayLid 16 liters daypack.
But you have many more features here, like an advanced suspension system with adjustable torso length, and also a moldable hip belt and harness. Note also that you have interchangeable both the hip belt and the harness. The pack has attachment points for the Osprey Daylite pack and Osprey Daylite Plus pack.

---
10. Osprey Atmos AG 65 Pack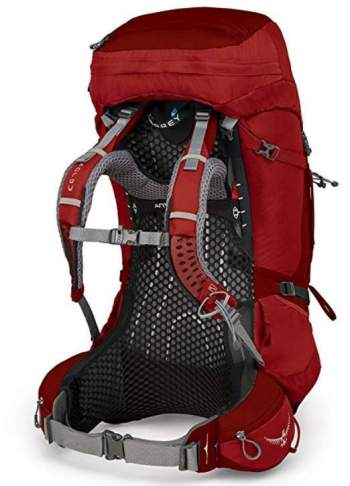 The Atmos is the best known and award-winning series by Osprey. This Atmos AG 65 is the larger of the two, you also have the Atmos AG 50. Note that the corresponding packs for women are the Aura AG 50 and Aura AG 65.
It weighs 4 lb 9 oz (2.07 kg) for the medium size. They build it in three sizes so you have 62, 65, and 68 liters. The harness is fully adjustable and this applies to both the shoulder harness and the hip belt where you have a fit on the fly feature. This is based on a Velcro connection so you can move the fin forward and backward for the best fit.
The pack comes with an integrated Flap Jacket, so you can remove the lid to reduce the weight and you can still close the pack nicely. It has 9 pockets, and you have all the usual compression straps, plus the Stow-on-the-go trekking pole attachment system.
In general, this is one of the best backpacks on the market and if ventilation is important for you, this is the pack to consider.

---
11. Osprey Ariel 55 pack for women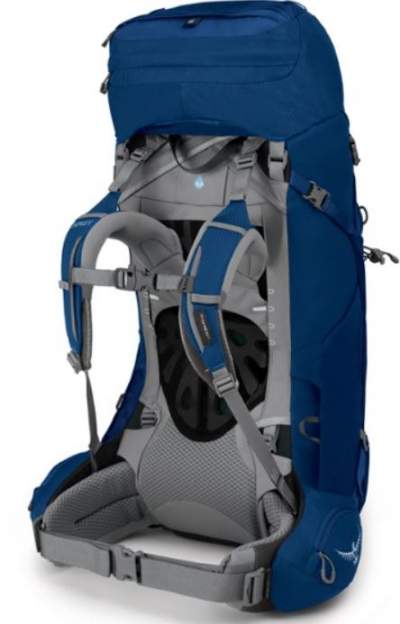 This is a new non-AG version of the celebrated Osprey Ariel 55 pack for women, with a fully adjustable shoulder harness, adjustable hip belt, and adjustable torso length. I would say the pack is better than ever when it comes to carrying heavy loads.
From the picture above you realize that the pack has great lumbar padding suitable for heavy loads. You have 3 access points, and they build the pack in two sizes XS/S (52 liters; 3173 in³) and M/L (55 liters; 3356 in³). The weight of the two is 4.77 lb (2.16 kg) and 4.82 lb (2.19 kg) respectively.

---
12. Osprey Ariel Plus 70 Pack for Women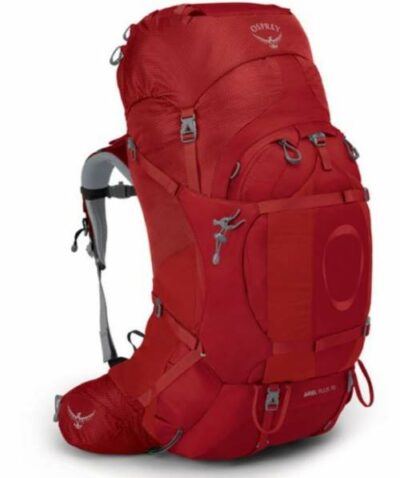 This pack is from Osprey's completely new series. The name may look similar to several other Osprey packs here in the list but this is a separate series. It has so many features that this is one of the best packs they have ever built.
The pack has 3 access points, and this is a classic structure with a removable lid that transforms into their famous DayLid Daypack. You have a rain cover included.
The harness is completely adjustable, and this applies to the shoulder harness, the hip belt, and the torso length. The pack has 9 pockets, and it comes with their Stow-on-the-Go pole attachment. They build it in two sub-sizes, 68 and 70 liters volume. The weight of the 70 liters pack is 5.797 lb (2.63 kg).

---
13. Osprey Ariel Pro 65 Pack for women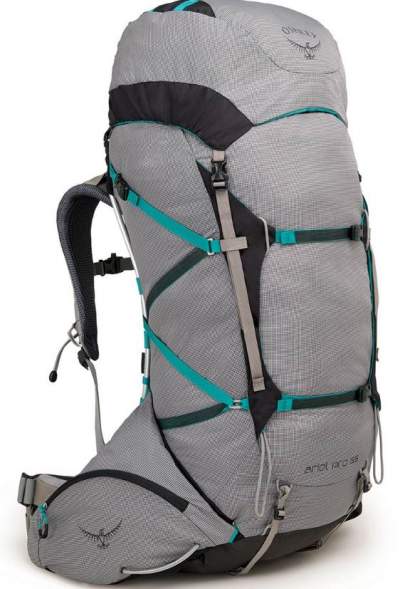 With its 3 lb 14 oz (1.76 kg) of weight (for the size M), this is a lightweight pack in the group here. As you realize from the name, this is a women-specific design and a part of the Pro mini-series which includes also the corresponding Aether Pro pack for men. It is built in three sizes XS, S, and M.
This is a top-loading pack with an adjustable and removable lid and the only entrance is from the top. This is what makes it very different from the standard Ariel AG 65 where you have three entry points. So this is a simplified version and the comparison between the pro and standard Ariel series you have in my separate text.
Many elements are removable, and this applies to the lid, side straps, bottom straps, hip belt pockets, and dual ice axe loops. All this makes it a Pro pack for high altitude expeditions and mountaineers. But you still have an ExoForm harness as in the standard AG series.

---
14. Osprey Xena 85 Backpack For Women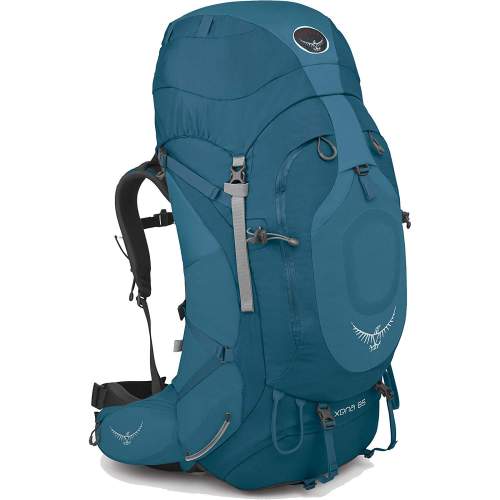 Osprey builds gender-specific packs and this Xena 85 is one of them built specifically for women. This is a part of the Xenith & Xena series. If it is too big for you, check also Xena 70.
This is for extended tours or for tours in general where you are forced to carry a lot of stuff. Everything here is in several sizes and adjustable. So the pack is in three different sizes, and the same is with its harness, and also with its hip belt. Note that you still have full adjustability of the harness so a great fit should be guaranteed. The weight of the largest of the three sub-sizes here is 2.35 kg.
The pack comes with the BioForm hip belt which is a heat-moldable foam. It will form due to your body heat and you will have a perfect fit after you carry it for some time. The belt is also split in half and you have separate front straps on the belt, so when you pull them forward, you have a perfect hugging of your hips. I do not think you can have a better system in place for such a load-hauling pack.
You have an external hydration sleeve here so the main compartment remains for the equipment only. The lid is removable and you can use it separately as a summit pack. The access to the main compartment is from the top, and from the two side zippers, plus through the bottom compartment where you have a removable divider. You also have 9 pockets and all possible tool loops to attach your stuff.

---
15. Osprey Xenith 88 Pack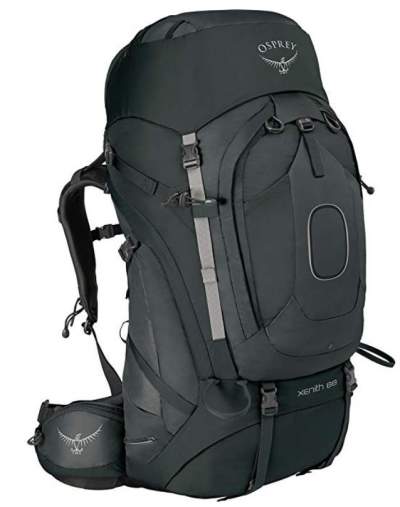 This Xenith 88 is a representative of three packs from the Xenith series which includes also a pack of 75 liters and 105 liters. My feeling is that these packs are better for heavy loads than their packs from the Aether series. I summarized the differences in my separate text.
This pack is built in three different sizes within the nominal 88 liters size, so you have 88, 92, and 96 liters, and as you see the differences are substantial. The harness is adjustable and it is also interchangeable. The same holds for the hip belt. The pack comes with a heat-moldable foam so it adjusts itself to your body shape after some break-in time.
There are 4 access points; the top access, plus 2 side openings, plus the bottom compartment access where you have a removable divider. The pack comes with 9 pockets and all attachment elements that you may expect from such a huge pack, plus the Stow-on-the-go trekking pole attachment system. The weight of the 88 liters version is 2.38 kg.

---
16. Teton Sports Grand 5500 Pack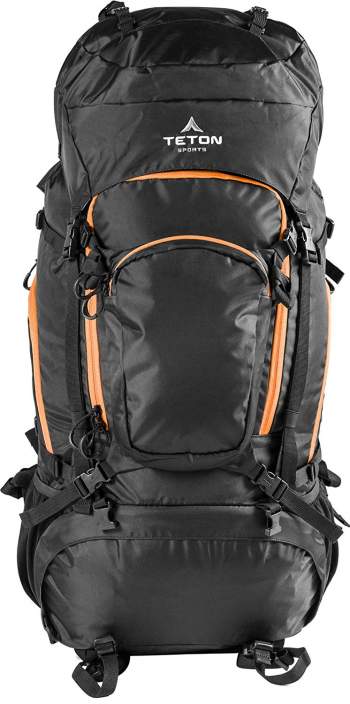 This Teton Sports Grand 5500 pack is one of the most affordable here yet this is a huge 90-liters pack with some truly great features and bonuses.
There are 4 access points here, top, front, side, and bottom. There is an expandable collar under the floating lid, and you have a huge U-shaped front entrance. The divider between the bottom compartment and the main compartment is with a zipper and it is removable.
The material is very durable 420D and it has a 1000 mm waterproofness rating, and you have an adjustable harness supported by two aluminum stays. The hip belt is with great padding and one of the best designs.
One of the mentioned bonuses is its included poncho with a 2000 mm rating. The weight without the poncho is 5.2 lb (2.36 kg). Note also that the large front pocket is, in fact, detachable and it doubles as a daypack.
This pack has plenty of attachment elements and these include two unique holsters, one under the lid and one on the bottom. It comes with 7 pockets as well. If you feel this pack is too big for you, note that they also have Mountain Adventurer 4000 Backpack which is 66 liters and nearly the same features.

---
How to choose an expedition backpack
So you have seen some of the best options on the market, and the question is how to choose. I already pointed out some of the essential features and those should be a guide for you. But the choice of such a pack is always a matter of personal preference and activity. Just a couple of comments here.
Regarding the weight, there are reasons why some packs are heavier. This may imply a stronger frame, more padding, more pockets, and more features in general. For heavy loads, you need a substantial pack, so I would not be obsessed with grams here.
But there are indeed differences, and the lightest in the list are more technical packs. These are built for professionals and mountaineers, usually with fewer features and with removable elements to shed the weight when needed.
Regarding the price, all the models here are from top brands. Some of them only build packs, and this is the case with Gregory and Osprey. This puts the mind at peace in the sense that you have an established brand behind the products, but this in part affects the price.
So make the list of the features which you absolutely want to have, check the budget, and then check the list above. I am confident you will find something suitable.
Thank you for reading. Please use the comment box below in case of questions or comments. I wish you a nice day.