---
The Mystery Ranch Terraframe 80 Backpack is an incredibly durable Cordura construction with a capacity-expanding overload design, suitable for loads of up to 150 pounds (68 kg).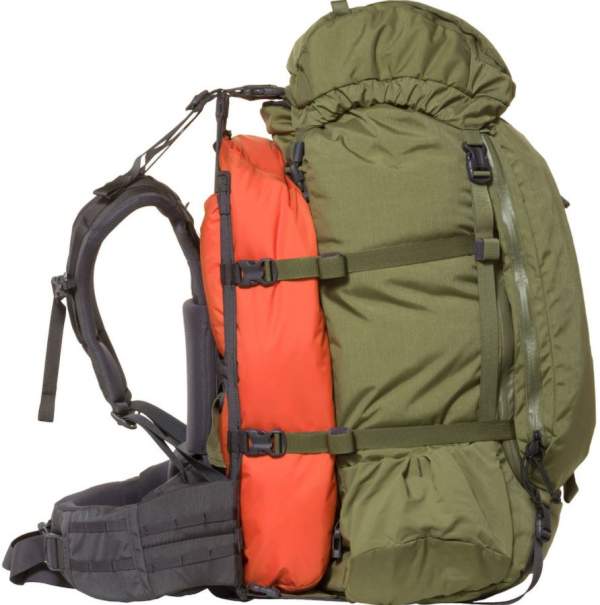 ---
Key features & benefits
Cordura fabric.
Carbon fiber frame.
Adjustable torso length.
Lid doubles as a daypack.
Huge load carrying capacity.
OVERLOAD feature.
YKK zippers.
---
What is in the name
This Mystery Ranch Terraframe 80 pack has been on the market for a number of years, but the version presented here is the latest one. You may see also a dark gray option on the market, so just to know that this is the previous version.
The pack is the largest in the series of three that includes also the Terraframe 65 pack with the same features, and Terraframe 50 pack which is differently built.
So this is a top loading pack with a removable lid and a spindrift collar. There is also a huge U-shaped front zipper that allows you to open the pack in several ways. It goes almost all the way to the bottom and this is why there is no separate bottom compartment. The zipper can be open at various places to allow access to the stuff inside.
The pack is hydration compatible and you have an inner hydration sleeve.
The lid doubles as a day pack
So the lid is removable and you can use it as a day pack, it has its own hydration port. You can remove the shoulder harness from the main pack and use it together with the lid. Its volume is around 9 liters. Because of these features, I have included it in my list of best backpacks with daypacks.
Suspension
External frame of a particular type: So this is a pack with an external frame, and here is what this means. You can detach the pack from the frame almost completely, there are several buckles that you unclip and this allows you to move the pack away.
This is what they call the OVERLOAD feature. The top picture above shows how this looks. The pack remains connected to the frame only through a sling on the bottom. So this expandability allows you to add extra load in between the frame and the pack. It is best that the heavier stuff is added there so that the weight is closer to the body.
The frame is a carbon fiber structure with 4 vertical and 4 horizontal stays connected with webbing. It is vertically very strong yet still completely flexible to follow your body movement.
The shoulder harness and the torso length are adjustable, you have a "telescoping" yoke for a custom torso fit. The numbers are shown in the specifications below.
Note also that they build this pack in 4 different sub-sizes regarding the harness, so you can always find your best possible fit.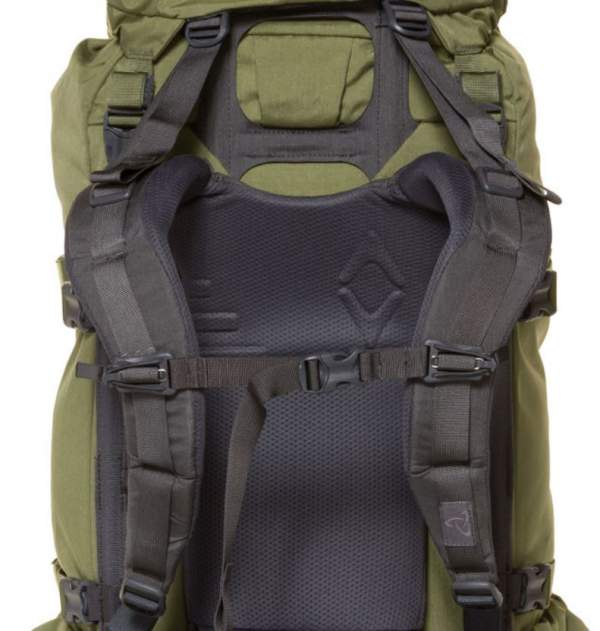 The hip belt is with a massive padding, and the same is with the lumbar zone, the picture below shows how incredible this looks.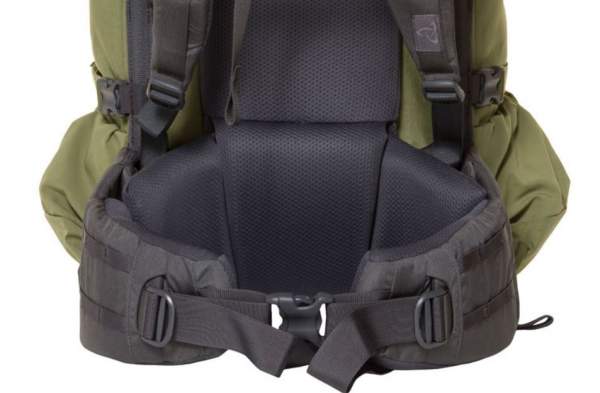 Compression straps and attachment elements
The previously mentioned OVERLOAD design is a part of the attachment elements. But you have much more. The picture below shows the lower and upper side compression straps when the pack is in its normal mode. These straps are in place to cinch the load inside, but you can also use them to attach gear.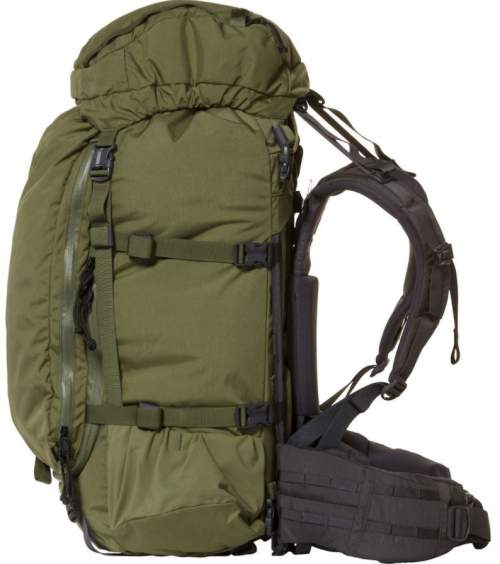 The pack has multiple daisy chains, you have one long on the front, see the picture below, plus two more on the lid. If you go back, you will see that on both sides of the hip belt you also have attachment webbing loops.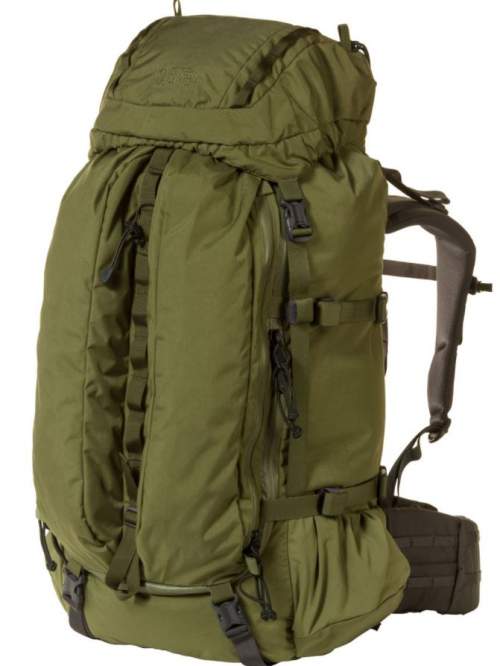 There is also a pair of compression straps on the bottom, you can see them in the picture above. One internal compression strap is also included to stabilize the load.
Pockets
This pack comes with very specific front torpedo pockets visible in the picture above. They are with long zippers so you can easily get things in and out.
There is also a couple of side pockets for water bottles or any other elongated item which you can keep in place with the side straps. One large zippered compartment is also in the lid.
So this pack has not so many pockets, the massive hip belt is without them, pity for such a wasted space.
Materials
You have already seen about its unique frame. But the fabric is also impressive, this is a 330D Lite Plus CORDURA. The zippers are the best you can find, these are YKK coated zippers for durability and water protection.
Please see more in this short video:
---
Who is it for
Regarding the volume, on the site of the brand they write 4740 in³ (78 liters), but on the REI site the number is 4870 in³ (80 liters). In any case, this is a huge pack with lots of volume inside, and with plenty of options for gear attachment outside.
Regarding the weight, the pack can be described as really heavy, it weighs 6.1 lb (2.77 kg). So the volume/weight ratio is 28 liters/kg. This is still a bit better than the Osprey UNLTD AirScape 68 Pack. But the load hauling capacity of this Terraframe pack is without a match.
So this is a pack for heavy loads and also for bulky loads. Perhaps it is best suited for hunters, but I see it also as a great expedition pack.
It is probably too heavy for most of backpackers and hikers, but it can be used for such adventures if you carry lots of stuff. This is a very reliable pack and for heavy and bulky stuff you will hardly find something more suitable.
Regarding the price, it is very expensive, you will see several sellers below so it makes sense to check and compare prices.
---
Specifications
Weight: 6.1 lb (2.77 kg).
Volume: 4870 4740 in³ (78 l).
Dimensions (H x W x D): 31 x 15.75 x 13.25 in (79 x 40 x 34 cm).
Maximum load weight: 150 lb (68 kg).
Sub-sizes for the hip belt and torso:

What if you are in between sizes?
If you are between sizes on the waist belt, they recommend to size down.
If you are between sizes on the yoke, they suggest that you contact their Customer Service.
Warranty
On their site they write that their Warranty guarantees everything they build against defects in materials and craftsmanship for the practical lifetime of the product. They say they will offer repair or replacement for issues with materials or craftsmanship.
---
Final thoughts & rating
In summary, if you want a pack that will surely do the job, this Mystery Ranch Terraframe 80 Backpack is for you. This is an incredibly durable load hauling pack with some truly amazing attachment features and a unique capacity-expanding overload shelf.
There are no bells and whistles here, so you have seen that there are no the usual hip belt pockets, and a rain cover is missing as well. But it has other features that you will not find in other packs. Strongly recommended. I have included it in my list of top rated expedition backpacks.
Below you can see how I rate it against my usual rating criteria so that you can compare it with other items of this type. Note that it is not easy to properly rate its volume/weight ratio because of its extendable OVELOAD design.
BEST PLACEs TO BUY
You have seen its weight, so if you want something lighter, please check the Kelty Asher 85 Backpack. For more options, please check under the category Large Packs.
Bookmark this site and come again, this will keep you informed because I add texts here regularly. Let me know if you have questions or comments, there is a comment box below. Have a nice day.