---
The Osprey UNLTD AirScape 68 Pack for Men & Women comes with never before seen unique and innovative industry-first set of features. Some of its features are on another level, without a match on the market.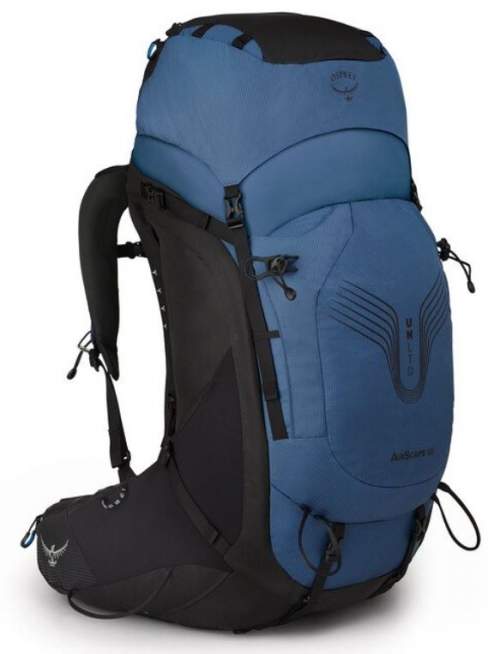 ---
Key features & benefits
Convertible top lid day pack.
Dual access point.
Rain cover.
Transport sack.
External hydration sleeve.
High-carbon stainless steel frame.
Fit-On-The-Fly harness adjustment for torso length.
Industry-first 3D Printed Fitscape Lumbar with Carbon DLS Technology.
Fit-On-The-Fly hip belt adjustment.
State-of-the-art fabrics.
---
What is in the name
Gender-specific packs
So this is about a new Osprey series which I presented recently in my another short text. They build separate versions for men and women, and they share the same basic features. But the packs for women are with extra details introduced to accommodate differences in their body shape.
There are officially 2 packs in this series, but each of them is built in 2 sub-sizes, and this make it 4 packs. You will see the numbers in the specifications below. There are differences between the packs for men and for women.
General overview
This is a pack that on the first look appears just as a classic top loading pack with an 8 liters volume lid. But this lid is removable and it transforms into a fully-featured 18 liters DayLid daypack.
If you are familiar with Osprey's packs, you know that this feature has already been in several of their packs series for a number of years already. You can see it in the Osprey Aether Plus 85 Backpack for Men and in many other packs.
When the lid is removed, you have a zip-away FlapJacket that covers the top of the main pack. The picture below shows the main pack without its head (lid), and the lid next to it transformed into the beautiful DayLid daypack with its water-resistant coated zippers.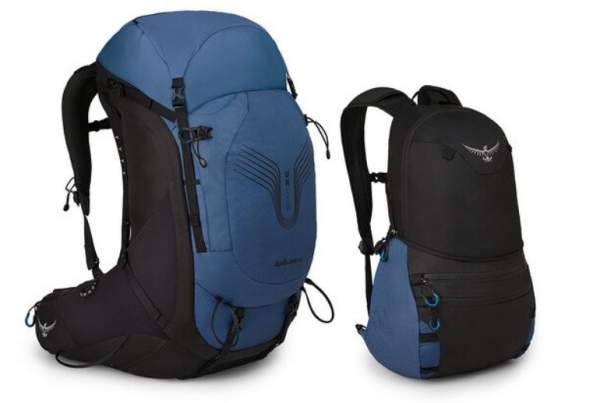 The FlapJacket is a useful feature for situations when you do not need the complete pack. It is stored in a zippered pocket at the backpanel side of the main draw-cord opening. So you pull it out and connect its two buckles to the buckles that normally connect the top lid at the front of the pack.
The daypack has all the features you need for short day tours, including several pockets and a sternum strap. The pictures below show it from the front and from the back.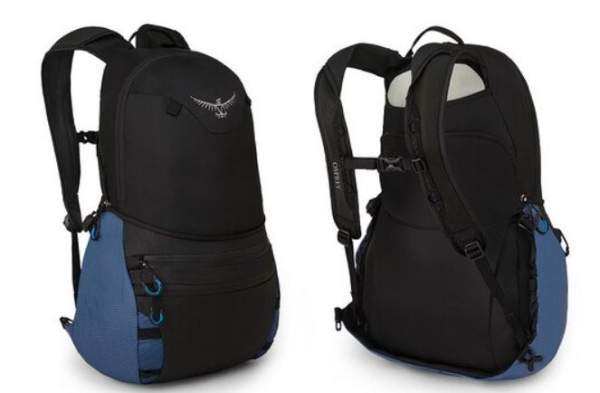 But there is also a large front access on the main pack, with a U-shaped zipper that opens the pack like a suitcase. This is why there is no separate bottom access.
The pack is hydration compatible, and for this you have a separate zippered compartment behind the harness, see the picture below. So you do not have to mess with the stuff in the pack when you have to deal with the water bladder.

The pack comes with a rain cover shown below, and a transit cover shown on the right. The latter is a great addition to reduce chances for potential damages when you check-in the pack.
The suspension
All is based on a high carbon stainless steel frame and a polycarbonate vacuum-formed framesheet (shown below) designed to support the load and to manage ventilation with its air channel ribs covered with a fine breathable mesh.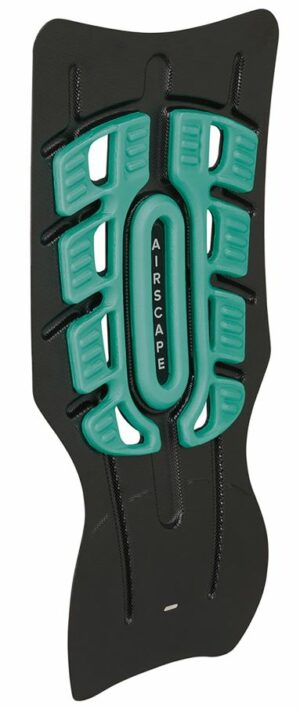 The end of the frame wraps out onto the sides of the hip belt, and this is how it distributes load broadly for improved comfort and better balance. Here you have a concept that keeps the pack close to the body.
The torso length is adjustable, and this is what they call the Fit-On-The-Fly harness adjustment for torso length. This includes straps on the sides so you just pull and position the pack at the optimal place when it is on your back.
Such a design is always the best because you can feel the fully loaded pack on the back and you know where exactly the hip belt should be positioned.
So this is a great design, but I must notice that the original idea has been around for a number of years. It was introduced by Kelty in their packs, I wonder why I am not surprised, Kelty has always had great innovations. You can see it in their Kelty Reva packs.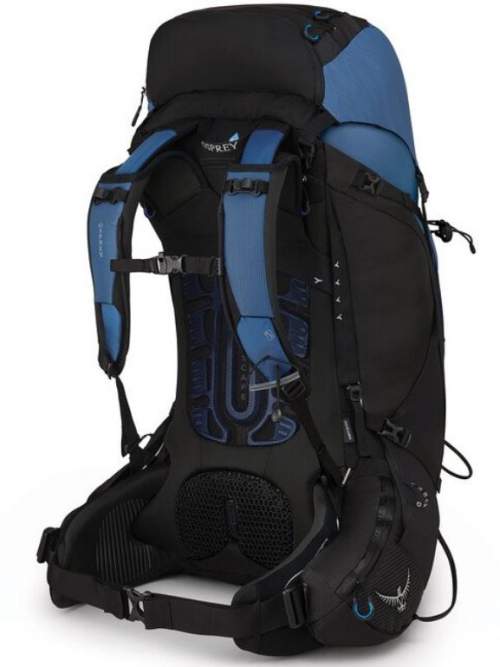 AutoLift design: This is a really new feature in the shoulder harness. There are no separate load lifters. What you see as the blue segments in the top of the picture below (and also in the picture above) are not classic load lifters. These are just the upper parts of the specially designed shoulder straps.
But the shoulder harness has yet another separate top element, the black shoulder straps underneath the blue ones. These black segments are connected to the backpanel and they move up and down when you adjust the torso length.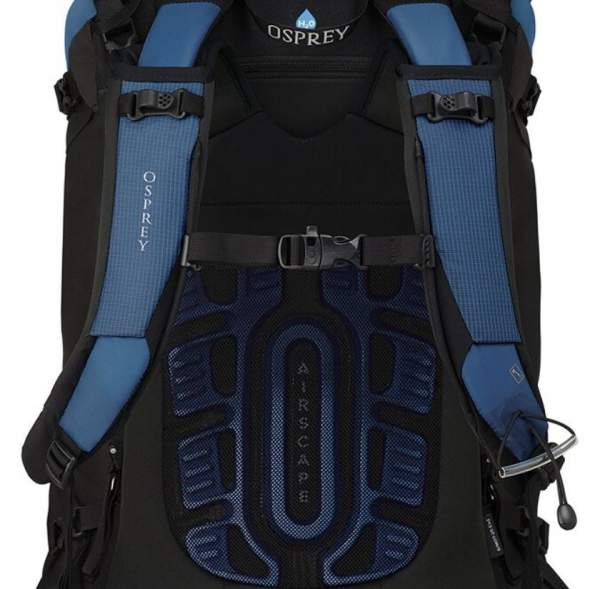 But these upper blue straps are in place of classic load lifters, they are just much more massive. Now, is this good or not the time will show. One could ask why the heck did we have separate load lifters all these years?
I would say there is a reason behind the classic design, it gives more versatility. In this new system, when you pull the ends of the shoulder straps i) this will essentially tighten the shoulder harness (the mentioned black straps that are in contact with your shoulders), and ii) at the same time this will bring the upper part of the pack closer to your body.
As you surely know, in the classic design you do these two adjustments separately, and I think this is closer to what I want to have in a pack. So this is a new feature but I am not sure if this is an improvement or not.
Lumbar support: The real masterpiece is the lumbar zone where you have an industry-first 3D Printed Fitscape lumbar with a Carbon DL Technology, all fine-tuned for perfect support and ventilation, and with an anti-slip grip. See how extraordinary this looks: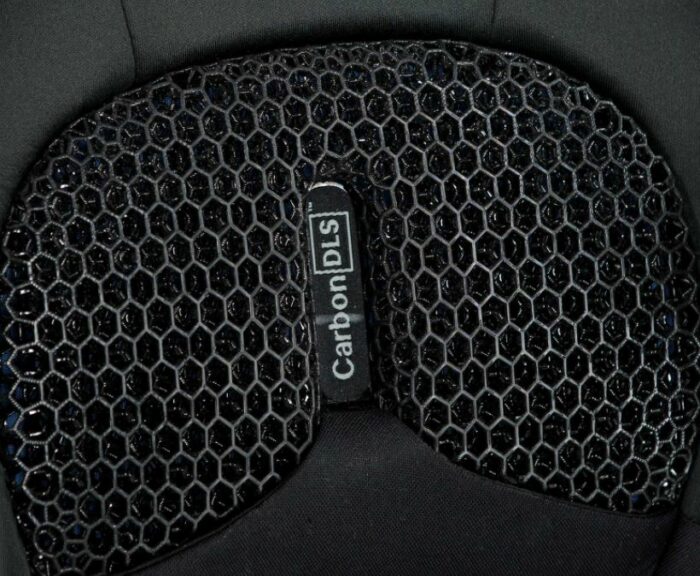 So what is this Carbon's DL technology? In short, this is a process that uses digital light (hence the letters DL) projections in tandem with oxygen-permeable optics to cure photopolymer resins into 3D parts.
Osprey is not the first brand to use this technology. You have it also in Adidas' shoes with their 3D printed 4D midsole. But Osprey claims they are the first to use this in backpacks.
It is essential to alleviate stress on the back. So this lumbar distributes weight onto the wearer's hips and skeletal structure. They claim they were developing this over the past two years.
The hip belt is with a great padding, see the picture. Here you have what they call the Fit-on-the-Fly hip belt adjustment with an intuitive ErgoPull closure.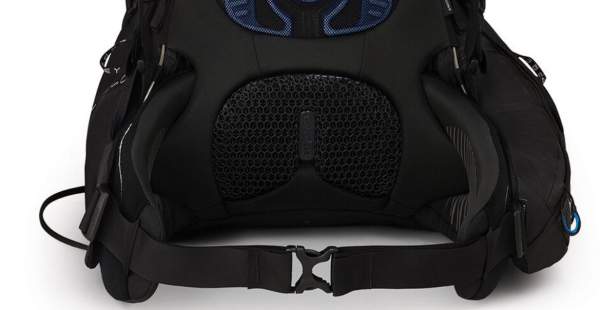 The Fit-on-the-Fly hip belt adjustment is just a connection based on Velcro tabs. So this is a feature available in many packs on the market. You disengage the padding from the hip belt and reposition where you think it should be. Then just press again to reconnect. See the pictures:
Pockets, compression straps, attachment elements & other details
The pockets: You have a full set of pockets, but with some unique details. So on the sides there are the usual stretch mesh pockets.
On the hip belt you have an asymmetric design with 3 pockets. One zippered pocket and one stretch pouch are on the left. On the right you have one stretch pocket for a smaller water bottle.
There are two zippered pockets on the lid, and two zippered pockets on the front, see one in the picture. The rain cover comes in its own bottom pocket.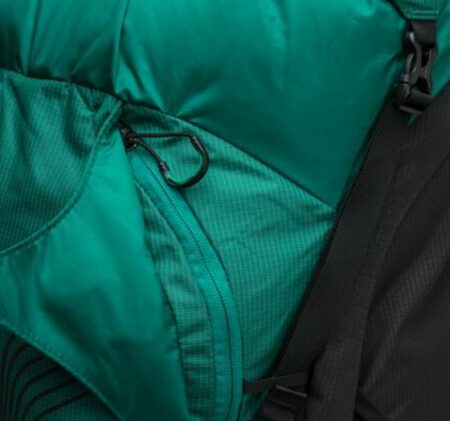 The compression straps & attachments: There are dual side straps, upper and lower as usual. You also have attachment loops on the lid, and on the bottom there are two tuck-away loops for ice axe, paired with bungee tie-offs higher on the pack.
The pack comes with their unique Stow-on-the-Go trekking pole attachment system. There are also side loops that are added for skis, who would say. Dual removable straps are on the bottom. Some of these features are visible in the picture below.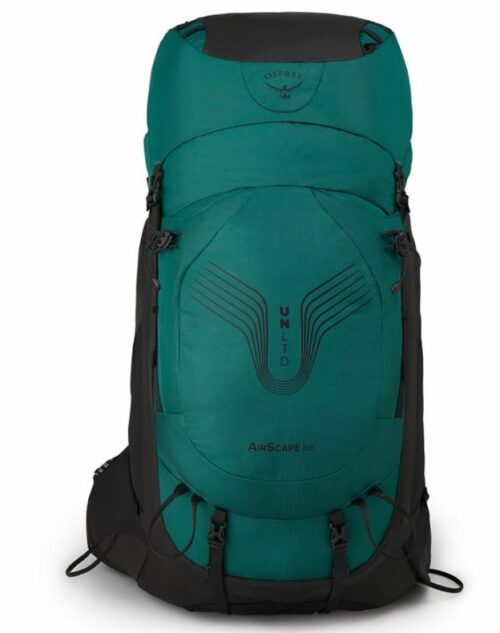 You also have:
Compression divider for sleeping bag storage.
TPOM YKK buckles. Super strong and break resistant.
Water resistant coated zips.
New dual injected zip pulls.
Laminated zip flaps.
Injection molded sleeves for the frame termination.
The materials
You have already seen about the frame. As for the fabric, the main body is a 210D high tenacity nylon with an UHMWPE grid (ultra-high molecular weight polyethylene), PFC-free. The bottom is a DWR 500D bluesign-approved recycled high tenacity nylon PFC-free.
New injected molded hydration hose routers are on both shoulders, they are visible in the pictures above. The mentioned rain cover is a high tenacity nylon ripstop, and the same fabric is used for the transport cover.
Please see more in this video:
Warranty
These packs come with Osprey All Mighty warranty. So this should put your mind at ease. They claim they will "repair any damage or defect for any reason free of charge – whether it was purchased in 1974 or yesterday."
They also write that if they cannot repair your pack, they will replace it.
---
Who are these Osprey UNLTD AirScape 68 Packs for
Regarding the volume you will see in the specifications that the packs are in the range of 64-72 liters. So these are large packs suitable for tours where you carry lots of stuff. You also have plenty of options for gear attachment.
Regarding the weight, they are not particularly light, you will see the numbers below. There are many lighter options on the market, but no with such features of course. The issue of the weight I have discussed in my separate text.
Regarding the price, these packs are not for people on a budget, but they are not built for this.
---
Specifications
Common features:
Carry weight: 65 lb (29 kg).
Warranty: Osprey's All Mighty.
Osprey UNLTD AirScape for men
Two sizes for men: S/M, L/XL.
Weight (without travel cover):
– S/M with rain cover: 6.27 lb (2.84 kg); 6.06 lb (2.75 kg) without rain cover.
– L/XL with rain cover: 6.69 lb (3.03 kg), 6.47 lb (2.93 kg) excluding rain cover.
Removable lid weight (AirScape DayLid): 0.754 lb (0.34 kg).
Aircover weight: 1.036 lb (0.47 kg).
Volume:
– S/M: 4150 in³ (68 l).
– L/XL: 4394 in³ (72 l).
Dimensions:
– S/M: 32.28 x 15.75 x 15.35 in (82 x 40 x 39 cm).
– L/XL: 34.25 x 15.75 x 15.35 in (87 x 40 x 39 cm).
Torso fit:
– S/M: 17-20.5 in (43-52 cm).
– L/XL: 19.5-23 in (50-58 cm).
Osprey UNLTD AirScape for women
Two sizes for women: XS/S, M/L.
Weight (without travel cover):
– XS/S with rain cover: 6.01 lb (2.72 kg); 5.79 lb (2.63 kg) without rain cover.
– M/L with rain cover: 6.05 lb (2.74 kg); 5.84 lb (2.65 kg) excluding rain cover.
Removable lid weight (AirScape DayLid): 0.754 lb (0.34 kg)
Aircover weight: 1.036 lb (0.47 kg).
Volume:
– XS/S: 3906 in³ (64 l).
– M/L: 4150 in³ (68 l).
Dimensions:
– XS/S: 29.53 x 15.75 x 15.35 in (75 x 40 x 39 cm).
– M/L: 31.5 x 15.75 x 15.35 in (80 x 40 x 39 cm).
Torso fit:
– XS/S: 13.5-17 in (34-43 cm).
– M/L: 16-19.5 in (41-50 cm).
---
Final thoughts & rating
In summary, this Osprey UNLTD AirScape 68 Pack for Men & Women comes with a state-of-the-art fabrics and some completely unique features. There is nothing really missing if you plan to use it on the trail.
These packs are large and suitable for multi-day hiking and backpacking tours, but they are also a bit heavy. Fully recommended, if you can afford them and if you are able to carry them. I have included them in my list of best backpacks with daypacks.
Below you can see how I rate these packs against my usual rating criteria so that you can easily compare it with other items of this type:
BEST PLACEs TO BUY
Please read more about this pack also in my another text. Check also my text about the Osprey UNLTD AntiGravity 64 Pack for Men & Women that shares may of the features but it is a bit lighter.
You might want to read also my comparison Osprey UNLTD AntiGravity 64 vs Osprey UNLTD AirScape 68 Packs and Osprey UNLTD AirScape 68 vs Deuter Aircontact X Backpack.
Bookmark this site and come again, this will keep you informed because I add texts here regularly. Let me know if you have questions or comments, there is a comment box below. Have a nice day.